This Italian soda is bubbly, sweet and creamy! Grab two straws and share with a friend; these cold drinks are a fun, retro summertime treat!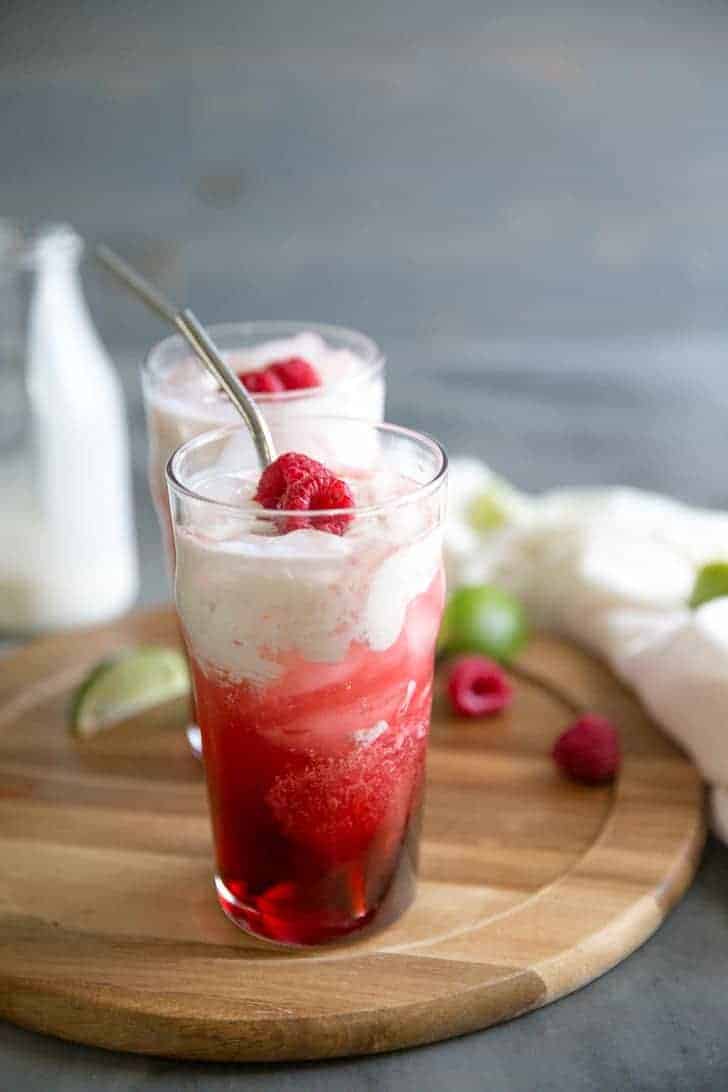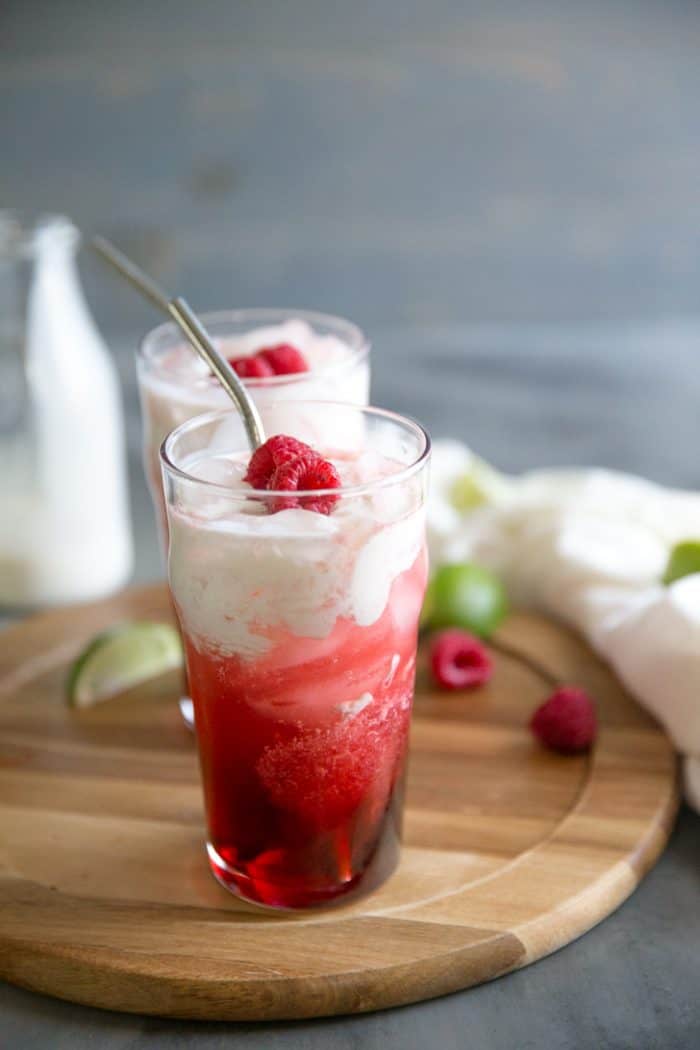 What Is Italian Soda?
If you have never tried an Italian soda, you really are in for a treat! Italian soda is like drinking the fizziest, creamiest soda ever! Despite the name, this bubbly drink did not originate in Italy, but in the United States in the 1920s. You can most often find Italian sodas in fruity flavors, but they can really be made with any flavoring.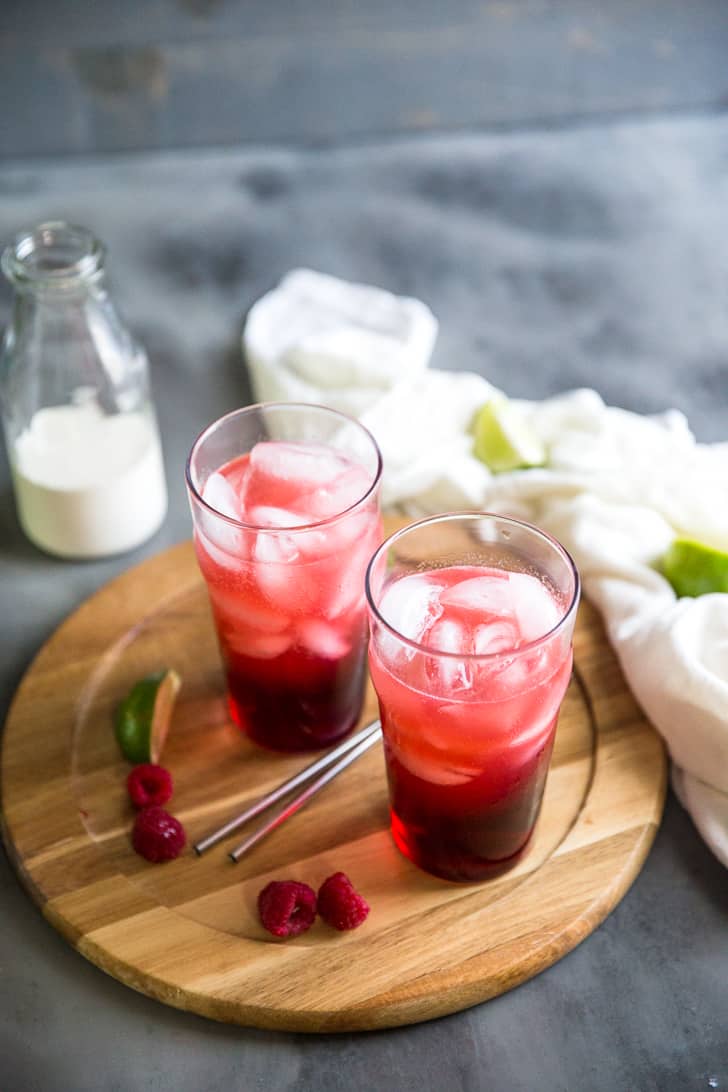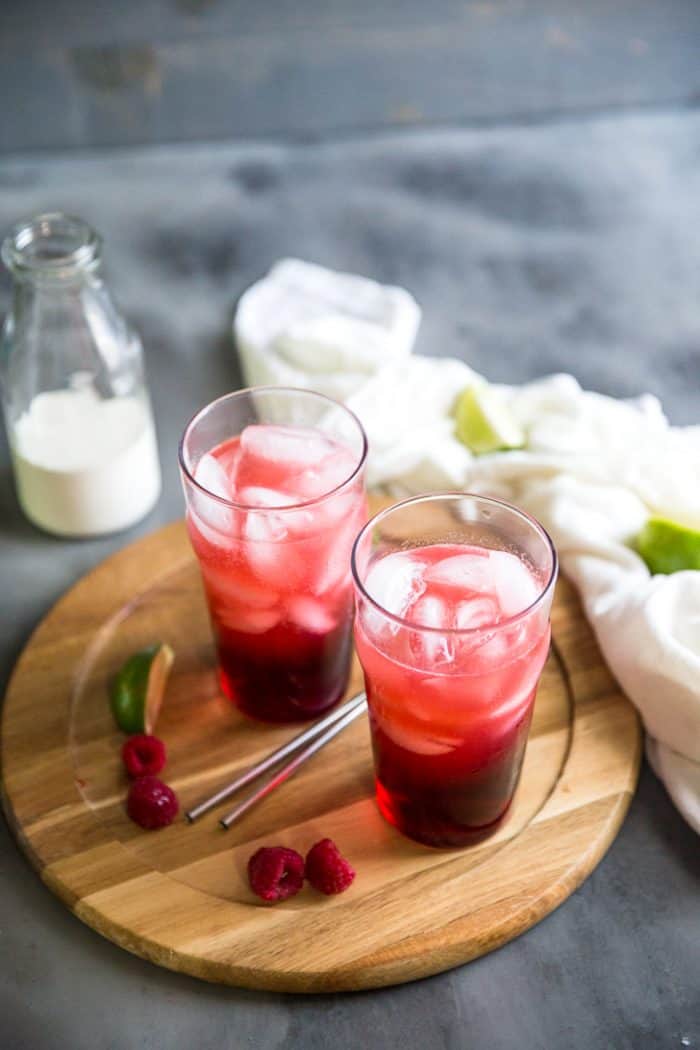 WHERE IS THE ITALIAN SODA RECIPE?
If you'd rather skip cooking tips, suggestions, handy substitutions, related recipe ideas – and get straight to the Raspberry Italian Soda Recipe– simply scroll to the bottom of the page where you can find the printable recipe card.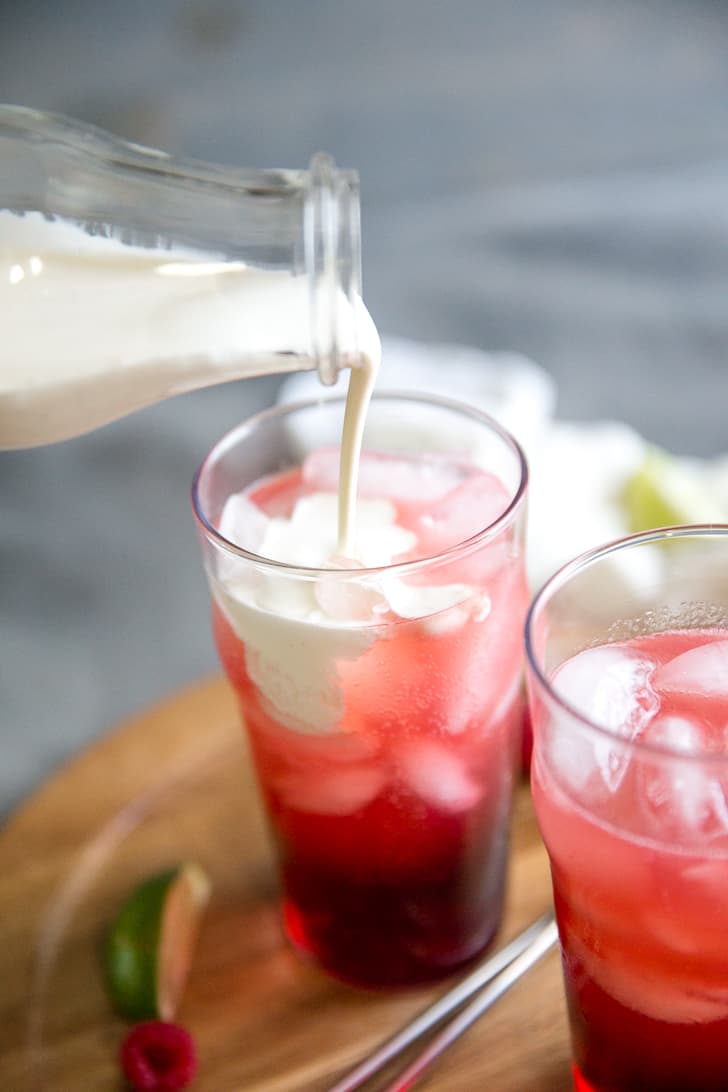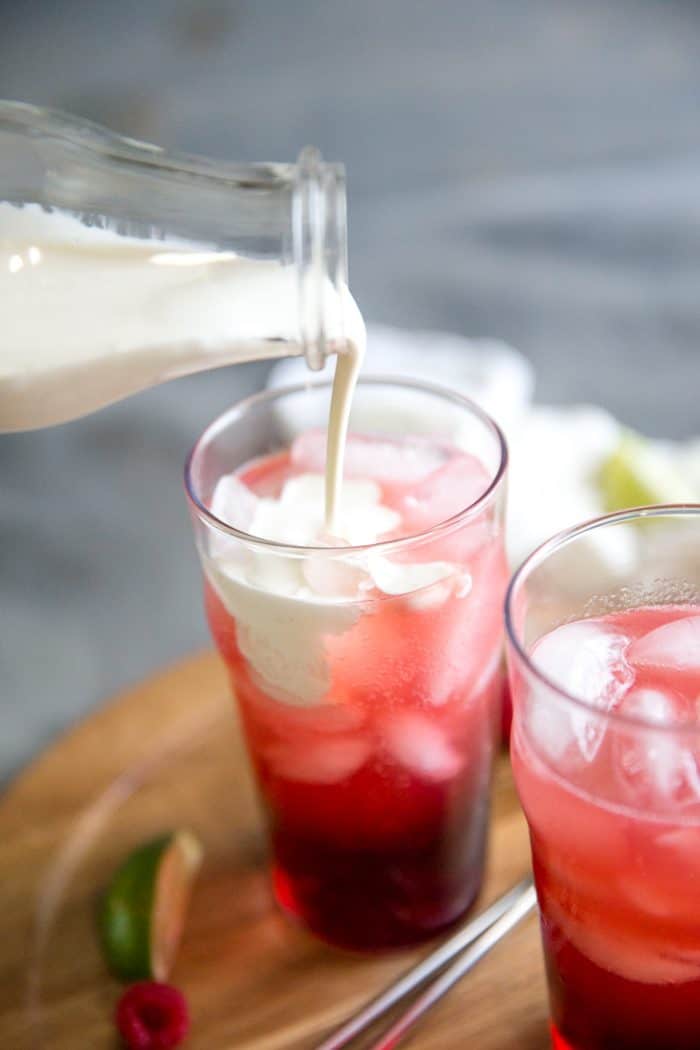 Truth be told, I wasn't sold on the Italian soda the first time I tried them. They were bubbly and fizzy and completely unlike anything else I've tried. Eventually, I grew to accept Italian soda, especially when I realized how simple they were to make at home. The flavors are limited only by your imagination and they are so easy to make!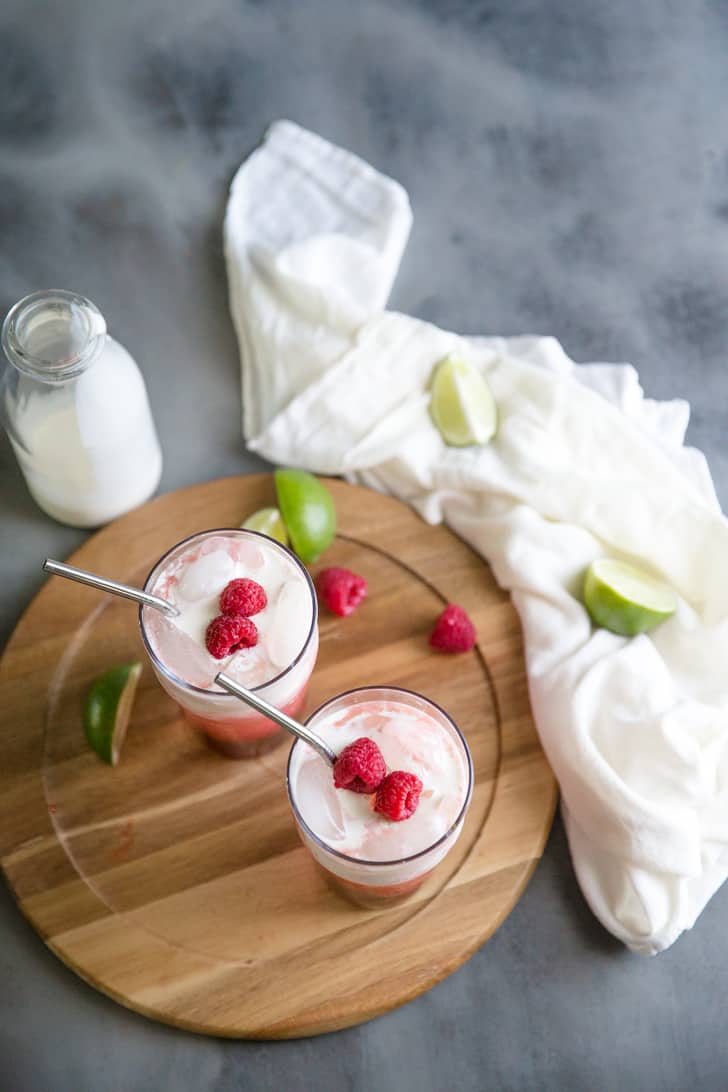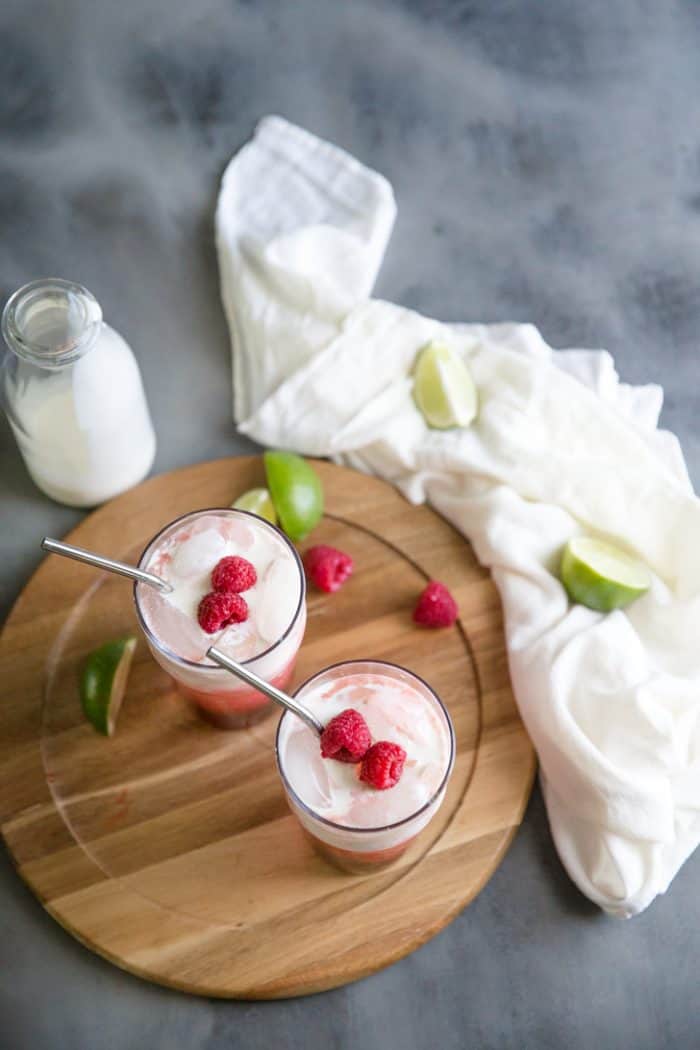 How Is An Italian Soda Made?
The ingredients for these Italians sodas are 1. flavored with syrup, 2. soda water, and 3. cream (optional). I used a raspberry flavored Torani syrup and a raspberry lime flavored sparkling water. I layered these in a glass filled with ice and stirred. A splash of fresh lime juice helps cut the sweetness. I drizzled in heavy cream just before serving. The cream is optional, but it adds a luxurious feel and silky taste plus it has a way of tempering the sweet syrup.
If you prefer to make your own syrup, combine equal parts sugar and water in a small saucepan. Bring to a boil, add fresh raspberries, reduce heat and continue to cook until sugar has dissolved and mixture has thickened. Remove the syrup from the heat source and drain mixture through a fine-mesh sieve Allow syrup to cool before using. Syrup can be stored in an airtight container for up to 1 week.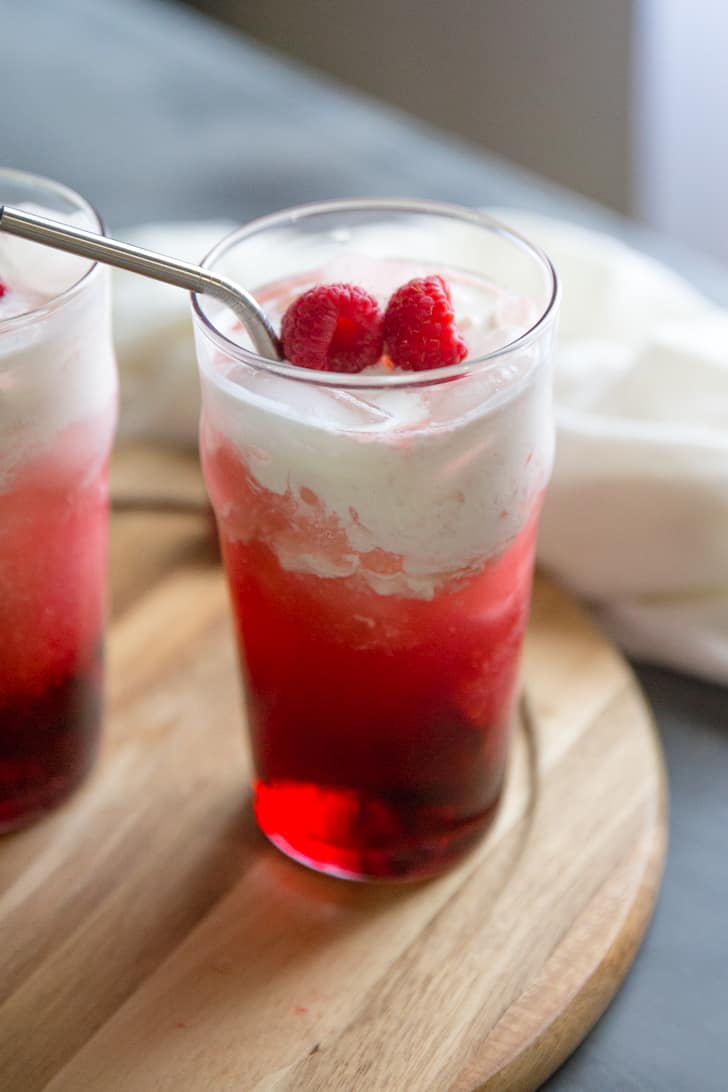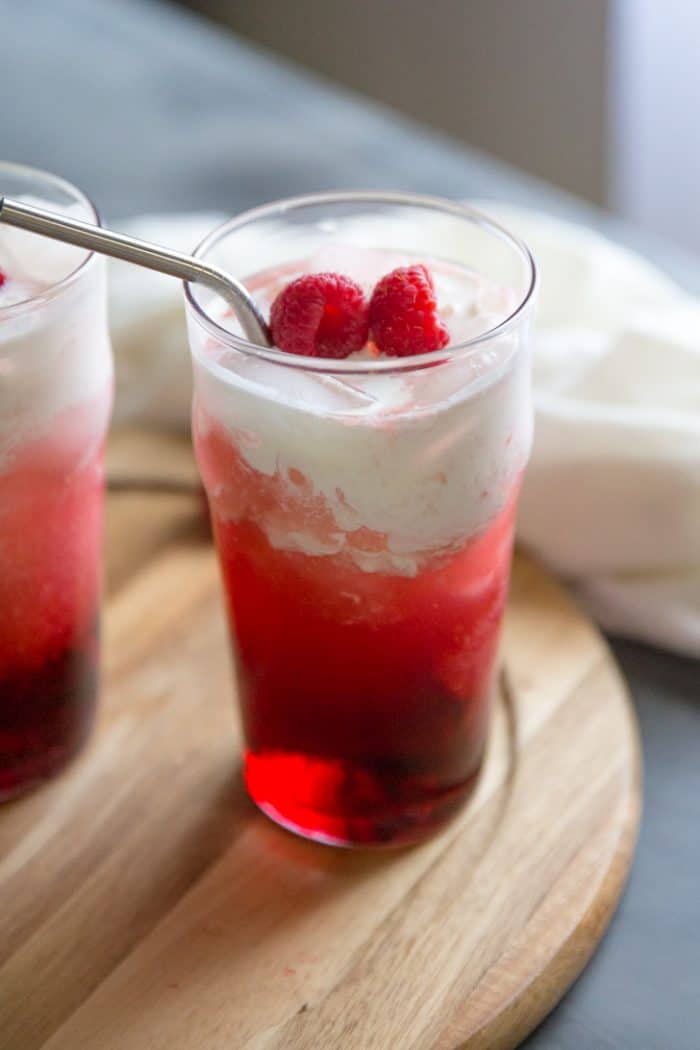 How To Make An Italian Soda Bar
Hosting a party? Make up an Italian Soda Bar for all your friends! Set out different flavored sodas (lemon-lime, flavorless soda water as well as infused sparkling waters. Make or set out flavored syrups and add garnishes like fresh berries, citrus wedges, maraschino cherries, or herbs like mint. Have heavy cream on hand for those that like the creamy sodas. Whipped cream and decorative straws add to the fun!
Italian Soda's, Frozen White Hot Chocolate and this Almond Iced Coffee Float are now some of my favorite ice cream parlors treats to have at home!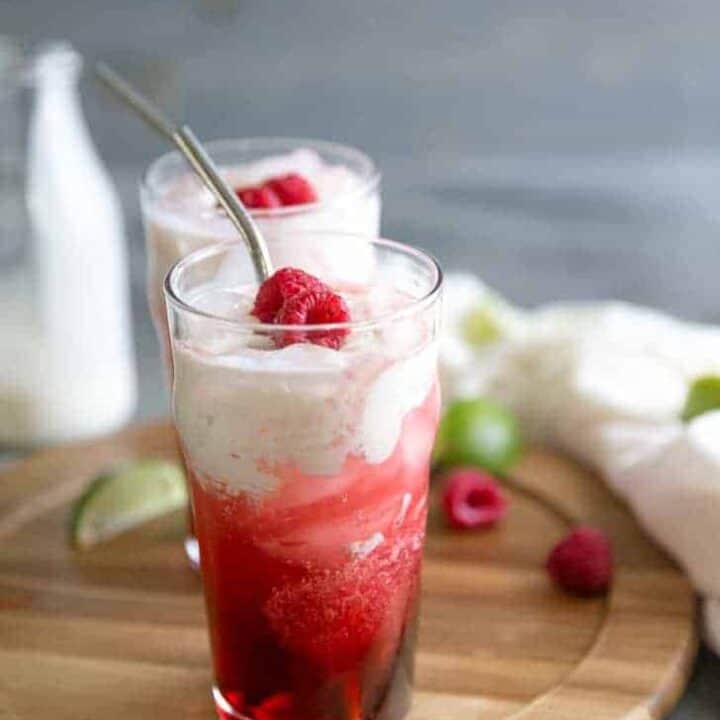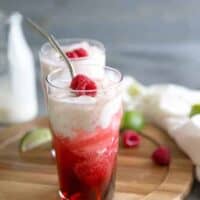 Raspberry Italian Soda
This Italian soda is bubbly, sweet and creamy! Grab two straws and share with a friend; these cold drinks are a fun, retro summertime treat!
Ingredients
Ice
Torani flavored syrup
Raspberry Lime Sparkling Water (I used Spindrift)
Splash of lime juice
Heavy cream
Instructions
Fill two glasses with ice. Fill each glass about 1/4-2/3 full with the raspberry syrup. Top each with sparkling water and a splash of fresh lime juice. Slowly pour the desired amount of heavy into each glass. Top with fresh raspberries.
Notes
The syrup is very sweet, adjust the amount added to each glass according to your personal tastes.
Nutrition Information
Yield

2
Amount Per Serving
Calories

81
Total Fat

5g
Saturated Fat

3g
Trans Fat

0g
Unsaturated Fat

2g
Cholesterol

17mg
Sodium

11mg
Carbohydrates

9g
Fiber

0g
Sugar

8g
Protein

0g