Strawberry desserts are perfect this time of year!
This angel food cake is a light dessert that combines strawberries as well as mascarpone, Kahlua and lady fingers-all the ingredients for a classic
Italian Tiramisu!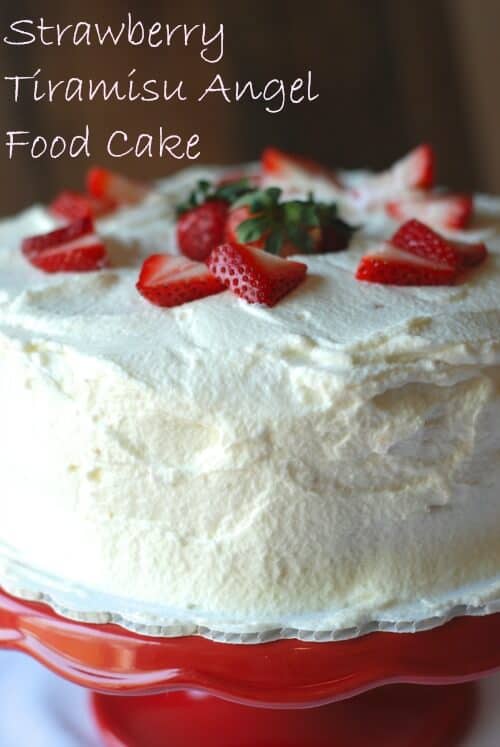 I don't make cakes that often.  I prefer cupcakes like these Cherry Coke cupcakes to be honest.  They are easier to decorate for one thing.  All you need are the right decorating tips then you can swirl buttercream with the best of them!   The other wonderful thing about cupcakes, is they are perfect for portion control.   One cupcake is all you need unless you are eating mini cupcakes like these Peppermint Mocha cupcakes, then I'm afraid you could pop several in your mouth without even blinking.  With cake, I tend to cut myself  rather large slices, then justify it by telling myself "it's only one slice".    If there are frosted roses on the cake, forget it, I will cut a slice the size of Texas just to get as many roses as possible!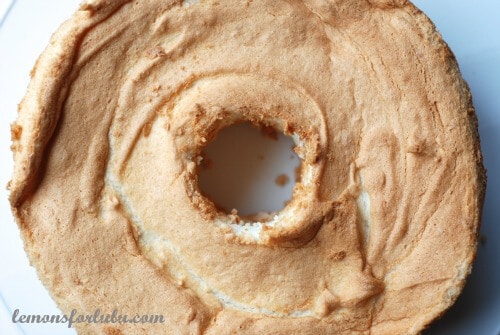 My husband had a birthday recently.  I sucked it up and made him a cake.  It was the least I could do.  I thought I remembered he liked angel food cake with strawberries and whipped topping.  I knew for certain that he LOVES Tiramisu.  So I thought why not combine the two?  I was a bit worried about the fact that  I've never actually made an angel food cake.  I tend to steer clear of recipes that use words like "stiff peaks", and require one dozen egg whites,  it's just begging for disaster.   I actually purchased an angel food cake mix as my back up plan.  I've learned it never hurts to be prepared (for failure!)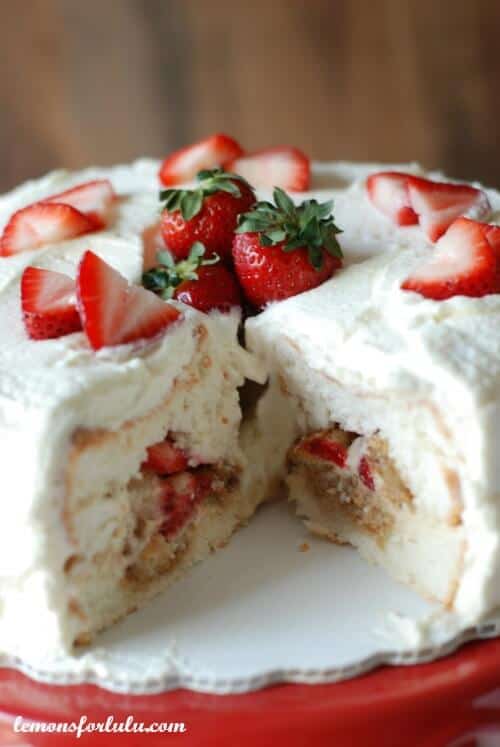 I spent an entire day on this cake.  Good things come to those who wait right?  I used Martha Stewart's angel food cake recipe.  It did not fail.  The cake was light, airy, sweet and tender!  It does take time to make.  You have to be sure to whip those egg whites just long enough, but not too long or else they'll become grainy.  I stopped my mixer several times to check for those elusive "stiff peaks".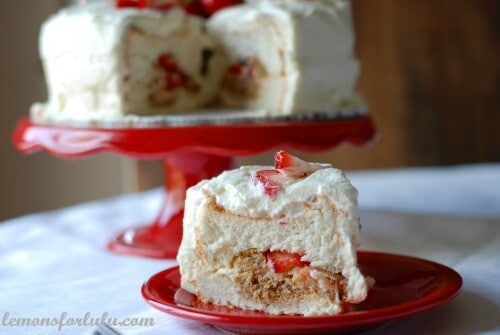 The filling is my favorite tiramisu filling, made with mascarpone and cream cheese, brown sugar and Kahlua.  I soaked lady fingers in coffee and MORE Kahlua!  The smell was intoxicating.  I hollowed out the cake and layered my tiramisu ingredients, and added sliced strawberries.  Because angel food cake is so light, I wanted to make sure the frosting would complement it's fluffy center and not weigh the cake down.  I used a mascarpone frosting which was remarkably light.  I was feeling pretty good about the whole creation.  I mean, how perfect!  The mascarpone frosting fit with the tiramisu flavoring in this cake, but was also light like the whipped topping my husband used to love with his angel food cake as a kid!  I was sure this cake would leave my husband speechless!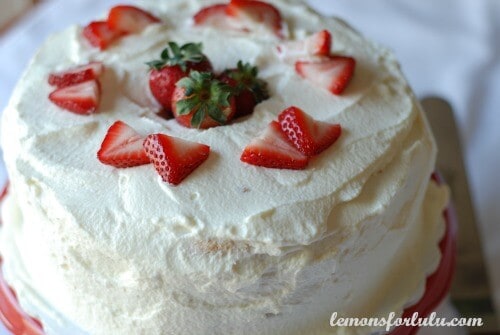 He wasn't exactly speechless.  Turns out I didn't really create the perfect cake after all.  He admitted that while he really enjoyed the cake (and actually ate most of it), he wasn't so sure about the strawberry/tiramisu combination.  Perhaps raspberries would've been better he says.  Ha!  What does he know!  Clearly he cannot appreciate my culinary genius!  After a flurry of retorts swirled through my head, I conceded that raspberries would be rather tasty.  Or leave the berries out all together !  I suppose what I'm saying is that this cake is versatile.  You could make simply the angel food cake and the frosting and you'd be very happy.  Or perhaps, you could add only the tiramisu center.  I leave it entirely up to you!  Regardless, this cake (and it's many variations) will leave you satisfied.  And just for the record, I did cut myself an enormous slice.  But since it was such a light cake, I managed to convince myself that surely that one (giant) slice was roughly the equivalent of one cupcake.
OTHER DESSERTS YOU MAY ENJOY:
NEVER MISS A RECIPE!  SIGN UP FOR MY EMAILS TODAY!
FOLLOW ME:
RSS | FACEBOOK | TWITTER | GOOGLE + | BLOGLOVIN
Strawberry Tiramisu Angel Food Cake
Ingredients
1

cup cake flour

1/4

teaspoon salt

12

large egg whites, room temperature

1

teaspoon cream of tarter

1 1/4

cup sugar

2

teaspoons vanilla

1

cup brewed coffee cooled

2

tablespoons Kahlua liqueur

12

ladyfingers

1 8oz

block cream cheese, softened

3 1/2

oz mascarpone cheese

1/3

cup brown sugar

1/2

cup strawberries, sliced

1 8

oz container mascarpone cheese

1 1/2

cups heavy cream

1

teaspoon vanilla extract

1/3

cup sugar

1/2

cup strawberries sliced
Instructions
Preheat oven to 350. Sift together flour and salt, set aside. In a mixer fitted with a whisk, beat egg whites on medium high until foamy. Add in cream of tarter. Continue beating until soft peaks form. Slowly add in sugar beating until stiff peaks form, about 2-3 minutes. Beat in vanilla just until combined.
Gently transfer egg white mixture to a large bowl. Slowly sift flour once again, this time over mixture. Carefully and gently fold in flour.
Carefully spoon mixture into an ungreased angel food cake pan, with a removable bottom. Cut a knife through the batter to get rid of any air bubbles. Bake for 35-40 minutes, or until cake springs back when touched and is golden brown in color. Invert pan and let cake cool completely. When cake has cooled, run a knife around the inside of pan and around the tube as well as the bottom to release cake.
Cut angel food cake in half with a serrated knife. Carefully scoop out center of each side, leaving a 1-inch boarder.
Combine cream cheese and mascarpone in a medium bowl, beating until creamy and smooth. Add in brown sugar and continue mixing until blended. In a shallow bowl, combine coffee and Kahlua. Dip half of the ladyfingers into the coffee mixture and line hollowed out cake bottom with ladyfingers, halving cookies as necessary. Place mascarpone filling over cookies. Arrange sliced strawberries over filling, followed by remaining coffee dipped ladyfingers. Carefully place cake top over the bottom half, pressing down gently.
To prepare the frosting, Stir mascarpone until creamy. Beat vanilla and heavy cream in a mixer until foamy. Increase speed to medium high and slowly beat in sugar. Continue beating until stiff peaks form. Gently fold in mascarpone cheese. Immediately frost cake. Garnish top of cake with remaining sliced strawberries.
Keep refrigerated until ready to serve.
10 servings.