Strawberry desserts are perfect this time of year!
This strawberry tiramisu takes everything I love about Tiramisu and turns it into an easy, fruity dessert that everyone will love!
Strawberry tiramisu cake is perfect for spring and summer. Made with fresh strawberries this cake is simply to-die-for. It's easy to whip up and so easy to lose yourself in, meaning that if you aren't careful you could eat half the pan to yourself before stopping, ha!
So make this dessert and bring it with you to any summer or springtime party (think Easter or 4th of July). This tiramisu cake goes well with any big event or simple gathering and there's never a wrong time for cake!
What is Strawberry Tiramisu Angel Food Cake?
It's a wonderful combination of Kahlua, fresh strawberries, coffee, and cake all in one place. Topped with a rich and creamy mascarpone cream cheese frosting and dusted in cocoa powder, every bite is heavenly. We use storebought angel food cake to make the process simpler and faster so that this cake is easier to make last-minute for parties and BBQs. You're going to want to share this tasty rich dessert all season long.
Ingredients
Store-bought angel food cakes
Brewed coffee
Kahlua
Cream cheese
Mascarpone cheese
Brown sugar
Granulated sugar
Fresh strawberries
Amaretti or ladyfingers​
Cocoa powder
For the exact amounts needed, please see the recipe card below.
How To Make Strawberry Tiramisu
The beauty of this recipe is it starts with store-bought angel food cake. Because the cakes at my grocery store were on the small size, I used two. You will want to cube both cakes. Place half of your cubes in a baking dish. Then mix coffee and Kahlua together and drizzle half of that mixture over the cake. Simple right?
For my Tiramisu filling, I cream together cream cheese, mascarpone cheese, both brown and granulated sugar, and Kahlua until creamy and smooth. Half of this filling will be spread over the cake followed by sliced strawberries. The whole process is repeated with the remaining cake, coffee, cheese mixture, and strawberries. Then all you have to do is cover and refrigerate until set! I like to sprinkle a few amaretti cookies and cocoa powder just before serving.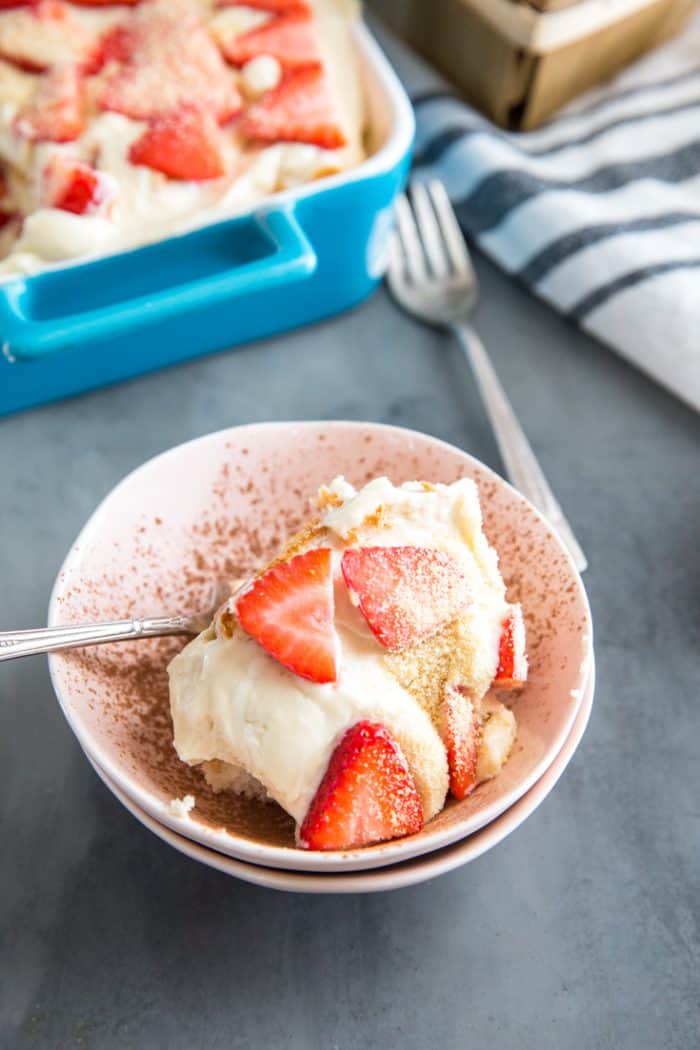 Recipe Tips
Recipe scaling. If desired you can scale this recipe down in half and use an 8×8 square baking dish. This would be perfect for when you want fewer servings or plan on strawberry tiramisu for two and don't want too much leftover.
Seasonal berries. This dessert tastes incredible with fresh strawberries but if desired you can omit the berries and still have it taste great. Other seasonal berries like raspberries or blackberries could work well too.
Marscapone cheese. Mascarpone is an Italian cheese that can usually be found in the specialty cheese section of your grocery store. It often comes in a round tub. It is very similar to cream cheese in texture. Make sure the mascarpone and the cream cheese are at room temperature.
Substitutions
Pound cake can easily be substituted for the angel food cake in this recipe. You want something that won't easily crumble and that can absorb the coffee mixture without getting too soft.
Feel free to omit the alcohol in this recipe. You can certainly use an extract in place of the Kahlua. AND if Kahlua is not your favorite liqueur to use brandy or rum; both would make wonderful substitutions!
Marscapone cheese. If you cannot find mascarpone, cream cheese may be used instead.
FAQs
How Long Does Tiramisu Keep?
Because you are using cake instead of the traditional ladyfingers, this Tiramisu recipe will keep covered and refrigerated for 2-3 days. By the third day, however, the strawberries will soften and the cake will get soggy.
Can I Freeze Tiramisu?
No, unfortunately, this recipe does not freeze well. the textures and appearance of everything once thawed do not work out well so make sure you plan on finishing this dessert within a few days to keep from having to toss it out.
Can You Eat Tiramisu Left Out Overnight?
I do not recommend letting this dessert sit out for more than 2 hours at a time because it will spoil if left out of the fridge too long. This is a dish best kept and served chilled.
Want more Tiramisu ideas? Try these Tiramisu Sandwich Cookies, Tiramisu Pudding Shots, Lemon Raspberry Tiramisu, 20 Minute Tiramisu, and Maple Tiramisu.
If you want more strawberry ideas, try this Skillet Strawberry Shortcake Cake!
Yield: 12
Strawberry Tiramisu Angel Food Cake
Strawberry desserts are perfect this time of year! This strawberry tiramisu takes everything I love about Tiramisu and turns it into an easy, fruity dessert that everyone will love!
Additional Time
30 minutes
Ingredients
2 containers ready made store-bought angel food cakes
1/2 cup brewed coffee
6 tablespoons of Kahlua, divided
1 8 oz block cream cheese, softened
1 8 oz tub mascarpone cheese, softened
1/3 cup brown sugar
1/4 cup granulated sugar
1 lb container strawberries
Amaretti or ladyfingers​, optional
Cocoa powder for dusting
Instructions
Cut each cake into chunks.
In a small bowl, combine the coffee with 3 tablespoons of Kahlua
In the bowl of a mixer, beat together the cream cheese and the mascarpone cheese until smooth and creamy. Add in the brown sugar and the granulated sugar until well blended. Beat in Kahlua.
To assemble, place half of the cake in the bottom of a 9 x 13-inch baking dish Drizzle or brush with half of the coffee mixture.
Spread half of the cream cheese mixture and top with half of the strawberries sliced.
Repeat the process with the remaining ingredients. Sprinkle with crunch-style ladyfingers or cookies if desired. Cover and refrigerate Tiramisu for at least 30 minutes.
Dust Tiramisu with cocoa powder before serving if desired.
Nutrition Information
Yield
12
Serving Size
1
Amount Per Serving
Calories

252
Total Fat

17g
Saturated Fat

9g
Trans Fat

0g
Unsaturated Fat

6g
Cholesterol

51mg
Sodium

161mg
Carbohydrates

21g
Fiber

1g
Sugar

17g
Protein

3g