If you ever wondered to yourself 'can you freeze apples?' when it's nearing the end of apple season, there is good news – you absolutely can. Freezing apples is a great food preservation method if you don't need or want any more stewed apples, apple sauce, or even canned sweet apples.
Save this delicious fruit in most forms you can think of in your freezer for up to a year in an airtight container, so you can enjoy them all year round.
What Apples Freeze Well
When you freeze apples, you are able to preserve them to use later in your canning, baking, frying. However, some apples will freeze much better than others so planning ahead will help with achieving the optimal results.
Choosing a sweet or snappy apple is best for freezing, here are a few options:
Jonagold Apples
Golden Delicious Apples
Cortland Apples
Empire Apples
Granny Smith Apples.
Whichever apple you do choose to freeze, remember that the texture will be less snappy after thawing.
How to Freeze Apples
Freezing apples is quite an easy task if you freeze them uncooked. You just have to cut them to your preferred size, throw them in a lemon juice and water ice bath, and freeze them to extend the apple season a bit longer.
Step 1
Wash your apples thoroughly and look for any bad spots – cut these spots from your apples if possible. Peel and core your apples.
Step 2
Cut your apples into thin slices or chop them into apple pieces. Think ahead of the application of the apples here. Smoothies do great with chunks, but you might have a preference for apple slices when baking an apple pie.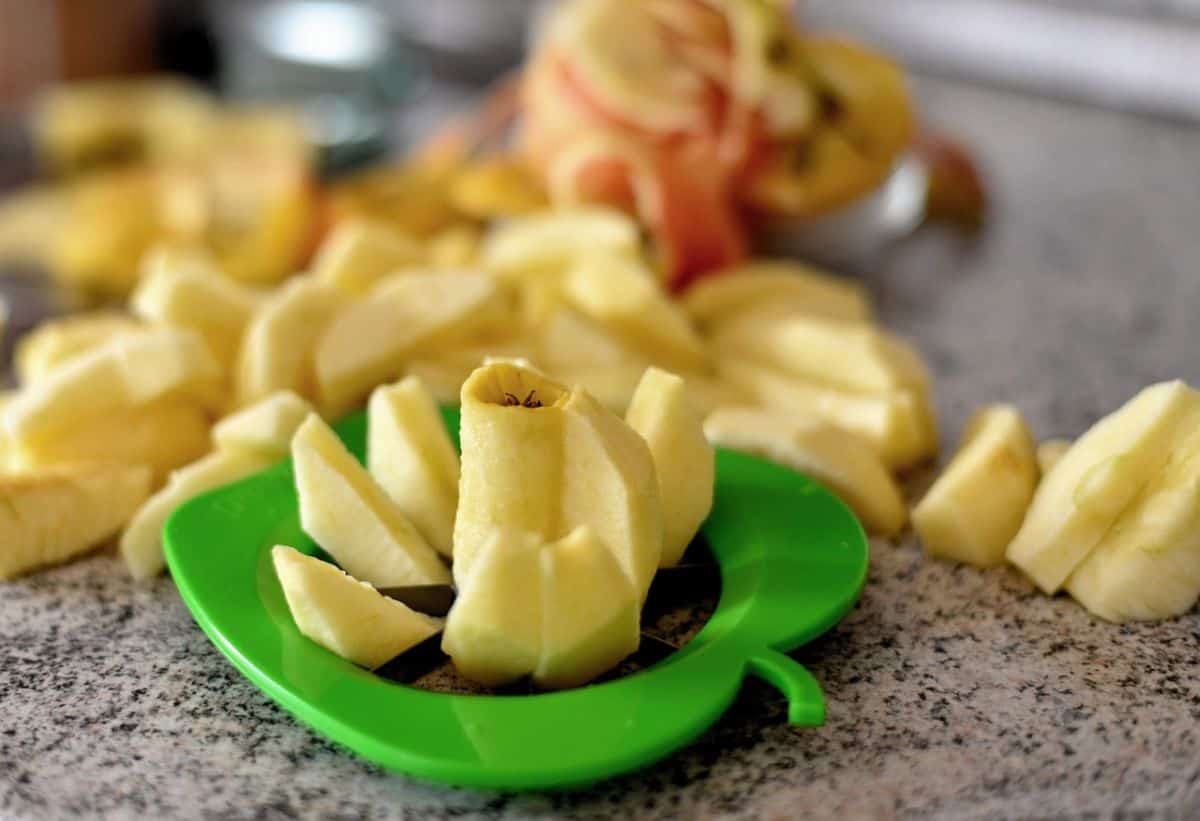 Step 3
Soak your apple slices or pieces in an acidic water solution for 5 minutes or brush them with an ascorbic acid solution. If you prefer acidic water, mix 4 cups of water with 2 tablespoons of lemon juice, soak for 5 minutes and drain.
If you have ascorbic acid (vitamin C) or citric acid mix ½ a teaspoon with 2 ½ cups of water and lightly brush over the apples. This helps to avoid the natural browning process.
Step 4
Place your apples on a parchment paper-lined baking sheet or cookie sheet first before transferring them to ziplock freezer bags for freezer storage.
Freezing them on the baking sheet until they are solid first, will avoid all the pieces sticking to each other and make your life much easier when you need to thaw only a small amount of apples.
Step 5
Try to remove most of the air from the freezer bags before sealing the bag. Try using a straw or simply squeeze out the excess air from the bag to avoid freezer burn.
Remember to label and date your apples once you have transferred them to the bags. They will keep for up to 1 year.
Can You Freeze Whole Apples?
The answer to 'can you freeze apples whole?' is yes, but the recommendation is not to. This is by far the quickest method to get your fresh apples in the freezer.
The texture will become much softer and spongier once thawed and having a big whole spongy apple that you need to process and cut up will definitely be more tricky than if you cut and slice them before freezing.
How to Freeze Whole Apples
The benefit of this method is there's no need to prepare apples. You just need to do 2 steps, and you're done. No need to line them on a cookie sheet first until they're completely frozen to avoid them sticking from each other.
Step 1
Wash and dry your apples thoroughly. Ensure there are no bad spots or stems on the apple before freezing. Cut any extra stems or leaves from the apple, as well as any bad spots.
Step 2
Place in a freezer bag and try to remove most of the air inside. If you don't have a vacuum sealer, try sucking out the air with a straw placed in the corner of the bag and quickly seal it after pulling out the straw.
By removing as much air as possible, you avoid freezer burn, which will allow you to store your apples for up to one year in the freezer.
If you do decide to peel and core your apples, or cut out bad spots, try to still soak your apples in a large bowl of lemon juice mixed water or brush with a citric- or ascorbic acid solution to avoid browning.
Can You Freeze Sliced Apples?
You can freeze apples that have been sliced quite easily. It takes a bit more effort to freeze than whole apples but is worth it. Taking the time to slice apples before freezing them, makes it much easier to use once you thaw them.
This way they can be quickly made into apple pie filling.
How to Freeze Apple Slices
The effort will be well worth it when you freeze apples this way for later use. Sliced apples can be used in many recipes where they will be used as sliced apples in fillings and they work great in sauces too.
Step 1
Wash and dry your apples before you peel and core them. Check for bad spots and cut those out too.
Step 2
Slice your apples into your preferred size and thickness.
Step 3
Place the sliced apples in some lemon water to prevent the fruit from browning, for about 5 minutes.
Step 4
Line up your apples on a flat surface such as a baking tray or pie pan, and freeze them until frozen. Be sure the slices don't touch, the purpose of this step is to prevent the slices from sticking to each other.
Step 5
Transfer the frozen fruit to a suitable container or bag to be frozen in for up to one year. If possible remove as much air as you can from the container before freezing.
Can You Freeze Cooked Apples?
Freezing cooked apples is a lot easier than cooking apples. It is a great way to preserve any extra cooked apples or save time later and cook them up now. They are great to use in baked goods recipes, so you can avoid your store's canning section or buying a frozen pie.
How to Freeze Cooked Apples
Your future self will love you for cooking your apples now and freezing them after. The frozen filling would take slightly more time than cooking a frozen pie from the store, but homemade pie filling will always win over store-bought pies.
Step 1
Allow your cooked apples to cool completely before freezing. Avoid trapping unnecessary steam (water) in your mixture by ensuring it is cooled properly.
Step 2
Portion your cooked apples by splitting them into appropriate amounts for their intended use.
Step 3
Place your cooked apples in appropriate freezer containers or bags. This will ensure no cracks or leaks will appear when freezing or thawing.
Step 4
Label and date your apples. List your ingredients if you wish to remind your future self if you already added salt to your mixture or cooked them in salted water. It's also good to date your apples since cooked apples last about 5 months in the freezer.
Tips for Freezing Cooked Apples
Now that you know your way around freezing cooked apples, these are some extra tips you can utilize to make your freezing experience the best.
Add a splash of lemon
This helps prevent browning and doesn't affect the taste of the apples when thawing. A small splash will do.
Mix your apples with your spices
If you're going for frozen apple pie filling, Consider adding your spice mix to your cooked apples for even fewer worries in the future. The spices lose little to no potency, and the fruits retain their nutritional benefits. Just remember to add the ingredients to your label
Freeze your crumble too
If you are freezing your cooked apples with the intent of it being for an apple crumble pie, you can freeze your crumble and still get a crunchy top crust. Just freeze your crumble in a separate container than your apples.
Can You Freeze Caramelized Apples?
Caramel or Caramelized Apples are a classic treat most people love! It combines a fresh apple with decadent caramel, enough to cure an aching sweet tooth. It is easy to make too many of these and you might want to preserve them instead of throwing them away.
How to Freeze Apples that are Caramelized
Couldn't finish that caramel apple treat, so you want to save it for a rainy day? Your solution might just be standing in your kitchen, here's how you can freeze caramelized apples easily.
Step 1
Remove any sticks or forks from the apples. There is no need or space for pointy sticks or forks to be left in the apples.
Remove them to avoid having to use too much unnecessary space in your freezer, or poking holes in your freezer bag.
Step 2
Place one apple in a freezer storage bag at a time.
They are sticky, having one apple in a bag at a time prevents them from sticking together. This also helps get a better vacuum seal on the apples.
Step 3
Remove as much air as possible from the bags before sealing them. This will prevent freezer burn of the apple and the caramel around it, ruining the caramel's consistency.
How to Thaw Frozen Apples
Apples tend to turn brown quite quickly after thawing, so keeping them in their vacuum-sealed bag, and slowly defrosting them in the fridge overnight is the best method to keep your apple crisp.
Keep in mind that you could defrost them in the microwave, or in a large bowl of warm water, but it most certainly would lead to a soggy brown apple. This might still be good in recipes where the texture of the apple should be soft.
What Can Frozen Apples Be Used For?
Frozen apples can be used in almost every cooked recipe, where the result should be soft and tender apple slices or pieces. It's recommended to thaw frozen apples in the fridge overnight, as opposed to using the pieces of apple still frozen.
Recipes that work great with frozen apples are:
Apple Muffins
Apple Sauce also known as Apple Butter
Apple Crumble Pie
Caramel Apple Bread
Grilled or baked Apples
Can You Freeze Apples FAQ
How Long Do Apples Last in the Freezer?
Apples can be safely frozen for up to 1 year in the Freezer when they are frozen fresh, and up to 5 months if they are frozen after they have been cooked.
Do I Need to Blanch Apples Before Freezing?
You do not need to blanch apples before freezing. You do however need to prepare apples by soaking them in acidic water such as lemon juice mixed with water, for a while if you decide to cut them up and not freeze them whole.
Does Freezing Apples Ruin Them?
Freezing apples does not ruin them, but it does alter the texture quite a bit. You can expect some browning and softening of the apples after thawing.
Do Frozen Apples Need to Be Thawed Before Baking?
If you would like to use your frozen apples in any recipe that calls for fresh apples, yes you should thaw them. There are, however, some recipes that are meant to use frozen apples, which might save you some time.
What Is the Best Way to Preserve Apples?
Although you can freeze, can or dry apples to preserve and store apples, the best method usually involves sugar – this keeps the apples from browning and helps them stay firmer. There are two main ways of preserving apples in sugar
Dry packing apples in sugar – a simple method where you add ½ cup of sugar to every quart of cut apples, mix and seal in your freezer bags.
Canning apple slices in syrup – a great method where you make a simple syrup recipe which you allow to cool before you simply drop your apples in and send them off to the freezer.
Can You Freeze Apples Conclusion
So, can you freeze apples? Yes. Freezing apples is a great way to save some good fruit in their peak season and save you some money.
Whatever your reason or requirement, freezing your apples can be done mostly with very little preparation and effort.