If you've never had oxtail stew then there is no time like the present to try it soon. This is an incredibly delicious and fall-apart tender oxtail stew that you will no doubt love. Made with a thick red wine sauce it's brimming with flavor and perfect for any chilly night.
Made with potatoes and a variety of fresh vegetables including leeks and tomatoes and peppers this dish is hearty and comforting in every bowl.
The tasty combination of meat, vegetables, and spices keep this oxtail stew recipe from lacking in flavor. This oxtail tomato stew is a perfect winter soup but there's nothing stopping you from enjoying it all year long because it's perfect for rainy day weather too.
What is an Oxtail?
Despite how the name might sound, oxtails do not actually come from an Ox. While these cuts of meat may have originally come from those animals a long time ago, nowadays we get oxtails from cows. Oxtails come from the meaty part of the cow's tail where it meets with the rump of the cow. The meat surrounding the bone in that section is fatty and flavorful making it is excellent for slow-cooked stews and soups because it helps to tenderize the meat so that it falls right off of the bone.
Eating oxtail started as a way to keep from wasting any parts of an animal and today it's used for similar reasons, but also because it's most likely one of the most tender cuts of beef you'll ever find, making it much more like a delicacy. This particular slow cooker oxtail recipe is made with a Spanish oxtail recipe. All over the world, there are different ways to cook and consume oxtail but today we're sharing a Spanish stew recipe that I know and love.
Ingredients you'll need for oxtail recipe slow cooker:
Oxtail
Olive oil
Leeks
Big juicy tomatoes
Green Italian peppers (or bell peppers)
Yellow onion
Garlic cloves
Cloves
Pepper (black or mixed)
Salt
White flour
Red wine
Sugar
For the exact amounts needed, please see the recipe card below.
How to Make Slow Cooker Oxtail Stew
Add your flour to a medium-sized mixing bowl and then add in a few pieces of oxtail at a time, mixing to coat them in the flour. Set them aside and then repeat with the remaining oxtail pieces until all have been coated. Set aside.
After washing the vegetable well, cut them into small pieces and set them aside.
In a pot or frying pan, add your olive oil and then brown the oxtail pieces without overcrowding them in the pan. Work in batches as needed. Cook them over medium-low heat so that the flour does not burn.
Once the oxtail has finished, use that same pan to heat the vegetables, adding in a little bit more of the olive oil if needed.
Cook over medium-low heat and while they are cooking, grate the tomatoes. For this, cut them in half and then grate them without breaking the skin or hurting your fingers, turning the insides into a tomato puree.
Once the vegetables are softened and browned, add in the tomato puree and season the pan with salt and pepper. Let cook for another 5 minutes over medium heat.
Add the oxtail pieces to the slow cooker and then pour your vegetable mixture over the top.
Add in the red wine and mix well to combine.
Let the crockpot cook over low heat for 9 hours.
Once the time has elapsed, remove the oxtail pieces from the slow cooker and set them aside.
Use an immersion blender to blend the veggies and sauce well until it's a big batch of thickened sauce.
Place the oxtail back into the sauce and then taste it.
At this point, depending on how ripe your tomatoes were you may need to correct the acidity with a couple of spoonfuls of sugar.
Add sugar one spoon at a time, mixing well between each addition and tasting before adding in the next addition.
Correct the salt content as well if needed.
Let the soup cook for another 30 minutes before serving.
Serve with a side of fried potatoes and enjoy.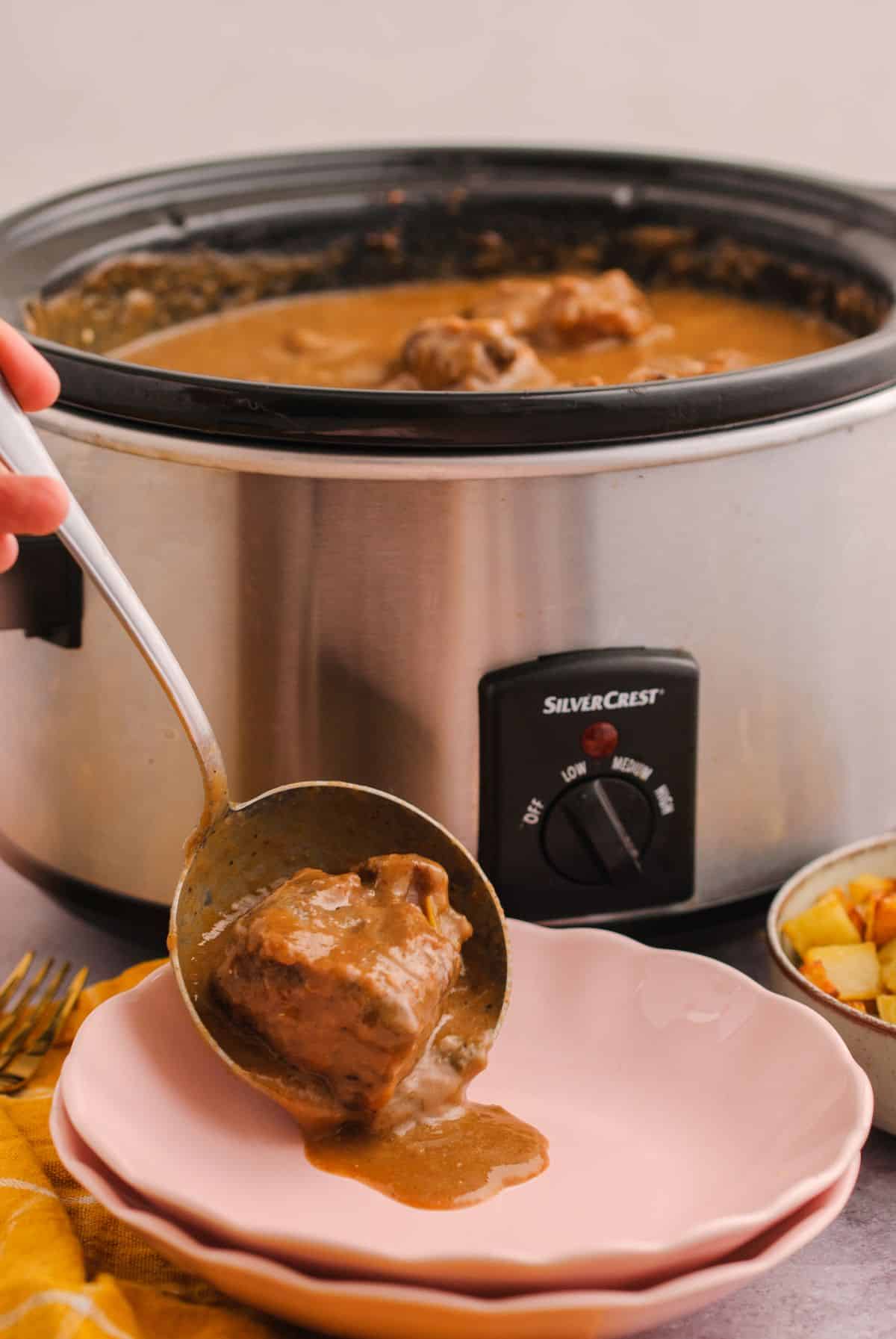 Recipe Tips
At first, it might look like some of the chunks of the oxtail are too big, but have in mind a lot of it is only bones.
The typical way to eat this delicious stew is with some hot fried potatoes on the side. Other great side dish options include rice or mashed potatoes to help absorb the tasty juices. This stew would also be great with a side of cooked green beans or asparagus.
Not every grocery store sells oxtail so you may wish to call ahead to see if they have any in stock. While you may get lucky with finding some at your local Walmart, I have had great luck finding them at Whole Foods in the meat department. Keep in mind that a lot of grocery stores will allow you to order it to their store for a future date so if it's not something that they regularly stock, they can still get it for you.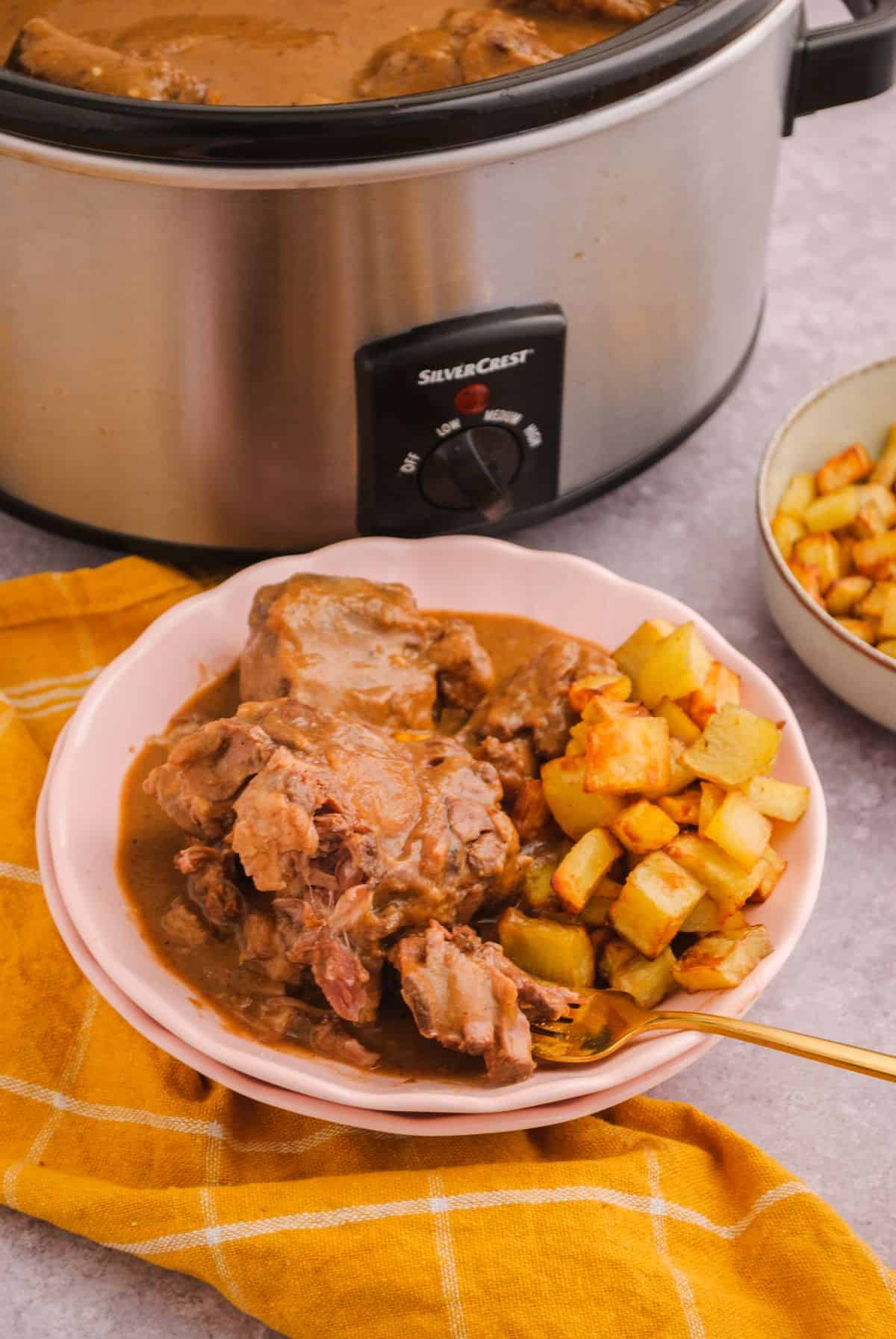 Make-Ahead Instructions
You can make this slow cooker oxtail soup in advance. In fact, it's actually even better when made a day in advance. This is because it gives the stew a longer time to develop flavors and as the soup chills it causes all of the fats to solidify and float to the top of the soup.
A lot of people think of oxtail soup as being too fatty or greasy but by removing the solid fats from the soup after it's chilled and before reheating it, you can make your soup less fatty and a bit more healthy.
To make your soup in advance simply follow along with the instructions and then allow your cooked stew to cool completely. Once cooled, place it in the fridge in an airtight container and allow to rest overnight. The next day, reheat until warmed through and serve.
Storage and Reheating
This soup is good for up to 5 days if kept stored in an airtight container in the fridge. It can also last up to 3 months in the freezer for longer storage if needed.
To reheat your slow cooker oxtail stew you can reheat a bowl at a time in the microwave at 50% power for a gentle reheat or you can reheat it on the stovetop over medium heat. Cook until the soup is hot and piping hot. If reheating your soup from frozen I recommend thawing the soup overnight in the fridge first.
FAQs
What can I do with leftover oxtail stew?
If you have some leftover stew that you want to repurpose into something new then you can easily turn it into some ragu sauce by removing the meat from the bones and serving the oxtail soup over cooked spaghetti noodles. If needed you can thicken the soup up to be more sauce-like.
Do you have to brown oxtails before cooking?
You do not have to brown the meat beforehand if you do not want to, but I do recommend it. By browning the meat you help to sear the outside of the meat, thereby holding in the juicy tender meat inside. This also helps to release some color and flavor into the soup which all works great at helping the soup to taste even better.
How long does it take for oxtails to get tender?
Oxtail meat starts out incredibly tough but the longer that it cooks, the more the fat dissolves and helps to tenderize the beef. This means that it takes several hours (usually around 8 hours) to become fall off the bone tender in a slow cooker on the low heat setting.
For more delicious stew recipes check these recipes out soon:
Yield: 4
Slow Cooker Oxtail Stew
An incredibly delicious and fall-apart tender oxtail stew made in a thick red wine sauce.
Cook Time
9 hours
30 minutes
Ingredients
2.6 lbs/ 1.2 kg oxtail cut in pieces
Olive oil
2 leeks
3 or 4 big juicy tomatoes
2 green Italian peppers (or bell peppers)
1 yellow onion
3 garlic cloves
4 cloves
1 tablespoon pepper (black or mixed) 
1 tablespoon salt
½ cup white flour
3 glasses of good quality red wine
Optional sugar to taste (white or brown)
Instructions
In a medium-sized bowl add the flour. Add a couple of pieces of oxtail at a time and coat them lightly with the flour. Set aside and repeat with the rest of the oxtail pieces.
Cut the vegetables into small pieces. Make sure to clean the top of the leeks since usually can have residues of soil. For this, cut lengthwise the top and rinse with water.
In a pot or frying pan add the olive oil and brown the oxtail pieces. Do not overcrowd, is best if you work in batches. Be careful and do it on medium-low heat, otherwise, the flour can easily burn.
In the same pot, add if needed a bit more olive oil and the chopped veggies. Let them cook on medium-low heat.
While the vegetables are cooking, grate the tomatoes. For this cut them in half and grate them carefully to not break the skins (or grate your fingers!) Reserve the tomato puree.
Once the vegetables are soft and brown, add the tomato puree and season with salt and pepper. Let cook for around 5 minutes on medium heat.
In the crockpot add the oxtail pieces and pour on top the veggies and tomato sauce.
Add the red wine glasses and mix well.
Let cook on low for 9 hours.
Once the time has passed and the oxtail is cooked, remove the oxtail pieces from the slow cooker leaving the vegetables and sauce inside.
With an immersion blender, blend well the sauce and veggies until a thick sauce is created.
Put back the oxtail pieces into the sauce and taste it. At this point, depending on how ripe your tomatoes are, you might need to correct the acidity with a couple of spoons of sugar.
Add the first one, mix well and taste, and if needed add the second one. Add more if your sauce still needs a bit more balance. Correct the salt content as well if needed.
Let cook on low for 30 minutes more or so.
Serve with a side of fried potatoes.