This quick-cooking chicken stew is perfect for those cold nights when you need a bowl of good food to warm you up.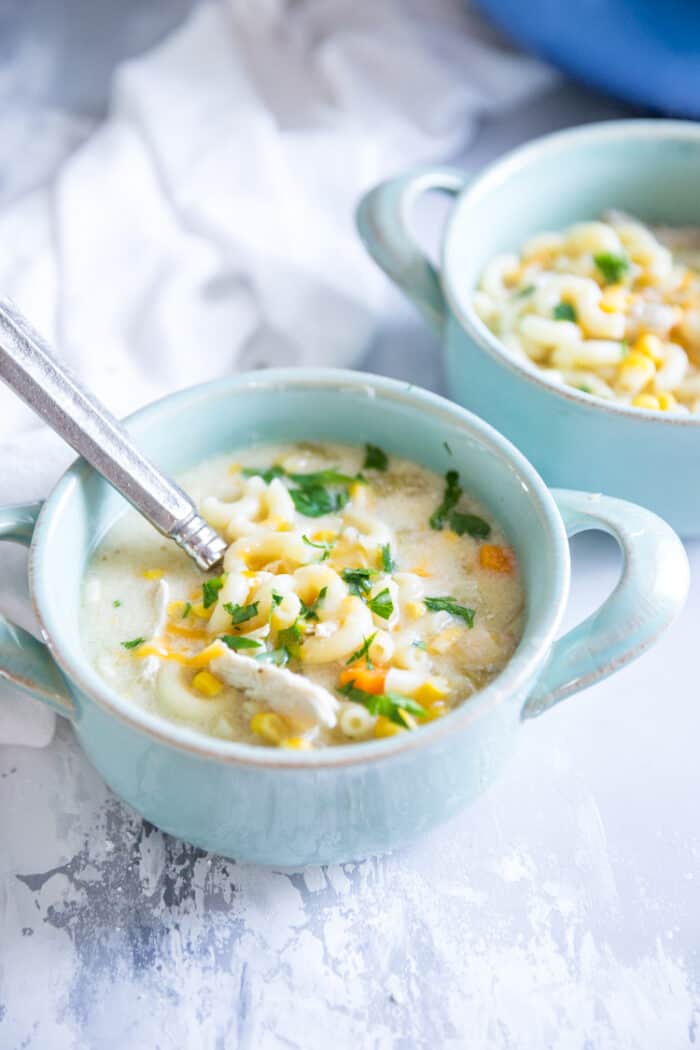 I love where I live in Ohio. There is quite a lot to do between a major league baseball team, football team and an MLS soccer team. We are on the river which provides us a level of entertainment and waterfront activities.
The foodie scene is eclectic and the brewery scene is vast. Plus we have one of the best zoos in the country. I really love my city.
I love my city until it is winter. Then I hate everything about Ohio. All those cold, gray days; they make you want to cry. I hate being cold, I feel like my fingers and toes are chronically numb and my teeth won't stop chattering.
The only things that get me through the winter are toasty fires and big steaming bowls of soup. I love a good soup recipe, they are wholesome and comforting and will see you through anything.
A good bowl of soup will you see you through the good times and the bad; the sleet, freezing rain and the snow. It's like a favorite fluffy blanket that you throw over your shoulders to keep you warm.
This Southwest chicken stew is a winter staple, although you don't have to wait for the cold weather to get her to enjoy it!
What Is Chicken Stew?
Chicken stew is comfort food for starters. This dish is made up of chicken, cooked veggies, broth, and a creamy add-in that thickens the stew.
This version has all those same components, but where many stews use potatoes, this version uses elbow macaroni to make it a little more kid-friendly.
This stew is hearty, but could almost be called a soup with all the delicious tasting broth.
How To Make Chicken Stew
Heat olive oil in a dutch oven. Add onions, carrots, and peppers and heat until the vegetables are tender. I used a frozen blend for convenience, but fresh vegetables are certainly welcome!
Add a little garlic to the veggies and continue to heat, stirring occasionally.
Add rinsed and drained corn and one small can of diced chilies.
The chicken comes next. I used shredded rotisserie chicken for this recipe, again, I was all about ease and convenience! Diced chicken breasts or even chicken thighs are fine for this recipe
Season the mixture with salt, oregano, paprika, and dried cumin.
Add chicken broth and allow the mixture to come to a boil
Stir in elbow macaroni and cook until pasta is al dente.
Combine butter and flour until it makes a paste and slowly add this past to the stew.
Whisk eggs and milk together. Add a little warm broth to the eggs to temper them, add the eggs and the milk to the stew; stir.
Feel free to use potatoes or even wild rice in place of the macaroni. Add black beans to the broth if desired.
How To Make Chicken Stew In The Slow Cooker
This recipe can easily be adapted for the slow cooker! Follow the same instructions as above with these few adjustments.
The veggies can be added frozen, they will cook in the slow cooker.
Add the pasta during the last 20 minutes of cook time so that they do not become mushy and overcooked
Add the butter paste and the egg/milk mixture just before serving as instructed above.
Can I Freeze Chicken Stew?
You can, BUT I would not add the butter paste or the dairy. The dairy will break apart and not hold up well during the reheating. To freeze, cool the stew completely and then place the stew in freezer-safe bags.
To reheat, thaw the bag in the fridge. Pour the contents into a stockpot and once the soup has come to a low simmer, continue with the butter mixture and the egg mixture as per the recipe instructions.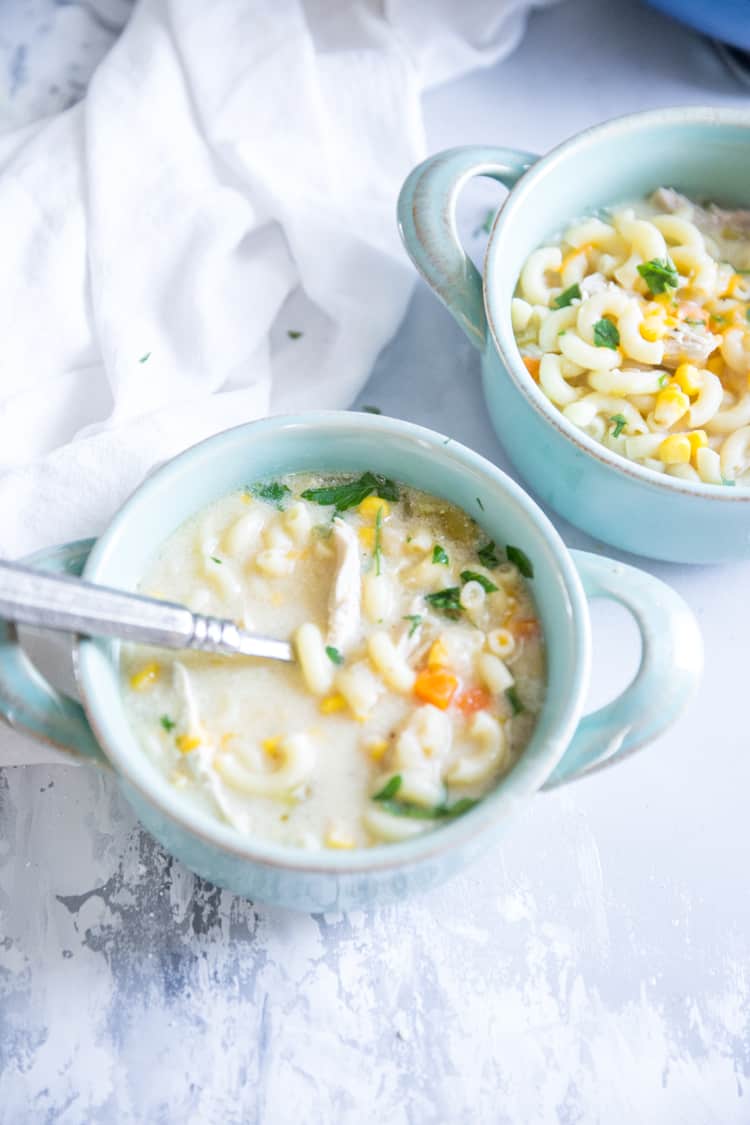 What To Serve With Chicken Stew?
Try a few sweet potatoes biscuits, an easy spinach salad, or even avocado salsa and chips can be served alongside your chicken stew! Cornbread muffins would also be completely appropriate!
Yield: 6
Southwestern Chicken Stew
A heart wearming chicken stew with a southwestern flair!
Ingredients
2 teaspoons olive oil
1 cup frozen onions carrot, and green pepper blend
2 teaspoon garlic, minced
1 teaspoon oregano
1/2 teaspoon paprika
3/4 teaspoon salt
1/2 teaspoon cumin
14 oz can corn, drained
4 oz can diced green chilies, drained
2 cups shredded chicken
2 32 oz containers chicken broth
1 cup elbow macaroni
4 tablespoons softened butter
1/4 cup flour
2 egg yolks
1/2 cup half and half
Instructions
Heat oil in a large skillet,vegetable mix. Cook for 3 minutes or until vegetables begin to soften. Add garlic, cook one minute.
Add corn and chilies. Season with salt, oregano, paprika, and cumin.
Stir in shredded chicken.
Pour in chicken broth.. Bring to a boil. Add macaroni, cover and reduce heat and simmer. Cook for 15 for 20 minutes or until pasta is al dente.
In a small bowl, combine the butter and the flour until they form a thick paste. Slowly add the flour mixture to the soup, stirring to dissovle.
In the same bowl, whisk together the egg yolks and the half and half.. Pour a small amount of the stew into the bowl whicking to temper the eggs. Pour the egg mixture into the broth and stir.
Nutrition Information
Yield
6
Serving Size
1
Amount Per Serving
Calories

350
Total Fat

18g
Saturated Fat

8g
Trans Fat

0g
Unsaturated Fat

8g
Cholesterol

129mg
Sodium

1749mg
Carbohydrates

31g
Fiber

3g
Sugar

9g
Protein

19g