This quick cooking chicken stew is perfect for those cold nights when you need a bowl of good food to warm you up.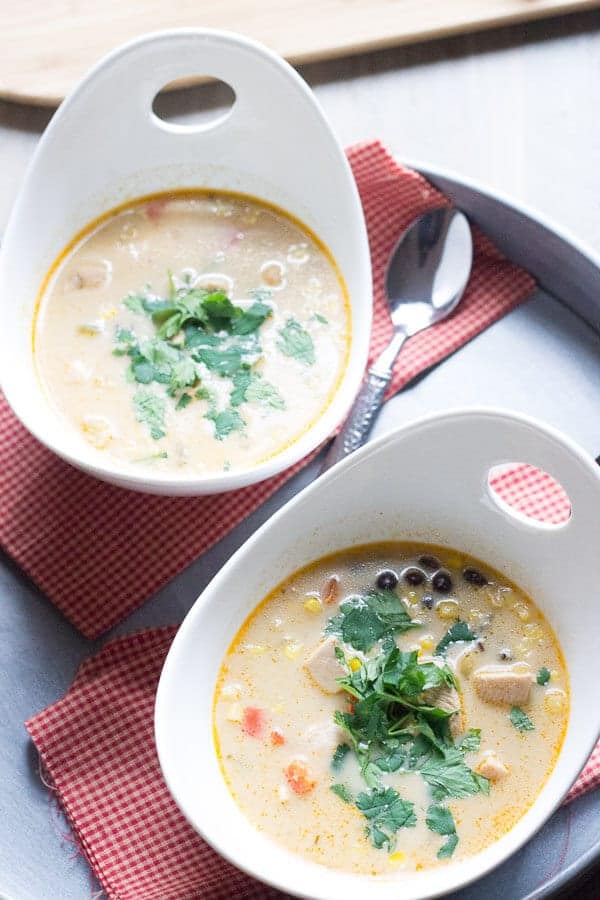 I love Ohio unless it's winter. Then I sort of hate Ohio. All those cold, gray days; they make you want to cry. Ohio winters make me jealous of bears. They have the right idea, hide all winter in a warm, cozy den and then come out to party in the spring. That's what I'd prefer to do. Instead I'm stuck with chronically cold fingers, toes and chattering teeth.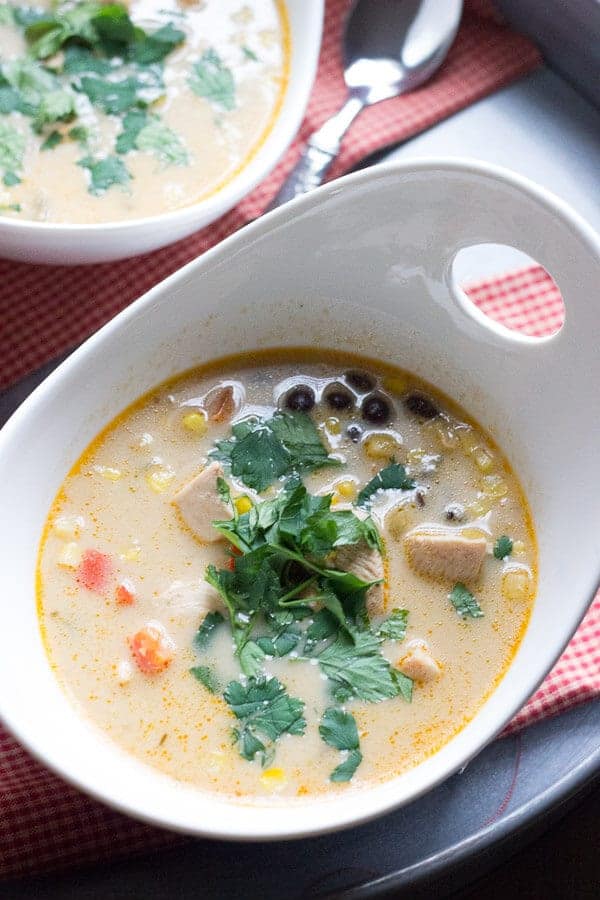 The only things that get me through the winter are toasty fires and big steaming bowls of soup. I love a good soup recipe, they are wholesome and comforting and will see you through anything. A good bowl of soup will you see you through the good times and the bad; the sleet, freezing rain and the snow. It's like a favorite fluffy blanket that you throw over your shoulders to keep you warm.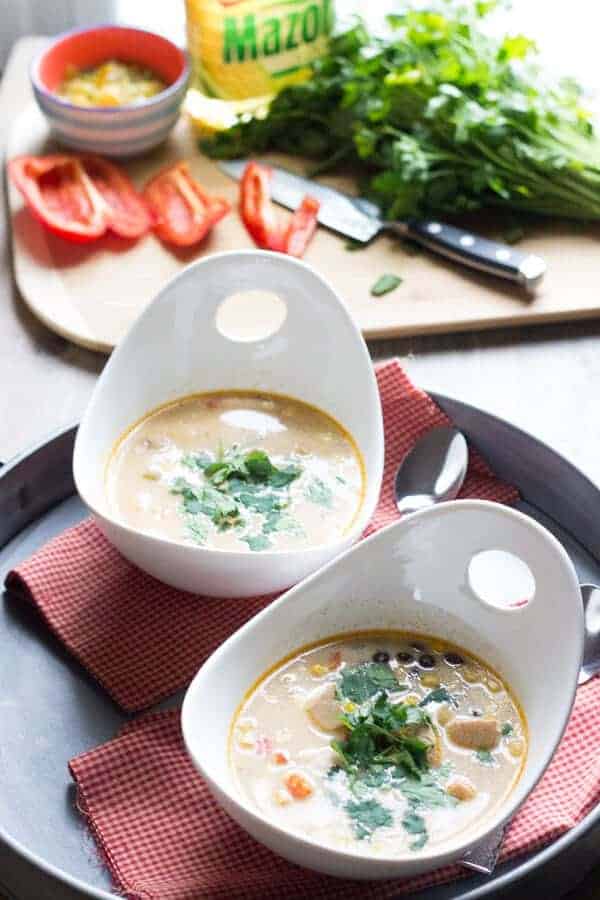 Our recent cold spell had me craving stew. Normally I stay far away from stew. It brings back childhood memories where I'd spend my meals in tears trying to avoid the tired, chewy meat that my mom used in her stews. No, I don't like THOSE kinds of stews. But chicken, well I could do chicken. Especially if chicken was swimming in a creamy broth alongside corn, black beans and green chilies. Yes, that kind of stew I can do.
Typically stew is made up of large chunks of meat that slowly break down in liquid. Often you'll find vegetables and potatoes in stew. This is a little variation. It's certainly chunky with the chicken, the beans and the veggies. I call this a "subtle" stew. It's my kind of stew. I strive to keep my recipes quick and easy and this chicken stew are both those. Once the veggies soften and cook, they are allowed to come to a slow boil in chicken broth. A little cream is added before serving. A comforting meal in a hurry. Who doesn't need that?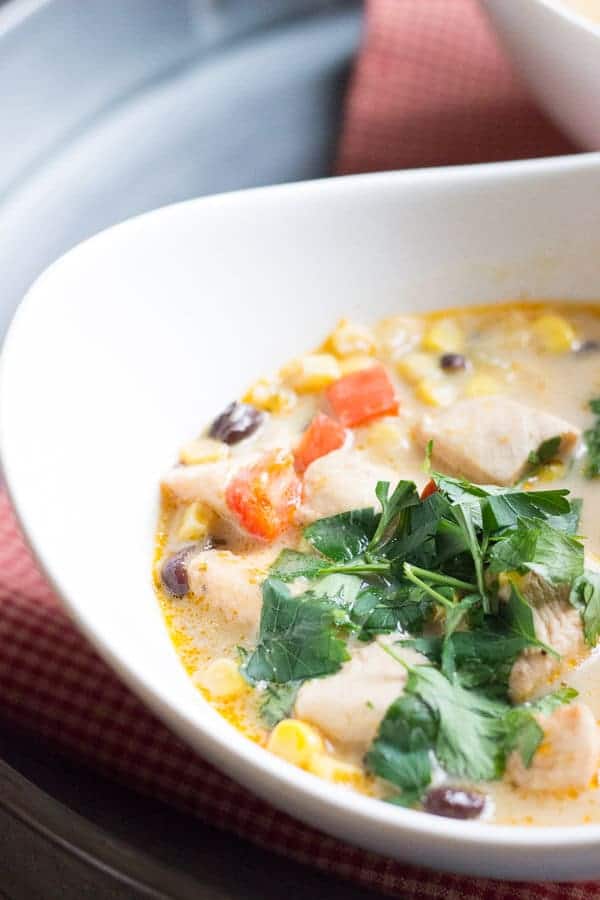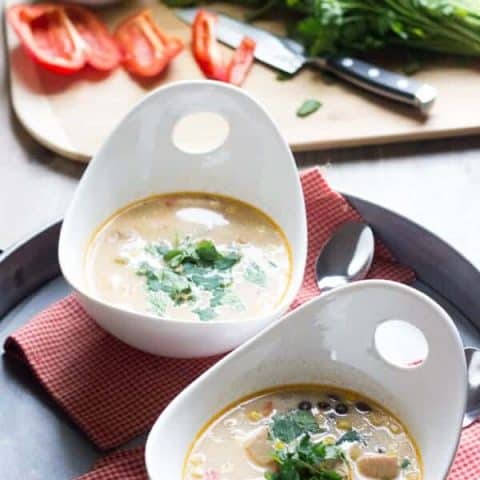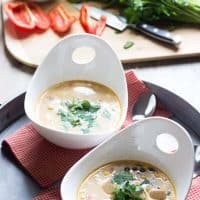 Southwestern Chicken Stew
A heart wearming chicken stew with a southwestern flair!
Ingredients
2 teaspoons ®Mazola Corn Oil
1/2 cup chopped onion
1/2 bell pepper, diced
2 teaspoon garlic, minced
2 lbs chicken cut into chunks
1 teaspoon oregano
1/2 teaspoon paprika
3/4 teaspoon salt
1/2 teaspoon cumin
1 bay leaf
14 oz can corn, drained
14 oz can black beans, rinsed and drained
4 oz can diced green chilies, undrained
3 cup chicken broth
1 cup half and half
2 tablespoon flour
cilantro for garnish, optional
Instructions
Heat oil in a large skillet, add onion and bell peppers. Cook for 3 minutes or until vegetables begin to soften. Add garlic, cook one minute. Add chicken. Season with oregano, paprika, and cumin. Stir and cook chicken for 6-8 minutes or until chicken has browned. Add corn, black beans and green chilies. Stir in chicken broth and bay leaf. Bring to a slow boil. Reduce heat and simmer for 20 minutes.
In a small bowl, whisk together half and half and flour. Pour half and half mixture into the broth and stir. Continue to cook for another 5 minutes. Garnish with cilantro if desired.
Nutrition Information
Yield

6
Serving Size

1
Amount Per Serving
Calories

539
Total Fat

27g
Saturated Fat

9g
Trans Fat

0g
Unsaturated Fat

16g
Cholesterol

159mg
Sodium

1251mg
Carbohydrates

30g
Fiber

7g
Sugar

8g
Protein

45g