Sweet potato biscuits that get baked up tender, flakey and soft. They are irresistible!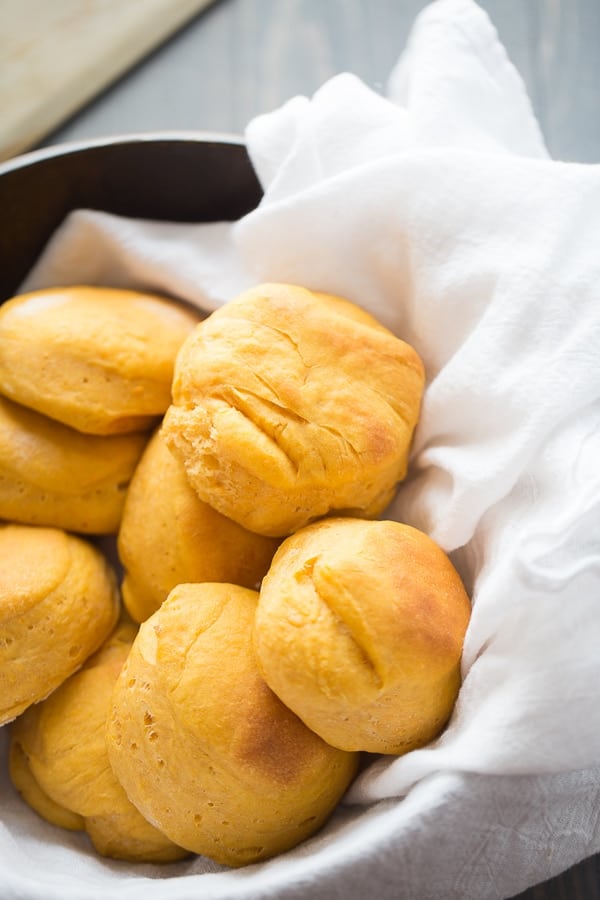 I never used to be a sweet potato fan. The term "sweet potato" was always a misnomer to me; they never were sweet enough. I've always wanted to like them. Anything with the word "sweet" in the title had to be good, but the flavor always left me sad.
Three years ago I got a wild hair and made sweet potato "crostini". I topped sweet potato rounds with gorgonzola cheese, spiced pecans and a drizzle of honey. It took only one bite for me to realize that perhaps I have sorely misunderstood the sweet potato. These rounds were tender and flavorful with, what do you know, quite a bit of sweetness. Since then I've retracted my opinion of sweet potatoes; I no longer think of them as second class, but rather I see them as first rate spuds. Sweet potato fries, sweet potato hash, and baked sweet potatoes all make regular appearances at out family table.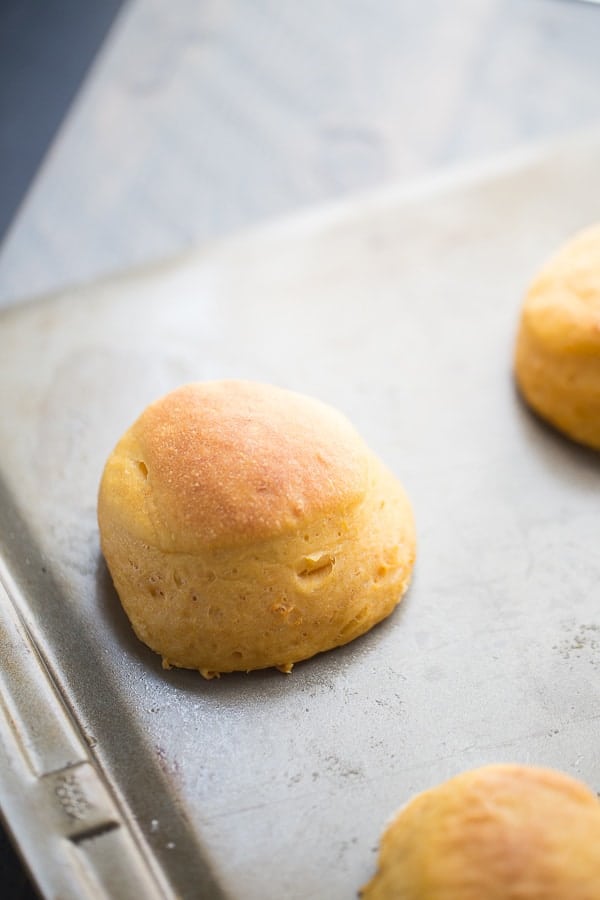 This is the first I baked with sweet potatoes. Everyone loves biscuits; they are the perfect vehicle for sopping up gravy and sauces. These sweet potato biscuits rank up there as some of the best biscuits I have ever made! These sweet potato biscuits start with two sweet potatoes that have been baked, cooled and peeled. The potatoes get mixed with butter, yeast, flour, baking soda, and salt. I also added maple syrup for a natural sweetness that partners nicely with sweet potatoes.
This sweet potato biscuit recipe requires some planning, as you will have to let your dough rise for roughly two hours. After this, the dough will be rolled and cut into biscuits with a 2-inch biscuit cutter. Then the dough will rise once again. After this second rise, the biscuits will get baked until they are just lightly golden. Butter them up as soon as they come out of the oven; that's the best way to eat them! After a few of these, you will never eat any other kind of biscuit again!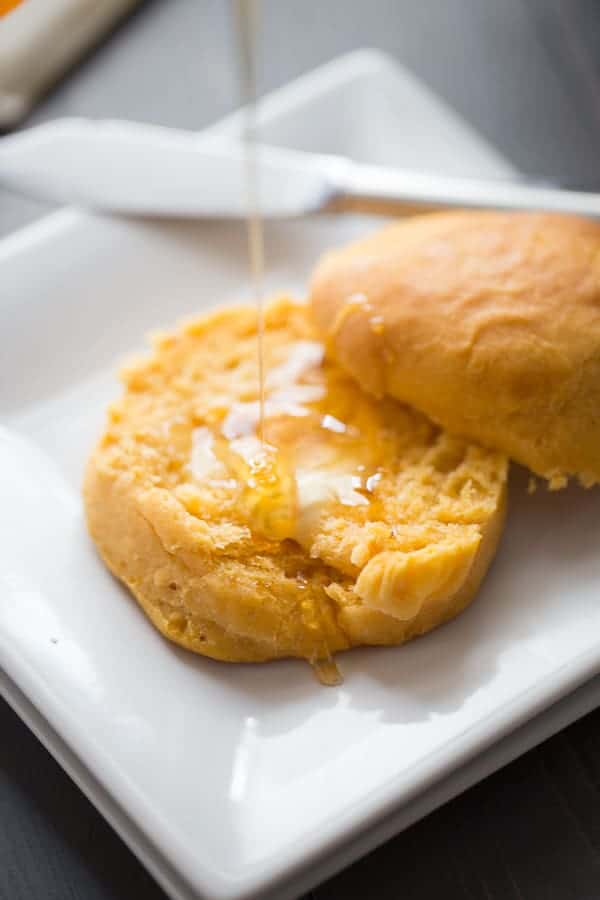 Sweet potatoes have a new place in my kitchen, sweet potato biscuits today and pies tomorrow.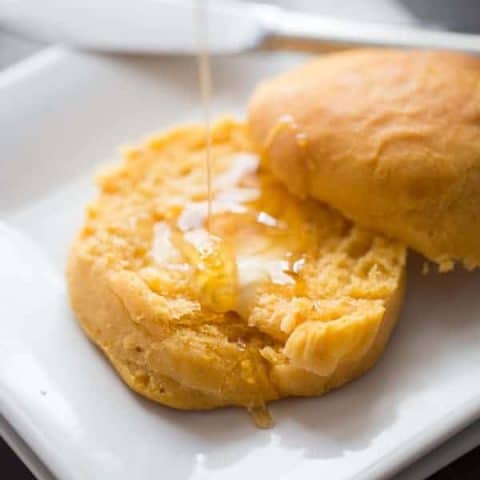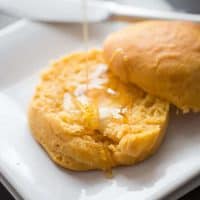 Sweet Potato Biscuits
Yield: 1 dozen

Prep Time: 2 hours 30 minutes

Cook Time: 12 minutes

Total Time: 2 hours 42 minutes

Easy, homemade sweet potato biscuits that are so soft and flaky, you will be instantly hooked!
Ingredients
1 1/4 oz packet active dry yeast
1/4 cup warm water
2 sweet potatoes, baked, cooled and peeled
1/2 cup butter
4 tablespoons maple syrup
1 teaspoons salt
2 1/2 to 3 cups all-purpose flour
1 teaspoon baking powder
Instructions
In a bowl, combine yeast water; let stand 5 minutes. In a large mixing bowl, stir together sweet potatoes, butter. Stir in maple syrup and salt, followed by yeast mixture. Stir until smooth.
Combine flour and baking powder. Carefully stir flour mixture into sweet potato mixture. Using the dough hook of your mixture, lightly knead the dough together. Shape the dough into a ball and place the dough into a greased bowl. Lightly spray the top of the dough with the non-stick spray. Cover and let rise in a warm, draft-free place for 2- 2 1/2 hours or until double in size.
Punch down dough and turn onto a lightly floured surface. Roll dough into 1/2-inch thickness. Cut the dough with a 2 inch round biscuit cutter. Place dough onto a lightly greased baking sheet. Cover and allow the dough to rise for another 2 hours or until double.
When ready, place biscuits into a 400 degree preheated oven. Bake the biscuits for 12 minutes or just until golden.
Nutrition Information
Yield 12 Serving Size 1
Amount Per ServingCalories 396 Total Fat 9g Saturated Fat 5g Trans Fat 0g Unsaturated Fat 3g Cholesterol 20mg Sodium 289mg Carbohydrates 69g Fiber 4g Sugar 5g Protein 10g