With countless ways to cook them, potato sides are essential on the dinner table. Whether it's a classic holiday side dish or your next potluck staple, this extensive list of potato sides is a must-have for your next event or family dinner.
What pairs well with potato sides?
The short answer: almost anything. The starchy spud tastes delicious by itself with salt and pepper or dressed up with seasonings, sauces, and garnishes. Potatoes are also an ideal complement to meat and vegetables. Here are some items that pair well with potato sides:
Proteins: chicken, beef, tofu, fish
Vegetables: onions, cauliflower, parsnips, mushrooms, green beans
Seasonings: garlic, curry powder, parsley, pepper, rosemary, salt, thyme
Garnishes: bay leaf, scallions, chives, bacon
Sauces: mayonnaise, sour cream, mustard, oil
What proteins go with potato sides?
Depending on the flavors and textures of the recipe you choose, most proteins will go well with potatoes. Here are some proteins that pair well with almost any potato side dish:
Beef – salt-covered, juicy steak combines with soft, creamy potatoes like cheesy scalloped potatoes or herby mashed potatoes
Chicken – a mild-herbed or citrus-flavored chicken will complement a flavorful, bold potato dish to bring complementing variety to your spread
Fish – mild, flaky fish will offer texture contrast to crispy, crunchier potato side dishes
Tofu – milder proteins like tofu bring the creative freedom to pair with almost any potato dish as the soft and spongy texture of tofu will absorb the flavors of the ingredients of your potato recipe
Are potato sides healthy?
Aside from being a healthy source of carbohydrates and fiber, potatoes contain key antioxidants that fight diseases, and important vitamins and minerals to help the proper body function.
The fiber in potatoes acts as a prebiotic for the good bacteria and improves gut health. This fiber is known as resistant starch and can also aid in preventing heart disease by controlling sugar levels in your blood and keeping cholesterol down.
Additionally, baked potato skin contains high amounts of potassium and magnesium.
These vitamins are essential for proper body function: potassium is known for regulating your heartbeat, synthesizing and metabolizing carbohydrates, and supporting muscle and nerve function whereas magnesium ensures proper function of the muscles and nerves and energy production.
Which potato sides are the healthiest?
All potatoes are rich in vitamins, minerals, complex carbohydrates, fat-free, and low in calories. However, the healthiest of the starch have darker-colored skin, such as purple and red potatoes, thanks to higher levels of antioxidants.
Are sweet potatoes healthier than regular potato sides?
Both sweet potatoes and regular potatoes are excellent sources of nutrients, carbohydrates, and fiber. However, white potatoes contain more potassium whereas sweet potatoes contain more fiber, vitamin A, and vitamin C.
How long can you keep potatoes?
There are a few factors that determine how long you can keep potatoes like the variety of potatoes, how they're stored, and whether they've been cooked or not. Here are some general guidelines on how long potatoes can be kept for:
Fresh potatoes in room temperature: 1-2 weeks
Raw potatoes (cut and stored in water): 24 hours
Mashed potatoes (cooked and refrigerated): 3-4 days
Boiled potatoes (cooked and refrigerated): 3-4 days
Frozen, cooked potatoes: 10-12 months
50 Best Potato Sides that Will Complete Any Meal
1. Duckfat Roasted Potatoes
Crispy skin with a fluffy and creamy inside makes these Duck Fat Roasted Potatoes from Cooking Gorgeous an essential side dish on the dinner table whether they're for a holiday meal or special lunch.
Duck fat has a high smoke point, making it ideal for roasting potatoes. Not to mention, it adds irresistible flavor and richness that will complement any roast.
2. Smoked Cheesy Potato Sides
A Grill for All Seasons' recipe for Smoked Cheesy Potatoes is loaded with six different types of cheese for a creamy, cheesy, and smokey side dish. The delicious recipe pairs well with any smokey barbeque dish, like ribs or pork tenderloin, as a tasty replacement for fries.
Topped with sour cream, chives, and bacon for an irresistible contrast to the other ingredients.
3. Air Fryer Hasselback Sweet Potatoes with Scallion Pesto
Ready in 20 minutes, these Air Fryer Baby Hasselback Sweet Potatoes with Scallion Pesto add the festive touch to any holiday meal. Plus, this recipe from Healing Tomato is topped with a flavorful scallion pesto to seal the deal on this delicious side dish.
4. Crunchy Purple Potato Salad with Basil Vinaigrette
Creamy, starchy, comforting potato salad is a classic side dish for any summer barbeque or potluck, and this Crunchy Purple Potato Salad from All We Eat adds a bit of texture for a unique version of the dish we all know and love.
Not to mention, this salad is loaded with vibrant colors to make a beautiful presentation on your dinner table. Full of purple potatoes, red onions, green celery, bright radishes, and basil leaves, this recipe will impress your guests.
5. Olive Oil Mashed Potato Sides with Olives
Cooking With Wine's recipe for Olive Oil Mashed Potatoes with Olives is dairy-free but oh-so-creamy and silky. Using high-quality olive oil, even flavored, makes these mashed potatoes as creamy and luscious as the classic butter and milk-loaded mash, without the extra fat and heaviness.
6. Brown Sugar Bacon Sweet Potato Casserole
Smokey, sweet, savory, and loaded with hints of fresh rosemary and sage are a few words to describe this Sweet Potato Casserole recipe from Butternut And Sage. Add a bit of flair to your classic Thanksgiving casserole with a brown sugar bacon topping that can't be beaten.
Sweet brown sugar flavors complement the salty, savory thick-cut bacon and fresh rosemary and sage in this recipe.
7. French Gratin Dauphinoism Potato Sides
A Life With Love's recipe for Gratin Dauphinois is the best accompaniment to beef steak, roasted chicken, or pork fillet. Despite its unique name, this creamy dish is simple to make and everyone will love it with flavors of garlic, nutmeg, salt, and pepper.
8. Easy Lemon Greek Potatoes
Braising potatoes in chicken broth and lemon juice soaks up the flavor while roasting them in the oil gives a crispy and delicious final result.
The tasty combination of Greek potatoes from Key To My Lime gives a flavorful, decadent side dish full of fresh herbs and lemony flavor.
Garnish this side with parmesan cheese or fresh parsley for an added flavor that everyone will love accompanied by a delicious chicken dish.
9. Vegan Miso Sweet Potato Mash
Lavender And Macarons' recipe for Vegan Miso Sweet Potato Mash is sugar-free and healthy, yet so creamy and satisfying. Savory miso paste infuses the natural-tasting sweet potatoes with a rich umami flavor that can't be beaten.
Swap your classic sweet potato casserole with this healthy, sweet, and savory sweet potato mash for your next Thanksgiving dinner.
10. Simple Twice-Baked Potato Sides
An easy twice-baked potato recipe that results in all the creaminess of mashed potatoes but with crispy, salty skin and a melted-cheese topping.
Flavor Feed's recipe for Twice-Baked Potatoes uses Russet potatoes, cheddar cheese, and fresh chives for a delicious side dish that will complement any meal on your dinner table.
11. Aloo Katli (Green Potatoes)
Poet And Flower's recipe for Aloo Katli is a beautiful green potato side dish flavored with onions, cilantro, garlic, and ginger. Enjoy this versatile dish by itself, with roti, a round flatbread, or with a comforting stew and rice.
Aloo Katli is a unique side dish that pays homage to Indian and Middle Eastern cuisine that any taste bud will enjoy.
12. Spicy Southwestern Roasted Sweet Potatoes
Spice up your next sweet potato dish with this flavorful Southwestern Roasted Sweet Potatoes recipe from Healthy With a Chance of Sprinkles.
Crispy on the outside, tender on the inside, loaded with smoky Tex-Mex spices, and then oven-roasted for a delicious side for any Southwestern dinner.
13. Crispy Oven Baked French Fries
Skip the oil and bake your fries in the oven with this simple recipe from The Soccer Mom Blog. Baked fries are lighter and as crispy as regular fries, without the mess that comes with frying.
Check out these Crispy Oven Baked French Fries for a quick and simple side dish to accompany your next cookout. Plus, the recipe includes ingredients needed to make a homemade steak fries seasoning with pantry staples.
14. Vegan German Potato Sides Salad
Tangy dressing meets crunchy onions and celery, fresh parsley, and green onion in Balance With Jess' recipe for Vegan German Potato Salad.
A sprinkle of smoked paprika gives this potato salad the classic smoky flavor without the addition of bacon, making this recipe vegan-friendly yet bursting with flavor.
15. Grilled Sweet Potato Wedges
Next time you fire up the grill for burgers, salmon, chicken, or whatever else, don't let that smoky flavor go to waste. The Modern Proper's recipe for Grilled Sweet Potato Wedges is quick, simple, and pairs well with anything.
The recipe is ideal for last-minute parties or weekday dinners and even calls for an herby yogurt dip to top it off.
16. Red Skin Mashed Potato Sides
Nibble And Dine's recipe for Red Skin Mashed Potatoes calls for sour cream for a tangy twist to your classic holiday mash. Mashed with their skin on, this dish combines texture and a beautiful red color to add to your Thanksgiving or Christmas spread.
Don't forget the chives and thyme for that festive flavor we all know and love. Plus, using sour cream instead of milk delivers an irresistible creaminess and moisture with a tangy and savory flavor your guests will be sure to love.
17. Classic Kosher Potato Kugel
Kosher Potato Kugel is a staple Shabbat and holiday dish in Eastern European Jewish cooking. Crispy on the outside and tender on the inside, this recipe from The Spruce Eats is an ideal side dish for roast chicken or brisket.
A simple recipe made with Russet potatoes, onions, and eggs that will complete your holiday meal.
18. Vegan Holiday Sweet Potato Bake
With a crunchy top layer loaded with cinnamon and cardamom and a creamy, buttery bottom layer with a hint of lime and a splash of coconut, this recipe is a no-brainer for your next holiday gathering.
The Vegan Holiday's Holiday Sweet Potato Bake is a vegan take on your classic holiday spices and creamy, comforting goodness we all love around the holiday season. The crunchy top layer is made out of hazelnuts and walnuts for a nutty, chunky topping.
19. Ragada Pattice
Ragada Pattice or Ragada Patties are a classic Mumbai street food item consisting of crispy potato patties topped with ragada, a white pea gravy, and sweet and savory condiments.
The recipe from Tadkatime is full of fresh herbs and spices for a flavorful and unique potato side dish that no one will forget.
20. Crispy Salt and Vinegar Smashed Potato Sides
Eight Forest Lane's recipe for Crispy Salt and Vinegar Smashed Potatoes produces a golden brown, crunchy exterior, light and fluffy inside, and salty and tangy combination of flavors.
With six pantry staples, the smashed potato method ensures maximum crispiness and pockets of extra crunch, for a delicious side dish packed with flavor.
21. Smoked Gouda Sweet Potato Gratin
Thin slices of sweet potato make this dish from Awesome On 20 creamy and gooey with hints of smoke thanks to a layering of smoked gouda.
The dish is then covered in garlicky cream and baked until it's tender and bubbly, delivering a special twist to a Thanksgiving staple. Bonus tip: don't forget the thyme for that extra festive spice.
22. Air Fryer Baked Potato Sides
We all know and love the air fryer for many reasons, including making crispy on the outside and fluffy on the inside baked potatoes in less than one hour. The Busted Oven's recipe for Air Fryer Baked Potatoes is a classic side dish for any meal, yet oh-so-delicious.
23. Five-Ingredient Potato Salad
Mutts And Daisies' recipe is a true-and-tried classic for the summer barbecue staple: the potato salad. The recipe includes items you can add to spice it up including relish, dijon mustard, sour cream, and herbs like parsley, dill, or chives.
Serve this classic side dish with barbecued meats, fish, or hamburgers for your next summer cookout.
24. Garlic Parmesan Roasted Sweet Potato Sides
Tender and easy to make, this Garlic Parmesan Roasted Sweet Potatoes recipe from Eat Well 101 is coated with savory parmesan cheese and flavorful spices. It's a quick and delicious side dish for a classic holiday side spread or easy weeknight dinner.
25. Spinach and Gorgonzola-Stuffed Potatoes
Style At Home's recipe for Spinach and Gorgonzola-Stuffed Potatoes turns your average spud side into a decadent dish with creamy gorgonzola and hearty spinach. Not to mention, the dish is finished with a satisfying crunch thanks to delicious chopped walnuts.
26. Easy and Quick Mini Potato Fritters
An easy addition to your weekend brunch or a delicious and crunchy side dish to any meal is this recipe for Mini Potato Fritters from Recipes And Places.
The recipe is quick and simple, taking 20 minutes to make and using three ingredients. Plus, you can add fresh herbs and spices to customize them however you want.
Store them in the fridge to enjoy for a few days or the freezer and pull them out up to a month later for a quick addition to any breakfast, lunch, or dinner.
27. Clementine Fennel Potato Sides
Cocoa Bean The Vegetable's recipe for Clementine Fennel Potatoes combines delicious flavors of orange, fennel, thyme, mustard seeds, and ouzo (an anise-flavored aperitif).
The unique potato side makes for a tasty accompaniment to chicken, fish, or even dishes containing chickpeas. Plus, the dish is vegetarian-friendly, gluten-free, lactose-free, and nut-free, so almost anyone can enjoy its deliciousness.
28. Healthy Potato Sides Pancakes
A comforting and delicious yet healthy and nutritious meal can be made in 30 minutes with a few ingredients thanks to this recipe from The Crazy Peanut.
Fresh dill gives a particular but tasty flavor that allows you to enjoy this savory potato side at any time of the day, breakfast, lunch, or dinner.
29. Aloo Gajar Matar (Potatoes, Carrots, Green Peas)
Aloo Gajar Matar is a classic Indian stir fry made with Aloo (potatoes), Gajar (carrots), and Matar (green peas) and can be made for your next gathering with this simple recipe from The Daily Flavor. Enjoy this side by itself, with rice, or with flatbreads such as roti or parathas.
30. Slow-Roasted Fondant Sweet Potatoes
Recipe Tin Eats' Slow-Roasted Fondant Sweet Potatoes are slow-roasted in a garlicky, butter stock so they absorb the delicious flavors and caramelize on the outside while the inside is tender and irresistible.
The dish can be served as-is or drenched in a Maple Butter Pecan sauce for a delectable finish.
31. Skinniest Vegan Duchess Potatoes
Vegan, gluten-free, and fat-free Duchess Potatoes make this recipe from The Healthy Recipes Lab a healthy potato side for any dinner.
Using a piping stick, the result of these spuds might be too beautiful to eat, so make this picturesque side dish for your next holiday gathering or special event.
32. Simple Baked Patatas Bravas
Transport your taste buds straight to Spain with this savory and spicy Simple Baked Patatas Bravas recipe from Minimalist Baker. The dish originates from Madrid and although typically fried, this recipe calls for baking them.
Using simple ingredients for a flavorful 20-minute tomato sauce, this side dish is easy, quick, and a tasty accompaniment to a tapas night. The dish can be made vegan, but if you're looking to add on some extra flavor, top it off with parmesan for a cheesy finish.
33. Oven-Roasted Sweet Potato Wedges with Hot Honey Butter
Earthly Provisions' recipe covers sweet potato wedges with a sweet, spicy, and savory glaze that your friends and family will enjoy.
The recipe includes a Vegan Hot Honey glaze that gives the sweet potato wedges a chewy crunch and complements the potatoes' natural sweetness for a flavor and texture combination that's tough to beat.
34. Loaded Air Fryer Potato Skins
Your next game-day or party side is as easy as this recipe for Loaded Air Fryer Potato Skins from Domestic Superhero. Using cooked potatoes in the air fryer and loading them up with pantry staples like cheese, bacon, sour cream, and green onions, you'll have your next hit appetizer in no time.
35. Vegan Barbeque Nation Style Cajun Potato Sides
Polka Puffs' recipe for Cajun Roasted Potatoes is a tasty spiced potato side made with mashed potatoes and a creamy mayonnaise sauce.
A popular starter served before the main course at the Barbeque Nation chain in India, this dish can be made vegan and right in the comfort of your home.
The sauce is made from mayonnaise (substitute with vegan mayonnaise, if preferred) and a simple homemade cajun spice mix to make this side dish bursting with flavor.
36. Sweet Potato Casserole With Pecans and Marshmallows
Marshmallow Sweet Potato Casserole is a classic sweet on any Thanksgiving table and Dinner At The Zoo's recipe takes it a step further with an added crunch thanks to a tasty pecan streusel topping.
The bottom layer of mashed sweet potato mixture underneath the delicious topping is lightly sweetened to create an irresistible balance between savory and sweet.
37. Sweet Pickle Potato Sides Salad
Most potato salads are savory and hearty, but this recipe from Sidewalk Shoes makes things a bit sweeter using sweet pickles, mayonnaise, eggs, red onion, apple cider vinegar, chives, and parsley.
A light and sweet side dish for any summer barbeque, picnic, or lunch that children will enjoy, too.
38. Irish Champ (Mashed Potatoes with Green Onions)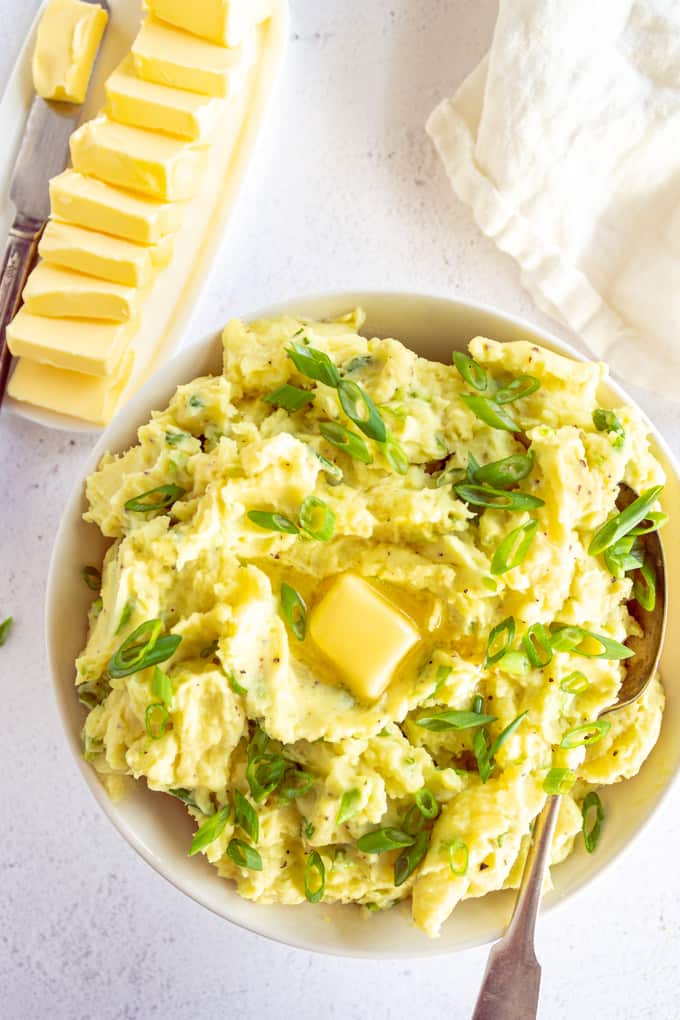 Robust Recipes' Irish Champ is a simple Irish mashed potato staple that's loaded with butter, milk, and green onions. A delicious recipe that's quick and easy to make with seven ingredients and ideal for celebrating Irish holidays.
39. Jeera Aloo (Cumin Potato)
Jeera Aloo is a Cumin-centered potato side common alongside Indian dishes and this recipe from Pavani's Kitchen comes together in minutes.
Using simple pantry staples to throw together this unique stir fry, you'll have yourself a tasty potato side that stands out from the rest. Bonus: pair with rice or roti (flatbread) to make this side dish a whole meal.
40. Air Fryer Sweet Potato Fries
Fork To Spoon's recipe for classic Sweet Potato Fries is a delicious and healthy alternative to your average fries. Since they are so easy to make at home with an air fryer, you can whip these up as a healthy side dish for any meal or as a tasty game-day appetizer.
41. Papas Con Chile (Tex-Mex Mashed Potatoes)
Subtle heat and flavor from green chiles make this Tex-Mex Mash from Gimme Some Oven all worthwhile.
Sautéed with onions and bell peppers and finished off with some milk and sharp cheddar cheese, this potato side dish is a unique addition to your next Mexican-style dinner.
Bonus: add in a seeded jalapeño for some extra heat.
42. Rosemary Parmesan Potato Stacks
Amy's Nutrition Kitchen's recipe for Rosemary Parmesan Potato Stacks is so simple yet elegant enough for a special holiday meal. With a creamy center surrounded by crispy edges and flavors of rosemary and parmesan, this is a must-add to your recipe list.
43. Smashed Purple Sweet Potato Sides
Purple sweet potatoes are similar to your traditional sweet potatoes, aside from their beautiful bright purple flesh that is a bit drier. It's Raining Green's recipe for Smashed Purple Sweet Potatoes is vegan-friendly and features a delicious jalapeño cilantro dip.
A quick, easy, and healthy potato side with an end result that's almost too beautiful to indulge in. The recipe uses five ingredients for the spuds and five ingredients for the creamy jalapeño cilantro dip.
44. Spiced Potato-Stuffed Samosas
Fine Cooking's recipe for Spiced Potato-Stuffed Samosas is simple yet delicious thanks to a doughy texture that will melt in your mouth.
Fresh herbs, spices, and vegetables add to the wonderful flavors of these samosas that will complement the fresh flavors of any Indian dish you serve them with.
45. Creamy Au Gratin Potato Sides
Au Gratin Potatoes are similar to Scalloped Potatoes, but with the addition of cheese for a creamy, cheesy, and decadent side dish with this recipe from The Daring Gourmet.
Using a high-starch spud like Russet or Yukon Gold potatoes both absorbs and thickens the sauce, so it can be enjoyed with the potatoes rather than all over the plate.
Not to mention, Au Gratin Potatoes are ideal for preparing and setting aside to bake later, which allows you to save time when it comes to a large holiday dinner or special gathering.
46. Sweet Potato Fritters
Everyday Healthy Recipes' Sweet Potato Fritter recipe is a delicious and easy way to enjoy this nutritious vegetable as a side for breakfast, lunch, or dinner.
Finely grated raw sweet potato is easy to cook fast with a spice blend that holds everything together and adds extra flavor.
47. Pan-Fried Kimchi Breakfast Potatoes
A quick, easy, and vegan potato side are these Breakfast Potatoes from The Daily Dish. These potatoes are taken to the next level with a flavorful mix of kimchi and sesame oil to crisp and brown the potatoes to perfection.
Plus, kimchi is a probiotic powerhouse loaded with vitamins and minerals, so it's a nutritious breakfast accompaniment.
48. Greek Potato Salad
Think Greek Salad but with some added starch to fill you up. Beyond The Noms' recipe for this Greek Potato Salad calls for an herby and lemony dressing tossed with Kalamata olives, cucumbers, parsley, and feta cheese.
Instead of heavy mayonnaise, this recipe uses light olive oil for a tasty summer side.
49. Chai-Spiced Sweet Potato Crunch Casserole
Dish 'n' the Kitchen's recipe for this Chai-Spiced Sweet Potato Crunch Casserole is a simple five-ingredient side dish that will satisfy anyone's sweet tooth during the holidays.
The dish features buttery mashed sweet potatoes underneath a delicious, nutty layer of crunchy chai-spiced pecans.
50. Antipasto Twice-Baked Potatoes
Using Yukon gold potatoes, Italian Soppressata, Kalamata olives, shredded Asiago cheese, butter, and heavy cream, you can make these extraordinary Antipasto Twice-Baked Potatoes from Carrie's Experimental Kitchen right at home.
Pair with any hearty protein, like steak, for a flavor combination that's sure to impress your guests.
Potato Sides FAQs
Do potatoes go bad?
Yes, potatoes do go bad. Raw potatoes should have a firm feeling to them, not a soft or mushy one.
Additionally, their aroma should be earthy or nutty rather than musty or moldy. Aside from small blemishes, be on the lookout for large bruises, blemishes, or black spots as warning signs of a rotted potato.
How Do You Store Potatoes Long-Term?
To store potatoes long-term, place them in a cool, dry, dark spot such as a paper bag, cabinet, drawer, or cardboard box. Make sure they still have airflow and avoid warm spots like under the sink, on top of the fridge, or next to the oven.
When storing, keep potatoes separate from onions, avocados, bananas, and apples as it may encourage sprouting in your potatoes.
How Do You Store Cut Potatoes?
To prevent browning, you may want to cut your potatoes before storing them. Save some preparation time by skinning or running your potatoes under cold water and then slicing them up.
Place the cut potato slices in a bowl or airtight container and cover completely with cold water. Store them in the refrigerator and use them up to 24 hours later.
Should You Refrigerate Potatoes?
Avoid storing raw, whole potatoes in the refrigerator as the temperature can shift their metabolism and result in the breakdown of some starch
Avoid keeping your potatoes in the refrigerator as their metabolism shifts and results in the breakdown of some starch to sugars. Instead, aim for 50 degrees Fahrenheit and 90 to 95 percent humidity.
Can You Freeze Potatoes?
Although raw potatoes don't freeze well, you can store cooked or partially cooked potatoes in the freezer for up to 10 to 12 months.
Is it Better to Bake a Potato in the Oven or Microwave?
Potatoes can be baked in both the oven and microwave, however, microwaving them requires turning the potato so it bakes evenly and doesn't result in the same crispy skin you get in the oven.
Can You Eat Potatoes That Have Sprouted?
Before eating recently sprouted potatoes, remove the sprouts by breaking them off. Eat potatoes with sprouts soon after you notice them since growing sprouts can suck the sugars and nutrients from potatoes, causing them to shrivel and lose their crunch.
Eating sprouts themselves is not advised. This is because they can contain solanine, chaconine, and other toxic glycoalkaloids that may have serious side effects.
Can You Eat Green Potatoes?
The toxins found in sprouted potatoes may also be found in green potatoes or even parts of potatoes with a greenish tint. Avoid eating green potatoes, or you can cut away any green parts of the skin and flesh.
Potato Sides Conclusion
With starch as tasty as potatoes, potato sides will pair well with almost any meal. From classic holiday potato sides to unique flavorful dishes, they are a staple on the dinner table and can complement any meal you have planned with a delicious side everyone will love.