Nachos are always a great dish to serve up for lunches, appetizers, and tailgate parties but finding decent vegan nachos is difficult. Thankfully this vegan nacho recipe comes into play!

These vegan nachos are crunchy, salty, cheesy, and hearty. Packed with so many spices, the flavors in every bite are sure to satisfy your tastebuds.
Made from fresh ingredients and packed with so many textures and flavors these nachos rival those with actual cheese (and dare I say that they taste even better than the dairy ones?)
What are vegan nachos made of?
These vegan nachos are made from scorn tortillas (homemade or store-bought depending on what you prefer) and are then topped with a creamy homemade vegan cheese sauce, pico de Gallo, and guacamole (all made from scratch!) then topped off with some black beans, jalapenos, onion, and cilantro, you have yourself a plate of loaded nachos that are sure to fill you up.
Perfect for a meal or sharing with friends as an appetizer.

Ingredients
Baked Corn Tortilla Chips
Black Beans
Pickled Jalapenos
Spring Onion
Cilantro
Vegan Cheese Sauce
Coconut Milk
Nutritional Yeast
Tapioca Flour
Salt
Black Pepper
Garlic Powder
Turmeric
Pico De Gallo (Fresh Salsa)
Tomatoes
Spring Onions
Fresh Jalapenos
Cilantro or Coriander
Salt
Black Pepper
Guacamole
Avocado
Lime Juice
Salt
Black Pepper
For the exact measurements needed, please see the recipe card below.
How to Make Vegan Nachos
How to Make Vegan Cheese Sauce
Add all of your ingredients to a saucepan and stir together with a whisk.

Turn the heat on to medium and bring the cheese sauce to a simmer for about 5-7 minutes or until it reaches a smooth and creamy texture.
Reduce the heat to low if the cheese is splattering.
How to make fresh salsa
Chop your tomatoes, spring onion, and jalapenos very thin.

Add them all to a bowl and add in the salt and pepper.

Add in chopped cilantro and mix together to combine. Set aside.
How to make guacamole
Make the guacamole by adding your avocado to a bowl and then squeezing in some fresh lime juice.
Mash together with a fork until desired texture is reached.
Season with salt to taste.
Assemble the Nachos
Drain and rinse the black beans and the corn.
Arrange the corn tortilla chips on a plate or large platter.
Add your toppings by first spreading the cheese over the top of the chips.
Then add the black beans and corn.
Top with fresh salsa, pickled jalapenos, and guacamole.
Garnish with cilantro and spring onion.
Serve and enjoy!
How to Make Homemade Corn Tortilla Chips
Make your own corn tortilla chips by preheating the oven to 375ºF (190ºC), you can use an air fryer if you prefer. Cut the fresh corn tortillas into 6 slices and spread them on a baking sheet in a single layer.
Bake for 8 to 12 minutes, or until the chips are golden crisp. Let your tortillas chips cool down before serving. Store them in an airtight container. They should stay crispy for 1 to 2 weeks.
Nachos are best eaten immediately and do not save well. You can, however, keep the toppings prepared separately in the refrigerator for a few days.
Recipe Tips
The turmeric in the cheese sauce is what gives you a great color so that it looks like it was actually made with cheddar cheese.
If you want the cheese sauce to be thinner, add in more milk as needed to get to your desired consistency.
Substitutions
You can replace the tapioca flour in the cheese sauce with arrowroot starch.
The coconut milk in the cheese sauce can be replaced by any plant-based milk of choice.
FAQs
Can I make vegan nachos in advance?
Nachos are one of those few recipes that do not taste good when prepared too far in advance. that said, you can make the different elements in this recipe such as the guacamole, fresh salsa, and cheese sauce, and simply keep them in an airtight container in the fridge until ready to use. They can each last up to 3 days. warm the cheese sauce before using.
What is a good side dish for nachos?
Some good side dishes for these nachos would be tacos, burritos, Spanish rice, or refried beans. Mexican Street Corn Salsa Hummus would also pair nicely.
Can nachos be a meal?
Absolutely! Just load up your easy vegan nachos with all of the toppings and it's filling enough to be a full meal. You can even divide up portions to make it into a side dish or simple appetizer if desired.
So whether you serve it on the side, serve it up for lunch or even for dinner one thing is clear- there is no wrong time for nachos.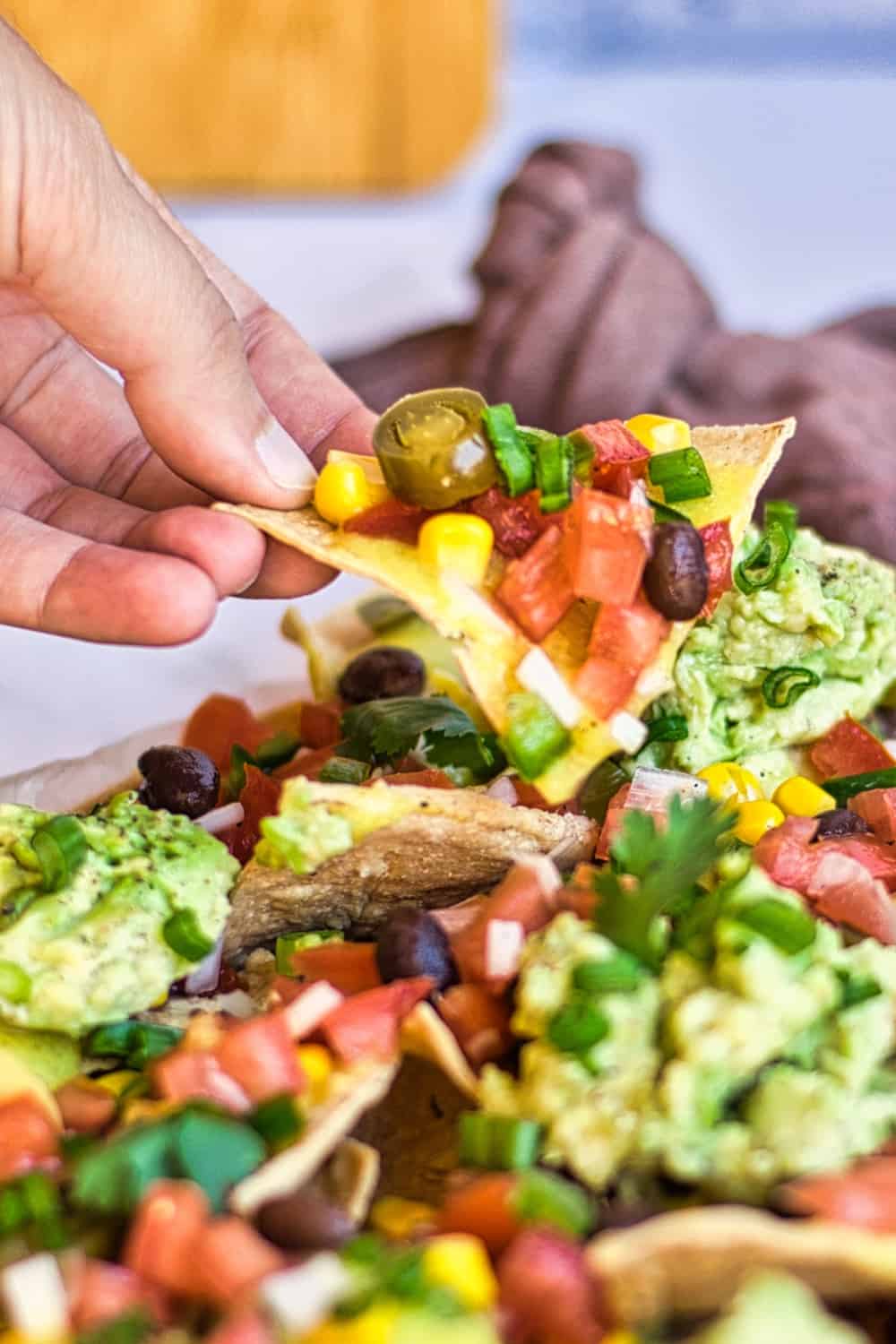 I love how versatile and delicious nachos can be. Check out these other great nacho recipes for more flavorful combinations you may have never even thought of.
Loaded Vegan Nachos
Ingredients
Baked Corn Tortilla Chips: 200 gr
Black Beans: 1 can ( 200gr)
Pickled jalapeños: 1/2 can (120 gr )
Spring Onion: 2 medium size
Cilantro: 1 bunch
Vegan Cheese Sauce
Coconut Milk: 180 ml- 3/4 cup
Nutritional Yeast: 20 gr - 3 Tbsp
Tapioca Flour: 15 gr- 2 Tbsp
Salt: 1 tsp
Black Pepper : 1/2 tsp
Garlic Powder: 1/4 tsp (optional )
Turmeric: 1/2 tsp (optional )
Fresh salsa (pico de gallo )
Tomato : 3 medium sizes, finely diced
Spring Onion: 1 medium size, finely diced
Fresh Jalapeño: 1 piece
Handful fresh coriander/cilantro, roughly chopped
Salt: 1/2 tsp
Black pepper :1/4 tsp
Guacamole
Avocado: 1 piece or as you like it
Lime: 1 juiced
Salt & Black pepper: to taste
Instructions
Vegan Cheese
Add all the ingredients into a saucepan and stir with a whisk to combine.
Turn the heat to medium, bring the cheese sauce to simmer for about 5/7 minutes or until you reach a creamy consistency.
Reduce to low heat if the sauce is spattering.

Fresh Salsa (Pico de Gallo)

Chop the tomatoes, spring onion, and jalapeños really thin.
Add all the ingredients into a bowl, add salt, pepper, and some chopped cilantro, then mix all together to combine.

Guacamole

Make the guacamole by adding the avocado into a bowl, then squeeze lime and mash with a fork, season with salt to taste.

Assembled the Nachos

Drain and rinse the black beans and the corn.
Arrange the corn tortilla chips on a large platter
Add toppings in the following order: (or any you prefer)
Spread your vegan cheese on top of the tortillas chips.
Then, add the black beans, corn, the fresh salsa, the pickled jalapeños, and at least but last the guacamole.
Top with some cilantro and spring onion to garnish.
Your Vegan Nachos are now ready to serve.