This Greek Nachos Recipe is a tasty snack, but a better meal!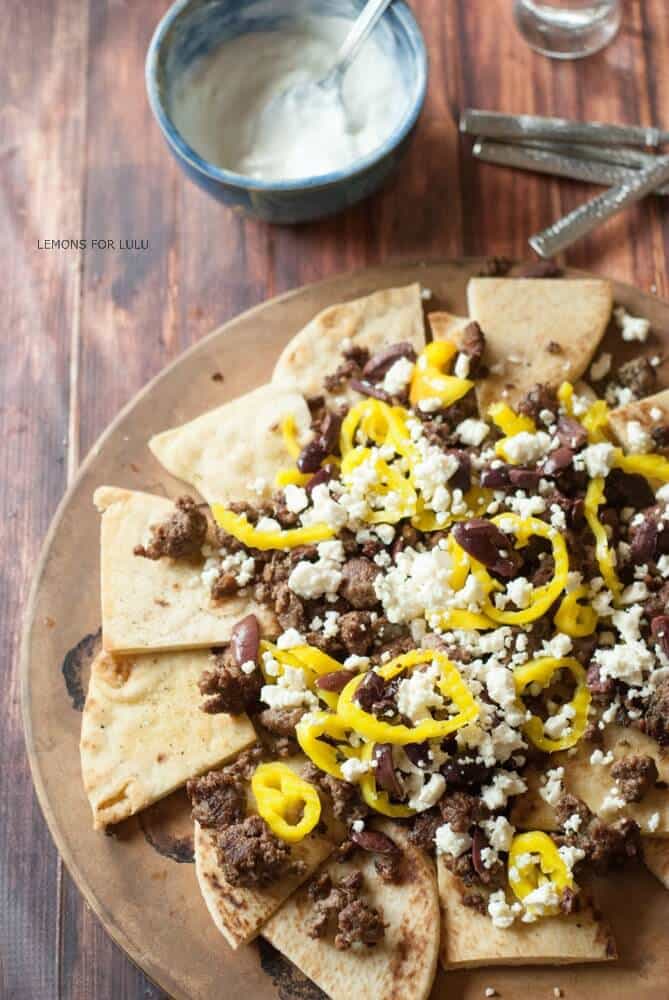 I will not deny that I am a Pinterest addict!  Really, I can't get enough.  If our tv were to break down, I would not be sad.  If we did not have internet connection, however, I'd break down.  It's that bad.
My boards are mostly food related, surprise!  I'm not crafty, but I do have some craft boards because I'm optimistic that one day I will become a crafting super star!  I have some kid related boards, some boards that make me laugh and smile, and some boards with practical tips.  I could go on, but really, it's all about the food.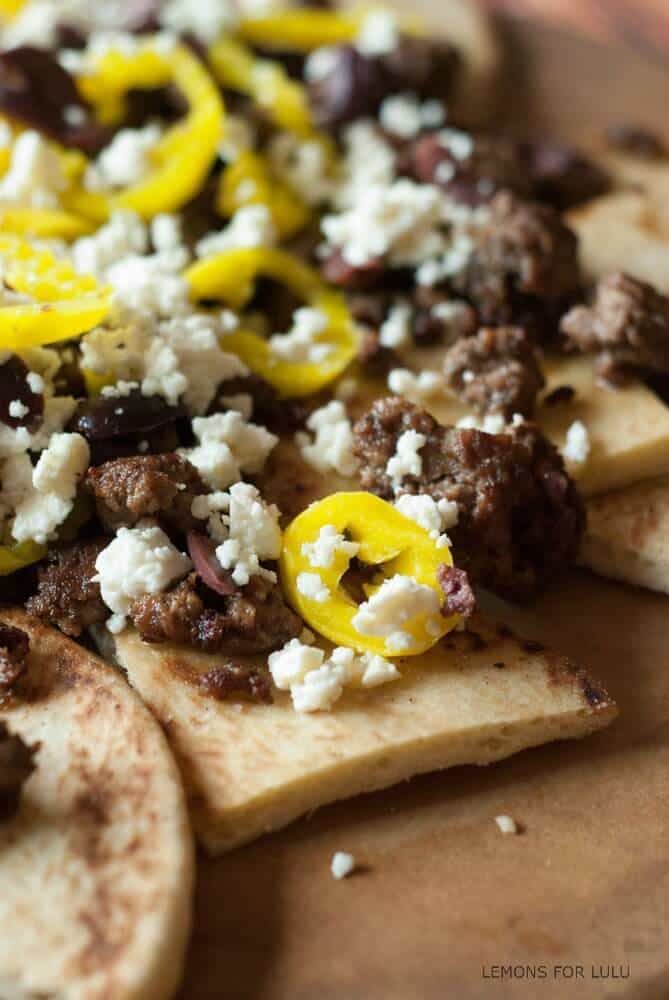 About two weeks ago, I stumbled upon a pin for Greek Nachos recipe.   I'm not kidding, time stopped, I found Nirvana!  In case I haven't mentioned it,  I am Greek.   Therefore I am naturally drawn to any recipe that has my favorite ingredients.  This Mediterranean 7 Layer Dip or this Greek Chicken Souvlaki Salad are just two examples! Put all these in an appetizer and well, I about peed my pants!!  Plus this was finger food!!! All the better!   I could actually eat an appetizer for dinner!
Toasting your own pita chips is insanely easy and very flavorful.  Plus you control the salt.  You don't need much because of the salt from the feta.  You can adjust everything to taste.  And certainly, if you are not a fan of lamb, you can use ground beef, ground turkey or soy crumbles.  All I'm saying is, change it as you like, but you HAVE TO TRY THIS!!!  We all fought over the last crumb of this nachos recipe, its was that good.  And my kids aren't that crazy about feta (their Ya Ya would be so disappointed) but they didn't seem to mind it in this recipe.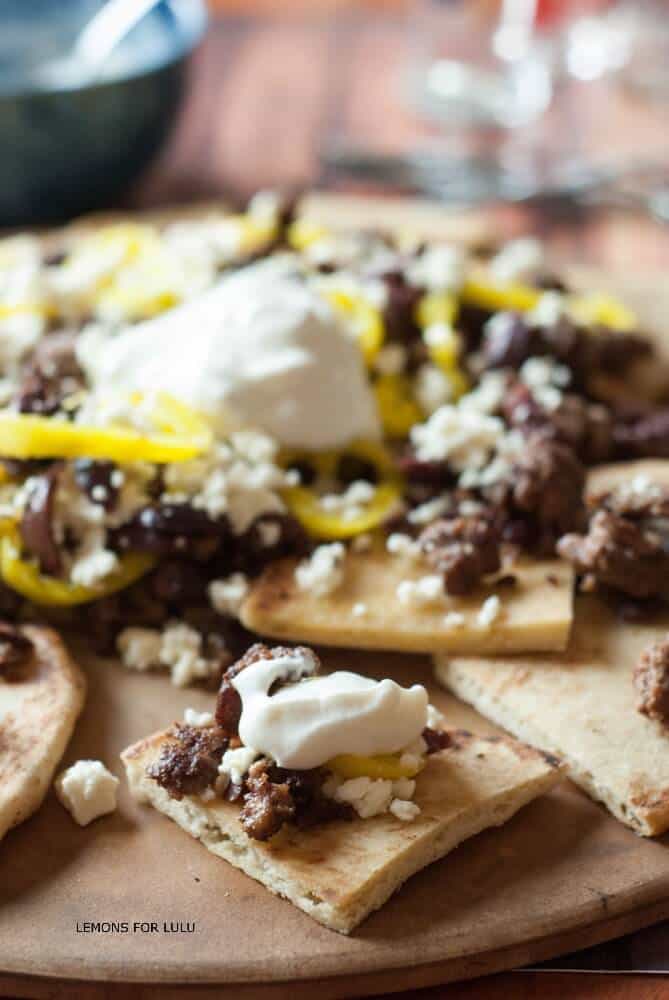 I will probably be making this nachos recipe, um like weekly.  I hope you do too.  That's the beauty of Pinterest, you never know what you'll discover!

Ingredients
1

Package pita bread rounds (about 6)

2

T olive oil

salt, pepper

1

lb ground lamb

1

t Greek seasoning

1/2

t salt

1

small cucumber, diced

2

small Roma tomatoes, chopped

1 6

oz container plain Greek yogurt

1

clove garlic, minced

1

t lemon juice

1 4oz

container Feta cheese

1/4

cup Kalamata olives, chopped

1/4

cup hot pepper rings (optional)
Instructions
Instructions
Preheat oven to 375. Cut each pita round in half, cut each half into thirds. Spray your baking sheet with cooking spray. Arrange cut pita wedges on pan and drizzle with olive oil. Sprinkle with salt and pepper. Bake in oven for 10 minutes, turning once.
While bread toasts, brown ground lamb in a large skillet. Add salt and seasoning. Remove from heat once lamb is no longer pink.
For the sauce,
Combine yogurt, lemon juice and garlic in a bowl. Add a pinch of salt. Add more lemon juice if you want a thinner sauce.
To assemble,
Top toasted pita wedges with lamb crumbles. Drizzle tzatsiki sauce over lamb. Top with diced cucumbers, chopped tomatoes, feta, olives and peppers.