These Greek Fries can be served as a meal with a salad or as an appetizer.
Great Greek flavors are present in every bite!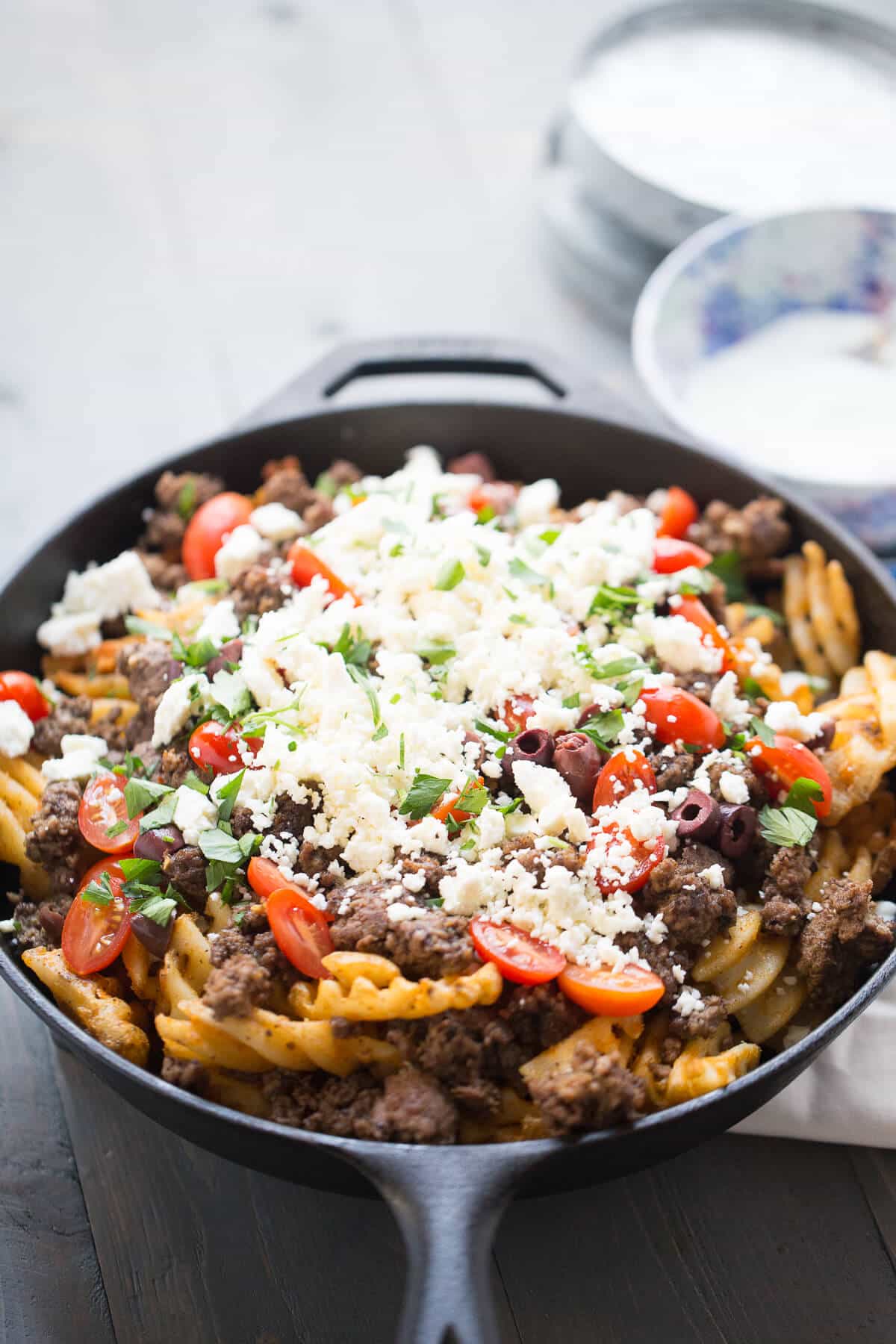 The Greek Fries are the perfect excuse to have french fries for dinner.  Notice, I said fries FOR dinner and not with dinner.  We rarely get to have fries as the main meal.  That is generally seen as a big no-no.  Although I will confess that on numerous occasions in my 20's I had a huge bucket of Pen Station fries as my main meal.  That was back when my metabolism was as fast and the pace of my days was slow.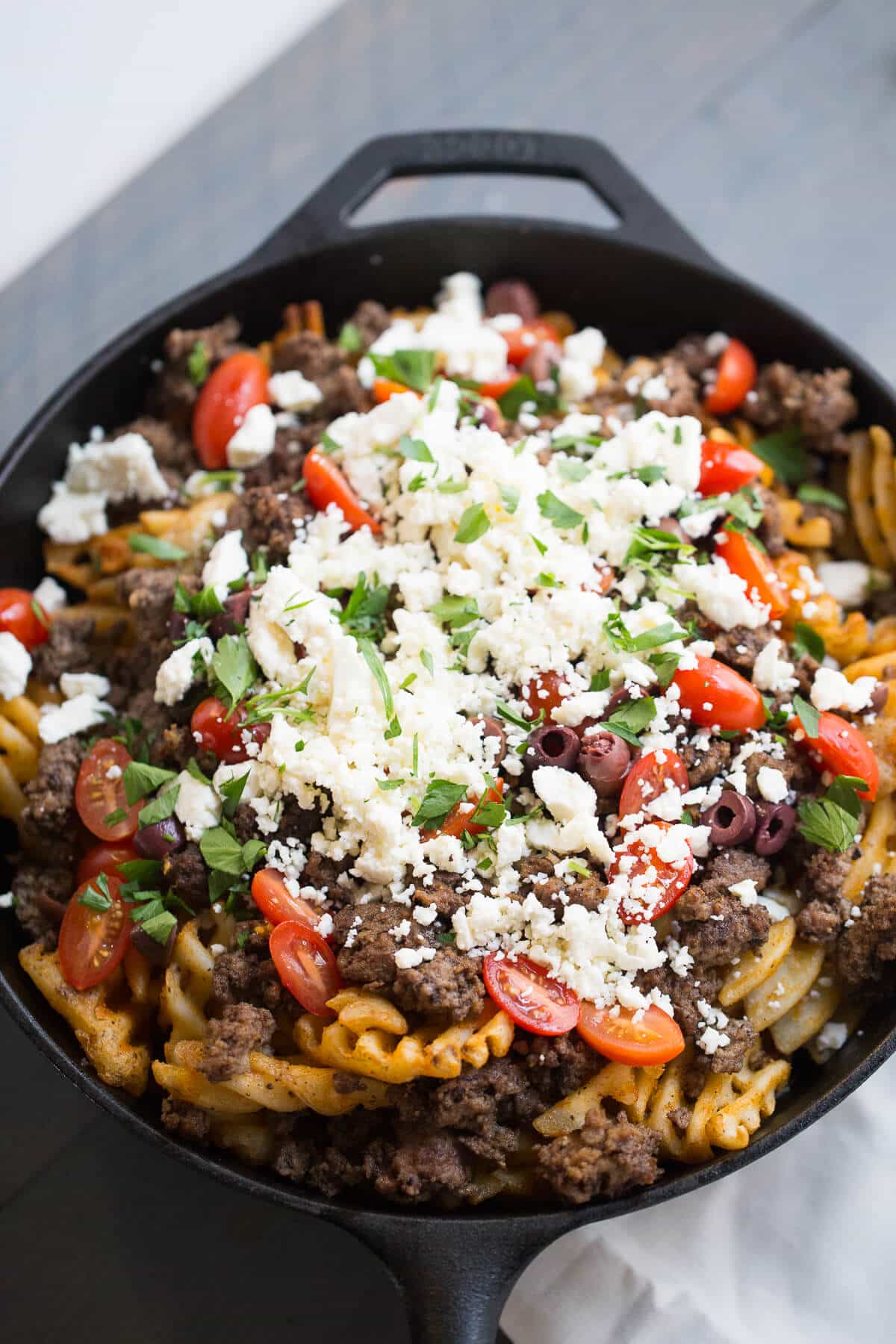 As a mom, I feel guilty if I don't serve my family a protein and veggies with their meals.  Although believe me, they'd be completely happy with just carbs for dinner.  If I set a giant bucket of fries on the dinner table, my kids would cry out in equal parts joy and disbelief.   But setting out a bucket of fries for my would be just nonsense.  Setting down a dish of fries with beef, lamb, veggies and feta cheese, on the other hand, would be brilliant!
OTHER RECIPES:
This Greek Fries recipe is an exceptionally simple recipe.  I do cheat a little and use frozen French fries.  I would give you double high 5's if you want to make your own.   If you are making Greek Fries, you have to use lamb.  I used ground lamb that I mixed with ground beef (the beef tempers the flavor of the lamb) and then placed this over my fries.  From there, anything goes.  I topped my Greek fries with tomatoes, olives. feta and parsley.  Pepperoncini, zucchini, artichokes and sun-dried tomatoes would also be a great additions.  A simple tzatziki sauce is served on the side.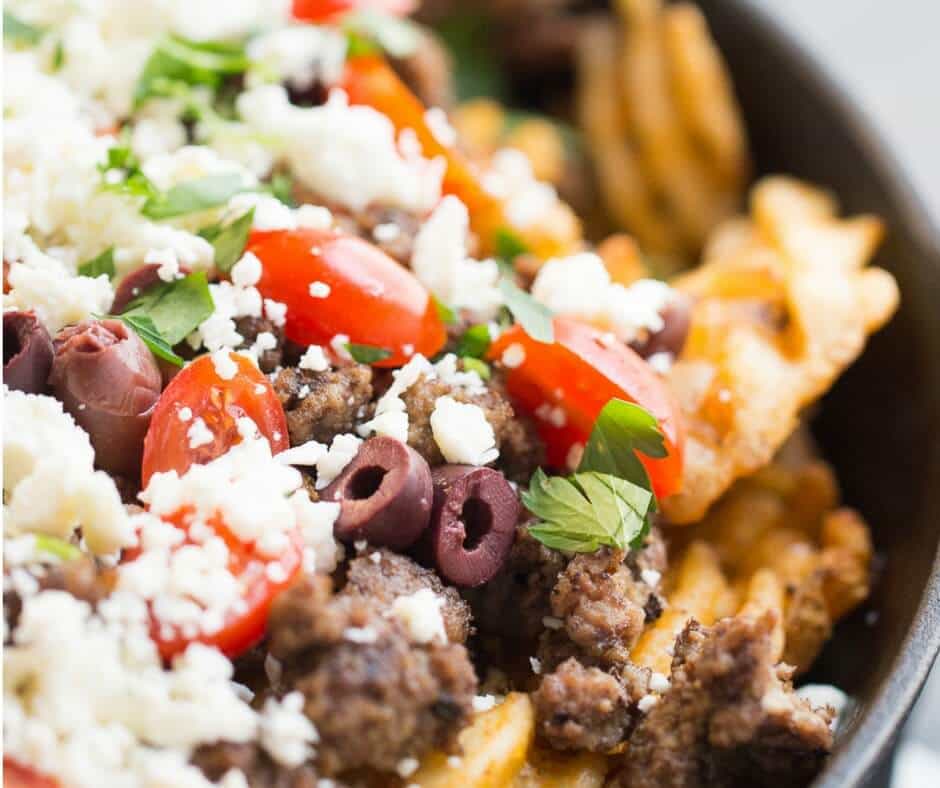 If you felt exceptionally guilty about serving your family fries for dinner, serve this Creamy Cucumber Salad or this Avgolemono (Greek) Soup on the side.
When you are ready for more fries, try these Mexican Chicken Enchilada Fries , Reuben Waffle Fries or these Brown Butter Gorgonzola Fries.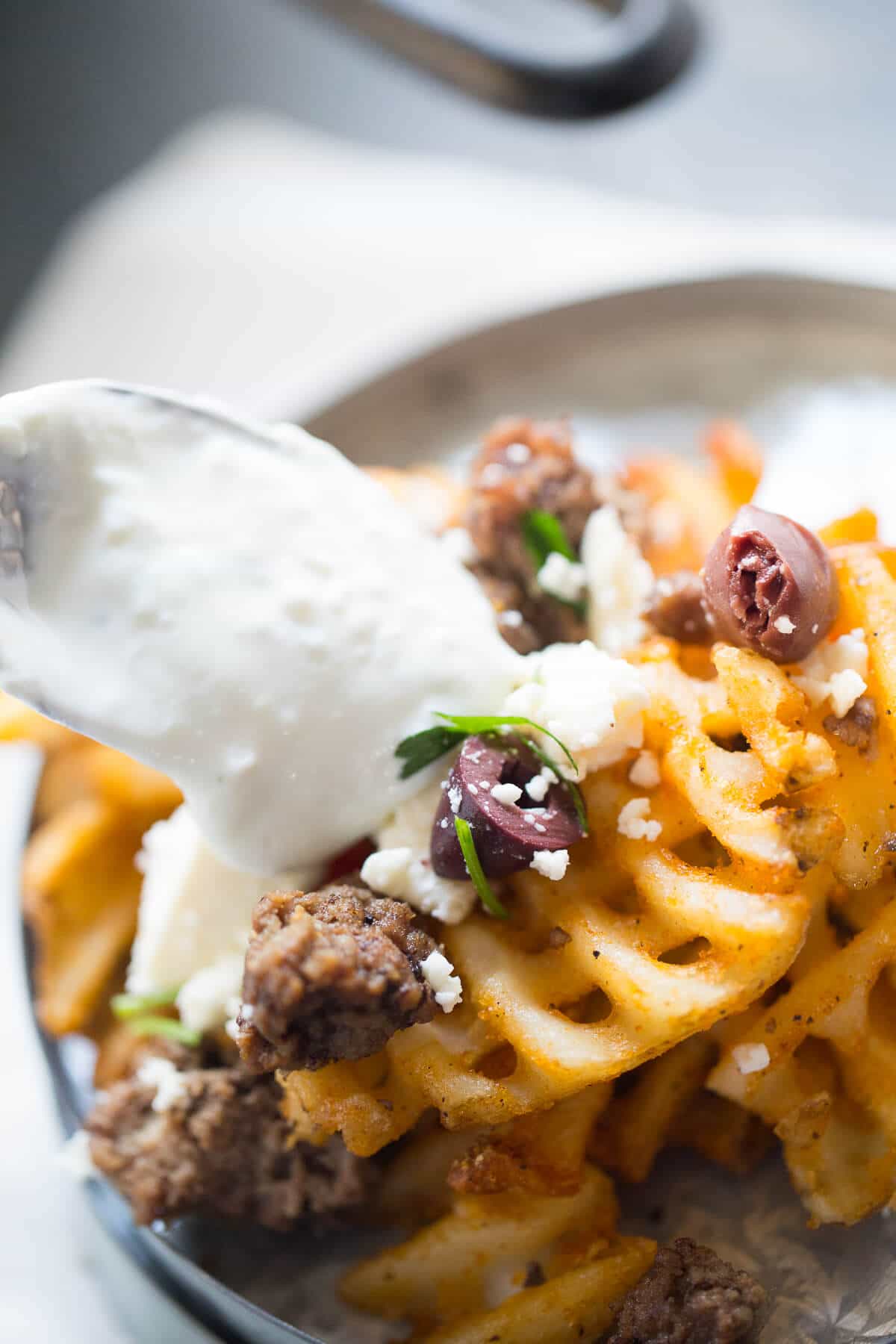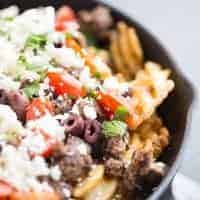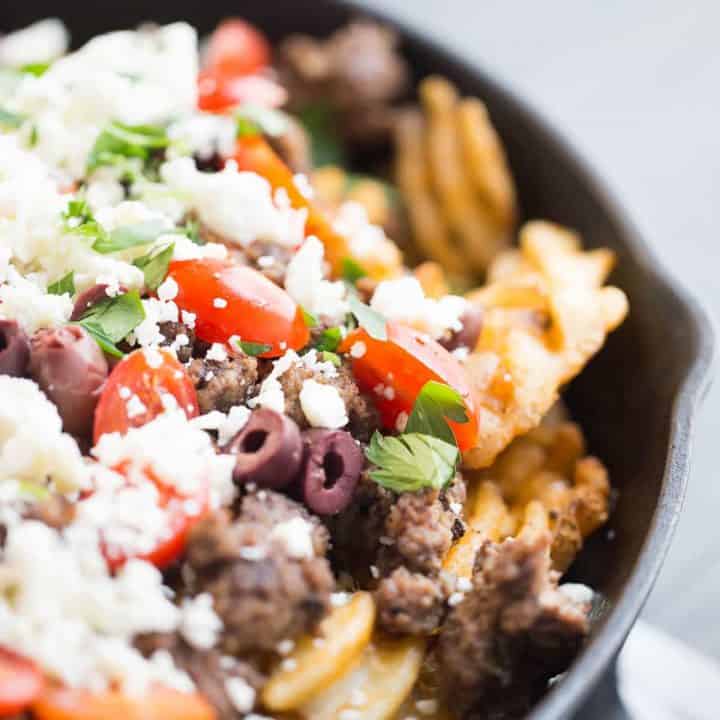 Greek Fries
These Greek Fries can be served as a meal with a salad or as an appetizer. Great Greek flavors are present in every bite!
Ingredients
2 20 oz bag waffle fries
¾ lb ground beef
¾ lb ground lamb
2 cloves garlic, minced
1 teaspoons Greek seasoning
1 cup halved cherry tomatoes
1/3 kalamat olives
4 oz crumbled feta cheese
Parsley
¾ cup Greek yogurt
2 tablespoons grated cucumber
3 cloves of garlic
1 teaspoon lemon juice
salt to taste
Instructions
Prepare waffle fries according to package directions. Meanwhile, heat ground beef and lamb in a large skillet. Season meat mixture with garlic and seasoning and cook meat until crumbled and no longer pink.
Top fries with beef mixture. Top the meat mixture with the halved cherry tomatoes, kalamata olives, feta cheese, and parsley.
In a bowl, stir together the yogurt, cucumber, garlic, lemon juice and salt. Serve the sauce on the side.
Nutrition Information
Amount Per Serving
Calories

0
Total Fat

0g
Saturated Fat

0g
Cholesterol

0mg
Sodium

0mg
Fiber

0g
Sugar

0g
Protein

0g
SaveSave
SaveSave
SaveSave