These nacho fries make for a great lunch or appetizer. A perfect meal or snack when you want something a little different but still tasty.
Made with crispy golden French fries and topped with all the good stuff, you know these are going to taste great. We like loaded nacho fries topped with everything from bell peppers and ground beef to cheddar cheese and sour cream. It's a comforting and tasty dish that tastes so good, especially on game days.
What Are Nacho Fries?
Nacho fries are a fun twist to regular nachos. This nachos fried recipe uses French fries as the base and then loads them up with meats, veggies, cheeses, and more. Every bite is soft, crisp, delicious, and perfect for indulging in when you want a snack. You can easily turn these into a simple comfort meal on their own, just serve them up with Lemon Lime Virgin Margarita and have a great time!
Ingredients you'll need for Nacho Fries:
French Fries
Salt
Olive Oil
Ground Beef
Diced Onion
Taco Seasoning
Shredded Cheddar Cheese
Chopped Red Bell Pepper
For the exact measurements needed, please see the recipe card below.
How to Make Nacho Fries
Preheat your oven to 450 degrees F and prepare your baking sheet with nonstick cooking spray or line it with foil.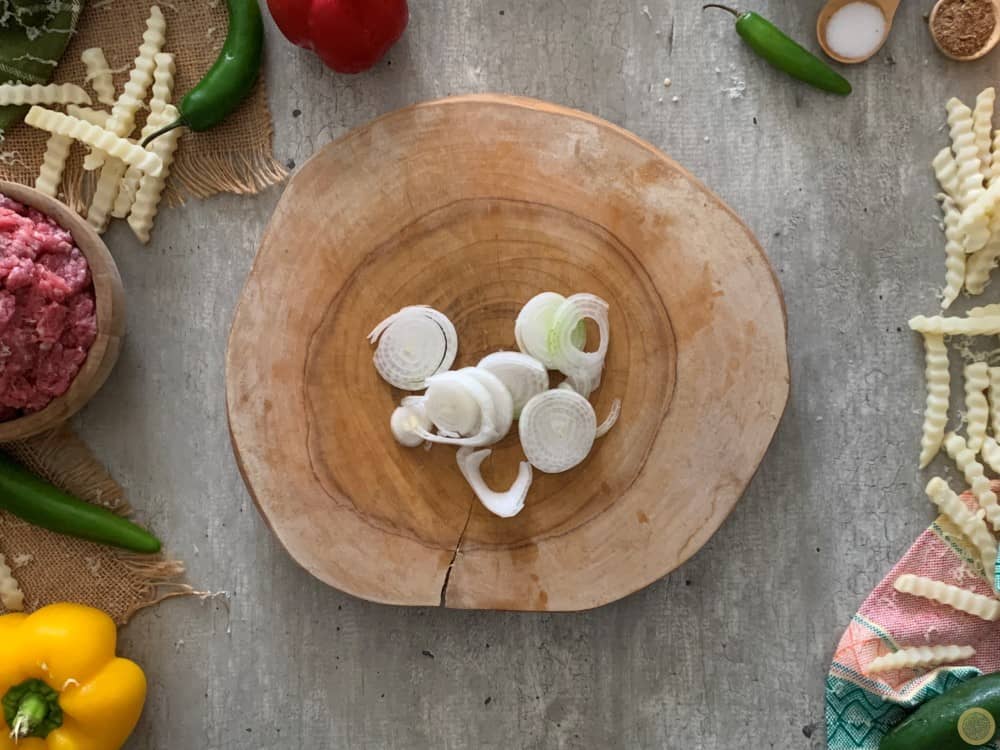 Toss your fries onto the baking sheet and sprinkle with salt. Mix around to combine.
Bake in the oven for 15-20 minutes or until crispy.

While that is baking, prepare your ground beef on the stove in a skillet by cooking it until browned with the onions and taco seasoning. Drain grease if needed.

When the fries have finished baking, top with your shredded cheese, beef, and red peppers.

Bake in the oven for 5 minutes or until the cheese has melted.

Top it off with some sour cream, salsa, and jalapenos as desired.
Enjoy!

Optional Topping Suggestions:
Check out this list of incredible options for loading up your nacho fires and turning them into a delicious meal you're going to love!
Salsa
Green Onions
Jalapeno
Sour Cream
Recipe Tips
Homemade nacho fries. You can use any type of French fry for this recipe. I recommend using shoestring or wavy-cut fries as they put more potato in every bite but if desired waffle fries can also work great because it puts more in every bite thanks to their spoon-like shape.
Cheeses. I like to use shredded cheddar cheese for these nacho cheese fries but you can use any blend desired. Use shredded Mexican cheese blend, Monterey Jack, or any combination of cheeses that you think would work well.
FAQs
How long are nacho fries good for?
These fries are best when eaten freshly after being made because French fries never taste as good when reheated. Not only that but after spending several hours weighted down by toppings your fries will become soggy and harder to crisp up the following day. If you don't think you can eat an entire batch you can always scale this recipe down to be more fitting.
Can I make nacho fries in advance?
While I do not recommend making and assembling the fries in advance there are still some things that you can do to limit the perp time later. For example, you can chop your bell peppers and jalapenos and keep them stored in little baggies in the fridge ready to go. You can also have your taco mat cooked up and in an airtight container in the fridge so it's easy to grab and use as well. Shredding the cheddar cheese or buying it pre-shredded can also cut down on time spent prepping.
Do I have to use French fries?
Nope! You can use tater tots if desired. Curly fries may not be as easy to serve up but tater tots or similar (like the tater rounds) can be a great idea for these nachos too.
If loaded fries are your thing then you'll love these recipes:
Don't forget to check out my list of The Best 40 Finger Foods for Any Occasion to find the perfect appetizer ideas!
Nacho Fries
Ingredients
1 lb French Fries
¼ Tsp Salt
2 Tsp Olive Oil
½ lb Ground Beef
½ Onion (diced)
1 Tsp Taco Seasoning
2 Cups Cheddar Cheese (shredded)
½ Red Bell Pepper (chopped)
Optional Toppings
Salsa
Green Onions
Jalapeno
Sour Cream
Instructions
Preheat oven to 450°F
Prepare baking sheet with non-stick spray or foil
Toss fries into baking sheet
Sprinkle salt and mix around
Bake for 15-20 minute or until crispy
Meanwhile, cook the ground beef with onion and taco seasoning
When fries are done, top with cheese, beef and red peppers
Bake for 5 min or until cheese is melted
Top with green onions, sour cream, salsa and jalapeno
ENJOY!