Making your own white bread is even easier than you may think. Made with just a few simple steps and ingredients you can have a loaf of fluffy homemade bread perfect for snacking or sandwiches.

I love homemade white bread because nothing can top that smell of the yeast rising, the dough baking, and the smell of the freshly baked loaf. It's like a bakery in your kitchen and the best part is you get to keep the fruits of your labor- or in this case the bread.
Serve this bread sliced warm with butter or toast it if desired. It's so good you'll want it for everything from snacking to sandwiches.
White Bread Recipe
You will not need much to make this simple white bread recipe in fact even if you're a novice baker or cook this recipe should be simple enough to complete without issues. The results are always perfect too making this one bread recipe you'll want to keep forever.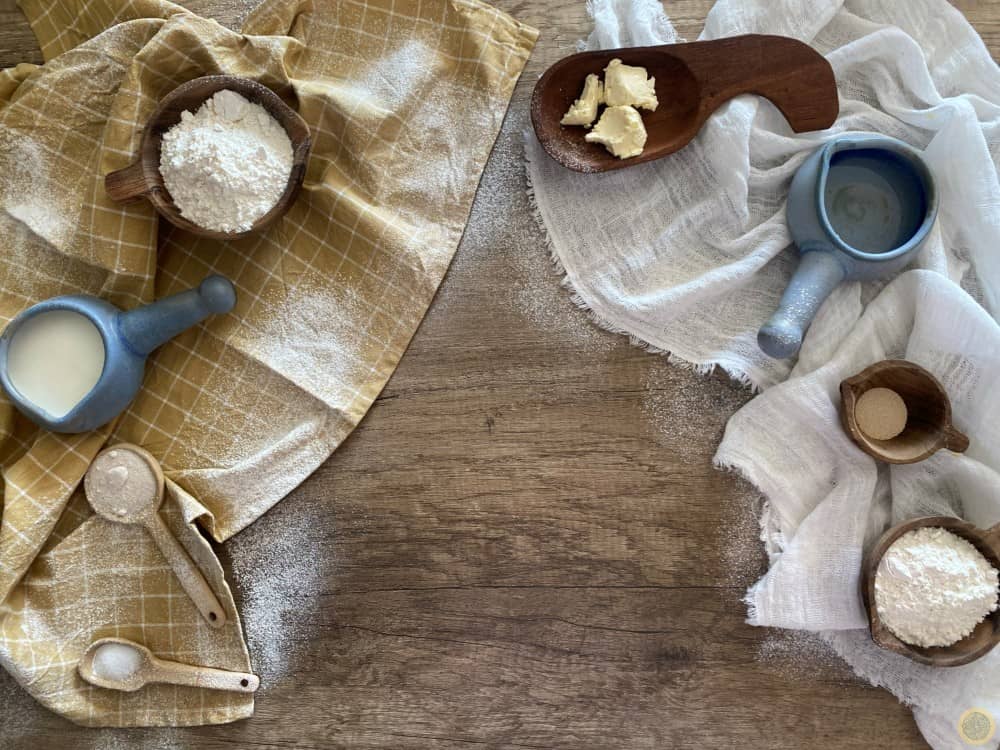 Ingredients you'll need for Homemade White Bread:
Flour
Dry Yeast
Salt
Sugar
Salt
Water
Milk
Butter
For the exact measurements needed, please see the recipe card below.
How to Make Homemade White Bread
Preheat your oven to 400 degrees F.
In a mixing bowl whisk together the flour, sugar, dry yeast, sugar, and salt.

In another bowl combine the water, milk, and butter.

Microwave for about 1 minute.

Add the wet mixture to the dry and mix well to combine.

Shape the dough into a ball.
Cover with a towel and allow to rest for about 30 minutes to an hour or until doubled in size.

Fold your large ball of dough into itself and form a new ball.

Place the dough into a greased loaf pan.

Bake in the oven for 20-30 minutes or until the top is golden brown.

Allow the bread to cool for a few minutes before removing it from the pan.
Slice and serve.
Enjoy!
Recipe Tips
Bread is getting too dark. If you feel like your bread is getting too dark in the oven you can place a loose piece of foil over the top to help prevent it from darkening more as it continues baking.
You'll need 2 packs of yeast. A package of dry yeast has about 2 ¼ teaspoons of yeast inside and you will need 2 of them for this bread recipe. If you have a jar of yeast on hand you can measure out 2 tablespoons instead.
FAQs
Can I make white bread vegan?
By swapping the butter for oil and using a dairy free milk alternative you can make this bread recipe dairy free and vegan-friendly.
How long is homemade bread good for?
Homemade bread is only good for about 2-4 days at room temperature if stored in an airtight container. This is because the bread doesn't have the same preservatives as the breads purchased in a store.
How to know when bread is kneaded enough
You want your bread to be smooth and elastic before allowing it to rise the first time. This means that you will need to knead it several times until it's well combined. When you poke the bread dough with your finger it should leave an indent but it should quickly fill back in with dough as it springs to life.

If you loved this homemade bread recipe then you are going to love my Bread with Honey recipe too!
Homemade White Bread
Total Time
1 hour
50 minutes
Ingredients
2 Cups All-Purpose Flour
2 Tbsp Dry Yeast
1 Tsp Salt
1 Tsp Granulated Sugar
1 Tsp Salt
1/2 Cups Water
1/2 Cup Milk
2 Tbsp Butter
Instructions
Preheat oven to 400° F
Whisk flour, sugar, dry yeast, sugar and salt in a bowl
Separately, combine water, milk and butter
Microwave for about 1 minute
Add wet mixture and dry mixture
Mix until well combined
Shape the dough into a ball.
Cover with a towel and let rest for 30 minutes to an hour
Take the now bigger dough and fold it into itself. Make a new ball
Place your dough in a greased loaf pan
Bake for 20 to 30 minutes or until golden brown
Allow to cool for a few minutes
ENJOY!