This Tzatziki sauce recipe is a yogurt based Mediterranean dip or sauce that can be used in many different ways. It is tangy, garlicky and super easy to prepare!
If you ask Google what the number one condiment in America is today it will tell you that mayonnaise is the number one condiment! I rarely use mayo as a condiment so I was a little surprised by this.
After observing my own family, I would have guessed that ranch dressing or guacamole (does that count?) would be the top choice for condiments, certainly not mayonnaise!
However, growing up in a Greek household, Tzatziki was definitely the condiment of choice. You can't be Greek and not love Tzatziki!
What is Tzatziki Sauce?
Tzatziki is a cucumber sauce most often made with strained yogurt that has been salted and infused with grated cucumbers. From here, the recipe deviates depending on region, household, and preference.
Growing up my mom always used peeled and seeded cucumbers (although I myself use the seedless cucumbers or the English cucumbers). She always made her own yogurt too that she would strain and mix with the cucumbers. I use regular yogurt or full fat, plain Greek yogurt. While it is not quite the same as homemade, it is still thick, creamy, and tangy.
Sometimes my mom would add dill, sometimes she wouldn't. And sometimes she would use lemon juice, it would depend on her mood and her ingredient supply.
How To Make Tzatziki Sauce Recipe
What is wonderful about this recipe is that you do not need any special equipment, the ingredient list is short, and everything is easy to find at any grocery store.
As mentioned above, I start with full fat plain Greek yogurt and add a grated cucumber. I also stir in minced garlic, lemon juice, white vinegar, salt, and olive oil. Everything is stirred together until smooth. The end result is creamy, cool and ready to compliment any recipe!
Tzatziki Sauce Recipe Variations:
Sour cream can be used in place of Greek yogurt. The texture will remain the same but taste will be different.
Fresh parsley, mint or fresh dill can be added to your sauce.
Adjust the amount of garlic to suit your taste.
Also, add salt and pepper to your taste.
Stir in crumbled feta cheese.
Stir in lemon zest.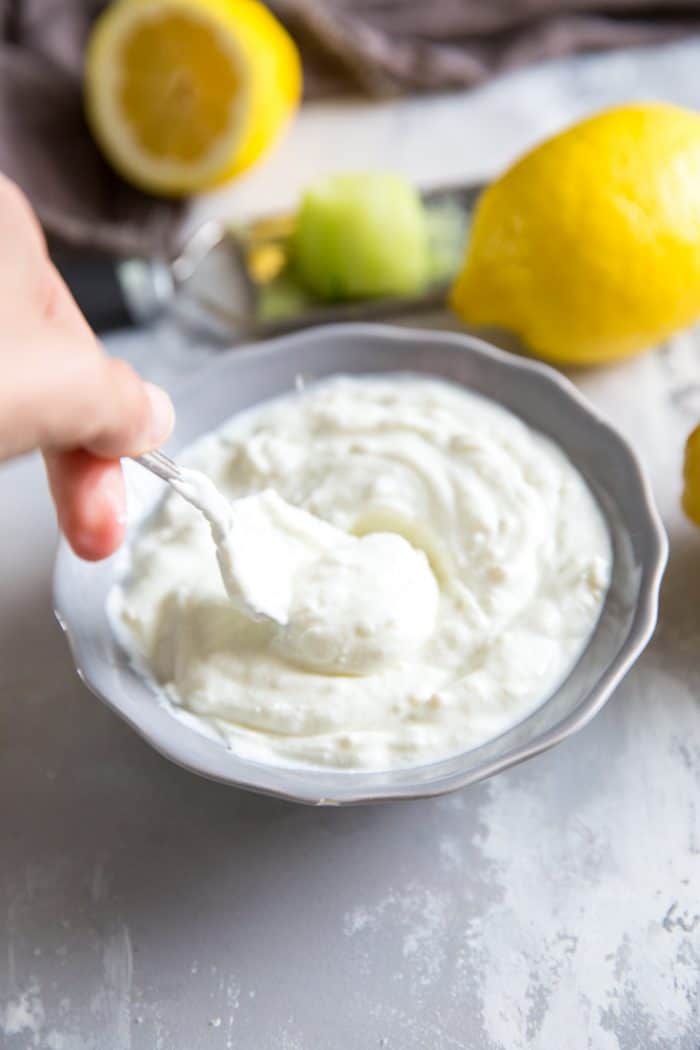 What To Serve With Tzatziki Sauce?
Warm pita bread is lovely with this dip as are pita chips. This sauce is great with fresh chopped veggies too! Below, you will find my favorite ways to incorporate Tzatziki into a variety of meals.
Is Tzatziki Low Carb?
Yes, it is! It is lean to start with but using Greek yogurt adds calcium and protein too!
How To Store Tzatziki Sauce
Tzatziki sauce can be stored in an airtight container in the fridge. The sauce will last about 3 days in the fridge. The water from the cucumber will begin to break down the yogurt and the taste will start to go as well.
I find yogurt-based dips do not freeze very well.
What Other Dips Can I Make With Greek Yogurt?
You really don't need to hunt down a Greek restaurant to enjoy tzatziki sauce! Make it quickly and easily at home. Serve it as a sauce for proteins and veggies as a dip! This is a great recipe to add a little taste of the Mediterranean into your diet!
How To Serve Tzatziki Sauce Recipe
Tzatziki sauce is such an easy way to spruce up any meal. It is the quintessential side to so many Mediterranean Dishes!
Yield: 12
Tzatziki Sauce Recipe
Greek yogurt makes this tzatziki sauce taste tangy and creamy. Try this Mediterranean sauce with chicken, pork, veggies and pita! It is versatile and delicious!
Ingredients
1 cup plain Greek yogurt
2 cloves minced garlic
3 tablespoon peeled grated cucumber
Splash lemon juice
1 tablespoon olive oil
2 tablespoons white wine vinegar
Salt to taste
Instructions
In a bowl, stir together all the ingredients until smooth and creamy.
Season with salt and pepper to taste.
Store the tzatziki in the fridge until ready to serve.
Nutrition Information
Yield
12
Serving Size
1
Amount Per Serving
Calories

23
Total Fat

1g
Saturated Fat

0g
Trans Fat

0g
Unsaturated Fat

1g
Cholesterol

1mg
Sodium

56mg
Carbohydrates

1g
Fiber

0g
Sugar

1g
Protein

2g