A simple marinade makes this Greek Chicken Souvlaki recipe irresistible!
The simple seasoning adds so much flavor to this grilled chicken dish!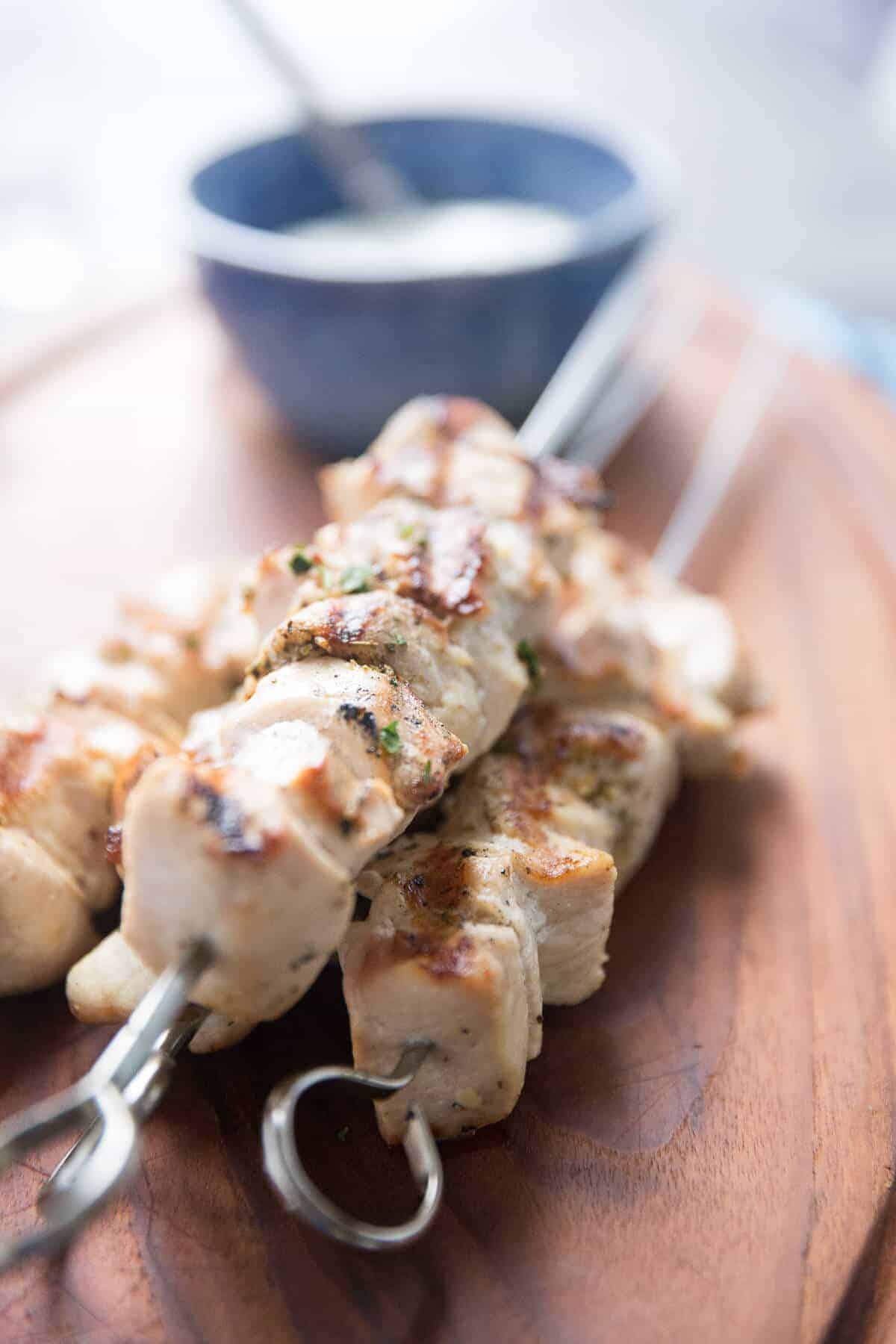 Last time we went to visit my in-laws, my mother in law shared some pages from her childhood diary. It was great! She revealed little snippets of her life, like what she did for fun, to whose house she went to play and even what she ate. What struck us a hilarious is how often she ate ham. There were several passages where she wrote: "we had ham It was good". I figured if a child recorded it in her diary, then it MUST have been a really good ham!
SEE HOW TO MAKE CHICKEN SOUVLAKI RECIPE: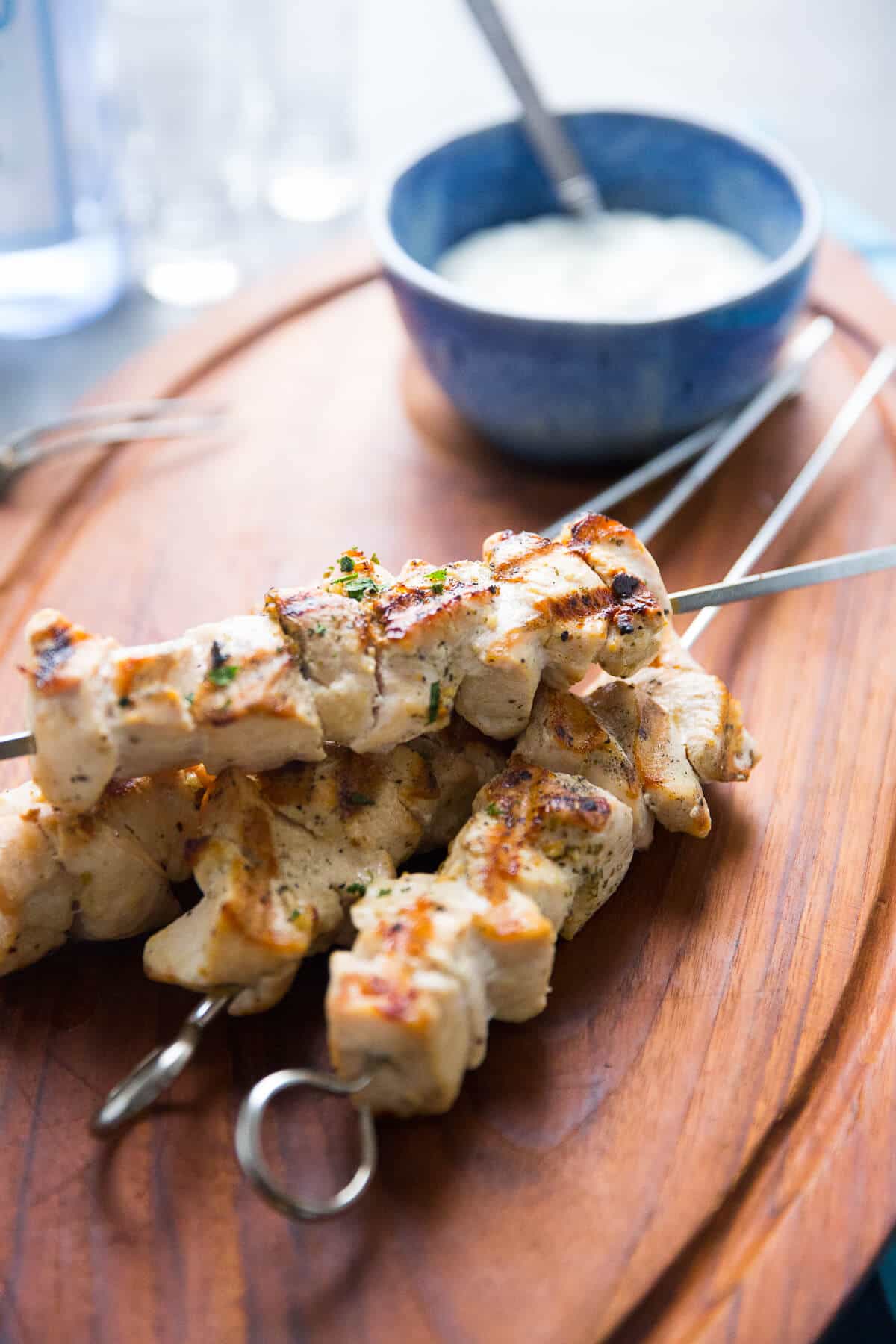 But this got me thinking about my kids. If they had diaries, would they record what they ate? Perhaps they would if it were an especially delicious dessert. But sadly, I don't believe too many dinners leave an impression on them. They eat my dinners because they are a means to end. The end being dessert. Then I thought to myself, my mother in law seemed to eat a lot of ham. What do we eat often? Black beans come to mind. Mexican, Pasta, Chicken. That last one stuck with me. We do eat poultry often. How can I wow them with chicken?? The gears started turning.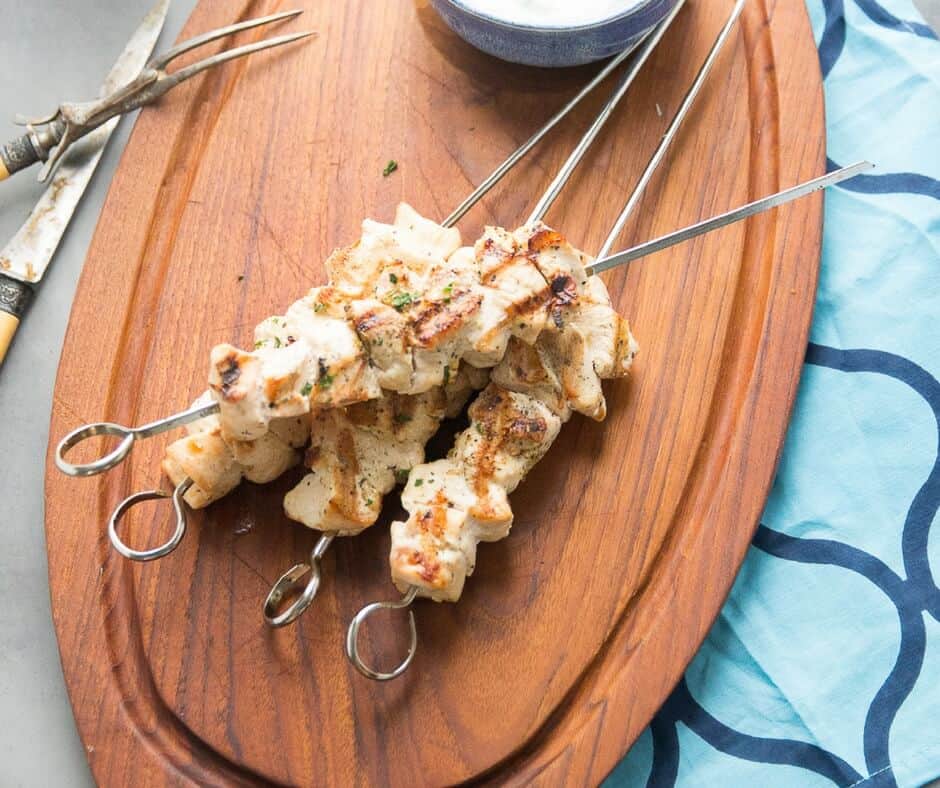 Chicken Souvlaki Recipe
Since I am Greek, I figured I should stick with what I know. Traditionally, chicken souvlaki is made with pork. It is delicious!! If you've never tried it, I highly suggest you either find a great local Greek restaurant or make it yourself! The marinade is fairly versatile, can be used with chicken easily enough. The most time-consuming part of this recipe is allowing the chicken (or pork if you wish) to marinate. Once this is done, the meal comes together quickly. And you MUST use Tzatziki Sauce with the grilled chicken souvlaki!!!! I recommend serving this recipe Loaded Vegetable Pasta Salad on the side. Finish off the meal with Greek Coffee and Koularakia (Greek Cookies) I tested this meal on my 3 kids. While they aren't too picky, they never hold back on their critiques! They loved it! They ate every morsel. I will even venture to say they'd write about it in their food diaries if they had one. I hope you take the time to try this dish. Perhaps it will leave you saying "I had chicken. It was good!".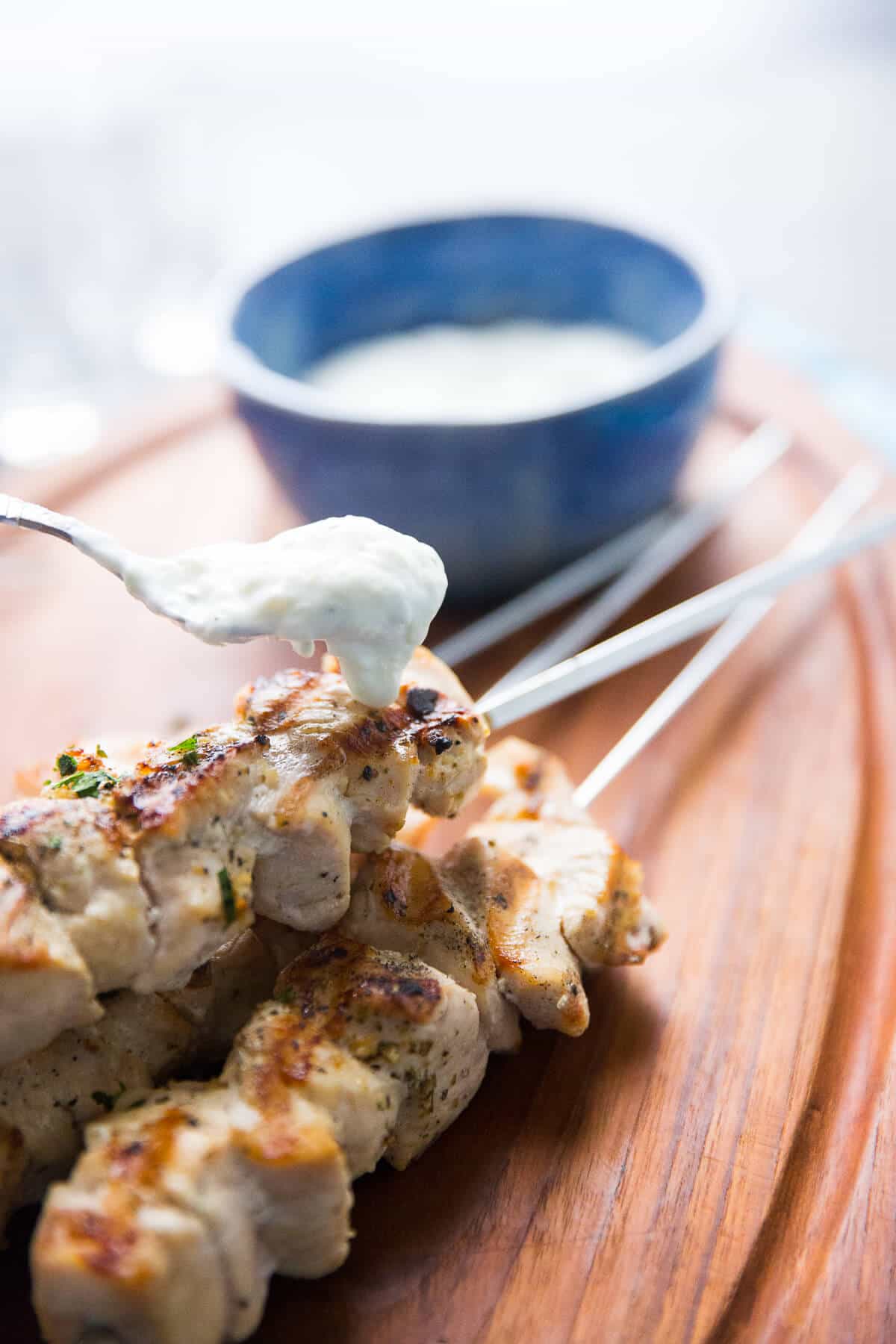 More Grilled Chicken:
Balsamic Grilled Chicken with Spicy Honey Bacon Glaze
Grilled Chicken Breasts with Honey and Lemon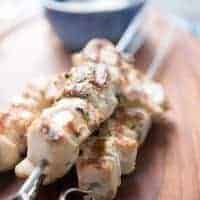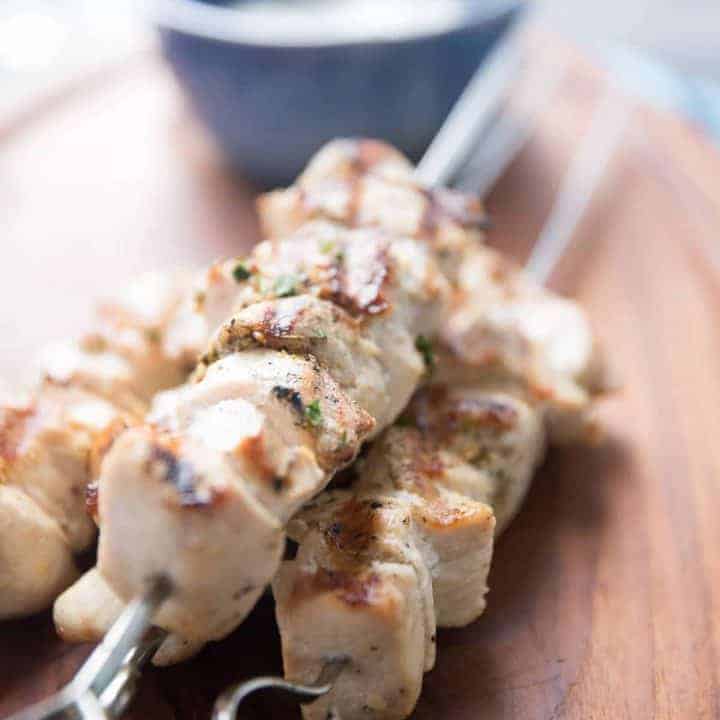 Chicken Souvlaki
Yield: 4

Prep Time: 1 hour 20 minutes

Cook Time: 15 minutes

Total Time: 1 hour 35 minutes

Marinaded chicken will grill up so tender and delicious!
Ingredients
1 1/2 lbs chicken breast
1/4 cup olive oil
2 tablespoons lemon juice
2 cloves of garlic minced
1/2 teaspoon salt
1 tsp oregano
pepper
Instructions
Cut chicken breast into chunks. In a large ziplock bag combine marinade ingredients. Add chicken and refrigerate 1-2 hours. Preheat grill. Thread chicken onto pre-soaked wooden skewers. Discard marinade. Grill kabobs on medium high for 8-9 minutes per side or until juices run clear.

Serve souvlaki with Homemade Tzatziki Sauce.
Nutrition Information
Yield 4 Serving Size 1
Amount Per ServingCalories 408 Total Fat 20g Saturated Fat 4g Trans Fat 0g Unsaturated Fat 15g Cholesterol 145mg Sodium 396mg Carbohydrates 2g Fiber 1g Sugar 0g Protein 53g