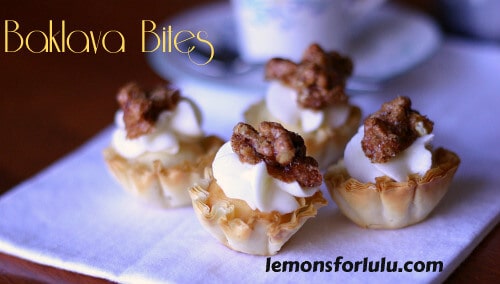 There are certain things you MUST like if you are Greek. You must like Greek coffee, Ouzo, Feta cheese, olive oil and baklava.
Growing up, my mom would make baklava each Christmas. The honey drenched, nut filled triangles adorned our cookie trays for most of my childhood. Now that we are older, my mom has decided it was time to pass the reigns to one of her kids. Problem is, it's a lot of work! I can make baklava, I just choose not too. Phyllo dough is delicate and dries quickly, you have to work fast. While we all enjoy eating baklava, I find it isn't consumed as quickly, as lets say fudge. Therefore, I'm not eager to put forth the effort!
This year I decided I wanted to make something with all the wonderful tastes of baklava, but with significantly less work. I racked my brain desperately trying to find a way to incorporate phyllo, nuts and honey into a stress free dessert. Then I had that light bulb moment-pre made phyllo shells! Yes! Yes! Yes!!! So easy, so positively perfect! Behold the birth of bite size baklava!
I baked white cake into each phyllo shell. Each mini phyllo cupcake is then topped with honey buttercream. I crowned each little cup with walnuts spiced with cloves and cinnamon.
My modern twist on a traditional Greek dessert is outstanding! Because they are small it is rather hard not eating a dozen at a time! Go on, I dare YOU to try!
If you'd like a little lulu in your life, please subscribe via email, RSS, Facebook or Google +. I love staying in touch with friends!

30
adjust servings
White cake baked into phyllo shells. Topped with honey flavored buttercream and candied walnuts.
Ingredients
4 1.9

oz boxes of Phyllo shells

1 18.25

oz box of White cake mix (plus ingredients listed on package)

1/2

cup butter softened

4

tablespoons honey

2

cups powdered sugar

3

tablespoons heavy cream

1 1/2

cup walnuts, chopped

1

egg white

4

tablespoons white sugar

4

tablespoons brown sugar

1/2

teaspoon cinnamon

1/8

teaspoon cloves
Instructions
Preheat oven to 300 degrees. Line a baking sheet with parchment paper, In a bowl, combine nuts, egg whites, both sugars, cinnamon and cloves. Bake in oven for 30 minutes. Let nuts cool completely.
Increase oven temperature to 350. Arrange phyllo shells on baking sheets, set aside.
Prepare cake mix according to package directions. Using a small cookie scoop, carefully fill each shell, making sure batter does not overflow. Bake in oven for 8-10 minutes, or until cake is very lightly toasted around edges and a toothpick inserted comes out clean. Remove to a cooling rack. Meanwhile prepare buttercream.
In a mixer, combine softened butter and honey, mixing until smooth. Carefully mix in powdered sugar. Add heavy cream until frosting is desired consistency, adding more cream or sugar as necessary.
Pipe a small amount of frosting on each cooled phyllo cup. Break a part walnuts and place a small piece onto each cup. Makes 60 cups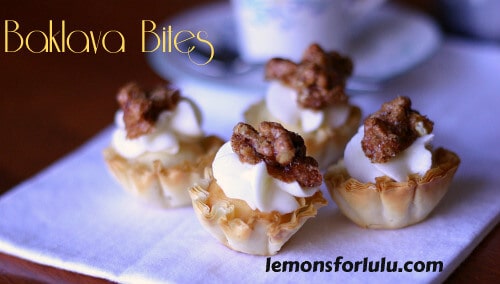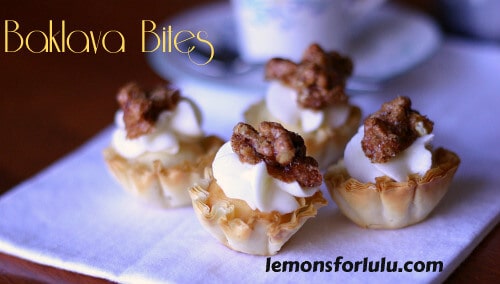 Frosting adapted from Tasty Kitchen
I'll be linking this recipe up to these wonderful sites, as well as to Jam Hands, The DIY Dreamer and