Flaky fillo cups filled with an easy pimento cheese dip!
Pimento Cheese; Perfect For Any Occassion
I was caught behind a school bus yesterday morning, and I noticed that several kids sitting towards the back of the bus were turned facing the rear of the bus while talking to friends. I instantly felt queazy. I remember the last time I rode a school bus; I was chaperoning a school field trip with my daughter. I forgot how bouncy buses could be. I spent most of the ride turned around talking to a parent behind me when all of the sudden I was hit with an enormous wave of nausea. And I mean it was bad. Little beads of sweat began forming on my forehead, and my face went from pale to green in seconds. To keep from getting sick, I had to alternate sips of water with short little breaths. My poor daughter was mortified and worried all at once. The kids around me were staring at me in fascination. By the looks on their faces, I could tell they were certain this was the day they were going to witness something big; a juicy story they could run and tell their friends about. I'm sure by the time the stories reached their friends, I had probably been on the verge of death. I am happy to report I survived that bus trip without incident. And I learned a valuable lesson…skip the bus and always drive myself.
The truth is that as I've aged my body cannot handle things as it could when I was young. The bus is one example, but things like swings, or flipping in a pool, heights and sledding all leave me dealing with a touch of vertigo. I know many people have the same problem as they've entered their mid-thirties and forties. I suppose with age comes wisdom and all that, but life sure was blissful when I was young!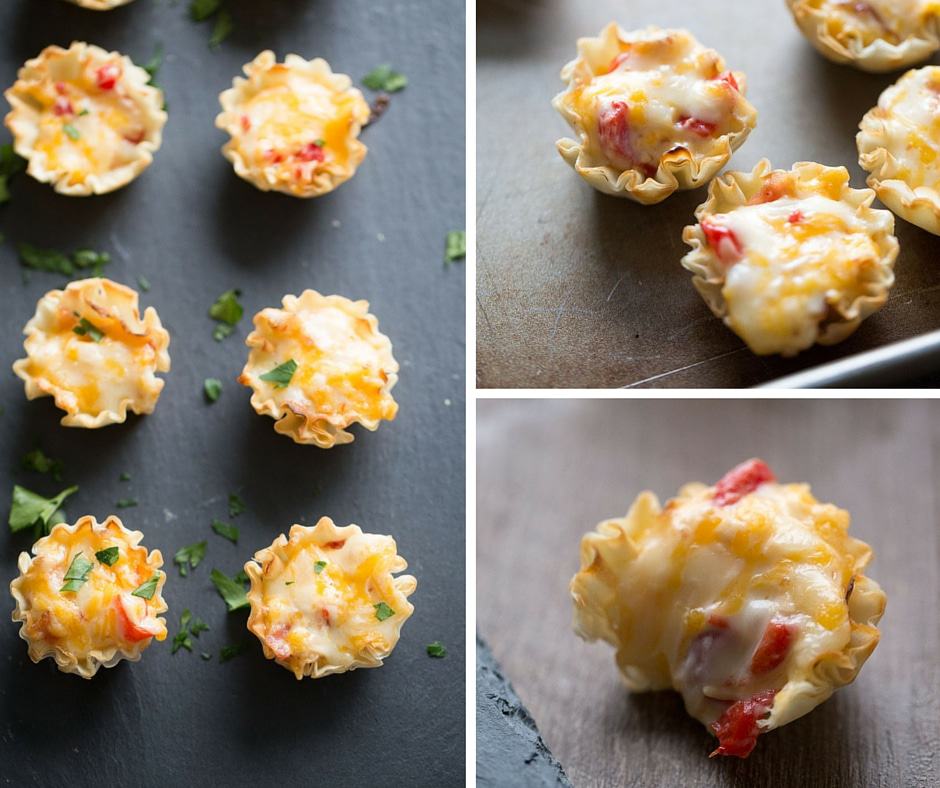 The one thing that hasn't changed much for me is the way I eat. I enjoy all the same foods I did when I was young, in fact, I enjoy more! I probably wouldn't have eaten pimento cheese when I was a kid, but now I adore the stuff! I eat it with crackers or even in sandwiches. And for football watching, I make these tasty little fillo cups filled with pimento cheese! These little bites are amazing! The fillo cups are buttery and flaky, and the pimento cheese dip is warm and creamy; the little bits of bacon mixed in add a little salty flavor. These bites melt in your mouth! For a white cheddar version check out this White Cheddar Pimento Cheese Recipe!
I would happily eat all these as a meal, but if you are serving them to friends, double or triple the recipe because they will go fast! Be sure to balance out the savory with a few sweet recipes like these Mini Nutella No Bake Pies or these Mini Orange Tarts!
See How To Make Baked Pimento Cheese Cups
Pimento Cheese Fillo Cups
Flaky fillo cups filled with an easy pimento cheese dip!
Ingredients
2 1.9 oz boxes Athens Food Mini Fillo Shells
1 cup shredded Monterey Jack
1 cup shredded cheddar cheese
4 oz diced pimentos
3/4 cup mayo
3 strips cooked bacon, chopped
1/4 teaspoon garlic salt
Instructions
Preheat the oven to 350 degrees. Remove shells from package and arrange on a baking sheet; set aside.
In a bowl, combine cheese, pimentos, mayo, chopped bacon and salt. Stir until combined.
Fill each shell with a spoonful of cheese. Bake for 8-10 minutes or until cheese is bubbly; serve.
Nutrition Information
Yield

30
Serving Size

1
Amount Per Serving
Calories

78
Total Fat

7g
Saturated Fat

2g
Trans Fat

0g
Unsaturated Fat

4g
Cholesterol

11mg
Sodium

115mg
Carbohydrates

1g
Fiber

0g
Sugar

0g
Protein

2g
Disclosure: I received compensation from Athens Foods for recipe development purposes. All opinions are my own. For more Athens Foods recipes,
click here