Strawberries Romanoff, are centered in flakey fillo shells for a light summertime treat.  Only five ingredients are all that are needed for this easy dessert recipe!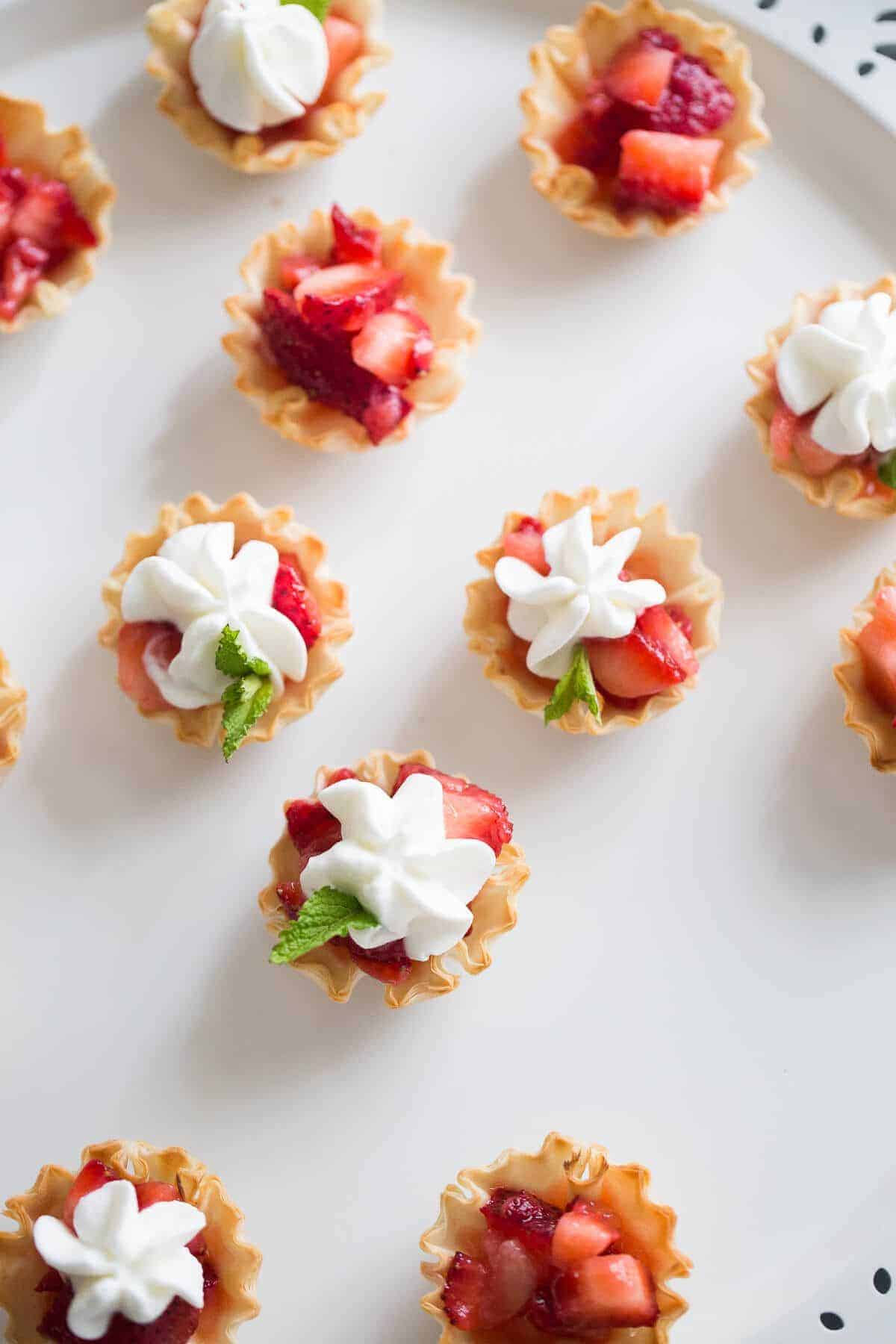 I've partnered with Athens Foods to bring you this original recipe.
It has been years since I've been strawberry picking.  I can remember going to a local berry farm when I was a kid.  This was 15 minutes from my house but seemed so far away.  The rows and rows of berries appeared to stretch on forever.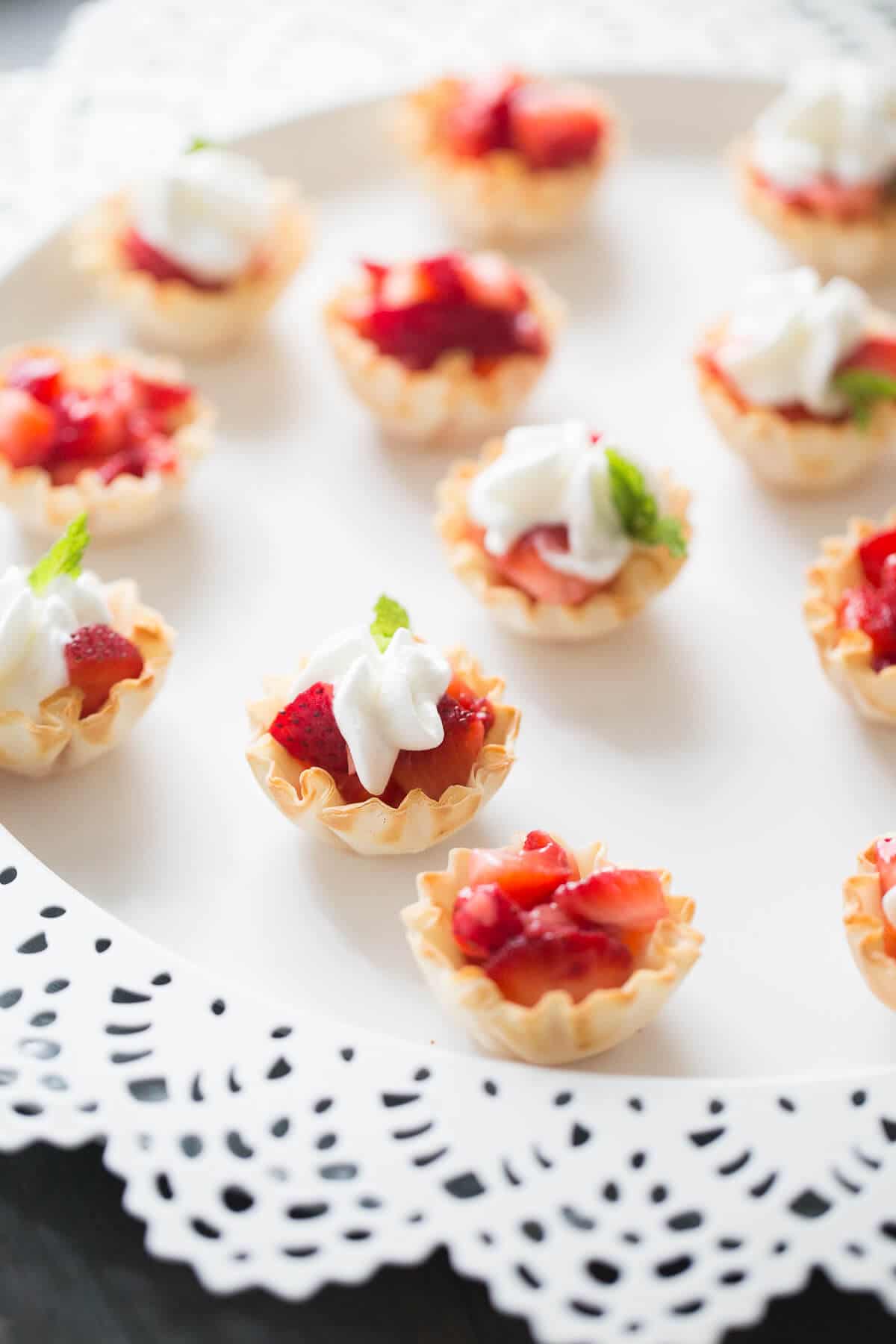 I don't remember ever coming home with a lot of strawberries.  That's because I spent more time eating those sun-kissed strawberries than I did gathering them.  Each one was more plump and juicy than the last.  I think I left that farm with stained fingers, lips and clothes, but it was all worth it.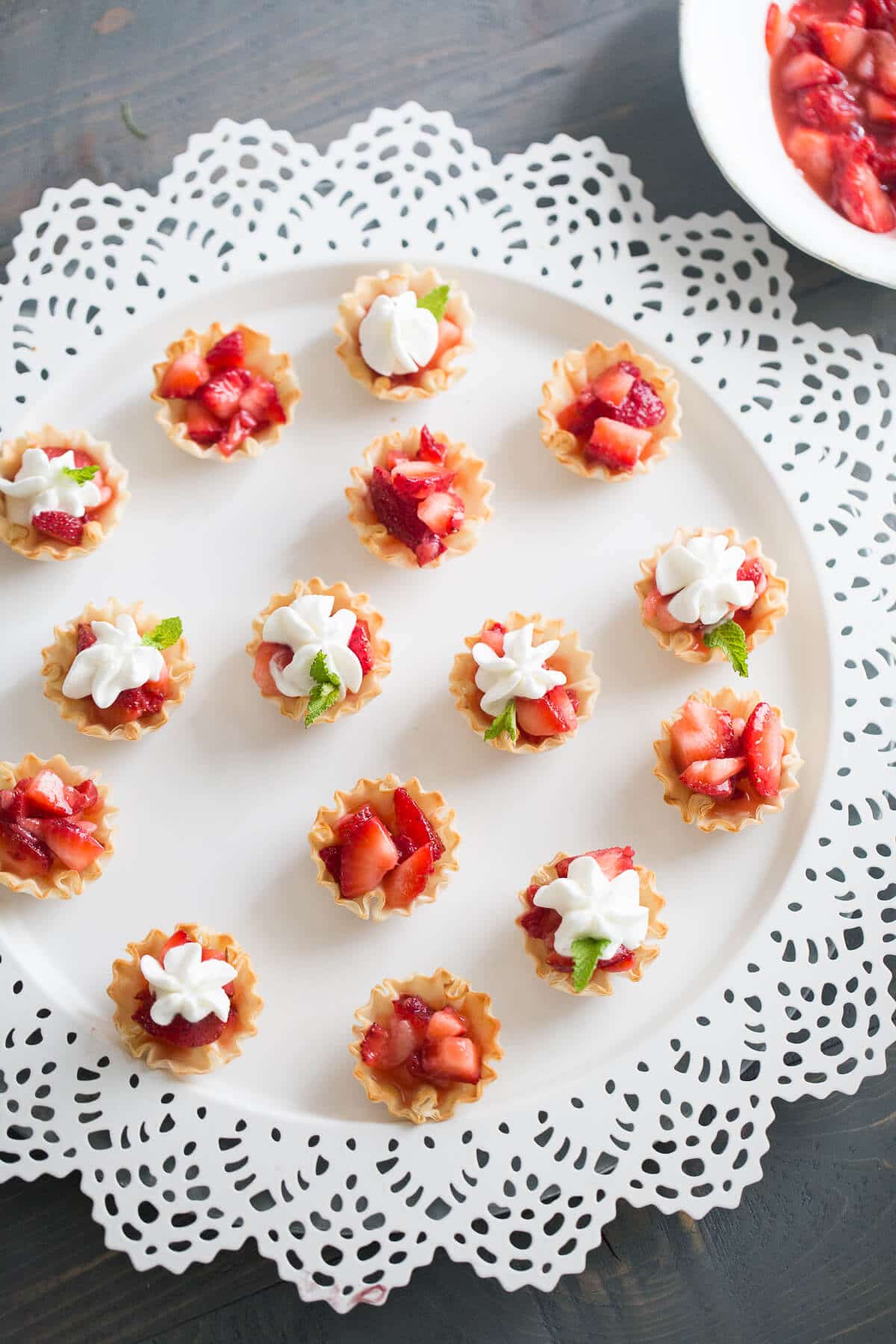 Shortly after my last trip, the owners of the farm began selling off plots of land.  Baseball and soccer fields were popping up along with a park and a few houses.  Before long, the entire farm was sold, and the lush land turned into a housing development.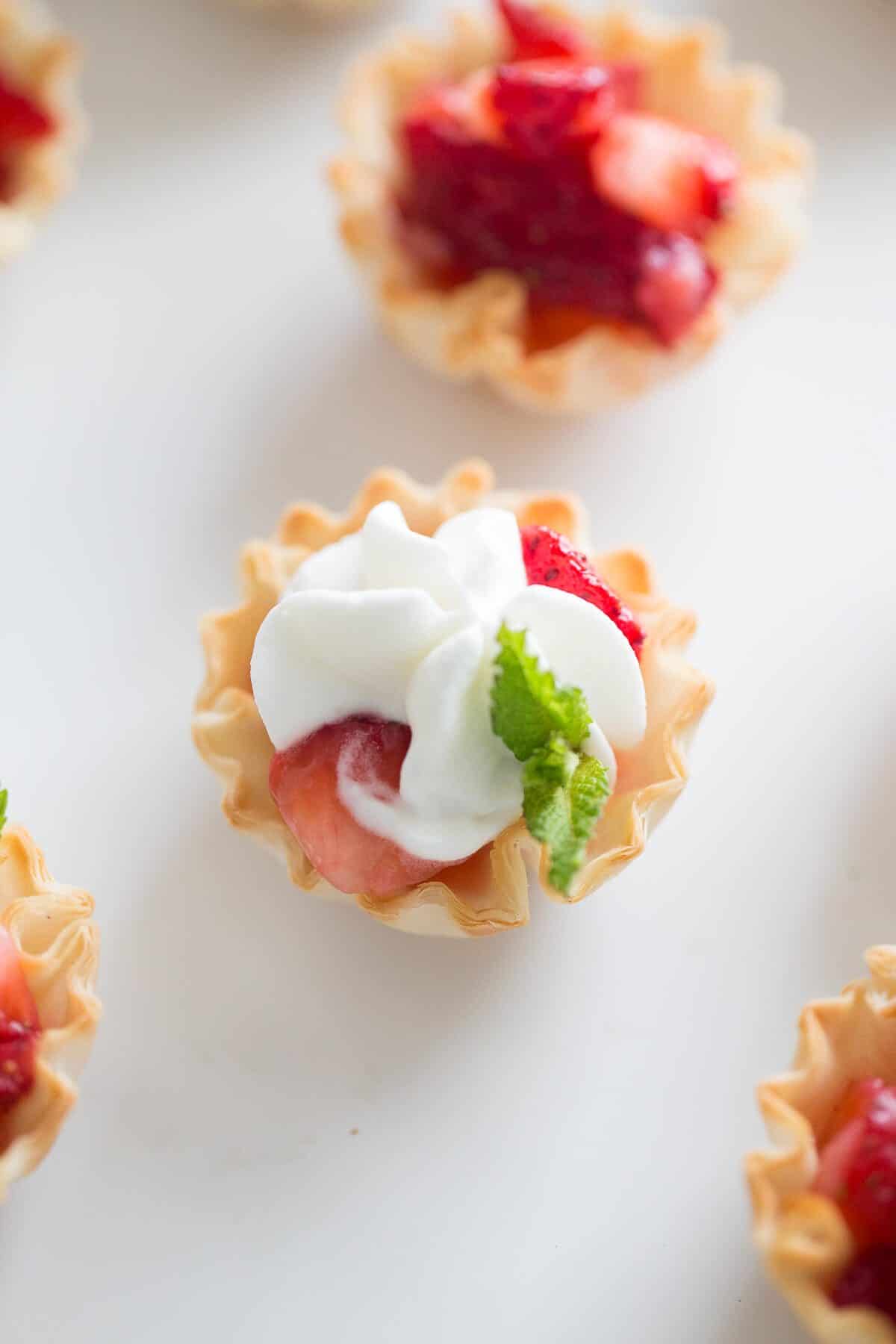 I would love to go back for just one day and go strawberry picking with my kids at that same farm.  I would love for my kids to have strawberry juice drip down their chins and their fingers stained from the fresh fruit.  I would love for them to come home with empty hands but bellies full of fresh, ripe strawberries.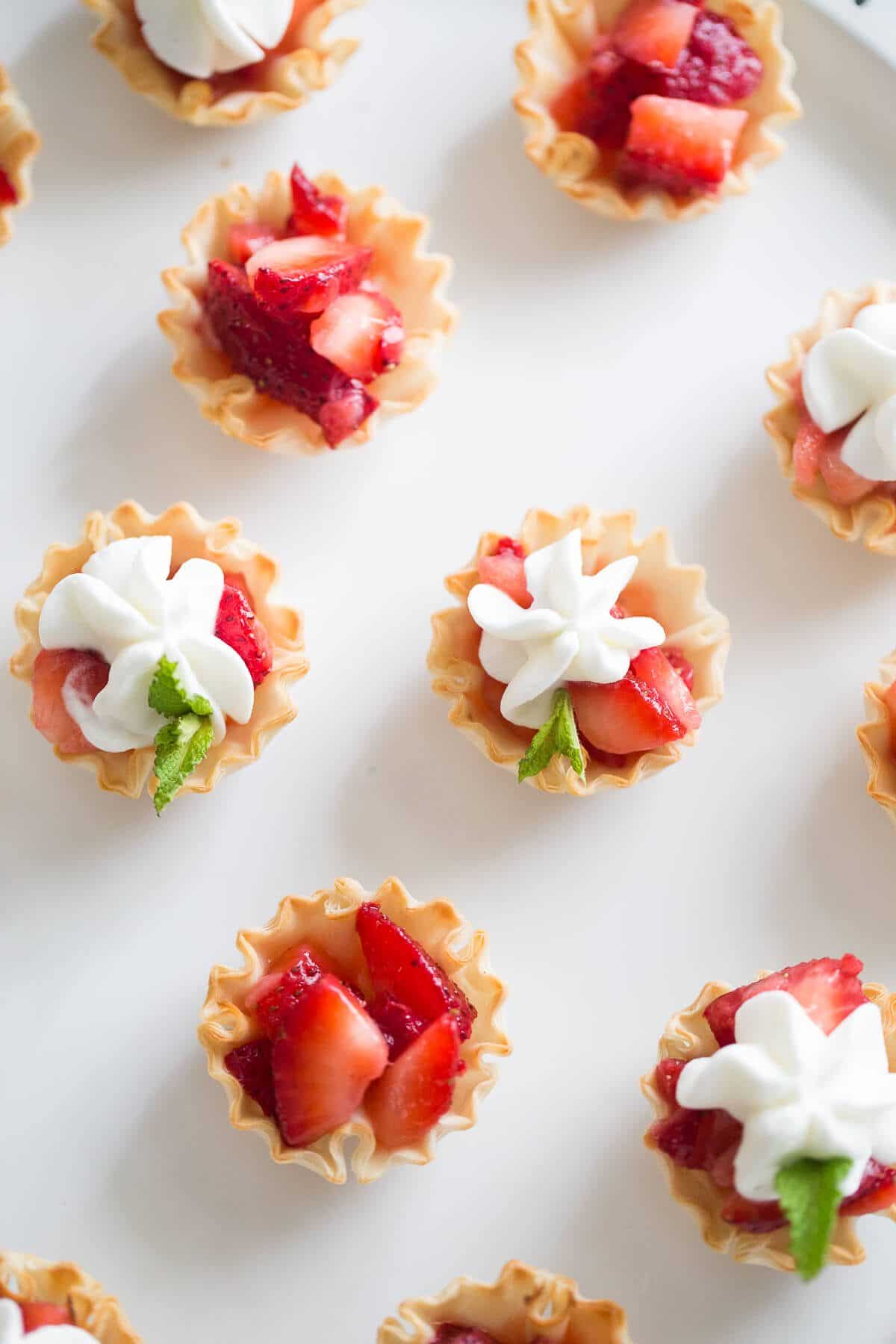 We are fortunate to have fresh fruit available to us all year round in our local grocery stores.  This time of year, no-bake, simple desserts are a must.  These strawberries Romanoff cups are just that; simple!  I combined chopped strawberries with powdered sugar, orange juice and brandy extract (you can certainly use an orange liqueur in place of the juice and the extract as per traditional Romanoff, but I wanted this dessert to be kid-friendly).  Be sure to allow the mixture to sit for at least an hour, you want to be sure the flavors have time to come together.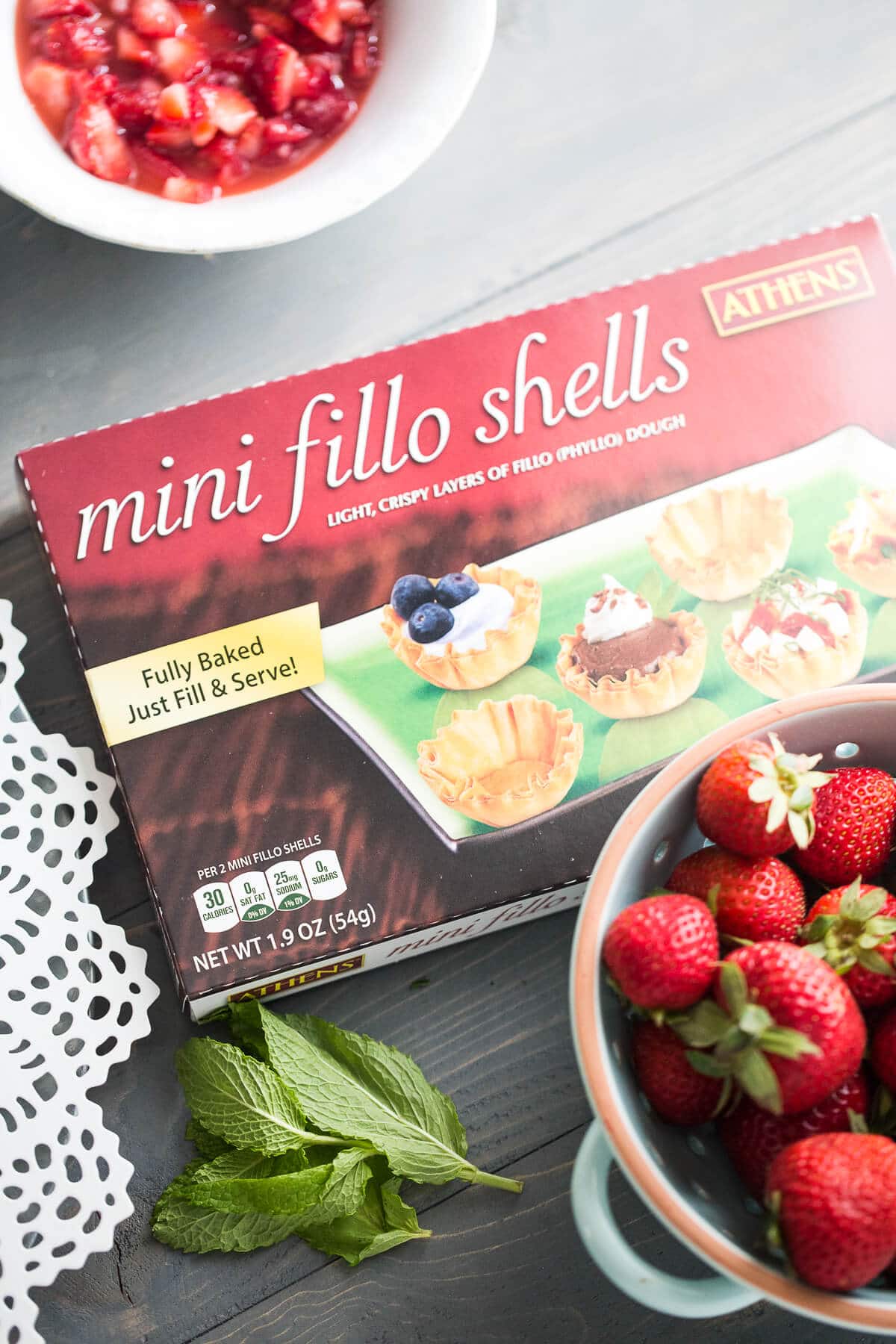 Athens Fillo Shells are perfect for holding these flavorful berries.  I topped each shell with a dollop of homemade whipped cream and a mint leaf before serving.  This dessert is fresh, classy, simple and delicious!
Strawberries Romanoff Cups
30
adjust servings
Ingredients
2 1.9

oz packages Athens Mini Fillo Shells (15 shells in each box)

16

oz strawberries coarsely chopped

2

tablespoons powdered sugar

3

tablespoons orange juice

1/2

teaspoon brandy extract

Fresh mint leaves

Whipped cream
Instructions
n a bowl, toss together the strawberries, powdered sugar, orange juice and extract. Place the strawberries in the refrigerator for at least 1 hour.
Meanwhile, prepare fillo shells according to package directions.
Fill each shell with a spoonful of strawberries. Top with whipped cream and mint just before serving.