Light and airy cream puff pastry is filled with a fluffy strawberries and cream filling and then drizzled with chocolate!
In this post:
Learn how to make profiteroles
Learn how to make your own whipped cream
The first time I had a profiterole I was in my mid twenties. I was working at my first professional job. My boss took me out to lunch at one of the fanciest restaurants at that time. I had no experience with fancy restaurants. I was a single, poor working girl trying to figure out her career. I was still eating ramen noodles and popcorn for dinner!
Profiteroles are simply a version of a cream puff. They tend to be smaller in size. They can be filled with ice cream, custard or as I've done here, with strawberries and cream.
The pastry dough is not sweet, it does not contain sugar at all. While the dough consists of only a handful of ingredients, I will say it took me some time to get it right. It starts with milk, butter and salt that is set in a saucepan over medium heat. The milk is heated until the butter has melted and milk bubbles just barely form around the edge. You do not want your milk to boil-it could scald and burn. Just look for vigorous, but small bubbles around the edge of your saucepan. Add all your flour, reduce heat and stir with a wooden spoon until your dough starts to gather and pull away from the sides. Add your dough along with your eggs to a food processor and you are finished, well with that part anyway. Next comes the fun part.
I transferred my dough to a pastry bag, but a large zip top bag with a corner snipped will work just as well. Pipe the dough into a 1 1/2 inch round circles onto a lined baking sheet (Silpat or parchment paper work perfectly). Do your best to keep everything uniform so that your profiteroles bake evenly.
My only emphatic tips for making these pastries is to bake these puffs for twenty minutes, then turn off the oven and leave the puffs in for an additional ten minutes or so. You want a nice golden color. Secondly. when you do finally remove the puffs, make a small slit in each one. This will allow steam to escape and will help them cool a little faster.
Homemade whipped cream is so easy to make. Store bought IS fine, don't get me wrong. I use it too. But homemade just tastes so luxurious and creamy plus it only takes about ten minutes to prepare. The key is to start with a very cold whisk, bowl and cream. Having all your supplies super cold will allow the cream to set up quickly. Place your cold cream and a little sugar in your cold bowl, set your mixture to high and let 'er rip. Stop your mixer when your cream begins to thicken. This is will only take a few minutes. Stir in your strawberries and fill your puffs. Then Dessert is served!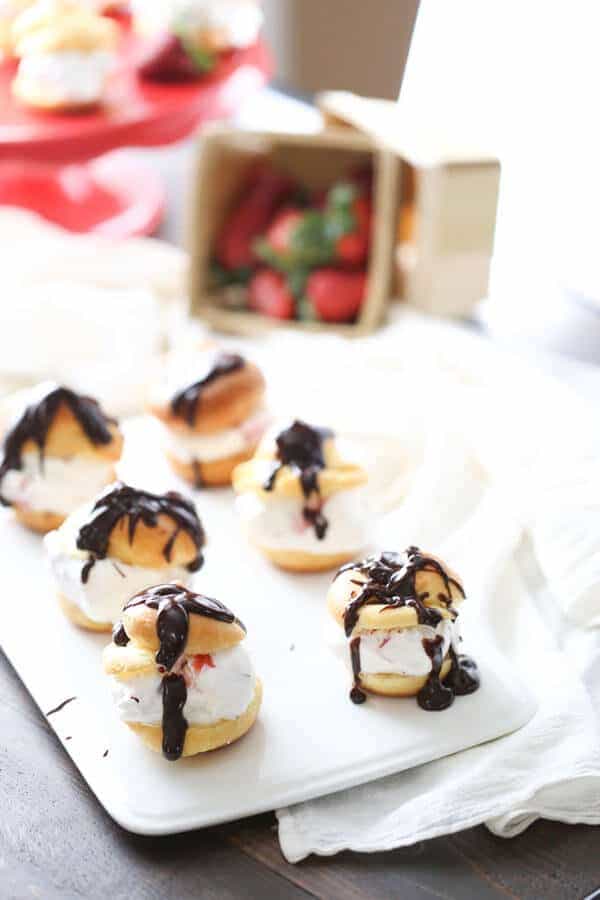 Strawberries and Cream Profiteroles
Light and airy pastries are filled with a sweet strawberries and cream filling.
Ingredients
For the pastry
3/4 cup milk
6 tablespoons butter
1/4 teaspoon salt
3/4 cup flour
3 eggs
For the whipped cream
2 cups chilled heavy cream
4 tablespoons sugar
1 teaspoon vanilla
1 cup chopped fresh strawberries
For the chocolate sauce
3 oz. unsweetened chocolate
1/3 cup heavy cream
1/2 cup sugar
1 teaspoon vanilla
2 tablespoons butter
Instructions
Preheat oven to 425 degrees. Line two baking sheets and set aside.
In a large saucepan, heat milk, butter and salt over medium heat until the butter has melted and milk begins to boil. You do NOT want it to come to a full boil; you want the milk to be just under the boiling point.
Add your flour and reduce heat to low stirring continuously with a wooden spoon until a dough forms. It should pull away from the sides of the pan when you stir.
Transfer dough to a food processor along with the eggs. Mix just until combined. Place dough in a pastry bag or zip top bag. Pipe dough into 1 1/2 inch rounds. A cookie scoop can also be used. Just be sure the puffs are uniform in size.
Reduce oven temperature to 350. Bake puffs for 20 minutes. Turn the oven off and let the puffs sit in the oven with the door close for an additional 10 minutes. Remove and immediately cut a small slit into the top of each puff. Let profiteroles cool.
While profiteroles cool prepare whipped cream. In a very cold bowl, whip heavy cream and sugar with the whisk attachment on high. Beat for 1-2 minutes or until cream is thick and stiff peaks form. Fold in strawberries.
Cut each profiterole in half. Divide cream among each puff and place tops over cream.
For the chocolate sauce: Prepare the chocolate sauce by stirring together chocolate and milk in a microwave safe bowl. Heat for 1 1/2 minutes or until chocolate has melted. Stir until smooth. Add sugar and return chocolate to microwave. Heat and additional 3 minutes, stirring after 1 1/2 minutes. Heat until sugar has dissolved. Stir in butter and vanilla. Drizzle chocolate over each profiterole or serve on the side.
Nutrition Information
Yield

18
Serving Size

1
Amount Per Serving
Calories

253
Total Fat

20g
Saturated Fat

12g
Trans Fat

1g
Unsaturated Fat

6g
Cholesterol

80mg
Sodium

97mg
Carbohydrates

16g
Fiber

1g
Sugar

10g
Protein

4g
MORE STRAWBERRIES AND CREAM: Check out these posts:
Strawberry Tiramisu Angel Food Cake