Tender little ricotta donut recipe served with sweet dipping sauces!  Perfect for breakfast, dessert and everything in between!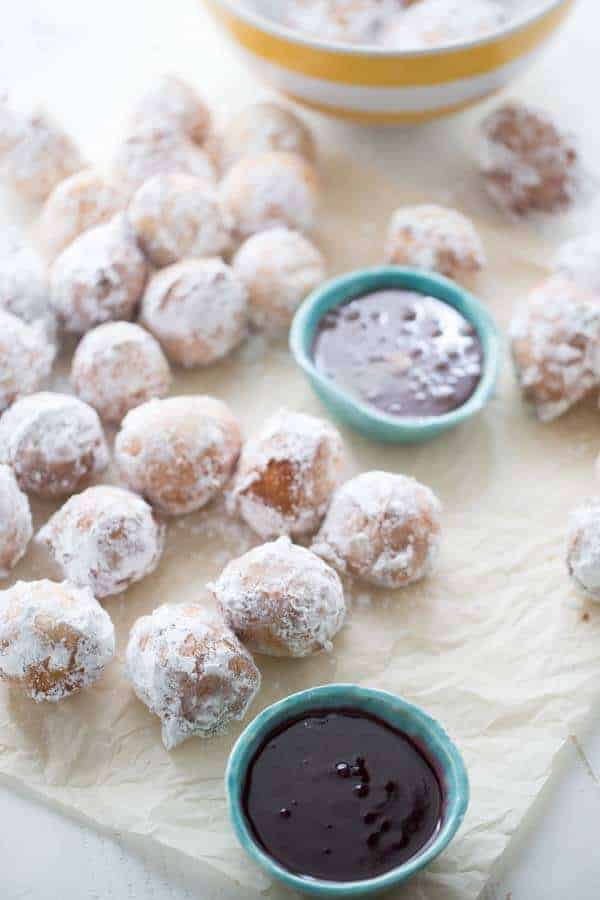 My first job after college was in a brokerage firm.  Each Tuesday morning, the conference room was reserved for a sales meeting for management and all the brokers.  I was an assistant at the time and was not included in any of these meetings.  I was fine with the exclusion as I was certain watching paint dry would have been way more exciting than anything that went on in that conference room.   The brokers themselves wouldn't have gone to any of those meetings if attendance wasn't mandatory.   The only thing that made it tolerable for anyone present was the giant box of donuts.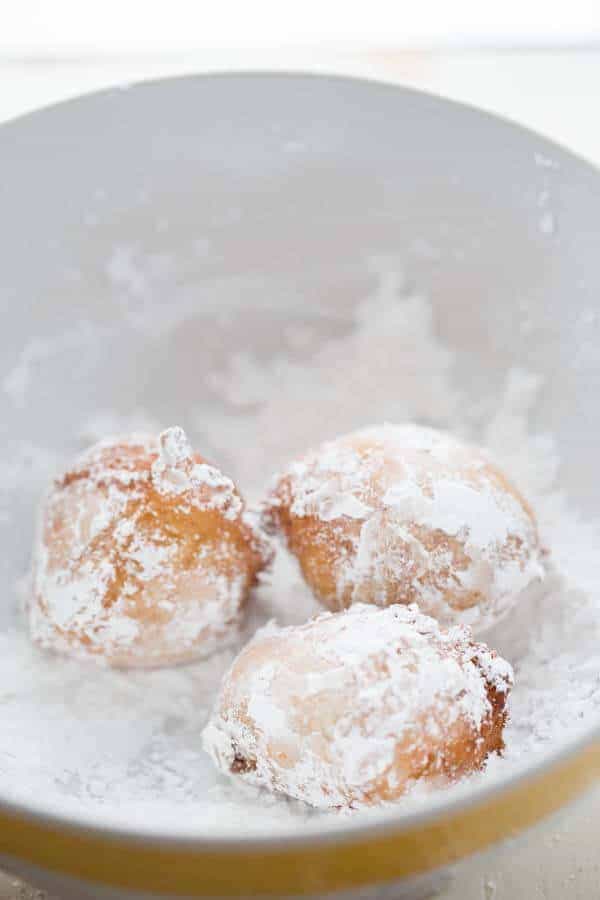 Let's face it, like cupcakes, donuts make EVERYTHING better.   If there are donuts in the morning, then it's going to be a good day.   If there are donuts for dessert, well then the evening just got interesting.  Glazed, sprinkled, sugared, powdered or stuffed, donuts make people happy.  I know they make me happy! This ricotta donut recipe makes me absolutely ecstatic!
This donut recipe is incredibly simple.  Please do not be alarmed by the frying.   I used to be terrified of frying until I tried these cheese sticks and saw how simple the process was.  I moved on to hush puppies with great success and figured donuts couldn't be much different!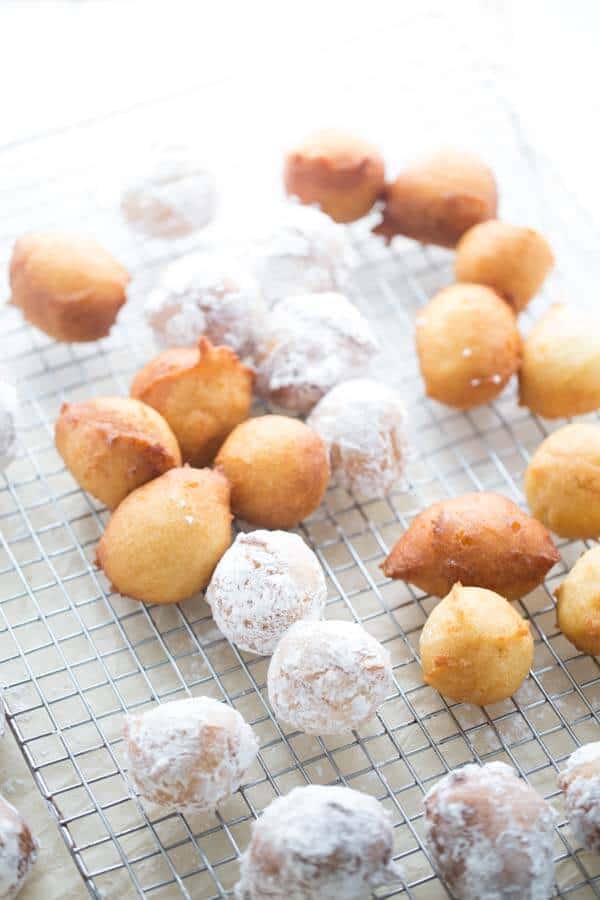 Recipe tips:
Be sure to heat your oil before adding any of your donut batter.  The best way I have found to test the oil is to insert the handle of a wooden spoon into your oil.  If tiny bubbles dance vigorously around the handle, then the oil is ready.

I used a small cookie scoop to gather my dough.  Carefully drop each tiny spoonful into the hot oil, taking care not to splatter any oil.   I added only 3 -4 donuts to the oil at a time.  You don't want to crowd your pan.  For one thing, you do not want the donuts to stick together.  Secondly, over crowding will cause your oil temperature to decrease.

The dough will rise to the top and take only a minute or so to brown, carefully roll the dough over and allow the second side to brown.  This will only take a minute; remove donuts to a baking sheet lined with paper towels so that the donuts can drain.  

Wait until the donuts have cooled completely before tossing them with powdered sugar.  If you add the sugar while the donuts are too warm it will melt into the donuts.  Of course this is fine if you are going to consume them immediately.

These donuts are best when eaten the same day.  I don't think you will have any leftovers to worry about anyway.
I served these donuts with two kinds of sauces because that's how I roll.  Why settle for one sauce when you can have two?  The truth is I couldn't decide between the raspberry sauce and the caramels sauce, so I made both.
 Skip the corner bakery or the chain donut shops, this ricotta donut recipe is really what you want!
24
adjust servings
Fluffy ricotta donuts lightly fried and coated with powdered sugar! Serve these little guys with two kinds of dipping sauce for the ultimate donut experience!
Ingredients
For the donuts
6

eggs

1/2

cup sugar

2

cups ricotta cheese

2 1/2

cups flour

4

teaspoon baking power

1

teaspoon vanilla

vegetable oil

powdered sugar
For the raspberry sauce
1 16

oz package frozen raspberries

1/2

cup sugar

3/4

cup water

1

tablespoon cornstarch
For the caramel sauce
1/4

cup heavy cream

1/2

cup Jif Salted Caramel Hazelnut Spread
Instructions
Combine the eggs, sugar, ricotta cheese, flour, baking powder and vanilla in large bowl. Which ingredients until smooth.
Add vegetable oil to a stock pot until it is an inch deep. Heat oil over medium high heat until the temperature reaches 325 degrees.
Using a small cookie scoop, carefully gather dough and drop 3 or 4 scoops into the hot oil. Allow donuts to brown for 1-2 minutes, flip donuts over and allow the second side to brown, which should take a minute. Remove donuts to a baking sheet lined with a paper towel. Repeat with remaining batter.
Allow donuts to cool completely before dusting with powdered sugar.
To prepare the raspberry sauce: combine all the ingredients in a small sauce pan and bring to a slow bowl over medium heat. Stir constantly to dissolve the sugar and the cornstarch. Cook mixture for 5 minutes or until it begins to thicken. Remove from heat and pour over a bowl using a fine strainer. Discard solids.
For the caramel sauce: place caramel spread and cream in a microwave safe bowl. Heat for 30 seconds, stir. Heat an additional 15-30 seconds or until combined. Stir until thick and creamy.
Donut recipe adapted from Gale Gand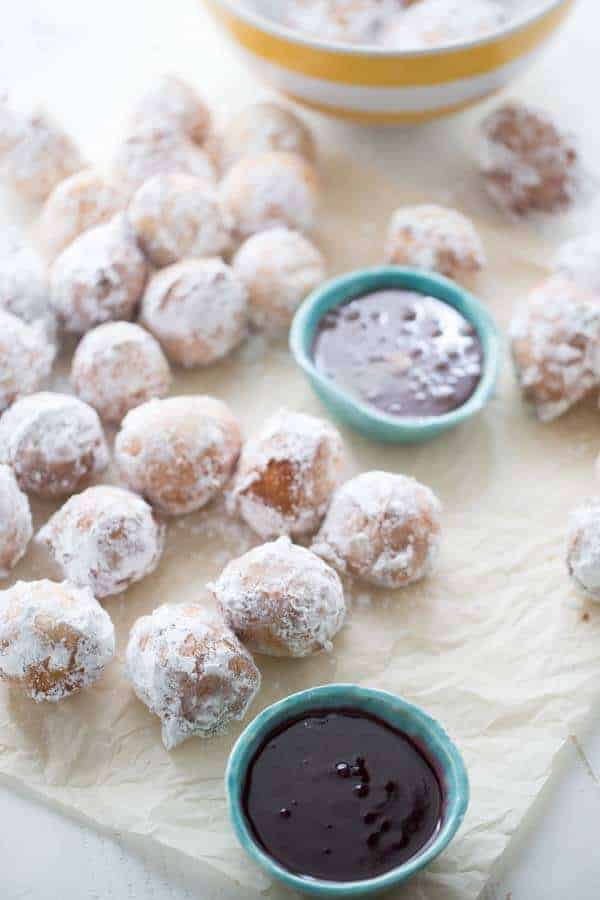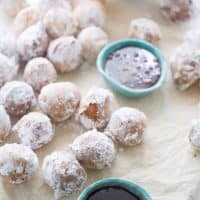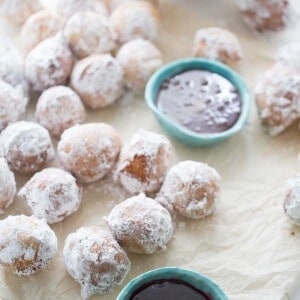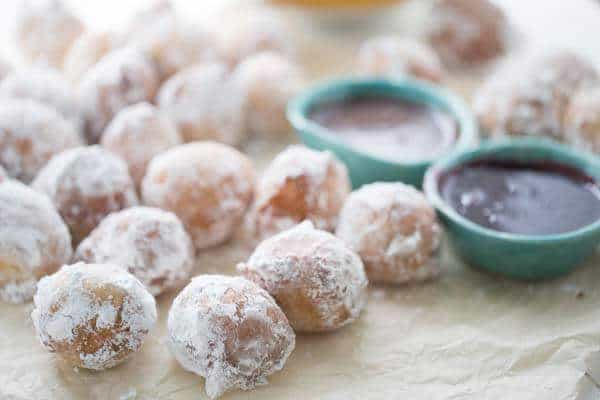 I may be linking this up to these parties and to The Weekend Potluck.
SaveSave