Biscuit donuts are an easy way to curb your donut craving! They fry up light and fluffy, and when the warm donuts hit the tangy, sweet lemon sugar your tastes buds will tingle with excitement!
I was going to save this recipe until the spring. I know everyone is all about cleaning eating and exercising now that it's January, but I just couldn't help myself. It is the first week after the holiday, and it happens to be a cold and snowy January day. I think something bright and citrusy seemed to be in order. Plus donuts make me happy.
Donuts are one of my favorite things to make and EAT! Usually, I make baked donuts like these baked sweet potato donuts or donuts with cake mix like these Almond Coconut Chocolate Donuts and I've even made donut holes, but this is my first time attempting to make donuts out of ordinary canned biscuits. I've decided that the biscuits are just as good as any other baked donut I've created! Plus, they are so simple! If you are completely averse to frying, then these may not be for you. You may want to stick to baked donuts. But if you are willing to dabble in a vegetable oil, then please consider giving these a try!
The only thing I would say about these donuts is I would not eat them plain. They would simply taste like fried biscuits. You might enjoy that taste, I for one, do not. After frying, you could flip them around in some powdered sugar, cinnamon sugar, vanilla or chocolate glaze. OR you could try what I did which was to combine sugar with fresh lemon zest. Something amazing happens when warm fried dough meets that tangy sweetness. The heat from the warm donut seems to intensify the flavor of the lemon zest. The puckering citrus pops in your mouth with each tender bite!.
Yes, I think these are the perfect treats to brighten up these gray January days.
Yield: 16
Lemon Sugar Biscuit Donuts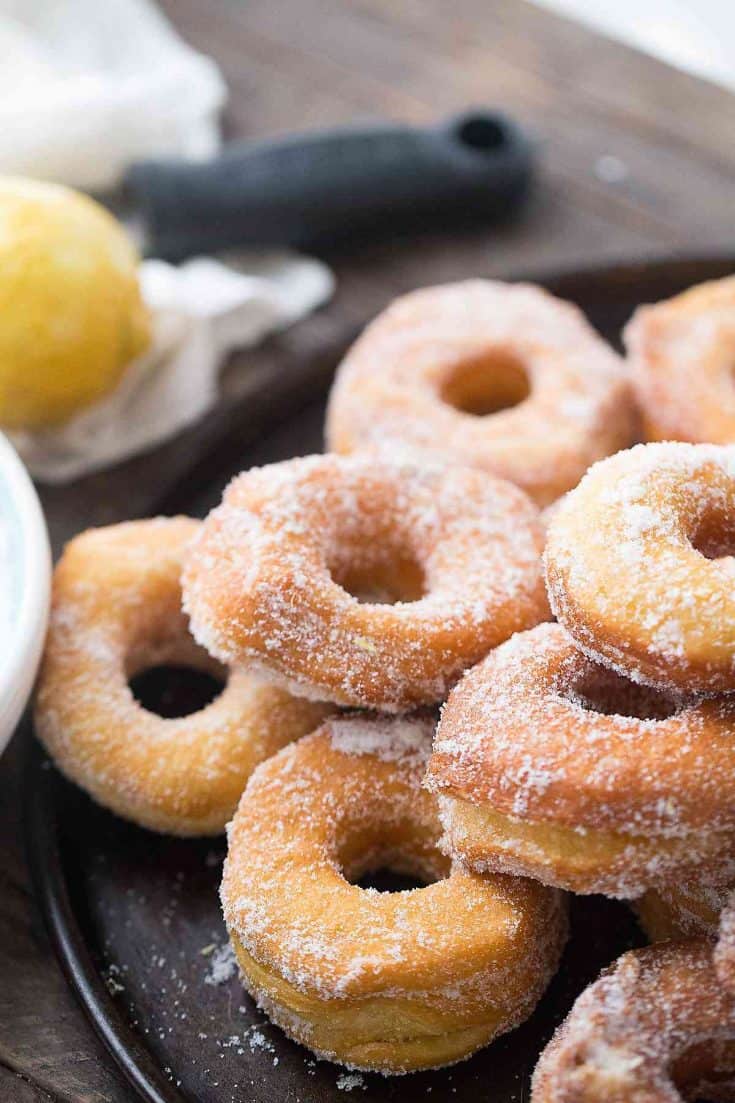 They fry up light and fluffy, and when the warm donuts hit the tangy, sweet lemon sugar your tastes buds will tingle with excitement!
Ingredients
2 cans 16.3 oz buttermilk biscuits (8 count each) ( I used Kroger brand jumbo biscuits)
Oil for frying
1 cup sugar
2 tablespoons lemon zest
Instructions
In a deep pan, heat about 2 inches of vegetable oil to 350 degrees. You can use a thermometer to find the exact temperature. You will know your oil is ready when you place the handle of a wooden spoon in the hot oil and bubbles begin to form around it.
In a shallow bowl, combine the sugar and lemon zest, set aside.
Arrange biscuits on a flat surface, and using a biscuit cutter, cut out the centers of each biscuit. Place 2-3 biscuits in the hot oil and fry just until golden, turning once. Do not add too many biscuits to the oil, crowding the pan will reduce the temperature of the oil. When donuts are golden, remove them to a to drain on a paper towel. Repeat the process with the remaining donuts (and holes if desired).
Once donuts have drained, and they are no longer too hot to handle quickly dip them in the sugar mixture, taking care to coat both sides.
Store in an airtight container. Donuts are best when eaten the same day.
Nutrition Information
Yield
16
Serving Size
1
Amount Per Serving
Calories

260
Total Fat

10g
Saturated Fat

3g
Trans Fat

0g
Unsaturated Fat

7g
Cholesterol

2mg
Sodium

335mg
Carbohydrates

38g
Fiber

1g
Sugar

14g
Protein

4g