Need a simple sweet breakfast? These little red velvet donut holes are just that!
These little donuts are baked then dipped in a silky smooth white chocolate glaze!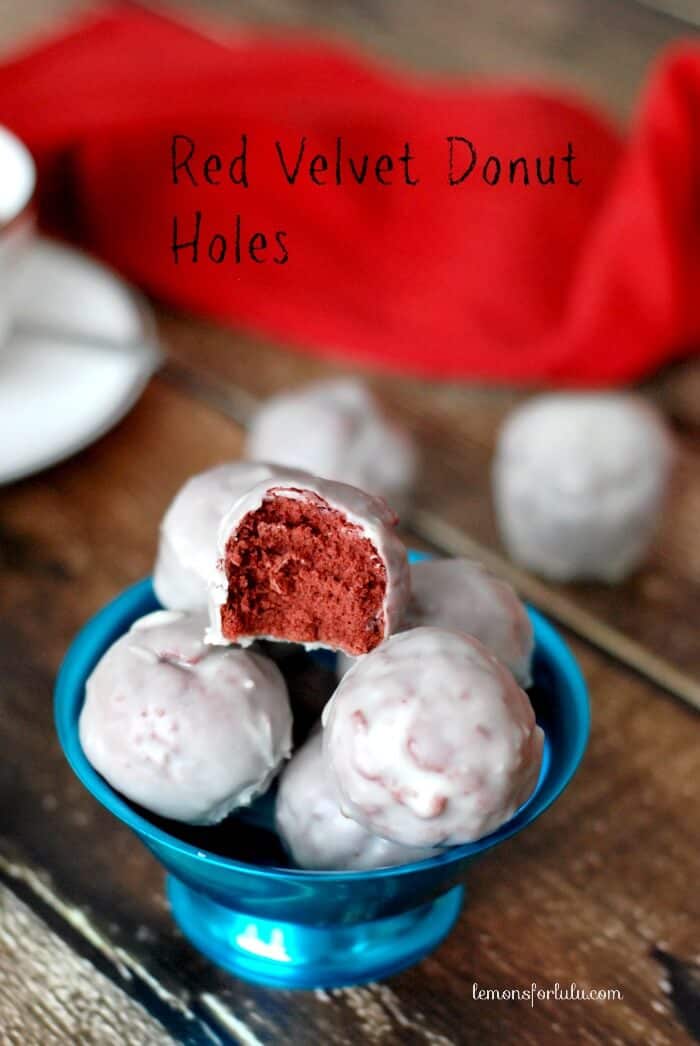 I didn't grow up eating fast food. My childhood was devoid of hot delivery pizza boxes and Happy Meals. My mom rightfully assumed that she could make food better and healthier than any restaurant. This was mostly true.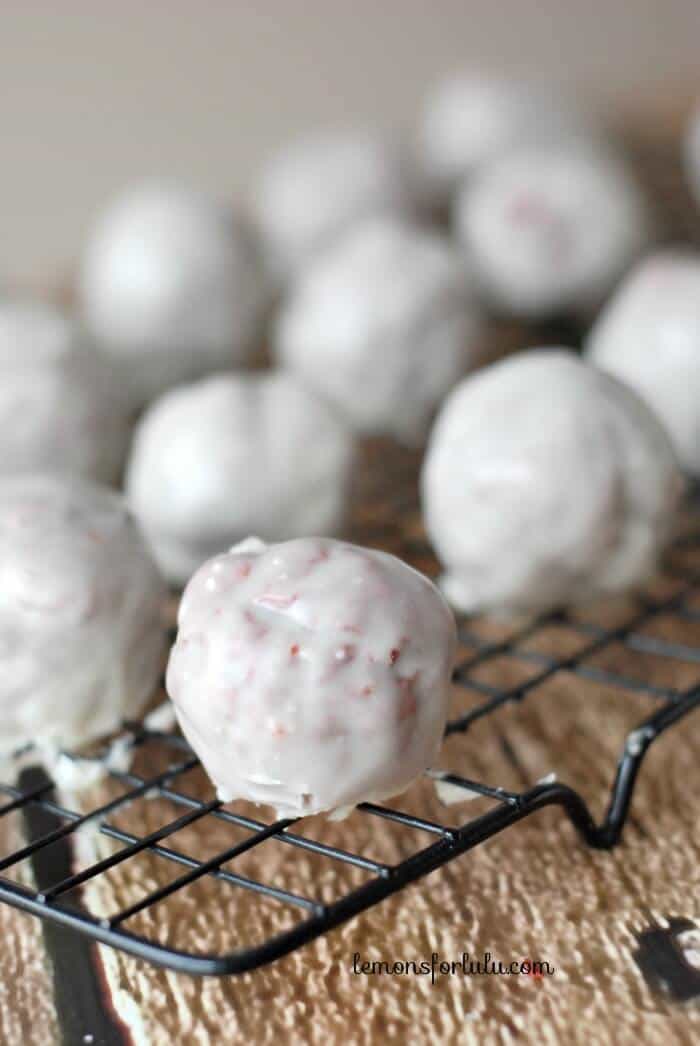 She fell short when it came to pizza. I do remember the first time she made pizza for the family. Her dough was perfect, it was the topping that left us….wanting more. She naively topped the pie with a simple tomato sauce, sliced deli salami and packaged individual cheese squares. It looked like a geometric masterpiece. It tasted like a deli train wreck. Thankfully, my mother's pizza making improved over the years.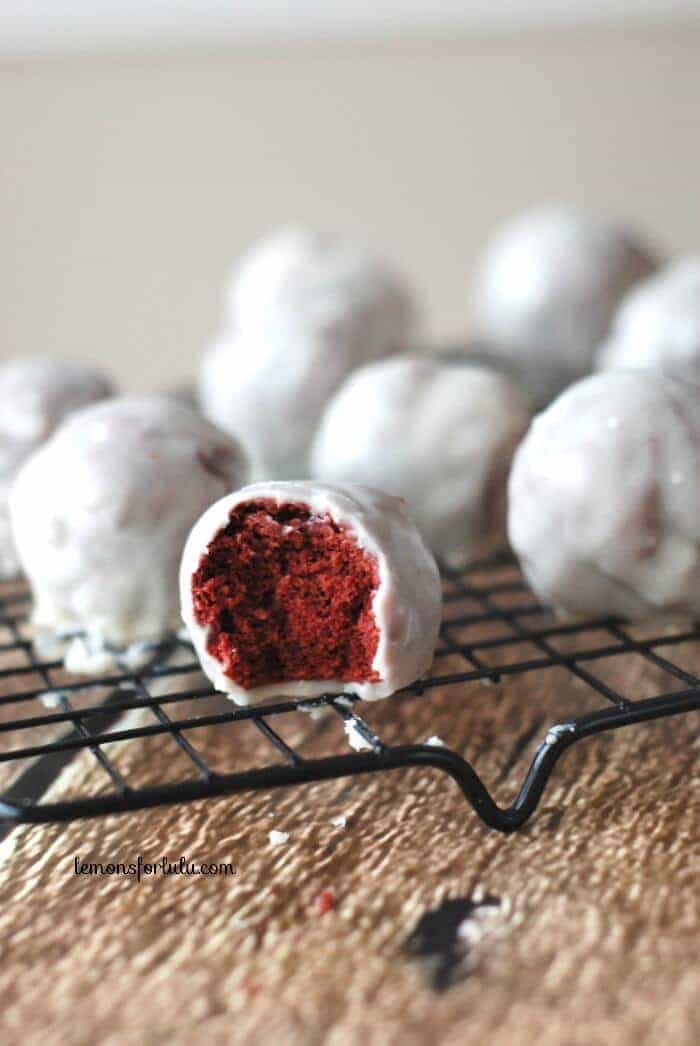 The one food that my parents indulged us in was with donuts. You can't imagine my excitement when I woke up to find the orange and white Dunkin Donuts box sitting in the kitchen! Twelve neatly packed donuts sitting snuggled up against one another, just waiting for me to dig in. Pure happiness!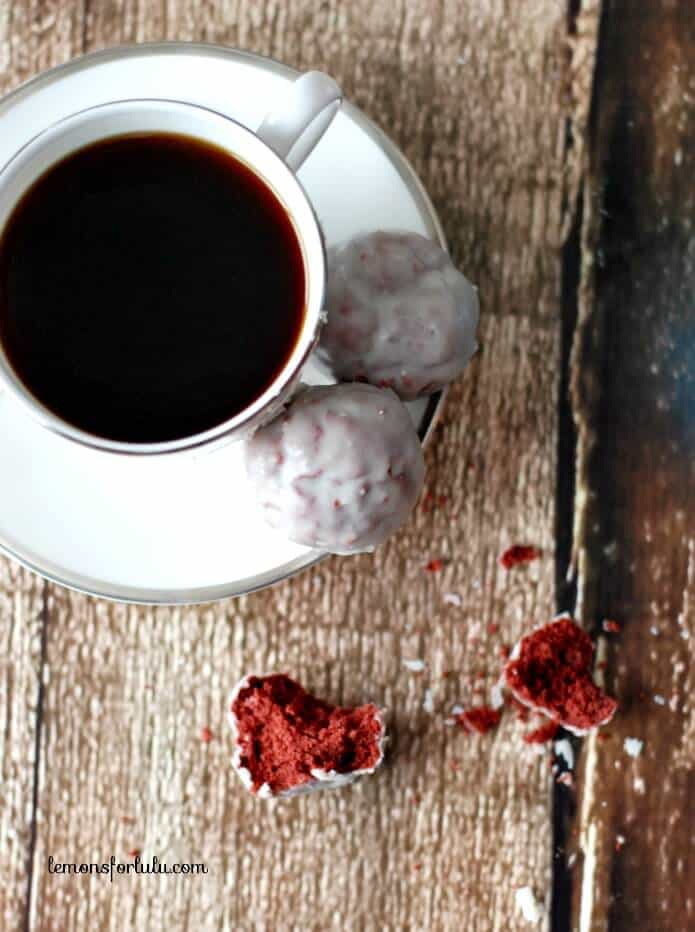 I love surprising my kids with donuts. While Dunkin Donuts still holds a special place in my heart, I prefer to treat my family to homemade baked donuts instead! I can easily whip up coconut donuts or s'mores donuts any time I crave a circular treat!
I wanted to surprise the kids with baked donuts for Valentine's Day! The only thing more fun than donuts, would be donut holes! I found the recipe for the red velvet donuts from Taste and Tell. I baked them in mini muffin tins and then rolled them in a luscious white chocolate glaze for true donut decadence!
TIME TO MAKE THE DONUTS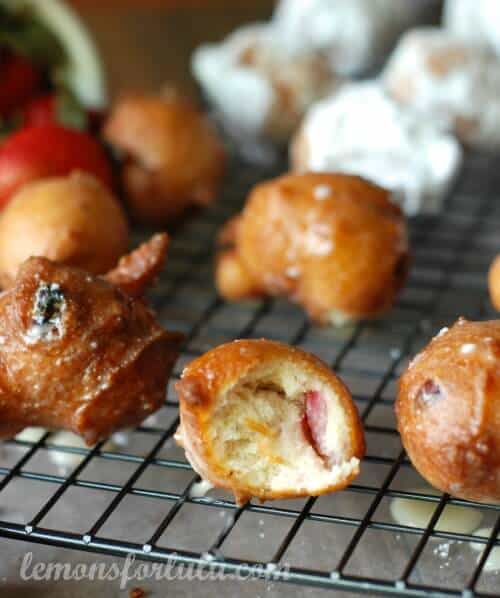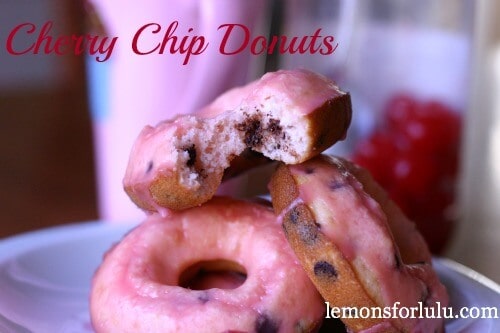 NEVER MISS A RECIPE! SUBSCRIBE TO MY EMAIL TODAY!
FOLLOW ME:
FACEBOOK | TWITTER| GOOGLE +| BLOGLOVIN | INSTAGRAM
Don't forget you can save each of these recipes to your personal recipe box , create your own meal plan, or add ingredients for each recipe to your shopping list! Just use the "Save Recipe" on all my recipes!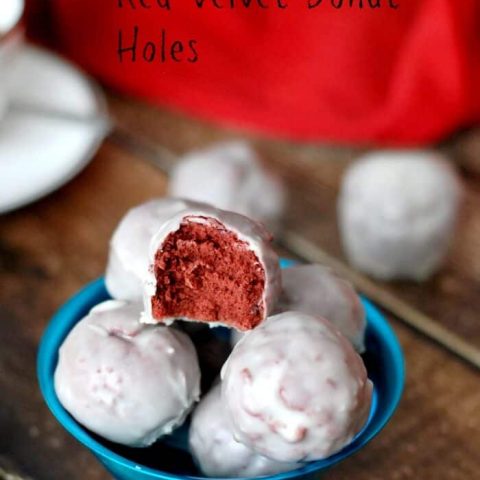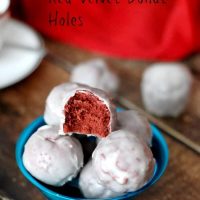 Red Velvet Donut Holes with White Chocolate Glaze
These little donuts are baked then dipped in a silky smooth white chocolate glaze!
Ingredients
Donuts
2 1/4 cup flour
1 tablespoon baking powder
1 teaspoon baking soda
1/2 teaspoon salt
3/4 cup sugar
1 egg
2 tablespoon unsalted butter, melted
2 ounces unsweetened chocolate, melted
1/2 teaspoon vanilla extract
1/2 cup buttermilk
1 tablespoon food coloring
Glaze
4 oz white chocolate
6 tablespoons butter
2 cups powdered sugar
6 tablespoons water
Instructions
Preheat oven to 350. Spray two mini muffin tins and set aside.
In a small bowl, combine flour, baking powder, baking soda, and salt. Set aside.
In a large bowl, combine egg and sugar. Add melted butter and melted chocolate. Stir in vanilla and buttermilk.
Gently stir in flour mixture a little at a time. Stir just until flour has been incorporated.
Using a tablespoon, scoop up a small about of batter and fill each muffin cavity ¾ full. (I roll the dough in my hands). Bake for 10 minutes. Let donuts cool in pan for 5 minutes.
Meanwhile, melt butter and chocolate in the microwave in 30-second intervals. Whisk in powdered sugar. Add water until thin.
Using a fork, dip each donut into glaze, turning to coat. Let excess drip through fork tines and let set on a cooling rack. Dip each donut twice.
Nutrition Information
Yield

32
Serving Size

1 donut hole
Amount Per Serving
Calories

137
Total Fat

5g
Saturated Fat

3g
Trans Fat

0g
Unsaturated Fat

2g
Cholesterol

14mg
Sodium

149mg
Carbohydrates

21g
Fiber

1g
Sugar

14g
Protein

2g
SEE THIS ON MY PINTEREST BOARD!
Donuts from friends:
Red Velvet Cake Mix Donuts – Buns In My Oven
Baked Red Velvet Cake Doughnuts – How Sweet It Is
Baked Toasted Coconut Red Velvet Donuts – Julies Eats and Treats