{This post is sponsored by International Delight}
Coconut flavored coffee creamer is added to white cake mix
and topped with toasted coconut to make the moistest baked donuts ever!
If you love coconut, these coconut donuts are for you! A perfectly sweet little cake for breakfast!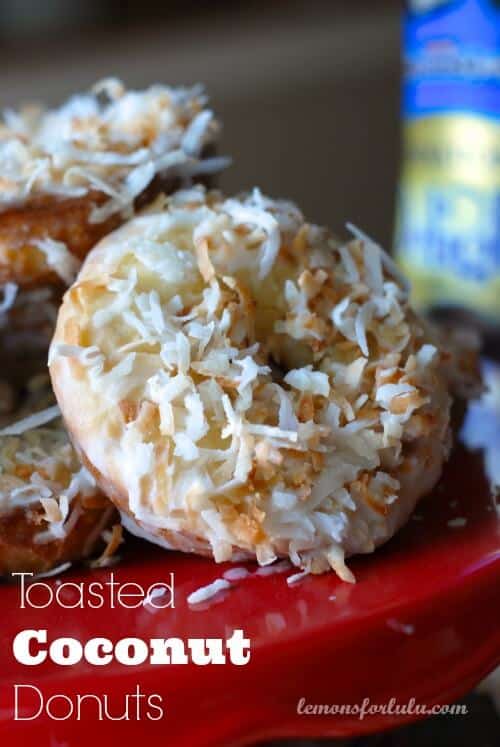 Who doesn't love donuts? Our family devours them! Every once in a while, I love surprising the kids with bakery donuts. I don't do this often however, because I am arrogant and think homemade is better! After all, the
When I do pick up a dozen donuts, the box will look exactly like this: there will be 10 donuts with loads of sprinkles and then there will be two donuts with toasted coconut. Those precious two are for my husband and myself. And yes, I actually let my 3 kids eat the remaining 10 sugary and sprinkle-y donuts! As I said, we don't do this very often! But I digress. Back to the coconut donuts. I fiercely love those coconut donuts! They are lightly sweetened but also a little nutty from the abundance of toasted coconut. I love them so much, that I'm usually tempted to buy an extra one for me to eat in the car. But then I think of my rear end, and thankfully that prevents me from buying more than necessary!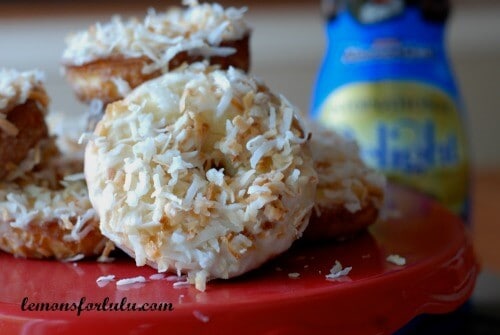 I recently had a craving for those lovely coconut donuts. But as usual, I really didn't feel like going to get them. Then the genius in me remembered I had International Delight Almond Joy Coffee Creamer in my fridge beckoning me to create my own perfect breakfast treats! To keep it simple, I used a boxed white cake mix, grabbed my donut pans and set out to recreate my favorite donut.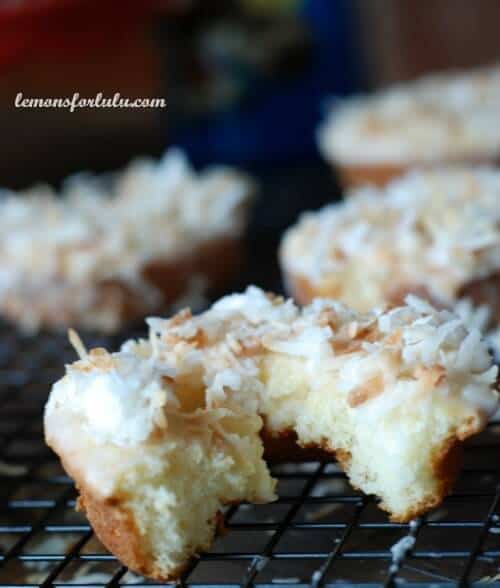 Coconut Donuts Better Than The Donut Shop
You know what? These are even better than the donut shop variety! They were so moist and tender. To me, they were perfect little circular coconut cakes of heaven! I added creamer to both the cake mix AND to the glaze! I topped each donut generously with toasted coconut for the ultimate coconut trifecta! They actually tasted better the next day (if you can save some until then). My son and I both ate two right away. Then I ate two more when the kids weren't looking. Taste testing is a tough job… Now I can safely certify that these are truly the best donuts you will ever eat! My rear end be damned, I'm going to go eat two more!
NEVER MISS A RECIPE! SUBSCRIBE TO MY EMAIL TODAY!
FOLLOW ME: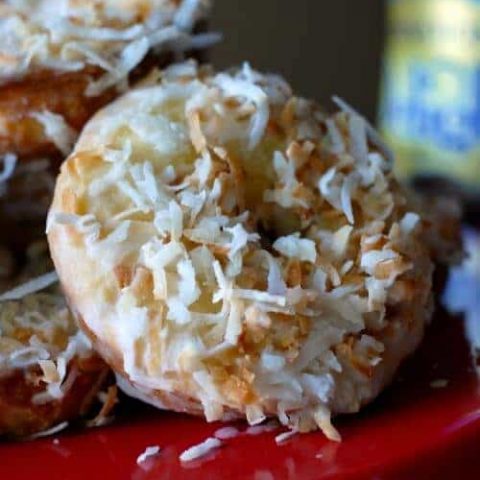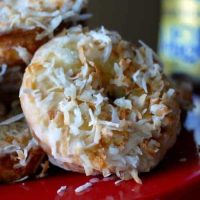 Baked Toasted Coconut Donuts
If you love coconut, these coconut donuts are for you! A perfectly sweet little cake for breakfast!
Ingredients
1 box 18,25 oz white cake mix ( I used Pillsbury)
1 cup butter, melted
2 eggs
1 cup Almond Joy flavored International Delight Creamer
For the glaze
2 cups powdered sugar
1/2 cup Almond Joy International Delight Creamer
Topping
Instructions
Preheat oven to 300. Arrange coconut on a baking sheet in a single layer. Toast in the oven for about 20-25 minutes, stirring every 5 minutes to prevent coconut from burning. Remove and let cool.
To prepare donuts. Raise oven temperature to 350. In a bowl, combine eggs, melted butter and creamer. Stir in cake mix and whisk until there are no more lumps. Spray your donuts pan (s) with non stick spray. Fill cavities ¼ to ½ full. Bake for 13-15 minutes or until tops are just golden. Let donuts cool in pans for 5 minutes before removing to a cooling rack.
To make glaze combine powdered sugar and creamer, stirring until smooth. Dip cooled donuts into glaze ( you may need more or less creamer depending on how thick you like your glaze). Dip tops of each donut into toasted coconut.
Nutrition Information
Yield

24
Serving Size

1 donut
Amount Per Serving
Calories

7907
Total Fat

281g
Saturated Fat

80g
Trans Fat

0g
Unsaturated Fat

186g
Cholesterol

80mg
Sodium

7158mg
Carbohydrates

1255g
Fiber

19g
Sugar

784g
Protein

118g