An oatmeal cookie crust is the base for this fruit pizza recipe.
The crust is slightly sweet, which is provides the perfect balance to the sweet, grilled fruit.
A creamy yogurt topping pulls everything together!
I remember when fruit pizzas became a thing. I remember trying it for the first time at a friends house, then suddenly it was everywhere. I think my family made one every week; we loved fruit pizzas that much! And let me tell you, there were never any crumbs left. We were slightly obsessed.
We always made the fruit pizza with the crescent roll crust and the topping was a cream cheese filling made with the tub whipped topping mixed in. I still love that version, but now I know that change can be very good. Especially a change that is better for me and my family!
What Is Fruit Pizza
A fruit pizza has to have 3 components, a "crust", a creamy topping, and fresh fruit. These components can vary in so many ways. The crust can be pizza dough, a sugar cookie crust, crescent roll dough, pie crust, puff pastry or oatmeal cookie dough as I have done here.
The filling is usually a cream cheese frosting made with powdered sugar.
The fruit topping can be almost any fruit imaginable!
How To Make This Fruit Pizza Recipe
As mentioned above, this recipe starts with a homemade oatmeal cookie crust. To make the crust, combine butter, brown sugar, flour, and oats. Press the mixture into a greased baking pan. I used a 10 x 15 inch cookie sheet, but you could use a 12-inch pizza pan if desired.
The crust will take about 15 minutes to bake up golden brown. Allow it to cool completely before frosting.
For the frosting, you will use 2 8 oz packages of non-fat Greek yogurt cream cheese spread and ½ cup of plain Greek yogurt along with powdered sugar. I love using Greek yogurt.
While I most often add it to savory dishes, it works beautifully in desserts like these Key Lime Frozen Yogurt Cups or in many baked goods.
It's easy to lighten up recipes like dips, dressings and salads by using Greek yogurt. Replace Greek yogurt for higher-calorie ingredients like oils, mayonnaise,and creams. It adds creaminess and tang, too!
Adding Greek yogurt to recipes doesn't sacrifice flavor, but it does add protein. This added protein can help prevent unnecessary snacking and over-eating!
You can use traditional cream cheese or Neufchatel, for the frosting if desired and experiment with flavored Greek yogurt.
The amount of sugar used can be adjusted to suit your taste. The yogurt is tangy, so keep that in mind as you add sugar and flavoring. I used vanilla extract, but almond or coconut would be delicious!
I chose to use tropical fruits, like mangos, pineapples, white peaches and strawberries as my fruit topping (if you like tropical fruit, check out this Pina Colada Fruit Salad). The fruits were cut, then lightly grilled to bring out their natural sweetness and their juices. Feel free to play around with the fruits. Nectarines, plums, mandarin oranges, and apricots would taste fantastic!
How Long Will Fruit Pizza Keep?
You can make fruit pizza up to one day ahead of time and store it (tightly covered) in the refrigerator. Store leftovers for up to 3 days. I would advise that if you are preparing this in advance, to store the fruit separately, then top the pizza with the fruit just before serving. This will prevent the fruit juices from "leaking" and coloring your cream cheese topping.
The benefit to using an oatmeal cookie crust as opposed to a crescent roll crust is that the dough will not get soggy if stored for a few days.
Is Fruit Pizza Healthy?
As with many foods, this fruit pizza recipe can be as healthy as you make it! The crust does have quite a bit of butter, it does a great job of binding the ingredients together. To add more fiber, you could use whole wheat flour for the crust in place of all-purpose flour.
The Greek yogurt cream cheese and the yogurt itself is high in protein, which helps to keep you fuller longer, and it packs in dairy's 9 essential nutrients. Six ounces of Greek yogurt typically contains 14–17 grams of protein.
Fruit pizzas are fun, adaptable, and great for parties, pot-lucks, and barbecues as they hold something for everyone. This easy fruit pizza recipe has lots of personality, is light, fresh tasting and delicious! It is the ideal dessert for summer!
Let's Celebrate June Dairy Month!
June Dairy Month is a time to celebrate America's dairy farmers, who provide us with healthy dairy foods. Meet Ohio and West Virginia dairy farming families at Drink-Milk.com.
One serving of milk, cheese or yogurt provides 8 grams of high-quality protein and a powerful package of 9 essential nutrients. Experts recommend 3 servings of low fat or fat-free dairy foods every day.
Experts recommend 3 servings of dairy foods every day, but 85% of Americans aren't consuming enough dairy foods each day.
Milk makes it from Ohio and West Virginia dairy farms to your fridge in just 48 hours, making it a fresh source of high-quality protein. Follow milk's amazing journey from the cow to your glass!
Tropical Fruit Salsa
Lemon Honey Fruit Dip
Coconut Panna Cotta
Chantilly Cake
Mango Salsa
Yield: 24
Grilled Fruit Pizza Recipe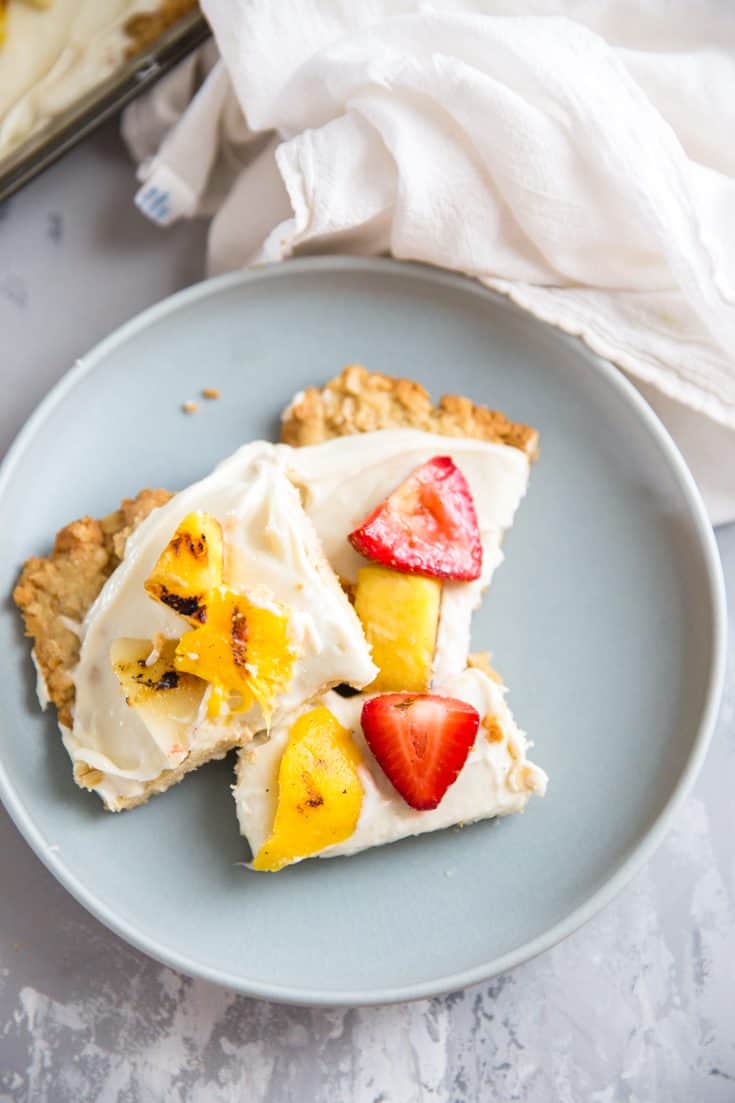 This grilled fruit pizza recipe features an oatmeal cookie crust, a creamy topping and freshly grilled fruit!
Ingredients
1 cup softened butter
⅓ cup brown sugar
1 ¾ cup flour
¾ cup oats
Fruit:
Pineapple, peaches, mangos, strawberries grill for 2-3 minutes, cool
Filling
2 8 oz packages Greek yogurt cream cheese
½ cup plain Greek yogurt
1 ½ cups powdered sugar
1 teaspoon vanilla
Instructions
Preheat the oven to 375 degrees. Spray a pizza or baking pan with non-stick spray and set aside.
In a large bowl combine the butter, sugar, flour, and oats, stirring until combined. Press the dough into the prepared pan and bake for 15 minutes or until golden brown. Remove the crust and allow it to cool completely.
Heat a grill pan or an outdoor grill over medium low heat. Arrange cut fruit on the pan and grill fro 1-2 minute or until soft. Remove and set aside to cool.
For the filling, cream together the Greek cream cheese spread, Greek yogurt and powdered sugar. Stir in the vanilla.
Spread the filling over the cooled cookie.
Top with fruit just before serving.
Nutrition Information
Yield
24
Serving Size
1
Amount Per Serving
Calories

206
Total Fat

11g
Saturated Fat

6g
Trans Fat

0g
Unsaturated Fat

3g
Cholesterol

30mg
Sodium

127mg
Carbohydrates

23g
Fiber

1g
Sugar

13g
Protein

5g