If you like key lime pie, you will fall in love with this
frozen yogurt version! Greek yogurt keeps it creamy and light.
Chocolate graham crackers make a crunchy crust for these tart little
individual dessert cups!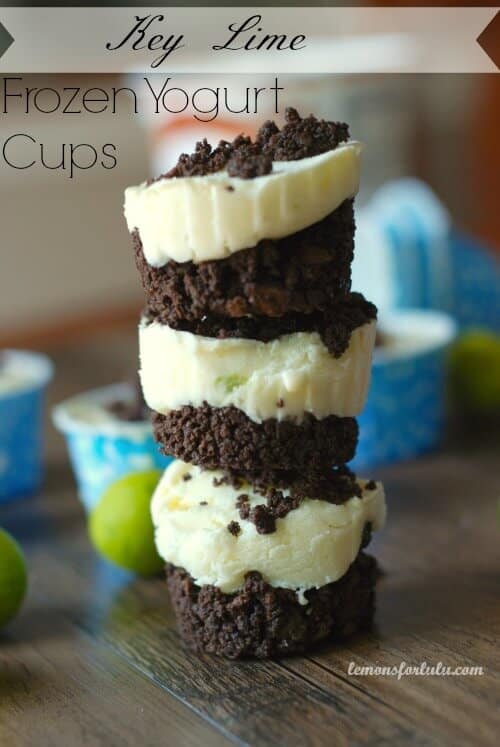 I am a woman with many job descriptions. "Mom" would be the umbrella under which other monikers fall under. These other names would be chauffeur, laundress, seamstress, dish washer, maid, chef, baker, nurse and referee. Referee is the job I most recently completed. I was going about my business (laundry if you must know), when I heard yelling coming from the front yard. I ran outside to find my son and a friend arguing over the outdoor hose. It was an all out tug o' war! Each kid was clutching the hose with the tightest little fists I have ever seen! They were both staring at each other with red-faced determination. Neither one was going to back down. So I turned the water off. Problem solved.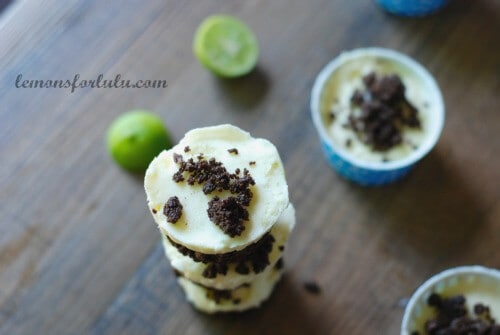 In that very instant I was reminded of the conflict resolution tactics that were implemented when I was a kid. We pulled hair. Everyone had long hair in the 70's. So when you and your friend got upset with one another you quickly grabbed your friends' ponytail as quickly as you could and you YANKED with all your might. And under no circumstances would you let go! It was all rather violent and incredibly effective. If your were quick enough, you'd swiftly grab your friend's, or actually, now, your nemesis' hair and yank with equal force. It was hair pulling to the death!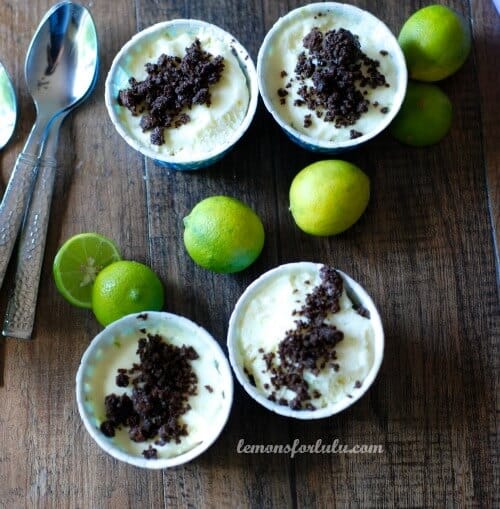 It took a tough scalp to handle this fight. I felt I had an extreme advantage in this area My scalp was no stranger to being tugged. It was rough and tough from all the hours my mom spent combing out all the tangles from my wavy tresses. All those tears shed from my nightly combing was just training for scuffles with friends. I never backed down from a good hair pulling! I can still picture it. Two little girls, with their necks bent at awkward angles, clumps of ponytail held tight by sweaty little fists. We couldn't see the fury in each others eyes, all we could see was the ground as we spun around like propellers. The only way to win was if someone lost their grip. Each girl would walk away with clumps of hair in their hand and very stiff necks. I don't remember ever being mad at anyone for long. Within moments we'd be playing tag and getting ice cream.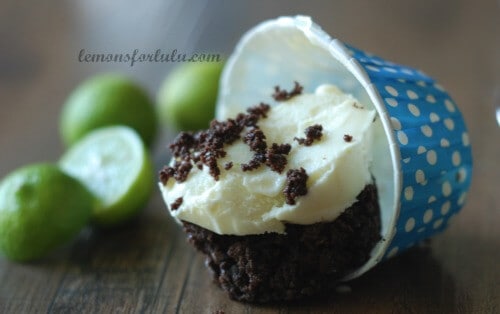 Ice cream seemed like the perfect thing to hand out after turning off the hose. Actually, I should clarify that. I didn't have ice cream. I had frozen yogurt, in little cups! I had made key lime frozen yogurt with Chobani Greek vanilla flavored yogurt and lots of fresh key limes! I made a crust using chocolate and chocolate graham crackers and placed them in individual cups. The combination of the creamy yogurt and crunchy crust is extraordinary! You will love how light this dessert is but how extremely luscious and flavorful they taste!
Yep, these frozen yogurt cups did the trick. Not a word was spoken until after each little crumb was gobbled up. Then it was just giggles and smiles all around. Everyone forgot why they were even mad. Another title I can now claim: peacemaker.
WANT MORE LIME?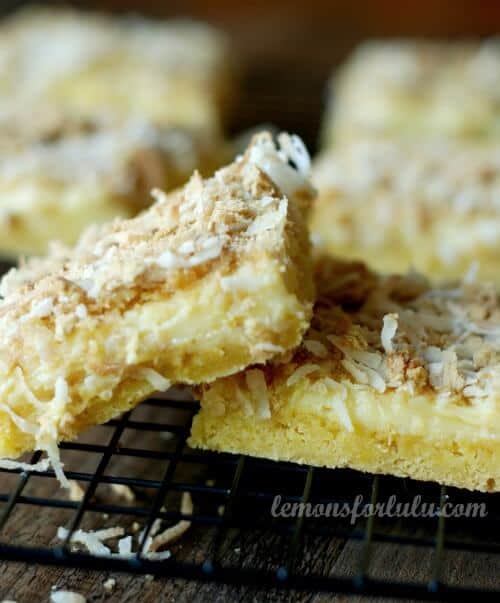 NEVER MISS A RECIPE! SUBSCRIBE TO MY EMAIL TODAY!
FOLLOW ME:
FACEBOOK | RSS | TWITTER | GOOGLE + | BLOGLOVIN | INSTAGRAM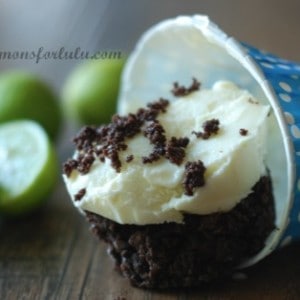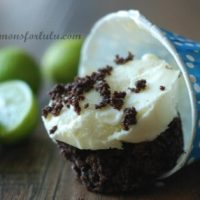 Key Lime Frozen Yogurt Cups
If you like key lime pie, you will fall in love with this frozen yogurt version!
Ingredients
1 cup heavy cream
1 cup milk
1 cup sugar
1 4oz container Egg Beaters
1 cup Chobani Vanilla Yogurt
1/2 cup fresh key lime juice
2 tablespoon key lime zest
3 cups chocolate graham cracker crumbs
1 1/2 cup butter
1/2 cup chocolate chips
Instructions
In a blender, combine all the ice cream ingredients and mix until completely mixed and smooth. Pour into the bowl of an ice cream maker. Process ice cream according to manufacturers directions. Store until ready to use.
In a saucepan, melt butter and chocolate. Stir in graham cracker crumbs and remove from heat. In 24 cupcake liners, spoon a generous tablespoon of crust into each cup, reserving about ¼ cup of cracker mixture. Freeze crust for 10 minutes before filling with a scoop frozen yogurt. Sprinkle with remaining crumbs. Return to freezer to firm up.
Nutrition Information
Yield

24
Serving Size

1 cup
Amount Per Serving
Calories

324
Total Fat

20g
Saturated Fat

12g
Trans Fat

1g
Unsaturated Fat

8g
Cholesterol

43mg
Sodium

277mg
Carbohydrates

34g
Fiber

1g
Sugar

22g
Protein

4g