Pesto pizza isn't as common as pizza with marinara sauce, but it should be. Pesto sauce is a delicious complement to many of the most popular pizza toppings, and it is full of healthy ingredients that can add a nutritional boost to pizza.
What Is Pesto?
Pesto is an Italian condiment traditionally made up of fresh basil, pine nuts, garlic, parmesan cheese, and olive oil. Pesto is frequently used as a sauce for pasta. Another delicious way to eat pesto is as the base sauce on pizza. The bright, herby flavor of pesto pairs well with lighter pizza toppings, such as chicken and seafood.
Pesto Nutrition Information
Health Benefits of Pesto
Rich in antioxidants: The basil in pesto is rich in antioxidants that can help prevent degenerative diseases like heart attack, stroke, cancer, and diabetes.
Stabilizes blood pressure: The pine nuts and garlic in pesto are heart-healthy because they help to lower and stabilize high blood pressure.
Source of calcium: The parmesan cheese in pesto is a rich source of calcium, a mineral that can help prevent osteoporosis and other disorders of the skeletal system.
How to Make Pesto Pizza
INGREDIENTS
1 frozen pizza base (thawed)
½ cup cherry tomatoes
1/3 cup mozzarella balls
1/3 cup thin parmesan slices
1/3 cup pine nuts
4 tablespoons pesto sauce
Fresh basil leaves for garnish
For the pesto sauce:
1 cup fresh basil leaves
½ cup pine nuts
½ cup olive oil
½ cup grated parmesan cheese
1 teaspoon salt
STEP-BY-STEP INSTRUCTIONS
Step 1. Preheat the oven
Heat the oven to 392 degrees Fahrenheit (200 degrees Celsius).
Step 2. Make the pesto sauce
In a food processor, add the fresh basil, pine nuts, parmesan, olive oil, and salt. Pulse the food processor 4-5 times until the pesto is a thick paste thin enough to spread on the pizza dough.
Step 3. Sauce the pizza base
Paint the pizza base with the pesto sauce, spooning it into the center of the pizza and spreading it outwards to each edge, leaving enough bare for a crust.
Step 4. Add the pizza toppings
Place the mozzarella balls on the pizza along with sliced parmesan cheese, pine nuts, and halved cherry tomatoes. Top with grated parmesan cheese across the pizza.
Step 5. Bake the pizza
Bake the pizza at 383 degrees Fahrenheit (195 Celsius) for 10 minutes. Once cooked, top with fresh basil as a garnish and serve immediately.
Pesto Pizza Expert Tips
Bake on a preheated pizza stone. Baking your pizza on a preheated pizza stone helps keep the crust nice and crispy.
Don't overcook proteins. If you add a protein like bacon, sausage, or chicken to your pizza, don't fully cook it until the pizza is baked. Otherwise, the meat will burn.
Brush the pizza crust before baking. Brushing olive oil flavored with garlic and herbs onto the crust of the pizza before baking can add a ton of extra flavor.
Parbake the crust for an extra-crispy pie. If you like your pizza crust extra crispy, try baking the pizza crust partially before adding the cheese and toppings to finish baking.
Mistakes to Avoid When Making Pesto Pizza
Don't go overboard on toppings. Putting too many toppings or too much cheese on your pesto-flavored pizza can cause the dough to become soggy.
Don't undercook your pizza. It's a smart idea to bake your pesto pizza around five minutes longer than you think you'd need for a crunchy crust.
Don't use premade sauce. While premade pesto sauce can be faster than making your own, you'll get much better nutrition and flavor out of a quick homemade pesto.
How to Serve Pesto Pizza
Pesto pizza should be served hot with fresh sliced basil sprinkled over it as a garnish. Pizza with pesto sauce pairs well with a fresh garden salad.
How to Store Pesto Pizza
Baked pesto pizza can be stored in the refrigerator in an airtight container for up to four days.
FAQ
Do Italians Put Pesto on Pizza?
While most Italians put marinara sauce on pizza, there is a special type of pizza with pesto sauce that originates from the Italian region of Genoa. Genoa is the birthplace of pesto sauce. Traditional Pizza Genovese is a pesto-flavored pizza topped with sliced red tomatoes and Parmigiano-Reggiano.
Which Is Healthier, Pesto or Marinara?
Pesto is slightly healthier than marinara in terms of nutrition, but pesto is also higher in fat and calories because of the pine nuts and parmesan cheese it contains. For diners who are watching their weight, marinara is the better option. For those who want to increase their intake of vitamins, minerals, and fiber, pesto is a smart choice.
Who Shouldn't Eat Pesto Pizza?
People with nut allergies should avoid pizza with pesto sauce since it can cause an allergic reaction. It also isn't a practical choice for people who are lactose intolerant since it contains a lot of cheese.
Pesto Pizza Is a Delicious Alternative to Marinara
If you're a fan of pizza and haven't tried pesto pizza before, do yourself a favor and try the one in the recipe above. This pizza is sure to become a family favorite.
Yield: 1
Simple Pesto Pizza Recipe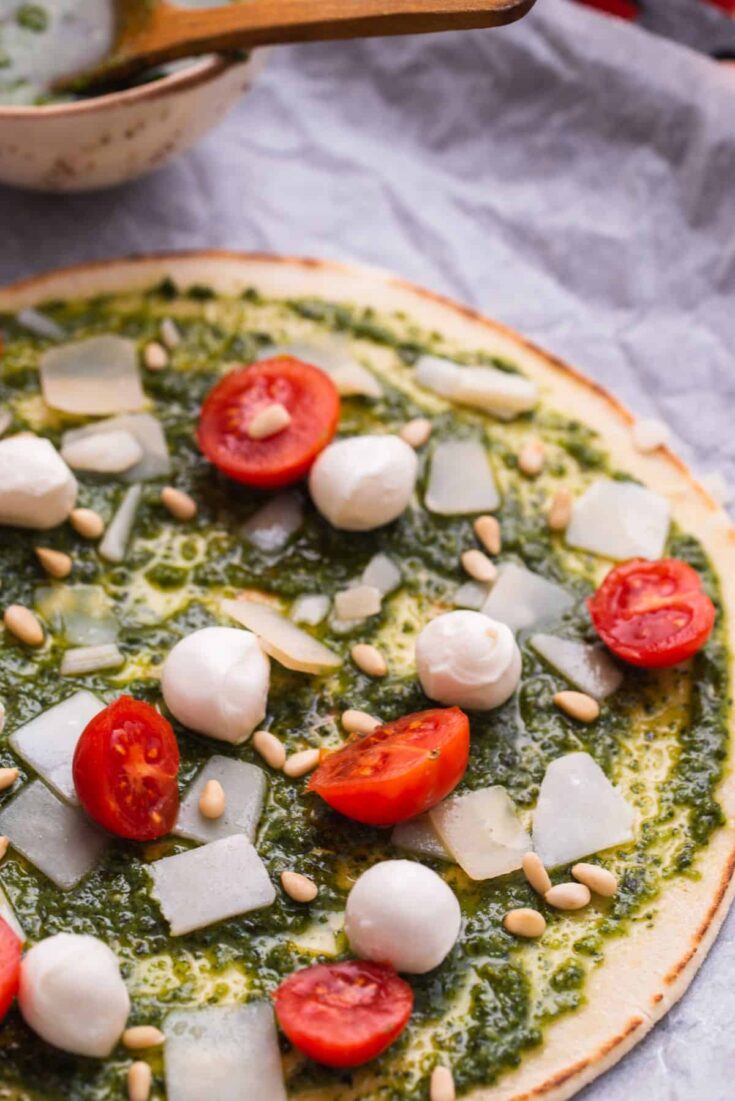 Delicious pizza made with a homemade pesto sauce to die for! Cherry tomatoes bursting with flavor and lots of parmesan cheese and mozzarella balls to finish up this insanely good pizza. 
Ingredients
1 frozen pizza base (thawed) mine were extra thin
½ cup cherry tomatoes
1/3 cup mozzarella balls
1/3 cup thin parmesan slices
1/3 cup pinenuts
4 tablespoons pesto sauce (homemade or storebought
Fresh basil leaves for garnish 
For the pesto sauce:
1 cup fresh basil leaves
½ cup pinenuts
½ cup olive oil 
½ cup grated parmesan cheese
1 teaspoon salt
Instructions
Preheat the oven to 392 F /200 C
If you are using the homemade pesto sauce, let's create it:
In a food processor add the basil leaves, the pinenuts, the parmesan cheese, the olive oil, and the salt, and pulse 4-5 times until you get the consistency you see in the photos. (not completely smooth)
Paint the pizza base with the pesto sauce, as if it was the classic tomato sauce.
Add the mozzarella balls and the thin slices of parmesan cheese.
Add the cherry tomatoes cut in half.
Sprinkle the pinenuts
Top everything up with grated parmesan cheese
Bake at 383 F /195 C for 10 minutes.
Garnish with some fresh basil leaves once out of the oven.
Notes
Whenever I do this pizza with storebought pesto sauce I still like to amp up the flavor with 1 clove of garlic, so I pulse in the food processor a bit of the sauce and the garlic clove, and then I mix it well with the rest. This adds freshness to the sauce. 

You can substitute the pinenuts for walnuts. You can also add some rotisserie leftover chicken. 

This pizza is best eaten right after being made.
Nutrition Information
Yield
6
Serving Size
1
Amount Per Serving
Calories

389
Total Fat

33g
Saturated Fat

8g
Trans Fat

0g
Unsaturated Fat

23g
Cholesterol

24mg
Sodium

855mg
Carbohydrates

14g
Fiber

1g
Sugar

2g
Protein

10g