This pesto pasta recipe is a fast and simple side dish (or meatless main dish) recipe that you'll want to keep on hand. Made with just a few ingredients and with very little prep, the end results speak for themselves.

If you're looking for an easy dish to serve up that's healthy, tasty, and refreshingly good then look no further.
This pesto spaghetti is about as flavorful as it gets and it only needs a handful of ingredients to do so. Prepared in about the same time needed to boil your noodles, this dish can go from zero to finished in a matter of minutes.
What is Pesto Pasta?
It's a super simple and easy side dish that combines arugula, pine nuts, pesto sauce, and cooked noodles for a super simple and tasty spaghetti pesto.
Serve up this fast meal as a main dish or a side dish on a busy night but don't forget that it could be an incredible light lunch option too! Leftovers the next day may taste even better because the flavors have had longer to develop.
Ingredients you'll need to prepare the pesto pasta:
Water
Spaghetti noodles
Reserved pasta water
Lemon juice
Pine nuts
Salt
Pepper
Arugula
Parmesan cheese
Basil pesto
Olive oil
For the exact measurements needed, please see the recipe card below.
How to Make Pesto Pasta
Boil 4 cups of water and add in the spaghetti noodles, cook until al dente, and reserve some of the pasta water for later.
While the pasta is cooking, add your pesto and starchy water to another skillet, adding in more water if necessary.
Add in the spaghetti, lemon juice, and some olive oil, mix together to combine.
Add in the arugula, pine nuts, and parmesan cheese.
Season with salt, pepper, and pepper flakes as desired.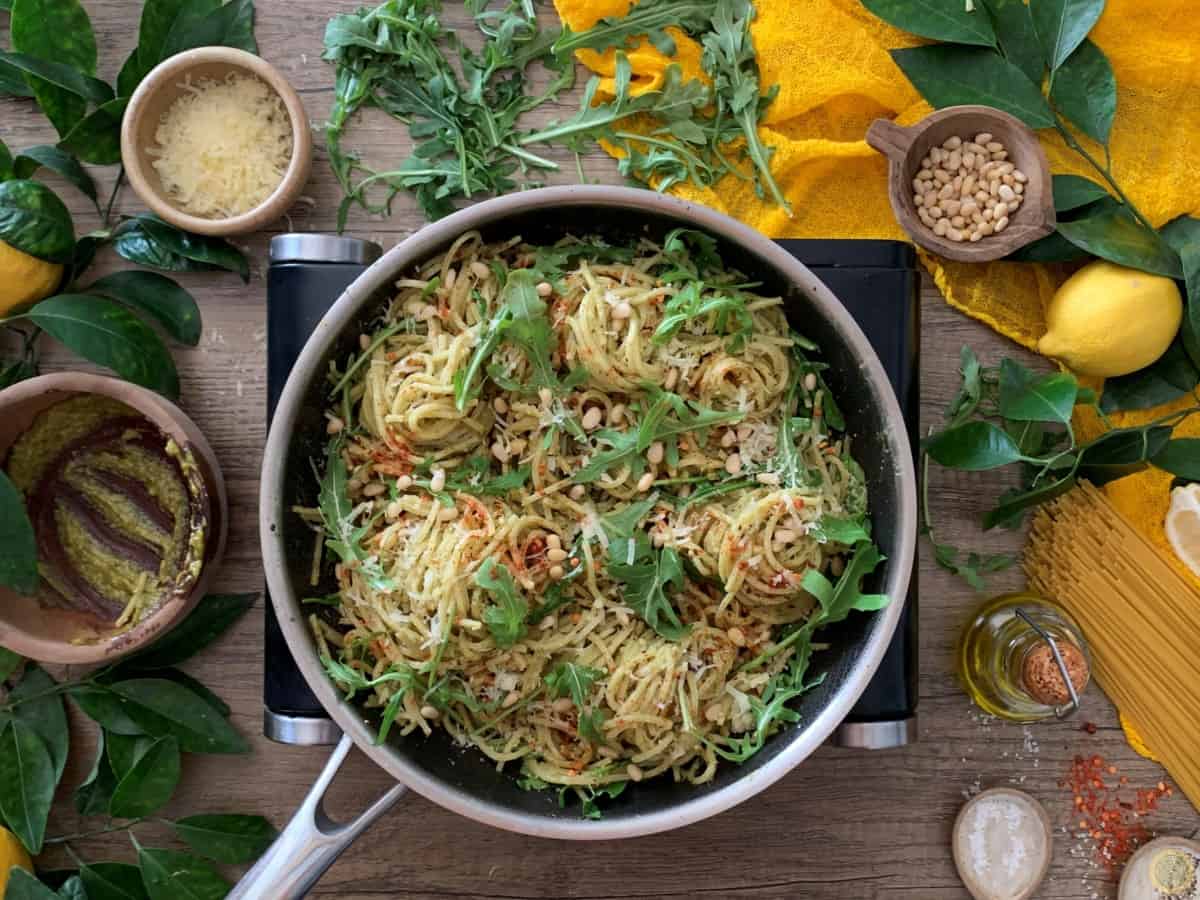 Enjoy warm!
Recipe Tips
What goes with pesto pasta?
For recipe dishes to pair with this tasty pasta you'll want something either herb-driven or garlic in flavor because those would pair wonderfully and complement the pasta. Recipes like Garlic Parmesan Edamame or Herb Drizzled Grilled Zucchini would be a good place to start.
For wine pairings, you'll want Sauvignon Blanc, Vermentino, or Catarratto because they'll help to highlight the flavors of the dish and allow your pasta to remain the star of the show.
Can you reheat pesto pasta?
Yes, place your pasta in a pan with a lid on the stove over medium heat or place it in a foil-covered oven-safe baking dish at 350F for 20 about minutes. Until heated through. You may need to add in a splash of olive oil or a pad of butter to help rehydrate the pasta so that it doesn't feel dry once warmed. Keep in mind that the leaves of arugula will be wilted or cooked down after the dish has been reheated.
What type of pasta with pesto?
You can use any type of pasta desired. This means gluten-free rice noodles, whole grain wheat noodles, and everything in between are fair game to choose from. In this recipe, we use spaghetti noodles but you can use any noodle that you may have on hand. Rotini and bow tie pasta are two great options because they can look good and hold in a lot of flavors thanks to the nooks and crannies on the noodles.
FAQs
Is pesto pasta vegan
As written this recipe is vegetarian friendly and contains no meat, but this pasta recipe is not vegan because it contains pesto sauce and parmesan cheese. The pesto sauce that we are using is not homemade and is storebought meaning that it most likely contains cheese as an added ingredient as most of the jarred pesto sauces do. Using a vegan pesto sauce and omitting the parmesan cheese would make this dish less flavorful, but would make it vegan friendly.
Is pesto pasta healthy?
This recipe can be considered very healthy because it contains healthier fats, nuts, vegetables, and herbs that come together in every plateful. It's a far healthier option than many other dishes out there and one that you should feel good about eating. You can choose to make the pasta even healthier by choosing a heather pasta variety like whole grain.
Can you freeze pesto pasta?
Yes, leftover pasta can be stored in the freezer for up to 3 months in an airtight container if it doesn't contain arugula. You will have to remove the leaves before freezing and add in new ones before serving them later. You can thaw the pasta at room temperature for a few hours or let it chill in the fridge overnight before reheating and serving.
Want more pesto recipes? Check out these great suggestions!
Yield: 2 servings
Pesto Pasta Recipe with Spaghetti
Ingredients
4 Cups Water
6 oz Spaghetti
½ Cup Starchy Pasta
½ Lemon Juice
2 Tbsp Pine Nuts
Salt to taste
Pepper to Taste
4 Cups Arugula
Parmesan as Desired
Red Pepper Flakes
½ Cup Basil Pesto
Extra Olive Oil for Drizzling as Desired
Instructions
Boil 4 cups of water, once boiled add the spaghetti, making sure it won't overcook, save some of the pasta water for a later stage
On a separate skillet add the pesto with the starchy water, add more water if necessary
Add the cooked pasta to the skillet.
Add the lemon juice and some olive oil and mix all together
Season with the spices (salt, pepper, pepper flakes)
Add the arugula and pine nuts and parmesan cheese to finish up the flavor
ENJOY!
Nutrition Information
Yield
2
Serving Size
1
Amount Per Serving
Calories

642
Total Fat

46g
Saturated Fat

8g
Trans Fat

0g
Unsaturated Fat

34g
Cholesterol

17mg
Sodium

687mg
Carbohydrates

44g
Fiber

4g
Sugar

3g
Protein

16g