This easy gnocchi recipe features gnocchi coated in a smooth pesto cream sauce and then baked until bubbly!
This meal is a game-changing meal!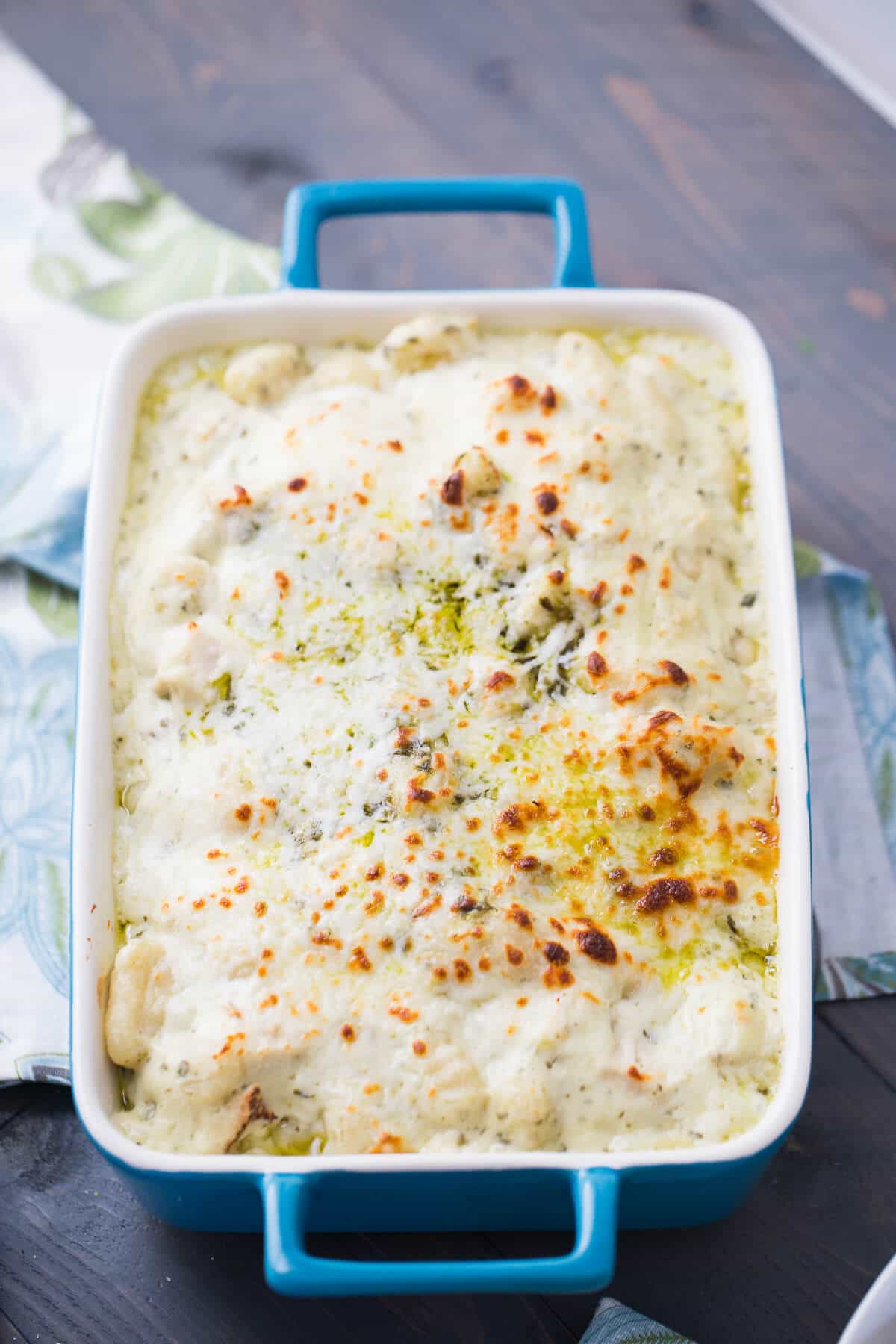 Greek mother's love it when their kids eat. For as long as I can remember, my mom has pushed food on me and anyone else who adorns her dining room table. You ask her for one scoop of pasta, she gives you two. You ask for one piece of chicken, she gives you three. I believe her reasoning behind this is two-fold. One, she believes all people should have "a little meat on their bones" and two, I don't think she wants to mess with leftovers.
As my family was leaving her house after our Easter feast, my mom came running up to me with an arm full of food. She pressed into me two containers of meat (lamb and ham, probably 3lbs of each) and three containers of ice cream. She decided my family needed more protein and more calcium. The kids cheered, I cringed and we all walked away.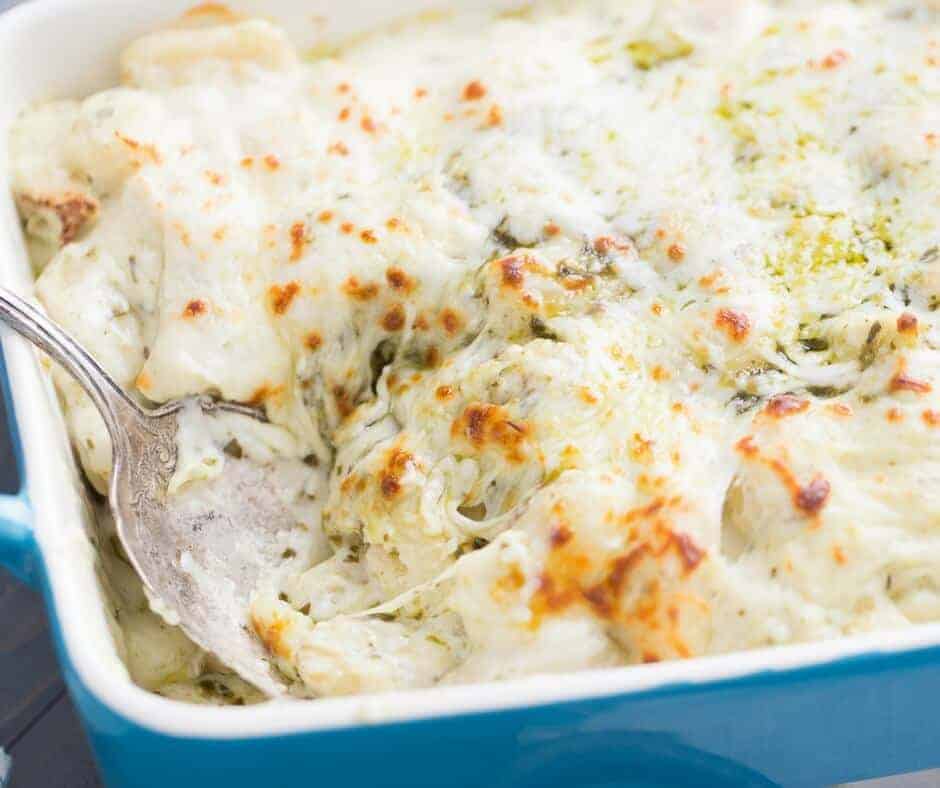 I love my mom dearly, but we don't need that much food! There are other ways to consume protein and dairy, like this Skillet White Chicken Lasagna or this easy gnocchi recipe. Both are examples of a complete meal! This recipe starts with frozen gnocchi that I picked up at Kroger. While the gnocchi is cooking, a simple white sauce gets started. A white sauce is a combination of melted butter, flour, and milk that are cooked until thickened, the sauce here is very similar to the sauce used in my Easy Fettuccine Alfredo. Three kinds of cheese complete the sauce for this recipe
This recipe also has jarred pesto (homemade is always an option) and cooked chicken. You could leave the chicken out if you'd like. Any kind of chicken will do. I like using Kroger's rotisserie chicken in my recipes. They always taste so good and they make life so easy. After all the ingredients are combined the gnocchi are baked until hot and bubbly!
I can freeze the lamb, the ham, and the ice cream but this we are eating up NOW and loving every spoonful!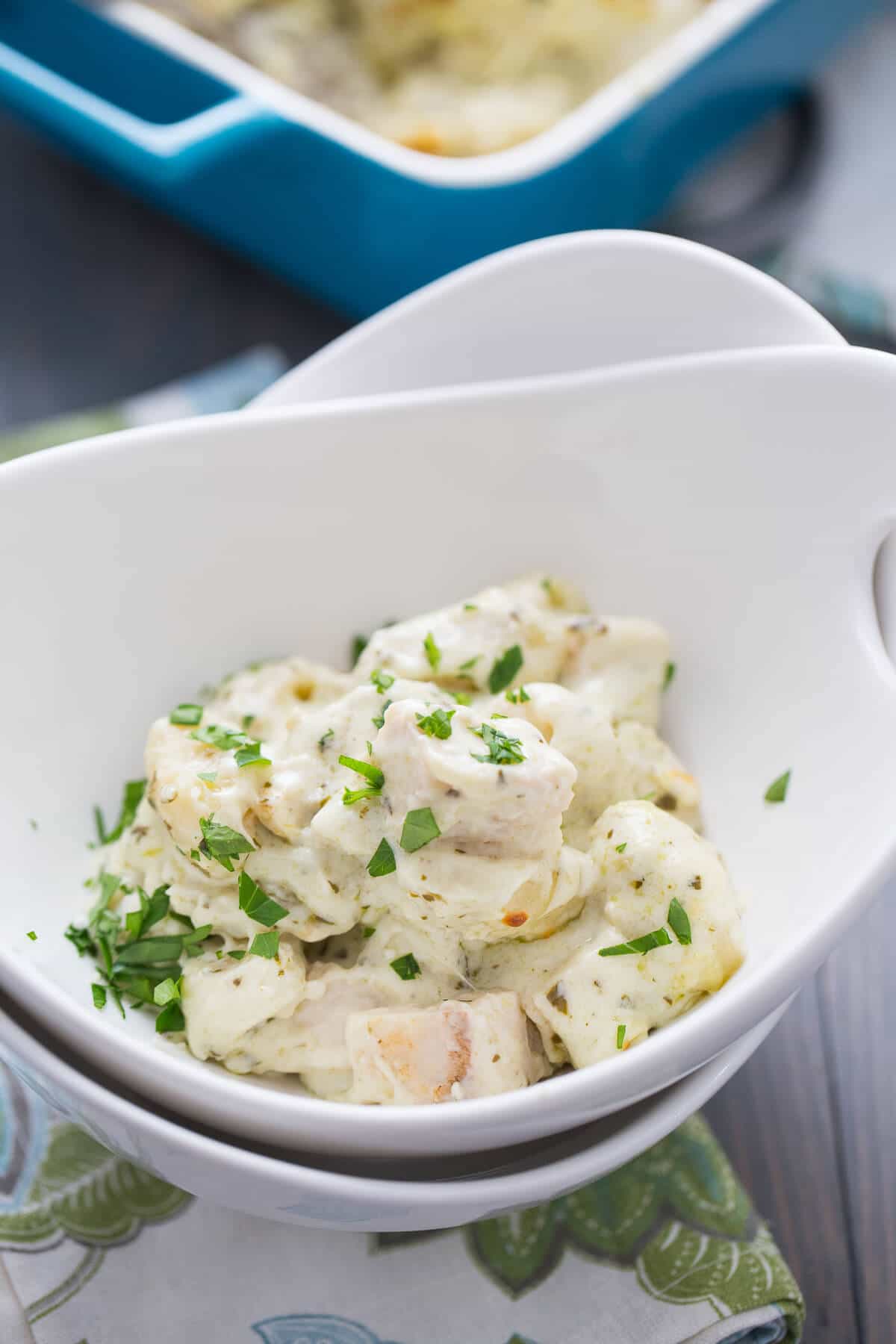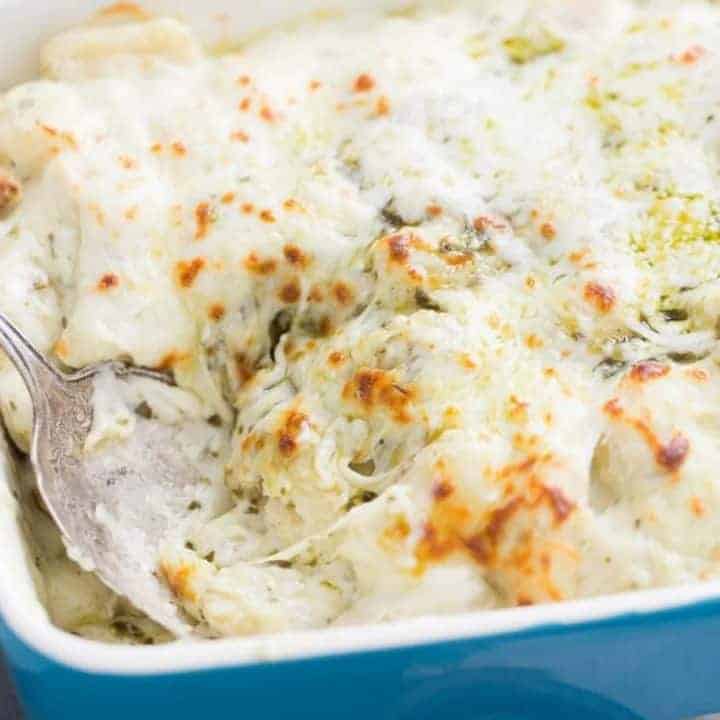 Easy Baked Gnocchi
Ingredients
1 24 oz bag frozen gnocchi
4 tablespoons butter
4 tablespoons flour
2 ½ cups milk
8 oz cream cheese
1 ½ cups shredded mozzarella
⅓ cup grated Parmesan
3 tablespoons jarred pesto
Instructions
Preheat oven to 350 degrees.
Prepare gnocchi according to package directions.
Place butter in a saucepan over medium heat.  When butter has melted, whisk in flour and stir until combined.
 Slowly whisk in milk until the mixture is smooth.  Continue to heat milk on medium-low heat until the mixture begins to thicken.
 Stir in cream cheese until fully incorporated.  
Stir in mozzarella and Parmesan until smooth and creamy.
Add gnocchi and chicken to the cheese mixture.  
Stir in pesto.  Place gnocchi mixture in a 9 x 13 inch casserole dish that has been coated with cooking spray.  Bake gnocchi for 20 minutes or until bubbly.
Nutrition Information
Amount Per Serving
Calories

5725
Total Fat

270g
Saturated Fat

131g
Cholesterol

780mg
Sodium

3992mg
Fiber

25g
Sugar

59g
Protein

237g