White chicken lasagna is a skillet meal that can't be beaten! A creamy white sauce envelopes wide and curvy egg noodles. Greek yogurt and Parmesan cheese make the sauce extra rich and creamy while mushrooms and fresh spinach give this dish a vitamin boost!
Every August I start thinking about that old Staples commercial where the dad is gleefully throwing school supplies into a shopping cart while the kids sadly trail behind him and the song "The Most Wonderful Time of the Year" is playing ruefully in the background. Do you know that commercial?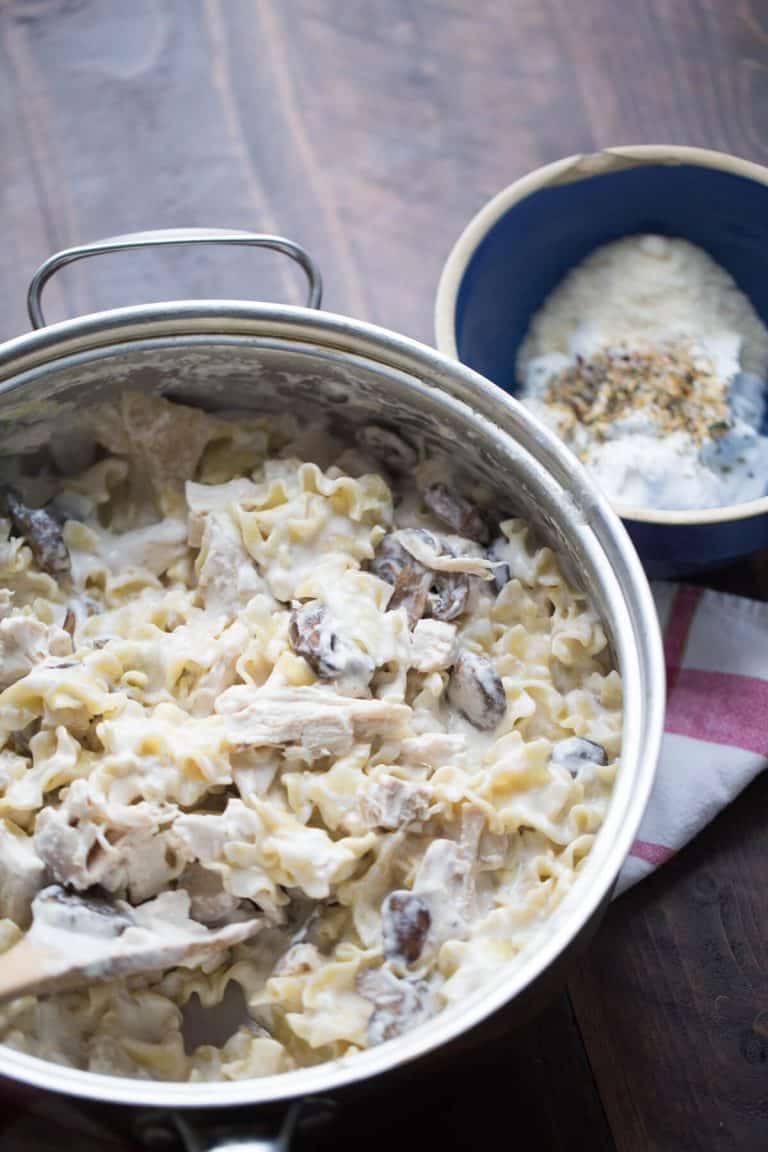 That commercial is still one of my all time favorites. I think by the time August comes around we are all ready for the new school year to start. Naturally, my kids cringe and grumble at the mere mention of school, but their listless behavior and incessant bickering tell me they are ready. We are a household that thrives on routine.
So here we are on the verge of chaos, a.k.a the start of school and I have to start coming up with simple family dinners for those evenings when I won't have too much time to cook. Skillet meals are my best friend during our "busy season". Meals like tortellini skillet lasagna chicken noodle casserole, or this meatball bake are tried and true quick fix meals that do not disappoint.
This skillet version of white chicken lasagna is also a great meal for those busy evenings. One of the best things about this recipe is how streamlined it is. To save time; I boiled my egg noodles in milk instead of water, and I used a rotisserie chicken to keep things simple. I added spinach just before serving to keep things fresh and vitamin packed!
At first glance, you might think that the spinach has a big impact on this recipe. It certainly does play a big role, but it's dairy that has the biggest part in this kid-friendly meal. That is because milk is the No. 1 food source of calcium, vitamin D and potassium in children's diets. Experts recommend 3 servings of low-fat or fat-free dairy foods every day, yet most of us need to add 1 daily serving of nutrient-rich dairy to help meet recommendations.
Dairy foods are a tasty, convenient and cost-effective way to power up with protein throughout the day. On average, one serving of milk, cheese or yogurt provides eight grams of high quality protein.
If you like this recipe, then try Chicken Gnocchi, Cheesy Chicken and Broccoli Casserole, Chicken Alfredo!
Skillet White Chicken Lasagna
Greek yogurt and Parmesan cheese make the sauce extra rich and creamy while mushrooms and fresh spinach give this dish a vitamin boost!
Ingredients
1 teaspoon olive oil
1/4 cup diced onion
2 cloves garlic, minced
8 oz sliced mushrooms
1 16 oz package wide egg noodles
3 cups whole milk
1 32 oz container low-sodium chicken broth
1 teaspoon salt
1/2 teaspoon pepper
2 cups diced or shredded rotisserie chicken
3/4 cup plain Greek yogurt
1/4 cup grated Parmesan cheese
1 teaspoon Italian seasoning
1 cup fresh spinach
Instructions
In a deep skillet, heat oil over medium heat. Add onions and cook for 3-5 minutes or just until they begin to turn translucent; stir in mushrooms. Cook another3-5 minutes or until mushrooms begin to soften, stir in garlic and cook for 1 minute. Remove mushroom mixture and set aside.
Add whole milk (whole milk works, as it combines with the starch from the pasta to make a creamy sauce) and chicken broth to the pan and bring to a boil. Once the milk begins to boil add egg noodles. Reduce heat. Cook egg noodles according to package directions, stirring often to prevent milk from spilling over or from scorching.
Continue to cook noodles until liquid has been reduced and the milk begins to thicken.
In a separate bowl, stir the together the yogurt, seasoning, and Parmesan cheese. Stir yogurt into the pasta until it is fully combined. Add in mushroom mixture and chicken. Cook for another minute or two or just until the sauce is thick and creamy.
Remove pasta from heat and stir in spinach. Serve with additional Parmesan cheese if desired.
Nutrition Information
Yield

8
Serving Size

1
Amount Per Serving
Calories

301
Total Fat

11g
Saturated Fat

4g
Trans Fat

0g
Unsaturated Fat

6g
Cholesterol

84mg
Sodium

605mg
Carbohydrates

24g
Fiber

2g
Sugar

7g
Protein

27g