Delicate Phyllo cups are sprinkled with cinnamon sugar then filled with a naturally sweet tropical fruit salsa!
Whether you serve these cups appetizers or desserts, they are sure to disappear!
I do not do kid parties. I don't volunteer at the school holiday parties to come up with games or crafts, I do not host birthday parties for my kids, and I do not plan any end of the year celebrations for sports or school. I sound like a curmudgeon. I'm not, party planning is not my thing.
I love dinner parties on the other hand. I am always quick to come up with menu ideas. My mind instantly turns to this Outrageously Good Corn dip for starters, maybe served with a Key Lime Vodka Collins on the side. For dinner, I'm thinking Cajun Shrimp Pizza and maybe even a Mojito Poke Cake for dessert. However, if you were to ask me to come up with three party games and a craft, I would run for the hills. Even with Pinterest in our lives, I cannot handle party planning.
A couple of friends and I are planning a baby shower. I have all sorts of fun pink food ideas. I have baby rattle cupcakes, cookies that look like swaddled babies, tea sandwiches, and fizzy party drinks. I was thrilled with this task until I was asked to come up with a game. What? Don't these people understand I DON'T DO GAMES, I DO FOOD!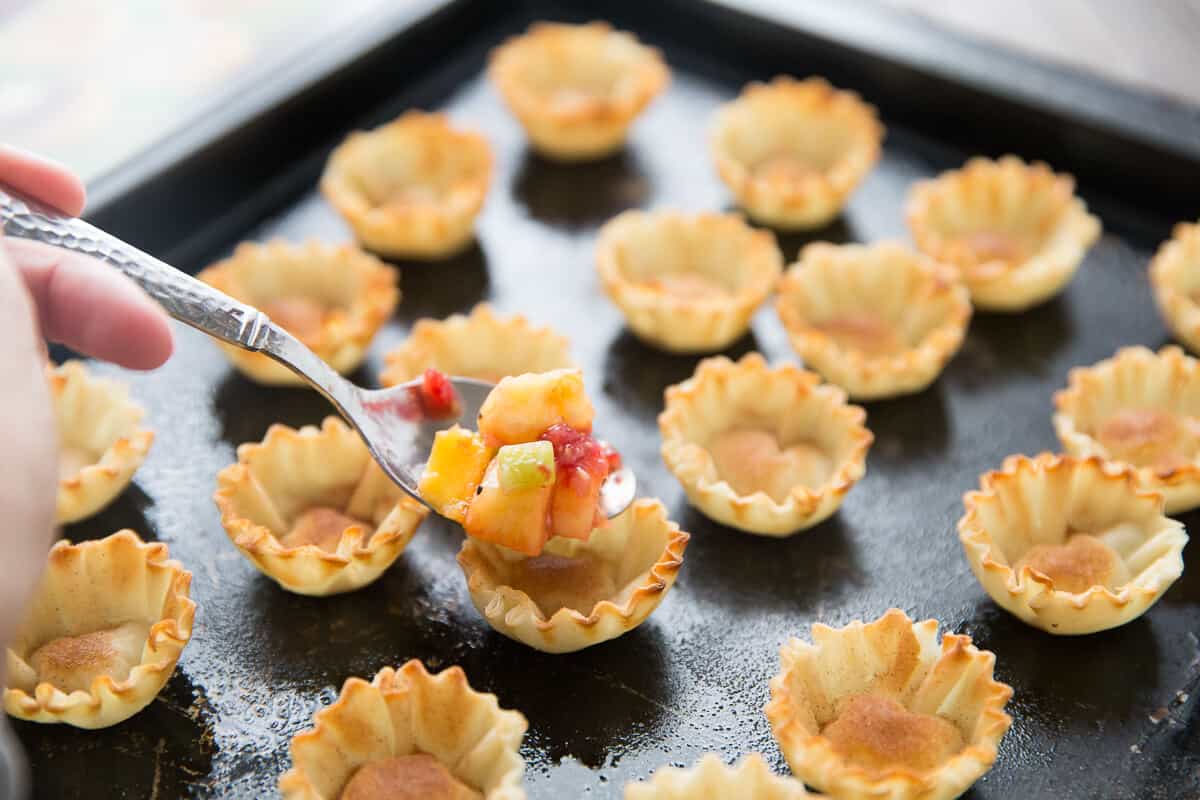 I'm not doing it. I'm not bringing a game. I'm going to bring these tropical fruit salsa cups instead. These will absolutely wow them all; they'll forget all about playing and focus on eating. These little cups are so incredibly easy! I used Athens Food Mini Filo Shells as my "cup". Each got a sprinkling of cinnamon sugar and then lightly baked. My salsa is made with mangos, kiwis, pineapple strawberries and raspberries. You could literally use any combination you like (or maybe something like this Pina Colada Fruit Salad or Mango Salsa).
The flaky, cinnamon shells are the perfect vehicle for the fruit salsa. They are a two-bite treat that makes any occasion special! Game or fruit salsa…seriously which would you choose?
For my phyllo treats, check these phyllo dessert cups, Greek baklava bites,and Mini Nutella No Bake Pies!
Yield: 30
Tropical Fruit Salsa with Cinnamon Phyllo Cups
Fillo cups are dusted with cinnamon sugar and filled with a sweet tropical fruit salsa!
Ingredients
2 boxes Athens Food Mini Fillo Shells(15 per box)
Cooking spray
1 ½ teaspoons cinnamon sugar
½ cup chopped fresh pineapple
½ cup coarsely chopped fresh raspberries
½ cup coarsely chopped fresh strawberries
2 kiwi, chopped
½ cup mango, chopped
1 tablespoon apricot jam
Instructions
Preheat oven to 350 degrees. Arrange shells on a baking sheet.
Spray shells lightly with non-stick spray and sprinkle cinnamon sugar over the shells. Bake shells for 8 minutes. Let cool.
Combine fruit in a bowl. Microwave the apricot jam and toss with fruit. Divide salsa among the filo shells.
Notes
These fillo cups are best when consumed immediately.
Nutrition Information
Amount Per Serving
Calories

127
Total Fat

1g
Saturated Fat

0g
Cholesterol

0mg
Sodium

3mg
Fiber

1g
Sugar

3g
Protein

4g