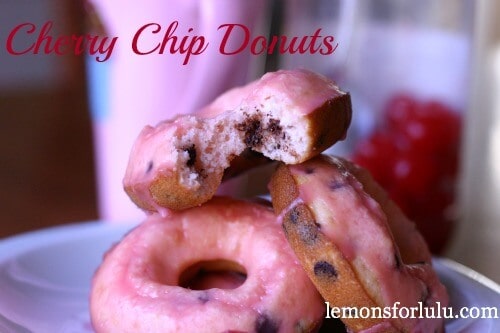 Since I'm a food blogger, I thought I'd share some foodie facts about me:
1.  My favorite cuisine is Greek.  I guess since my parents were born and raised in Greece, that better be my favorite!  I don't have a least favorite.
2. My favorite food that I rarely get to eat is sushi.  My least favorite food that I make sure I never eat is liver and onions.
3. I LOVE, LOVE, LOVE spicy food.  I'm not big on sweet and sour food.
4. My favorite dessert is Opera Cream Cake from a local bakery.  My least favorite is cheesecake.
5. If I were single I'd eat popcorn for dinner every night.
6. My favorite thing to bake are cupcakes.  My least favorite are layered cakes.
7. My favorite fruit is watermelon.  My least favorite is grapefruit.
8. My favorite vegetable is asparagus.  My least favorite are beets.
9. My favorite food memory is eating a Frisch's hot fudge cake after giving birth to my oldest child.  My worst food memory is devouring an entire box of Twinkies as a kid and then throwing it all up.
10. As a kid, I loved my mom's apple pie.  As a kid I hated my mom's stuffed peppers.
11. I love the smell of freshly baked bread.  I hate the smell of cooked cabbage.
12. My favorite kitchen gadget is my KitchenAid Stand Mixer.  My least favorite gadget is a cheese grater!
13. My favorite ingredient to bake with is butter.  My least favorite are nuts.
14. My favorite breakfast food are donuts (see recipe below).  My least favorite is anything with bran.
15. My favorite thing about blogging is being a part of this blogging community.  I'm humbled daily by all the talent I see around me.  These folks are incredible!   They are a supportive and giving community.  I am also honored  and blessed that readers take the time to explore my blog, read my posts, and try my recipes.    I get absolutely giddy when I am able to talk to you!  I can't get enough!   I am thrilled I have the opportunity to share recipes with not only my family and friends, but with all the lovely readers out there who love food as much as I do!  What I like least about blogging is the feeling that there are so many recipes and not enough time to try them all!
Now, your turn.  What food facts can you share with me?
If you'd like a little Lulu in your life, please subscribe via email, RSS, Facebook or Google +.  I love staying in touch with friends!
You may enjoy these too: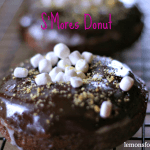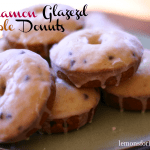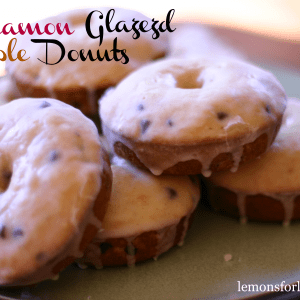 Cinnamon Glazed Maple Donuts
Ingredients
2

cups cake flour, sifted

3/4

cup sugar

2

teaspoons baking powder

1

teaspoon salt

3/4

cup buttermilk

2

eggs lightly beaten

2

tablespoons melted butter

4

tablespoons marascino cherry juice

1

cup mini chips
glaze
1

cup powdered sugar

4

tablespoons cherry juice

1

tablespoon milk
Instructions
Preheat oven to 425. Spray donut pan, set aside.
Mix dry ingredients in a large bowl. Stir in wet ingredients and chips until combined. Pour batter in a large ziptop bag and snip the corner. Pipe batter into donut cavity, filling each about 2/3 full.
Bake in oven for 7 minutes or until donuts spring back when touched. Let donuts cool in pan for 4 or 5 minutes before removing to a rack to cool completely.
In a bowl, whisk together glaze ingredients. Dip tops of each donut in glaze. This will make enough to top the donut. Double of you want to dip the entire donut.
Makes 12