This chowder filled with sausage, corn and potatoes is so satisfying, you won't even know it's light!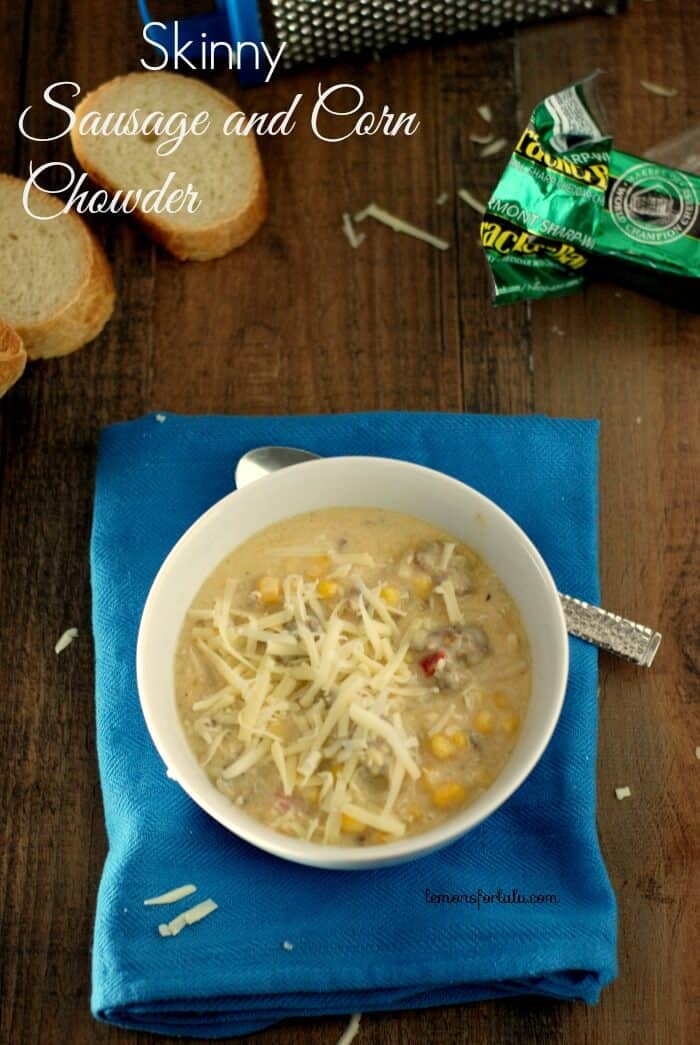 I just survived the great arctic freeze.  For the first time ever, I was happy I had that extra layer of fat (compliments of all those Christmas cookies) or I would've suffered an untimely frozen demise.  I must have had some sort of premonition as I was shoveling those extra cookies during the holidays, that someday I would be fighting for my survival!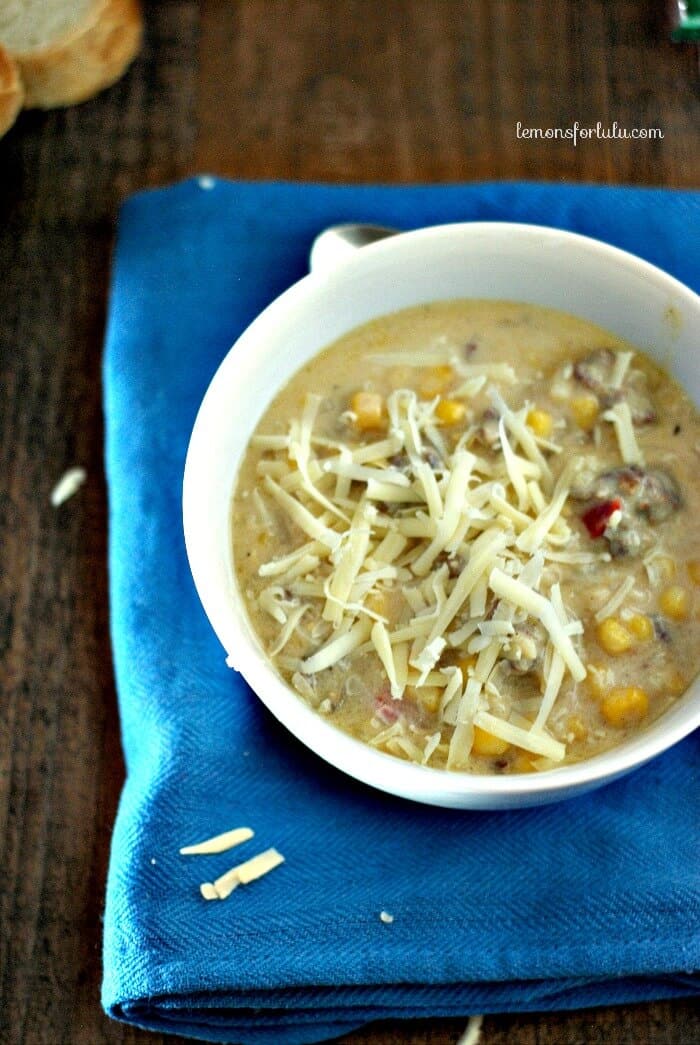 Ok, ok, so I am being overly dramatic and trying desperately to rationalize my gluttony.  I can't escape the fact that I ate one too many cookies.  Despite my extra girth, I have been freezing my tail off!  So…. it's time to get skinny!  I'm starting with this soup!  I love chowder, but it can be a little heavy at times.  I kept this chowder "skinny" by using evaporated milk and only stirring in a handful of white cheddar cheese to make this chowder taste creamy and luscious!  It feels rich and sinful but without the extra calories!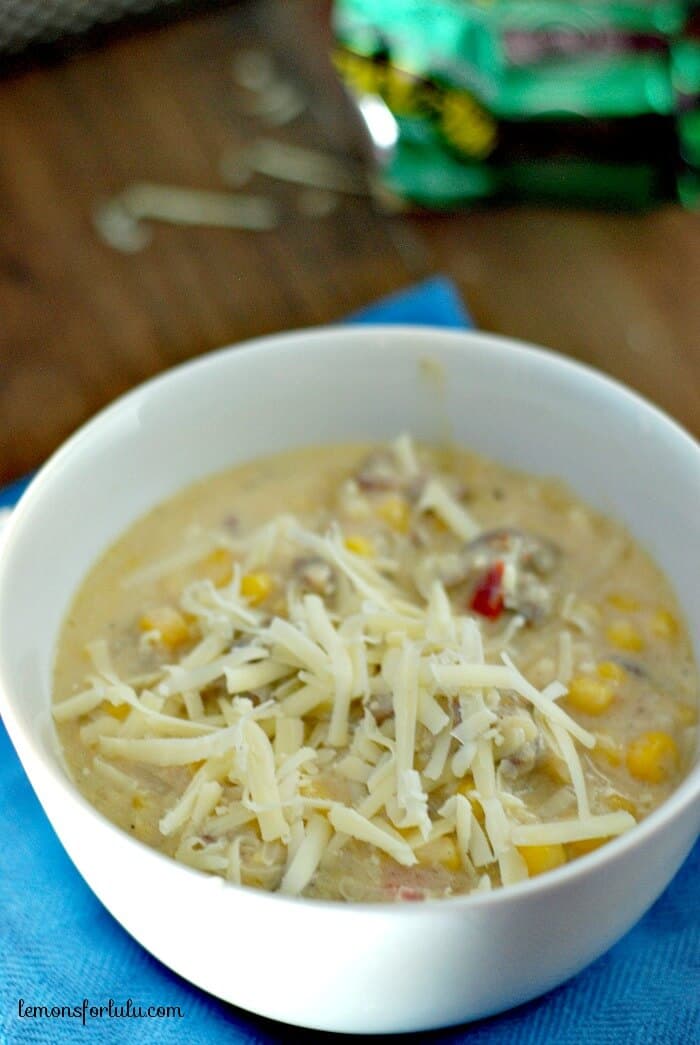 This time of year soup is such a super food, it warms you up during those cold days and keeps you full and satisfied!  Just because it's time to shed that extra layer, doesn't mean I have to deprive myself from good food!
SOUP IS GOOD FOOD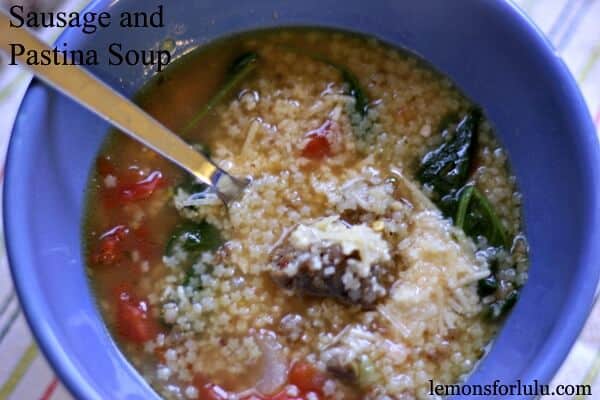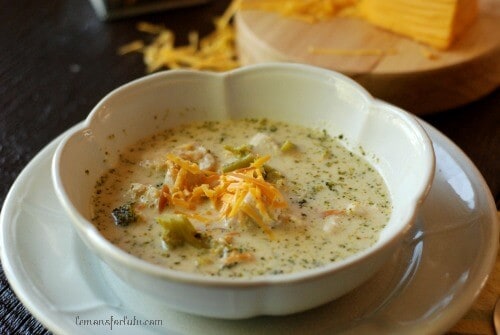 NEVER MISS A RECIPE! SUBSCRIBE TO MY EMAIL TODAY!
FOLLOW ME:
FACEBOOK | TWITTER| GOOGLE +| BLOGLOVIN | INSTAGRAM
Skinny Sausage and Corn Chowder
Ingredients
1

lb pound bulk pork sausage

3

cloves garlic, minced

1/2

cup onion, diced

1/2

red bell pepper, diced

3

tablespoons flour

salt

pepper

1/2

teaspoon Thyme

1/4

teaspoon Rosemary

4

cups chicken broth

2

cups shredded, hash browned potatoes (frozen)

12

oz frozen corn

12

oz evaporated milk

1

cup shredded white cheddar (I used Cracker Barrel)
Instructions
In a large stockpot brown sausage, breaking up large pieces as it cooks. Stir in garlic and onions. Cook until sausage is no longer pink. Drain. Return pot to heat and sprinkle sausage with flour. Add salt, pepper, Thyme, and Rosemary. Stir over heat for one minute. Add chicken broth, potatoes and corn. Bring soup to a boil. Cover and heat on low for 15 minutes. Stir in evaporated milk and shredded cheese. Stir until cheese has melted. Serve immediately.