Cheeseburger soup is smooth, creamy and comforting!
This soup will be a hit with kids of all ages; it will be a recipe you return to over and over again!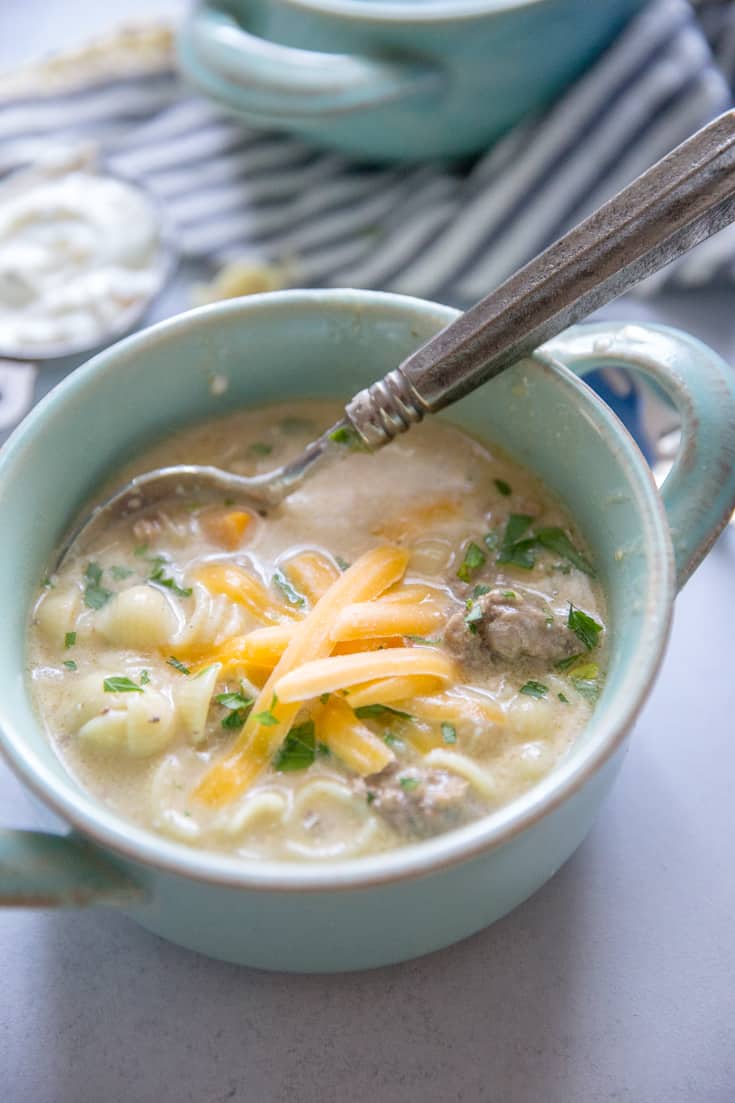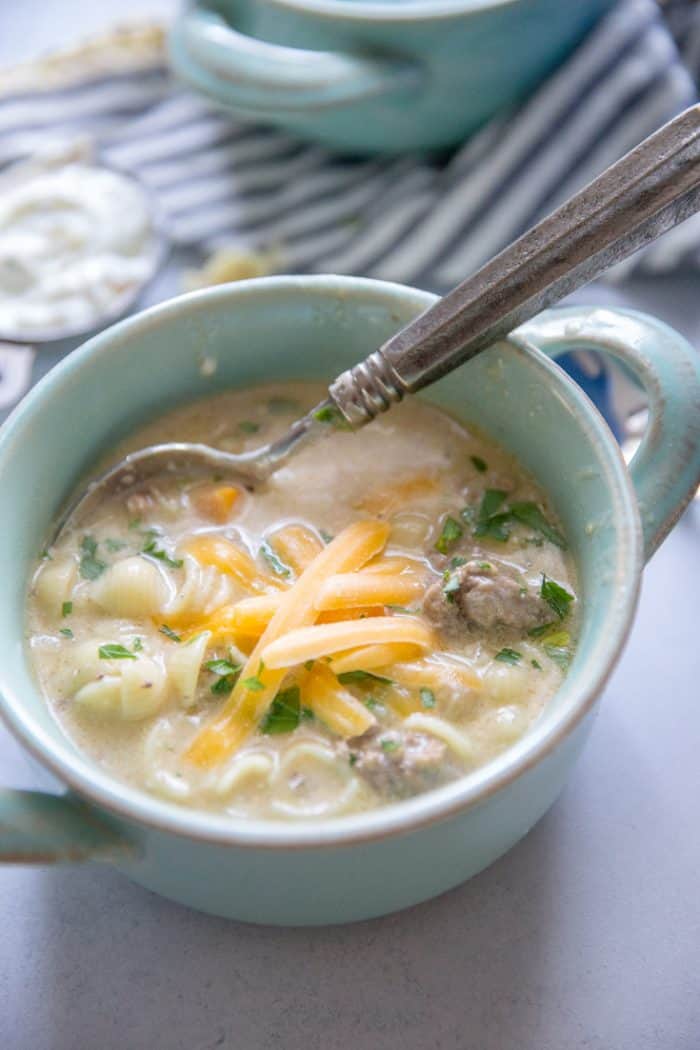 I'm proud to have partnered with ADA Mideast to bring you this recipe.
What Is Cheeseburger Soup?
This cheeseburger soup will make everyone happy!  It is creamy, smooth, filling, comforting, and good for you!  If you love cheesy soups then this recipe is for you. If you love cheeseburgers AND cheesy soups then you will be in heaven!  This cheeseburger soup is the best of both worlds.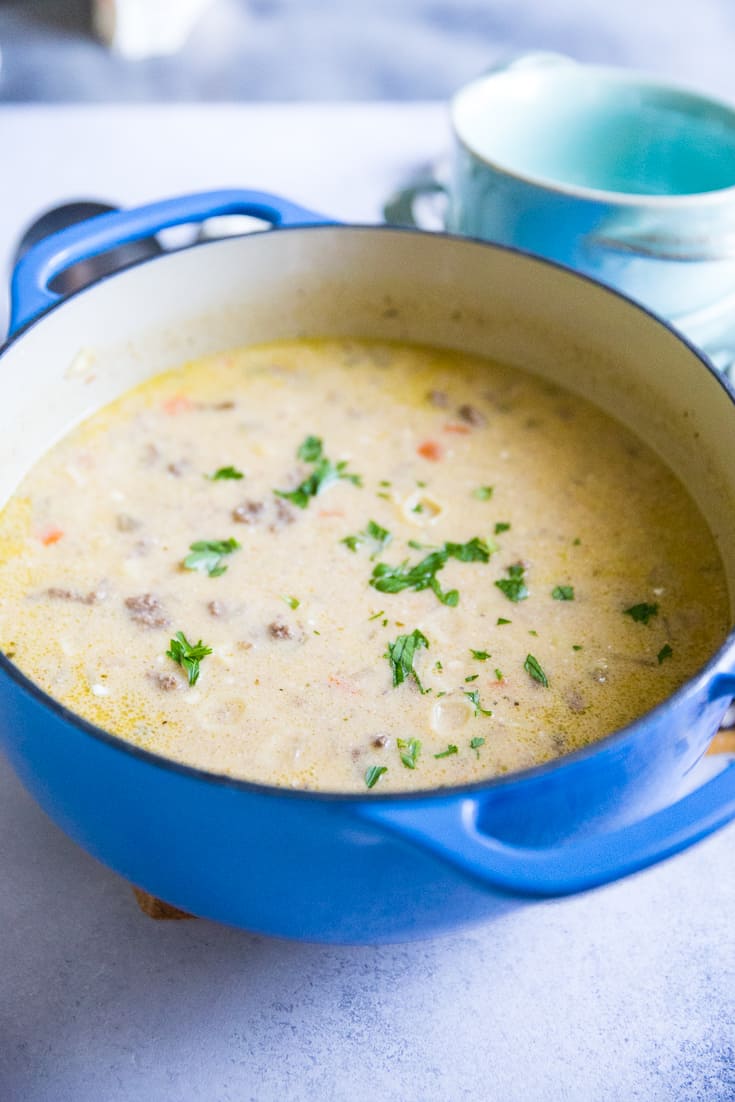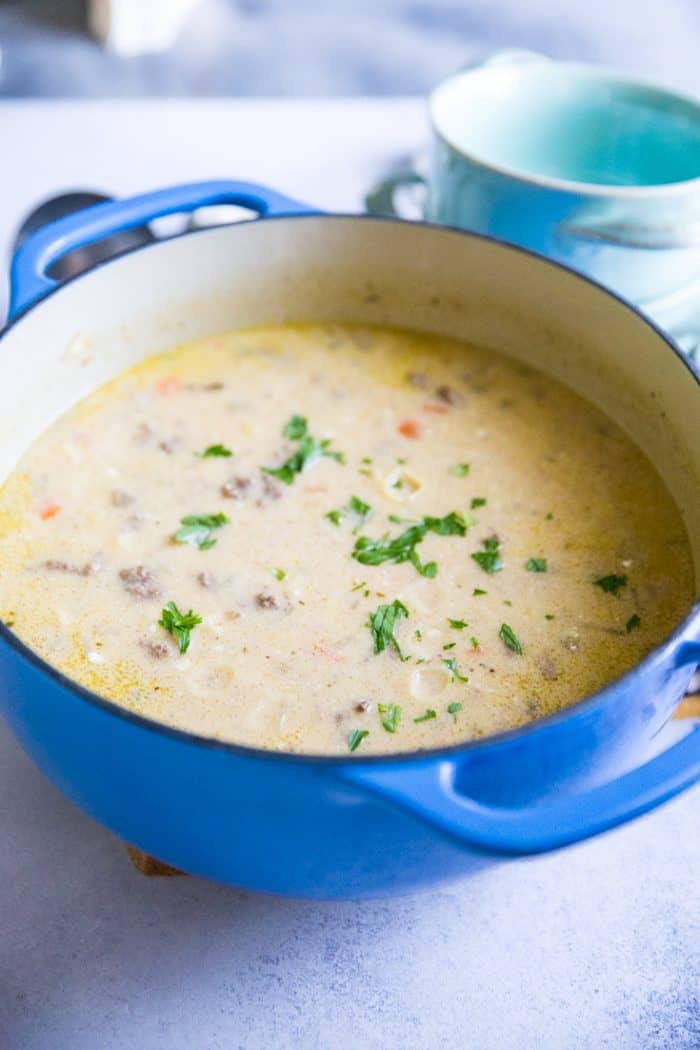 How To Make Cheeseburger Soup
This recipe starts with a little olive oil and frozen celery mix that is cooked just until heated through.  I used ground beef and seasoning such as oregano, basil, garlic, and salt.  However, you can easily swap out the beef for turkey or chicken and season the ground beef the way you would season a cheeseburger; using only salt and pepper is totally acceptable. A dash of mustard and a few pickles are optional but can lend to the cheeseburger flavor.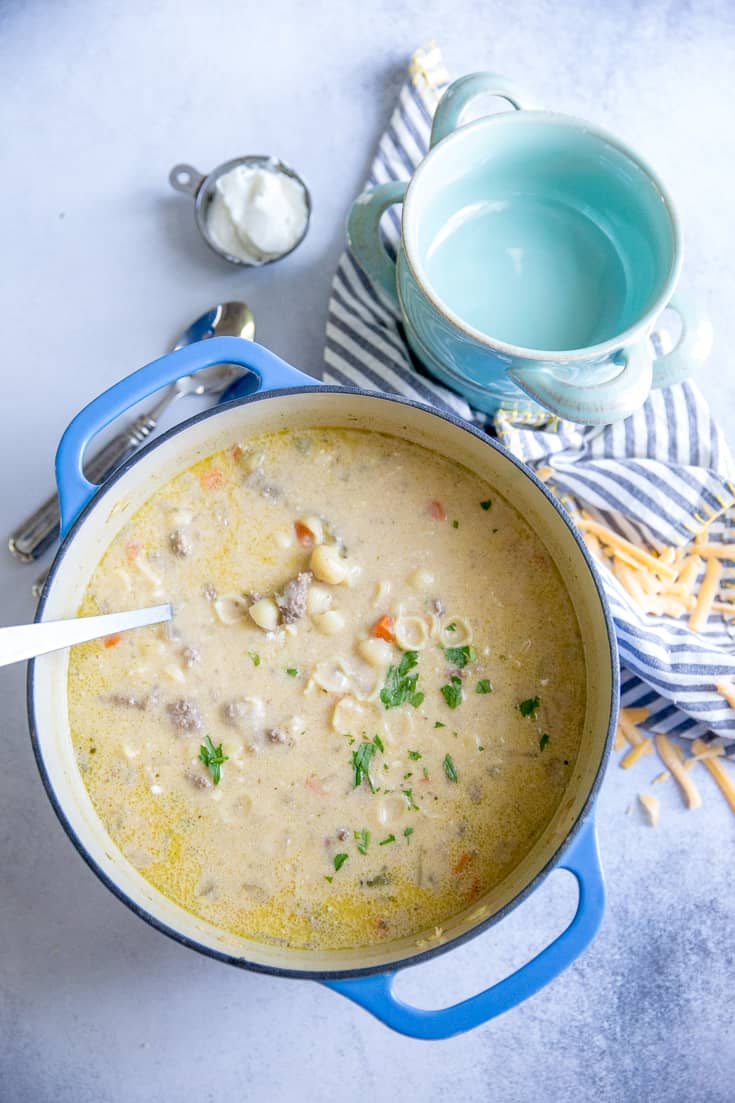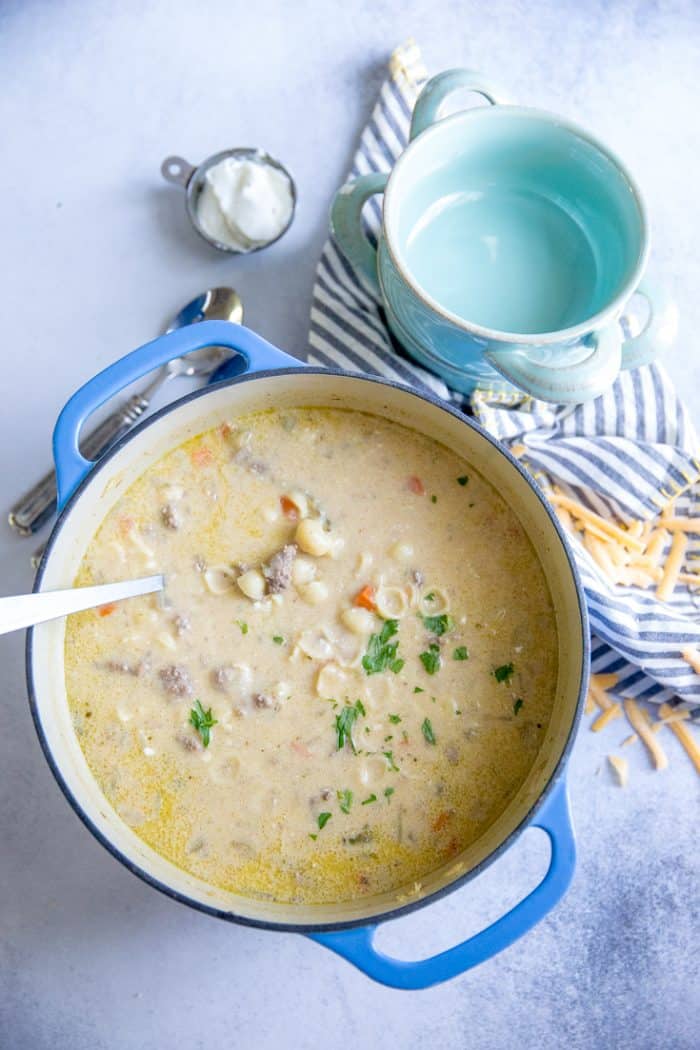 Chicken broth and milk that has been whisked with four make up the "liquid" part of the soup.  I layered in elbow noodles to add more sustenance to the soup and it definitely makes it more kid-friendly!  I also added a swirl of Greek yogurt into the soup just before serving.  The yogurt adds a creamy tang and it also adds essential nutrients and protein to each serving of this soup.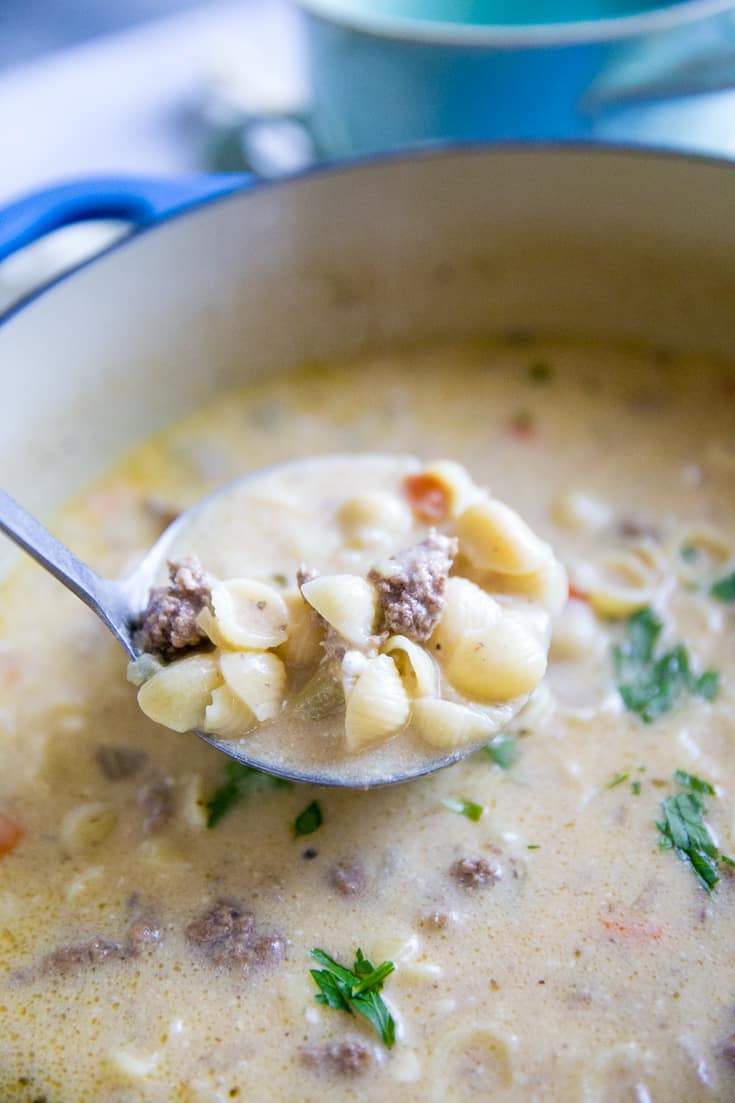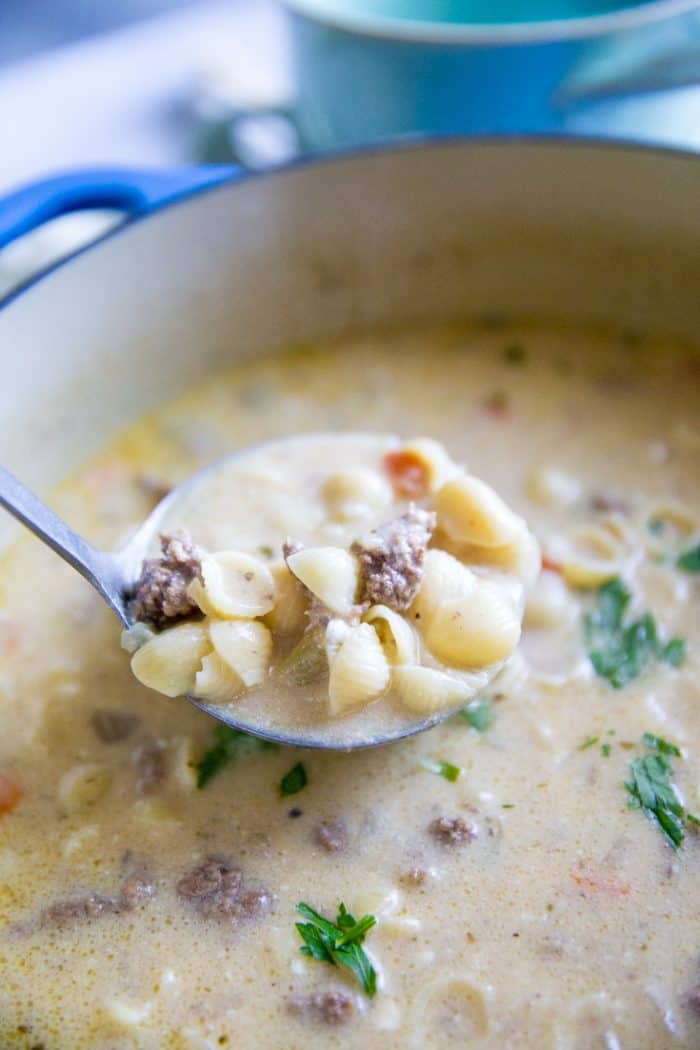 Can Cheeseburger Soup Be Frozen?
Unfortunately, I would not recommend freezing this cheeseburger soup.  For one thing, the pasta will get mushy after you reheat this soup.  Also, most often, milk based soups will separate and take on a grainy texture upon reheating.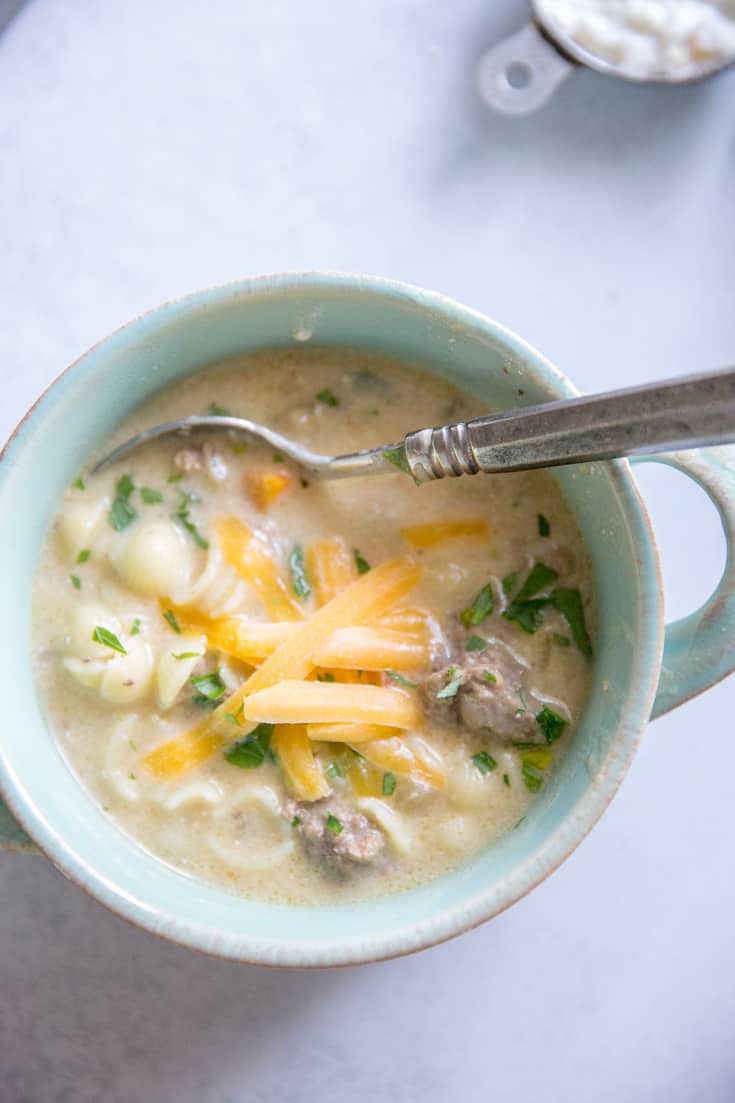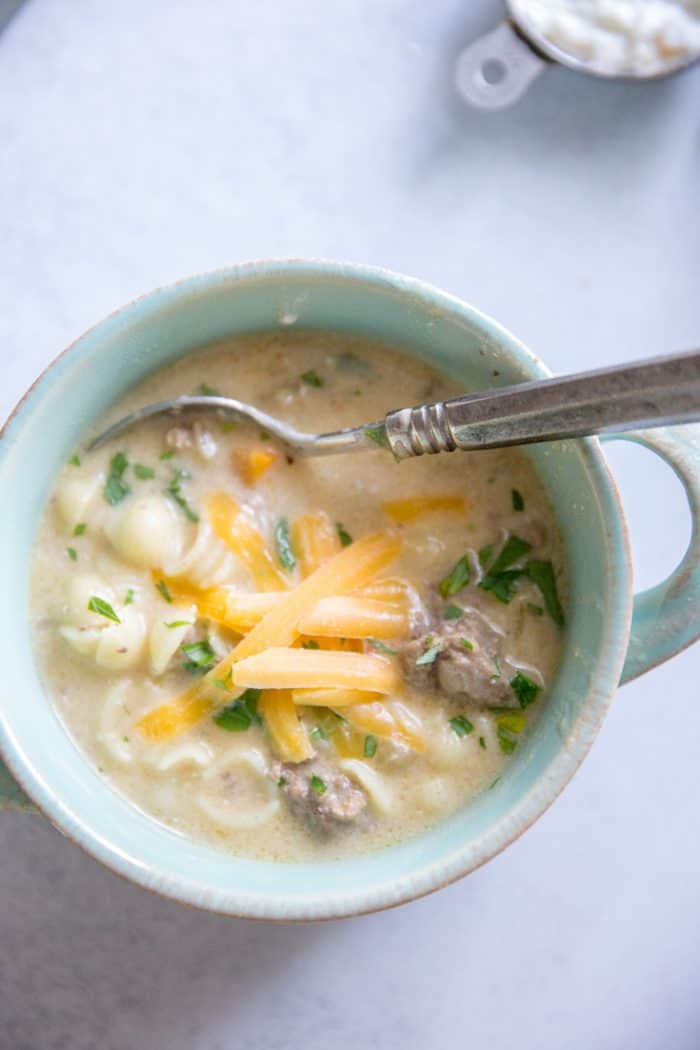 Cheeseburger Soup and Your Daily Dairy
It's no surprise that cheeseburger soup is loaded with dairy.  Between the milk, the cheddar cheese, and the yogurt, your family will get a trifecta of good, quality dairy. Milk is the No. 1 food source of calcium and vitamin D in children's diets. Experts recommend three servings of low fat or fat-free dairy foods every day.
It may seem easy to run through the drive-thru or order takeout on busy weekdays, but home-cooked meals, especially those prepared from scratch, have benefits you may not be aware of. Cooking dinner at home can help manage weight control, cut down on costs and prepare meals with less salt and trans fat. It also encourages family bonding time and gets everyone around the table for a healthy meal!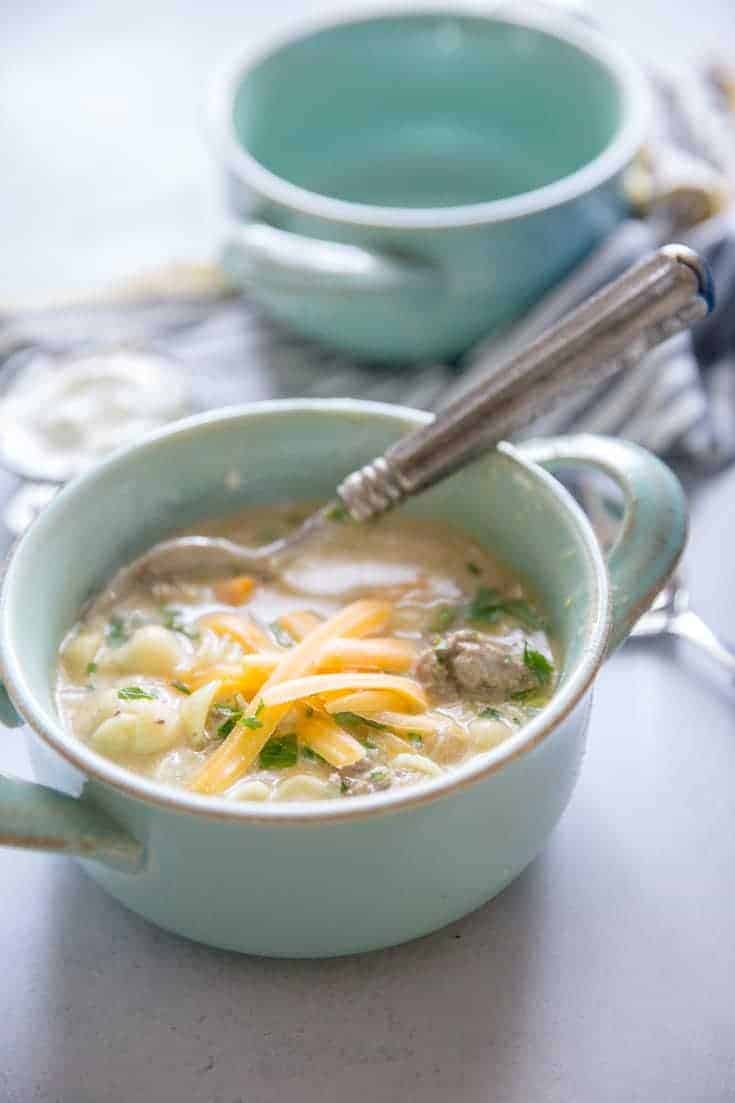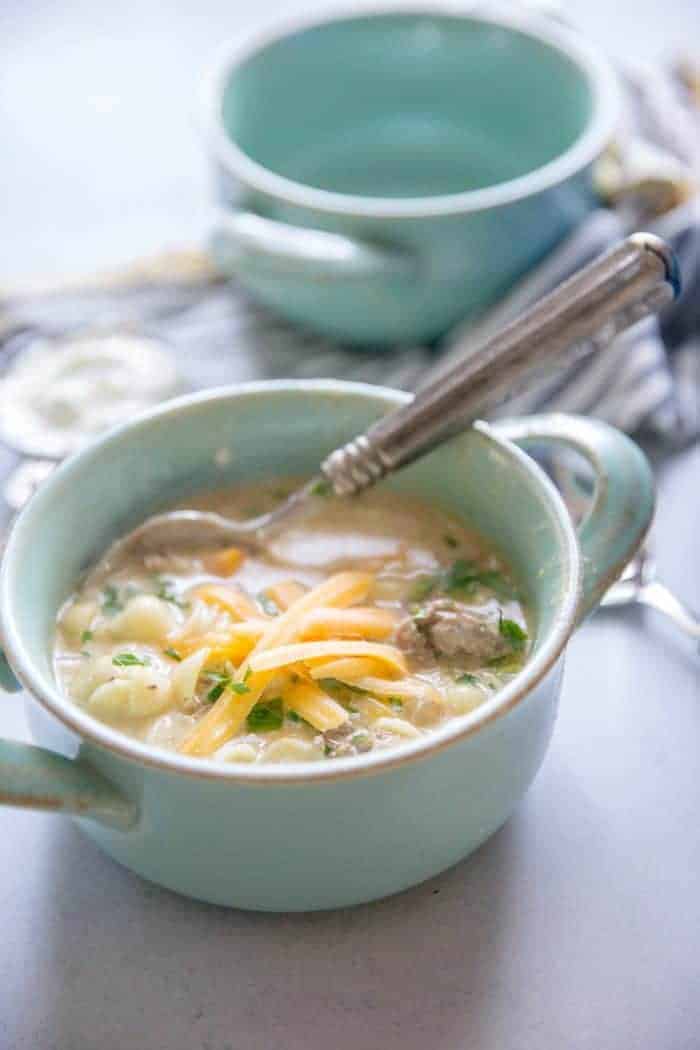 What Goes with Cheeseburger Soup?
Some ideas that pair with this cheeseburger soup are Rotisserie Chicken Salad Recipe, Hot Italian Party Sandwiches, BBQ Bacon BLT Sandwich or Rosemary Parmesan Potato Rolls. Feel free to top your soup with extra cheese, crumbled bacon, tomatoes, pickles, and croutons!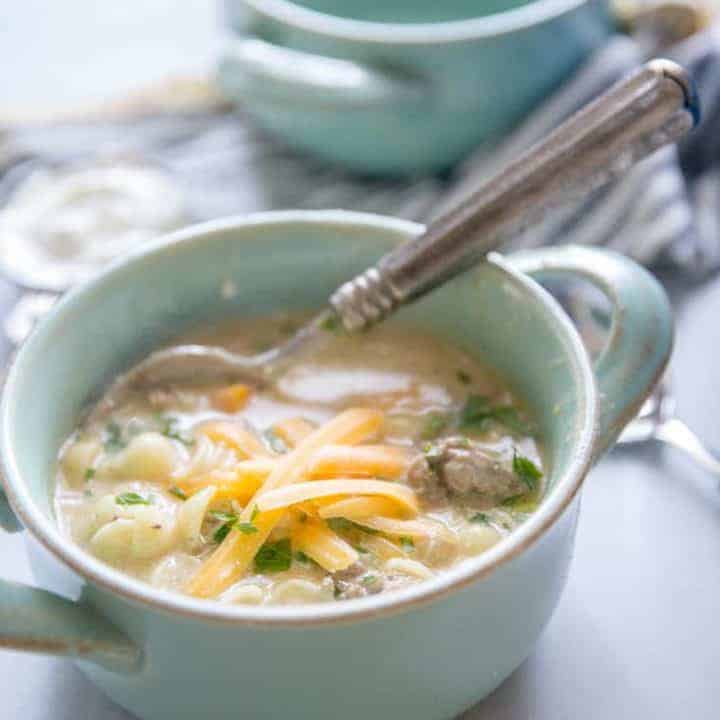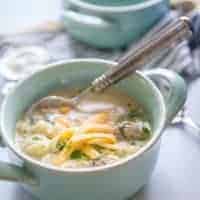 Cheeseburger Soup
Cheeseburger soup is smooth, creamy and comforting!
This soup will be a hit with kids of all ages; it will be a recipe you return to over and over again!
Ingredients
1 teaspoon olive oil
1 cup frozen, onion, celery, carrot mix
2 cloves minced garlic
1 lb ground beef
1 teaspoon dried basil
1 teaspoon dried oregano
1 teaspoon salt
1/2 teaspoon pepper
1 teaspoon yellow mustard
2 tablespoons finely chopped pickles
3 cups chicken broth
1 ¼ cup shells pasta
1 cup milk
1 tablespoon flour
2 cups shredded cheddar
¼ cup Greek yogurt
Instructions
In a large stockpot or dutch oven, heat olive oil over medium heat. Add vegetable mix and cook until vegetables begin to soften, add garlic and cook another minute. Remove vegetables and set aside. Add ground beef to the same pot and cook until crumbled and cooked through. Season beef with basil, oregano, salt, and pepper. If desired, stir in yellow mustard and pickles. Combine vegetables and the beef in the pot, stir in chicken broth. Bring broth to a boil. Add pasta and reduce heat. Partially cover the stock pot and allow pasta to cook until al dente.
Whisk together the milk and the flour, pour milk into the soup, stir until the soup has slightly thickened. Add cheese and stir until melted. Stir in Greek yogurt just before serving.
Nutrition Information
Amount Per Serving
Calories

0
Total Fat

0g
Saturated Fat

0g
Cholesterol

0mg
Sodium

0mg
Fiber

0g
Sugar

0g
Protein

0g
For more information about dairy nutrition, to find delicious new recipes and to meet Ohio and West Virginia dairy farmers, visit www.Drink-MIlk.com, and follow the American Dairy Association Mideast on Facebook, Twitter, Pinterestand Instagram.