Making this classic crockpot french onion soup recipe is even easier thanks to your slow cooker.
Thanks to this crockpot french onion soup you'll never return to the stovetop method again.
We make this french onion soup recipe with brandy for added depth of flavor and by cooking it all up in the slow cooker we get an even more luxurious and delicious soup that everyone can enjoy.
The slow simmering helps the flavors to build and develop making this the best french onion soup recipe to try. Serve it up with a toasted slice of baguette with plenty of melted cheese for tasty bowls of heaven.
Traditional French Onion Soup
French onion soup is a recipe that has been around since the 18th century. Invented in France it was often served as a starter soup, before a meal, but it has since become a wonderful main dish and a comforting one at that.
Made with a modern slow cooker the recipe has gotten even easier than ever before meaning that you can enjoy it more often and without a huge hassle. All that is required is a bit of patience.
Ingredients you'll need for French Onion Soup:
Onions –yellow or white
Butter
White flour
Brandy –or Cognac
Low sodium beef stock
Salt
Bay leaves
Fresh thyme
Baguette bread
Worcestershire sauce
Mozzarella cheese– or parmesan
For the exact amounts needed, please see the recipe card below.
How to Make Crockpot French Onion Soup
Peel the onions and slice them thinly. Set them aside until needed.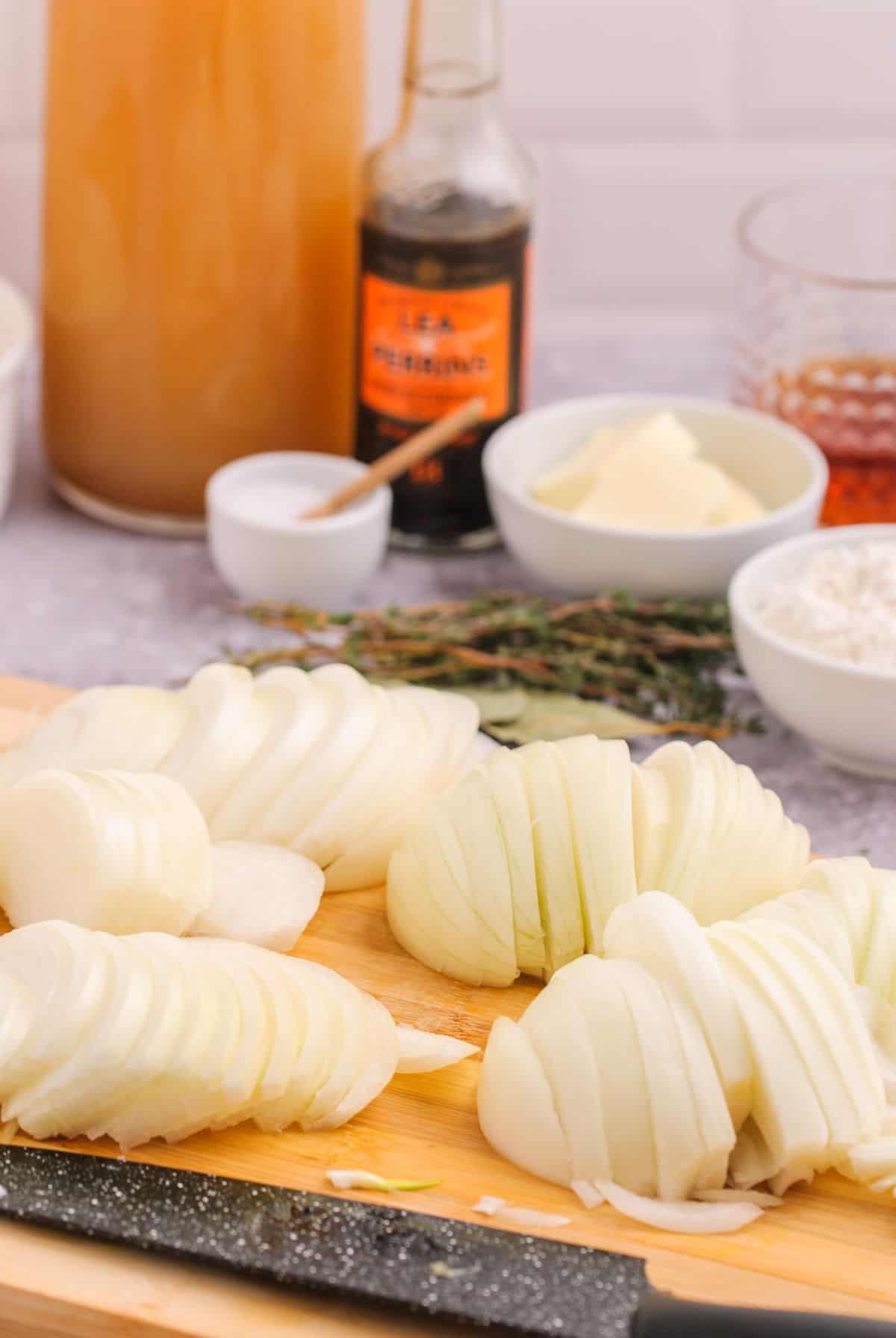 Add 2 tablespoons of butter, onions, and pinch of salt to a large pan and cook until they are caramelized. Stir the onions every 10 minutes or so until a deep color has been achieved. The longer the onions cook, the deeper and better the soup flavor will be.
Add the brandy to the pan to deglaze it and allow the onions and brandy to cook for 5 minutes or so or until the alcohol evaporates.
Once that has finished, add your onions to the bottom of your slow cooker.
Add the beef stock, bay leaves, and thyme sprigs to the slow cooker.
Set the pan back on the stove over medium heat.
Add the remaining butter to the pan and add in ⅓ cup of flour to make the roux. Stir constantly to get the flour toasted and to help it absorb the butter and any remaining bits of caramelized onion.
Once the flour has been toasted, add in ½ cup of stock from the slow cooker and whisk it into the flour mixture until a smooth paste has been achieved. The mixture should be runny, so if needed, add in a little more stock.
Add your roux to the slow cooker and stir to combine.
Add in the Worcestershire sauce and the rest of the salt. Mix together.
Add the lid and allow your soup to cook over medium heat for 6 hours.
Once the soup is ready, prepare the baguette bread by slicing it into ¼-½ inch thick pieces and placing them onto a baking sheet.
Toast in the oven at 350 degrees F until toasted.
Serve the soup in an oven-safe bowl and top with a slice or two of the toasted baguettes.
Add a thick layer of cheese over the bowls and place them into the oven. Broil on high for 5 minutes or until the cheese has melted and is golden.
Sprinkle with some fresh thyme on top and serve.
Enjoy.
What is The Best Cheese for French Onion Soup?
We use mozzarella or parmesan cheese for the tops of our soups because they're melty and delicious as well as easy to find but in all honesty, there's an unlimited amount of cheese you can try on your soup.
Some of the more favorite and traditional cheeses for serving with french onion soups include:
Gruyere
Emmental
Swiss or Baby swiss
All of these cheeses will pair well with caramelized onions and give you a gooey melty cheese top on your broiled soup.
The Best Onions for French Onion Soup
When making french onion soup you're going to want to choose an onion based upon your preferences. Some onions are naturally sweeter than others, meaning that they will help the caramelization process and help the onions to develop a deeper and stronger flavor profile. But they also mean that the soups are sweeter as a result.
White onions and yellow onions work well and aren't too sweet either so your broth stays more on the savory side of things. But other onions that also work well in french onion soup include:
Red onions
Vidalias
Maui
Walla Walla Sweets
Keep in mind that these are sweeter onions and can result in your soup broth turning out a little sweeter. If at any point you feel like your soup is too sweet for your liking you can slowly add in tiny additions of salt or vinegar (apple cider vinegar or white vinegar) to help cut down on the sweetness. Just add the salt or vinegar in slowly and taste after each stirred addition to make sure that you don't make the soup too salty.
French Onion Soup Recipe Tips
To thicken your soup you can also blend 1 cup worth of the slow cooker french onion soup and mix it with the rest of it to achieve a thicker consistency.
This homemade french onion soup is meant to be eaten right after being taken out of the oven, especially if you are going to serve it with the toasted baguette on top.
The caramelization of the onions is a key step, it usually takes from 45 minutes to 1 hour on low heat. Do not skip or try to shorten this step, since it's key to achieving the flavor of the final dish.
Storage and Reheating
You can keep your french onion soup with brandy stored in an airtight container for up to 6 days in the fridge.
Your soup will also last up to 4 months in an airtight container in the freezer. I recommend allowing it to cool completely before placing it into a freezer-safe Ziploc bag and freezing the soup flat on a baking sheet. This will make it a lot easier to store and thaw later.
Make sure that when freezing your soup you do not freeze the soup with the homemade croutons and cheese and that you are ONLY freezing the cooled soup.
You can reheat your soup in a slow cooker from frozen by removing the soup from its container and then heating the soup over low or high heat until hot and warmed through. This will take about 2-4 hours.
You can also thaw your soup overnight in the fridge and then reheat it in a large pot on the stovetop.

FAQs
Why does french onion soup need Worcestershire sauce?
The addition of Worcestershire sauce helps to add a depth of flavor to the soup. There are a lot of ingredients in Worcestershire sauce including anchovies, molasses, and spices which make this an excellent addition to many different recipes because it helps to round off the flavors. In our soup, it helps to bring out more of the beef flavor from the soup broth.
Can I make french onion soup without alcohol?
Yes, while wine and brandy are most commonly used for deglazing the pans in this soup recipe you can simply omit the alcohol and use additional beef stock or water instead.
If you choose to use wine instead of brandy, here are a few suggestions:
Sauv Blanc
Semillon
Pinot Grigio
Chardonnay
Merlot
Pinot Noir
Any non-sweet, dry white, or red wine will work well for this recipe.
What is a roux?
A roux is a mixture of fats and flour that are cooked together (usually in equal part measures). They're whisked together until smooth, browned, and then are added to sauces and soups to help thicken them. Your roux can be white, light brown, or dark brown depending on how long you cook it.
What does it mean to deglaze a pan?
To deglaze a pan means to add liquid to a hot pan to help bring up the caramelized bits and pieces that were stuck to the pan. This is a great way to add extra flavor to your recipes because they're packed with great flavor. Deglazing the pan also helps to make the clean-up a little easier later because the bits that were stuck to the pot are no longer there.
If you love onions and caramelized onion recipes as much as we do then you're going to love these recipes too:
Yield: 5
Crockpot French Onion Soup
The classic French onion soup, made in the slow cooker, is perfect to develop the incredibly tasty flavor of the caramelized onions, served with a toasted slice of baguette with plenty of melted cheese. Heaven on a bowl!
Total Time
7 hours
10 minutes
Ingredients
5-6 yellow or white onions
4 tablespoons butter
1/3 cup white flour
1/3 cup brandy or cognac
6 cups low sodium beef stock
2 teaspoons salt or to taste
2 bay leaves
4 sprigs of fresh thyme
Baguette bread (one or two slices per bowl of soup)
2 teaspoons Worcestershire sauce
Cheese: mozzarella and parmesan 
Instructions
Start with peeling and slicing thinly the onions. Set aside.
In a big pan add 2 of the butter spoons and the onions and a pinch of salt and cook them starting on medium heat, then going to low heat until they are caramelized. They become completely soft and golden translucent. Stir every few 10 minutes or so. Do not skip or try to shorten this step, since it's key to achieving the flavor of the final dish.
Add the brandy to deglaze the bottom of the pan and let cook for 5 minutes so the alcohol evaporates.
Add the caramelized onions to the slow cooker and add the beef stock, bay leaves, and thyme sprigs, and set on medium heat.
Prepare the roux with a couple of butter spoons and 1/3 cup of white flour. Stir constantly so the flour gets toasted and absorbs the butter and any remaining bits of the caramelization of the onions.
Once the flour is toasted add ½ cup of stock from the slow cooker and whisk it until a smooth paste is achieved. It should be runny, so if needed add more stock.
Add the roux to the slow cooker and stir to combine well with the rest of the ingredients. Add the Worcestershire sauce and the rest of the salt and mix. Let cook for 6 hours on medium heat.
Once the soup is ready slice the baguette bread and toasts the slices in the pan. Preheat the oven to 356F or 180ºC
Serve the soup in the oven-safe bowls and top them with one or two slices of toasted baguette.
Add a thick layer of cheese all over the bowl and bring to the oven with the broil function for 5 minutes or until the cheese has melted and is golden.
Sprinkle a bit of the fresh thyme on top and enjoy.