A simple pizza dough topped with naturally sweet caramelized onions and crisp Brussels sprouts!
When I was growing up, I was so envious of all my friends and their ability to enjoy delivery pizza. Not only did my parents refuse to go out to dinner, but they insisted that they could make pizza better than any pizza that was delivered. My mom's original pizzas were too awful to stomach. They always started with a tender, homemade crust, but went downhill from there. She would spread a bland tomato sauce over the crust, top the sauce with presliced hard salami, and finish it off with prepackaged American cheese slices. Needless to say, my heart sank a little every time my mom announced we were having pizza for dinner.
Eventually, my mom's pizza was better than any takeout. In fact, her homemade pizza was quite gourmet with their Greek toppings, seafood or specialty meats. By the time I got to high school, I not only appreciated my mom's cooking; but I preferred it. I became a food snob at a very early age. Take out pizza and restaurant food were fine, but the homemade food was always better.
There is a need for takeout pizza. There are times that I am too busy or too tired to cook. I do try to make homemade pizza every chance I get. It's so easy to make for one thing, but the toppings are limitless! Sure, you could top your homemade pizza with pepperoni and sausage, make an all veggie pizza OR you could try this caramelized onion and Brussels sprout pizza instead! Caramelized onions are one of my most favorite things. They may sound intimidating if you've never tried them, but they are incredibly simple. Caramelized onions are foodie speak for "cook your onions for a long time". I love them as a topping for burgers, and I love them in appetizers. The onions become intense and sweet which also make them the perfect partner for the slightly bitter taste of Brussels sprouts. I used fontina cheese in this homemade pizza because I like the slightly nutty taste, and I find it melts extremely well. But Monterey jack or even mozzarella are nice choices as well.
The dough is a snap to prepare. I used a yeast specially made for pizza dough. This yeast does not require your dough to rise, which is fabulous. If that doesn't get you to make pizza at home, then I don't know what will. Plus the pizza crust is so soft and fluffy.
Delivery pizza is a wonderful thing, but nothing ever beats a homemade pizza!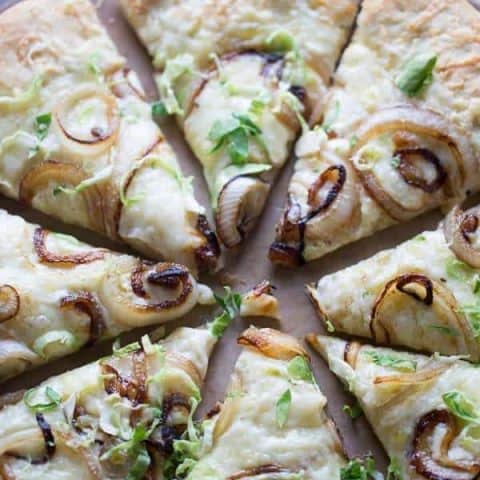 Homemade Pizza with Caramelized Onions and Brussels Sprouts
A homemade pizza dough topped with caramelized onions, fontina cheese, and Brussels sprouts.
Ingredients
1 - 2 cups of flour
1 package pizza yeast, 1/4 oz ( I used Fleischmann's)
1 1/2 teaspoons sugar
3/4 teaspoon salt
2/3 cup very warm water
3 tablespoons olive oil
2 teaspoons olive oil
1 large onion, thinly sliced
2 tablespoons olive oil
2 cups shredded fontina cheese
1/4 cup thinly sliced brussels sprouts
Instructions
In the bowl of a mixer, combine 1 cup of flour, sugar and salt. Add water and oil. Continue to beat the dough for a minute or two or until well blended.
Gradually stir in remaining flour, 1/2 a cup at a time until dough forms into a ball. Knead the dough with the dough hook until smooth (this should take about 3 minutes). Spray a round pizza pan with nonstick spray. Place pizza dough on the pan and use your fingers to spread out the dough to fit the pan
In a large skillet, heat two teaspoons of olive oil over medium heat. Add onions to the pan. Reduce heat to medium-low and cook onions until they are very soft and caramel in color. This should take about 15 minutes. Remove onions from heat and set aside.
Preheat oven to 425. Drizzle the remaining teaspoon of olive oil over dough. Spread minced garlic over olive oil. Top pizza with fontina cheese and caramelized onions.
Bake pizza in the heated oven for 15 minutes. Remove from the oven and sprinkle Brussels sprouts over pizza before serving.
Nutrition Information
Yield

8
Serving Size

1
Amount Per Serving
Calories

364
Total Fat

21g
Saturated Fat

8g
Trans Fat

0g
Unsaturated Fat

12g
Cholesterol

37mg
Sodium

522mg
Carbohydrates

32g
Fiber

2g
Sugar

3g
Protein

13g