Homemade kale pesto, spicy Italian sausage and bright yellow tomatoes turn this easy sausage pizza into an extraordinary meal!
What Type of Sausage To Use For Pizza?
My favorite type of sausage to use in pizza is Italian sausage. I often use sweet Italian sausage-like in this Italian Sausage and Blue Cheese Pizza), but mild, or spicy are equally as fine. I usually buy my Italian sausage in bulk form, but links will work in a pinch. Occasionally I will use pork breakfast sausage if I am searching for a unique flavor, On rare occasions, I will use a smoked sausage (like I did with this Pineapple Bacon and Sausage Pizza)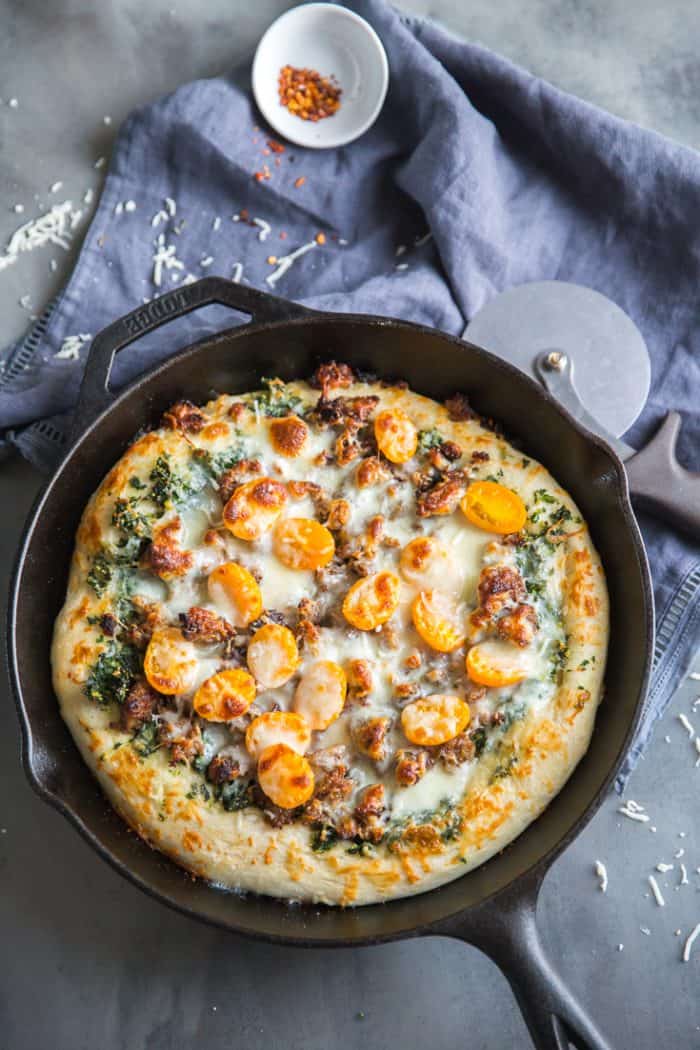 WHERE IS THE SAUSAGE PIZZA RECIPE?
If you'd rather skip cooking tips, suggestions, handy substitutions, related recipe ideas – and get straight to the Kale and Sausage Recipe– simply scroll to the bottom of the page where you can find the printable recipe card.
How To Make Kale Pesto
Besides the Italian sausage, this pizza has very few ingredients. I made my life easy by using frozen (and thawed) pizza dough, you can use a tube pizza dough like Pillsbury or make your own.
The kale pesto acts like a sauce for this pizza. I wilted my kale in a skillet then placed it in a food processor with pine nuts, garlic, olive oil, salt, and Parmesan cheese. I would almost advise that you double the ingredients to use some of the pesto for this sausage pizza and some to toss with pasta or zucchini noodles the next night.
How To Make This Sausage Pizza
I like to press my store-bought dough into a cast-iron skillet. The cast iron keeps the bottom of the crust nice and crisp, but any pizza pan or pizza stone will be fine. Spread the pesto over the crust then top with cooked and crumbled Italian sausage. I top off the pizza with shredded cheese and halved yellow tomatoes (they add a great pop of color, but red cherry tomatoes are fine). The pizza will only take about 15 minutes to bake.
Yield: 4
Kale and Sausage Pizza
Homemade kale pesto, spicy Italian sausage and bright yellow tomatoes turn this easy sausage pizza into an extraordinary meal!
Ingredients
1 13.8 oz frozen and thawed pizza dough (or your favorite premade dough)
1/2 lb ground Italian sausage
2 tablespoons water
3 cups lightly packed kale
1 teaspoon sugar
1/4 cup pine nuts
1 clove garlic minced
3 tablespoons extra virgin olive oil- divided
1/4 cup grated Parmesan cheese
1 1/2 cups shredded Italian blend cheese
1 cup yellow cherry tomatoes, halved
1 teaspoon olive oil
1 teaspoon red pepper flakes (optional)
Instructions
Preheat the oven to 400 degrees
Heat a 10 inch cast iron skillet over medium high heat. Coat with cooking spray. Add sausage and cook until browned. Remove and set aside. Add kale to pan along with water and sugar; cover and cook for two minutes or until kale has wilted. Remove kale to a papertowel. Cover with another paper towel and press out excess moisture. Wipe pan clean.
Place pine nuts and 1 clove garlic in a food processor; pulse until chopped. Add kale to processor along with 2 tablespoons olive oil and continue to pulse until kale becomes a paste. Add Parmesan cheese (and more water if necessary) until mixture has combined. Season with salt to taste
Roll pizza dough into a 10 inch circle. Add 1 tablespoon olive oil to pan, swirling to coat. Fit dough into the skillet rolling up sides. Top evenly with pesto, crumbled sausage and cheese. Sprinkle tomatoes over the pizza. Place pizza in oven and bake for 10-15 minutes or until cheese has melted. Remove pizza from the oven and, drizzle pizza with olive oil and sprinkle with red pepper flakes if using.