Turkey Sweet Italian Sausage Subs are topped with sweet caramelized onions, fresh arugula, goat cheese, and a silky balsamic reduction. These gourmet sausage subs are going to be a game changer!
I absolutely love cooking with Italian Sausage. I think it is accessible and has tremendous versatility, not to mention it's flavor!
I use Italian sausage in this Italian Sausage and Blue Cheese Pizza, Italian Stuffed Peppers, and this Pizza Pasta. I've added it to dips, to pasta sauces, and to soups too! There really isn't anything you can't do with Italian Sausage.
The sausage subs I am sharing with you today are not only easy to make, but they are lean and delicious as they are made with Sweet Italian Turkey Sausage from Honeysuckle White.
What Is Italian Turkey Sausage?
Italian turkey sausage is all natural turkey mixed with traditional Italian sausage seasonings all wrapped in individual casings. Each sausage link is a great source of protein that is also low in fat.
What Are Italian Sausage Subs?

You will most often find Italian sausage subs topped with onions and bell peppers that have been simmered in a tomato-based sauce. Once the sausages are topped with the pepper mixture they are covered in cheese (usually mozzarella or provolone).
While Italian sausage subs rarely disappoint, they can feel a little heavy to me at times. This turkey sausage sub is a great way to change things up!
How To Make Italian Turkey Sausage Subs?
Preheat an outdoor grill (spray your grill grates with non-stick spray first)
The first thing you need to do for this recipe is to caramelize your onions. Caramelized onions are not at all difficult to make, but they do take time.
Add olive oil to a large skillet that has been placed over medium heat., Add 1 large, sliced onion to the skillet and allow the onion to cook until it softens and turns caramel in color. Make sure you watch the onions and stir often as onions can stick to the pan and they can burn easily.
Some people add sugar or vinegar to their onions as they cook. Personally, I think the onions have all the flavors they need!
While the onions are cooking down, place your Italian turkey sausage on the hot grill. Because the turkey sausage is so lean, they do not take long to grill about 5 minutes per side.
To make your balsamic reduction, place 1 cup of balsamic vinegar in a small saucepan. Bring it to a low boil, reduce heat and allow the vinegar to cook down to ½ a cup. The vinegar will become thick, syrupy, and fragrant.
To assemble your subs, place on sausage links into sub buns. Divide the caramelized onions between all the subs. Top each sausage with arugula, crumbled goat cheese and a drizzle of balsamic vinegar!
Recipe Tips, Substitution, And Additions
If you don't have access to an outdoor grill, a grill pan or even a skillet will work well. I like to tent my pan with foil. The steam that is created will help cook the sausage quicker and will lock in the flavor! Make sure you coat your cooking surface with non-stick cooking spray.
In a pinch, spray a broiler pan with nonstick spray and arrange your sausage links on the pan. The sausage can be cooked in the oven until the internal temperature reaches 165 degrees or about 25 minutes. The flavor will definitely be different in the oven!
You may be able to find balsamic syrup already made at some specialty markets.
The arugula and goat cheese amounts listed here are just guidelines. By all means, adjust to your tastes.
Olives (black or green) and sun-dried tomatoes would compliment these subs nicely.If you do not like goat cheese, feta cheese can be used in its place.
If arugula's flavor is too strong, spinach is a fine substitute.
The bread can be toasted on the grill if that is your preference.
How else can I top my Italian Sausage? Try this Caesar Salad Italian Sausage and Caprese Italian Sausage.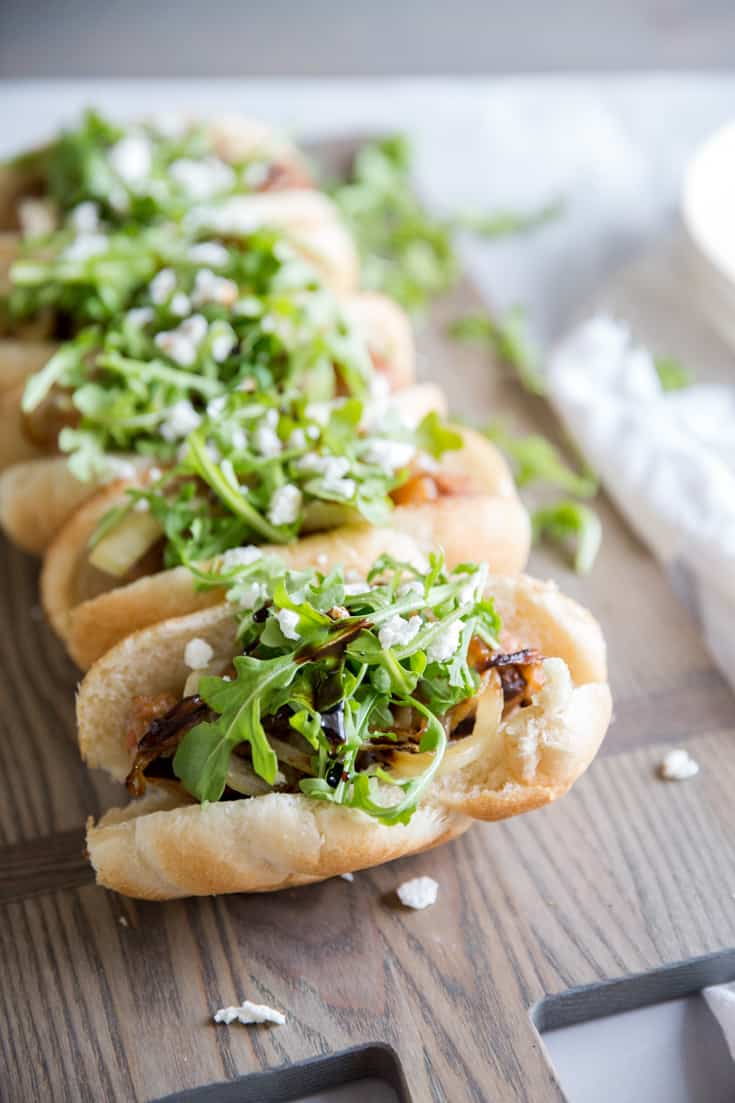 What Do I Need To Mke These Turkey Sausage Subs?
Grill, grill pan, or skillet.
Tongs
Saucepan
Quality balsamic vinegar
Knife
Why Honeysuckle White Turkey Sausage?
Honeysuckle White (Shady Brook Farms ) offers a variety of products from turkeys that are made without growth-promoting antibiotics.
They strive to educate consumers as to where their food comes from and how they were produced. The turkeys are all family farm-raised so you can feel good about serving these turkey products to your family.
Are There Other Turkey Products That I Can Grill?
Yes! Honeysuckle White also makes Savory Turkey Patties, Cranberry & Jalapeno Turkey Patties, Spinach & Kale Turkey Patties (perfect with Fresh Herb and Lemon Aioli!) and Turkey Breast Roasts! For a unique recipe to grill, try this Easy Meatball Kabob Recipe
Where Can I Buy Italian Turkey Sausage?
You can find Honeysuckle White in grocery stores near you. Honeysuckle White products are sold in the midwest/west while Shady Brook Farms can be found in the East Coast.
This Italian Turkey Sausage Sub is a gourmet alternative to traditional Italian subs! It is lean on fat but BIG on flavor! Plus it is a simple recipe made with only a handful of ingredients!
Yield: 5
Sweet Italian Turkey Sausage Subs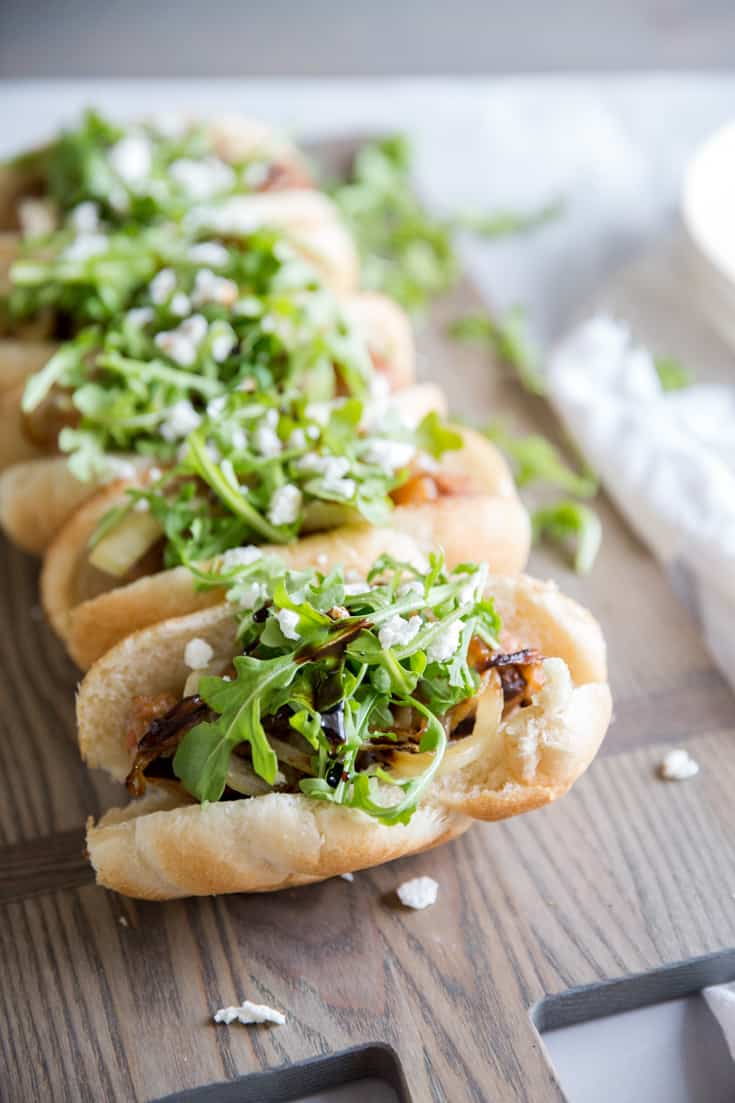 Sweet Italian Turkey Sausage is grilled until perfect then topped with a variety of gourmet toppings!
Ingredients
1 package Honeysuckle White Sweet Italian Turkey Sausage
sub sandwich buns
1 tablespoon olive oil
1 large onion, sliced
1 cup arugula
3 oz goat cheese
1 cup balsamic vinegar
Nutrition Information
Yield
5
Serving Size
1
Amount Per Serving
Calories

184
Total Fat

8g
Saturated Fat

3g
Trans Fat

0g
Unsaturated Fat

4g
Cholesterol

22mg
Sodium

251mg
Carbohydrates

17g
Fiber

1g
Sugar

9g
Protein

8g