Mint Julep Poke Cake – this ultra delicious poke has a creamy and boozy filling and is topped off with an extra minty homemade whipped topping!
Pin it here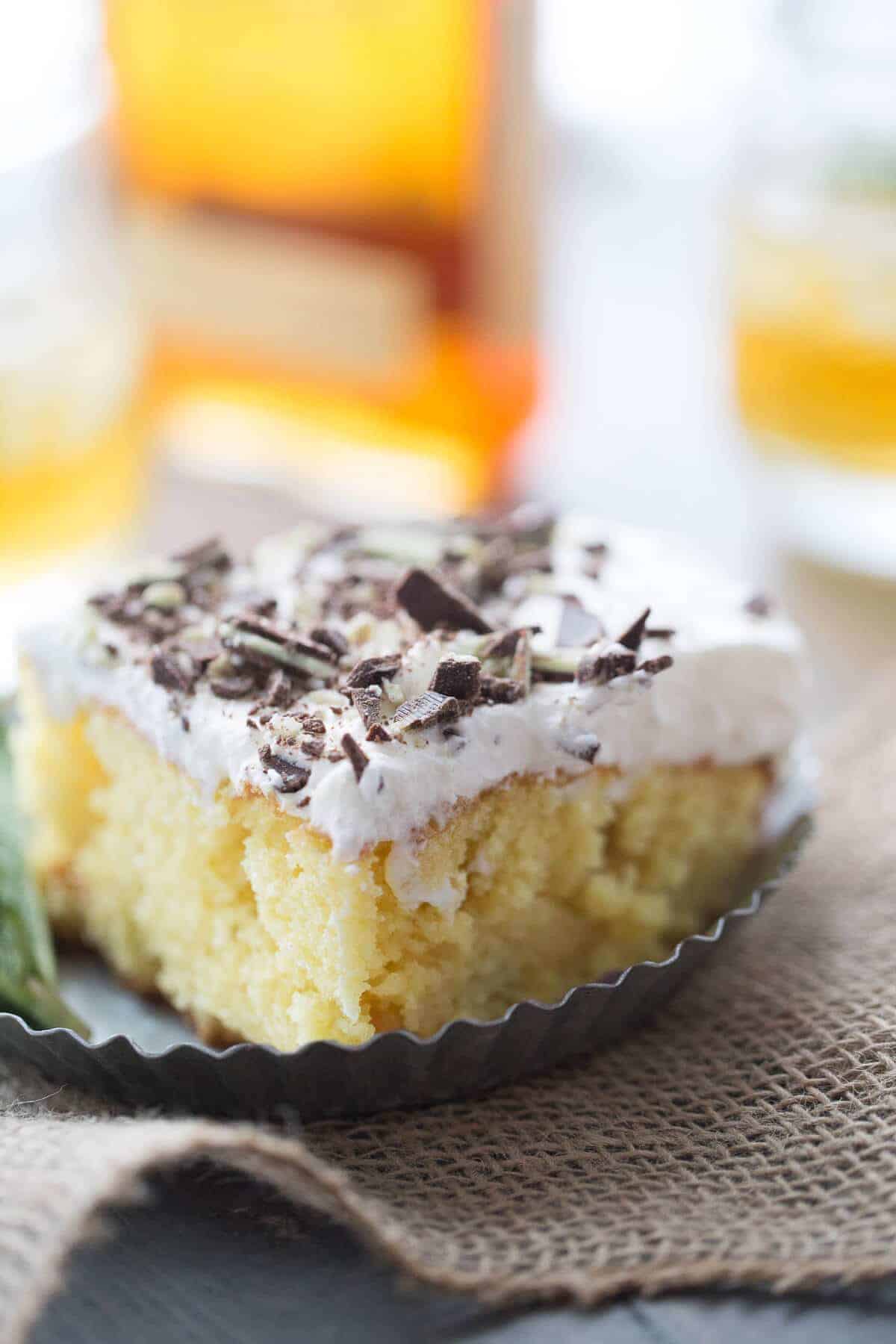 You know what I love about the Kentucky Derby?  No, it's not the beautiful horses with their unusual names; though I do love them.  And it's not the big, frilly hats, though I do love them as well.  And it's not the pomp and circumstances surrounding the horse race, though I adore the tradition and it's not even the mint juleps, though bourbon is spectacular.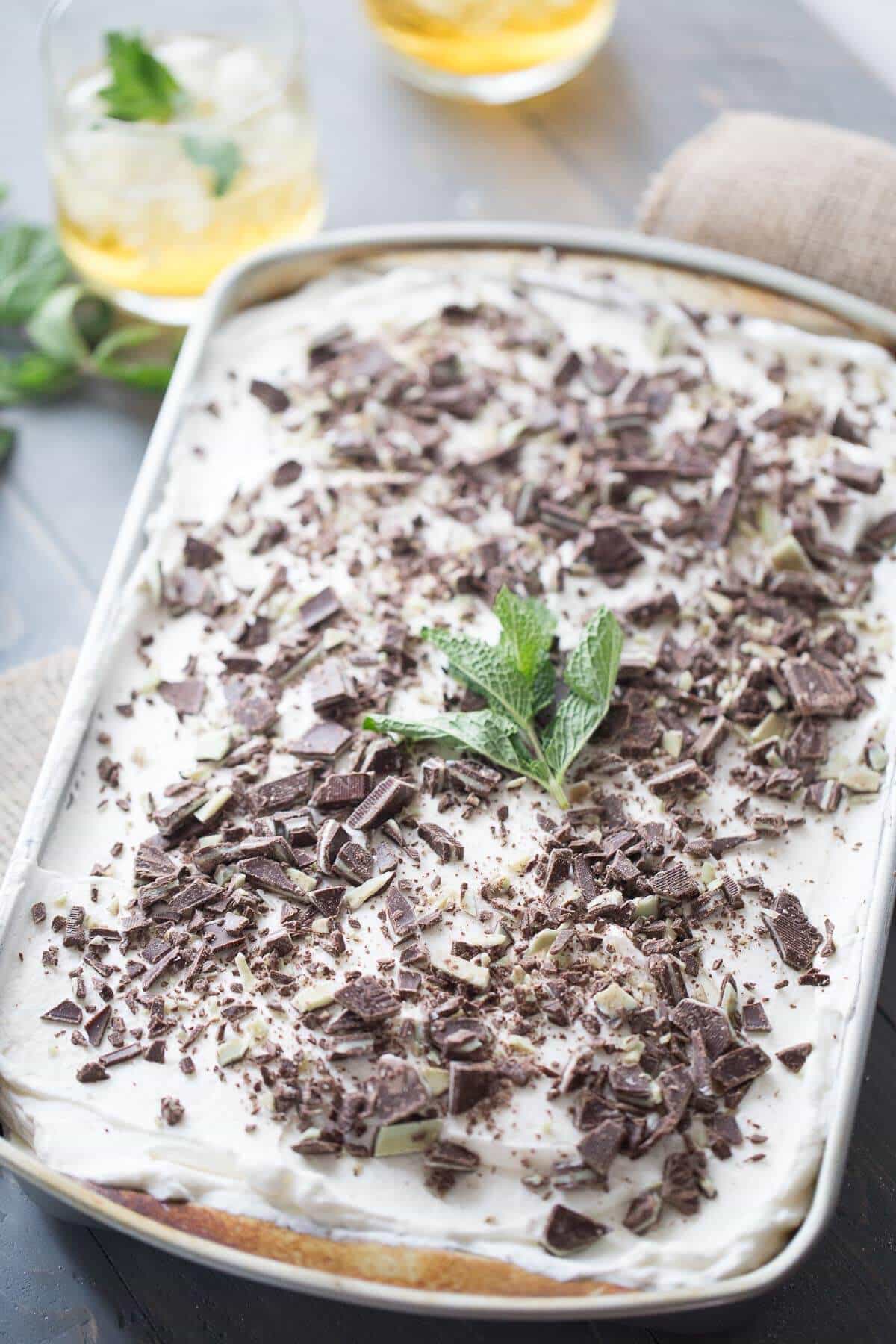 What I love most about the Kentucky Derby is making themed recipes that fit the occasion.  One year I made these Hot Brown Baked Potatoes and then the next year I served up this bourbon infused fudge. Both recipes were festive ways to incorporate the flavors that surround the Derby.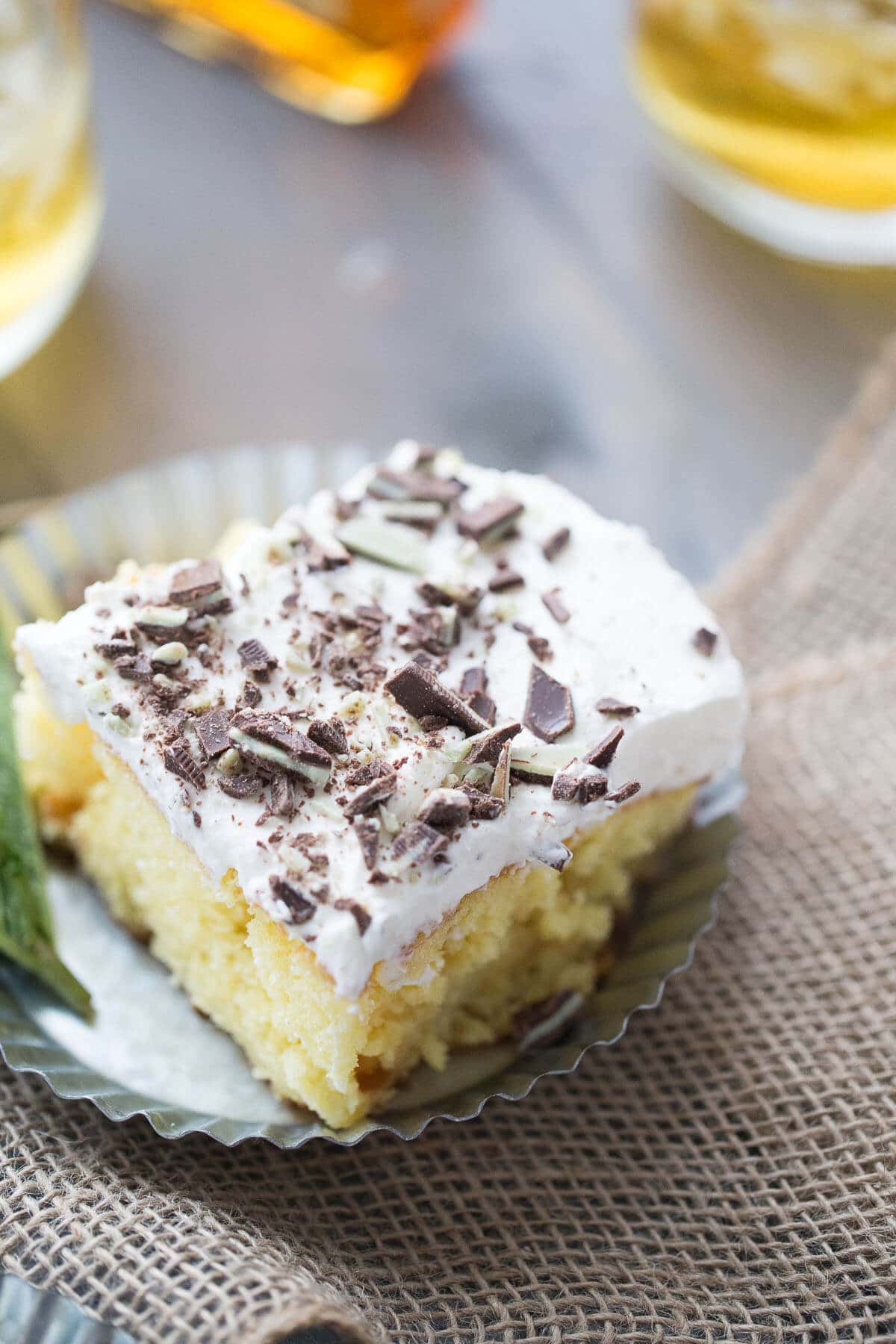 Mint Julep Poke Cake
This year I outdid myself; THIS year I made a mint julep poke cake.  Can I get an Amen?  Seriously, this cake is nothing short of amazing.  Traditional mint juleps are made with lots of crushed ice, mint, simple syrup and of course bourbon.  Let me tell you now, how this translates to cake.
I made a boxed yellow cake that received a few holes once it was sufficiently cool.  I combined bourbon and sweetened condensed milk and poured this boozy mixture over the entire cake.  My topping is a thick layer of homemade whipped cream that is flavored with lots of mint extract, then sprinkled with a copious amount of chopped Andes Mints.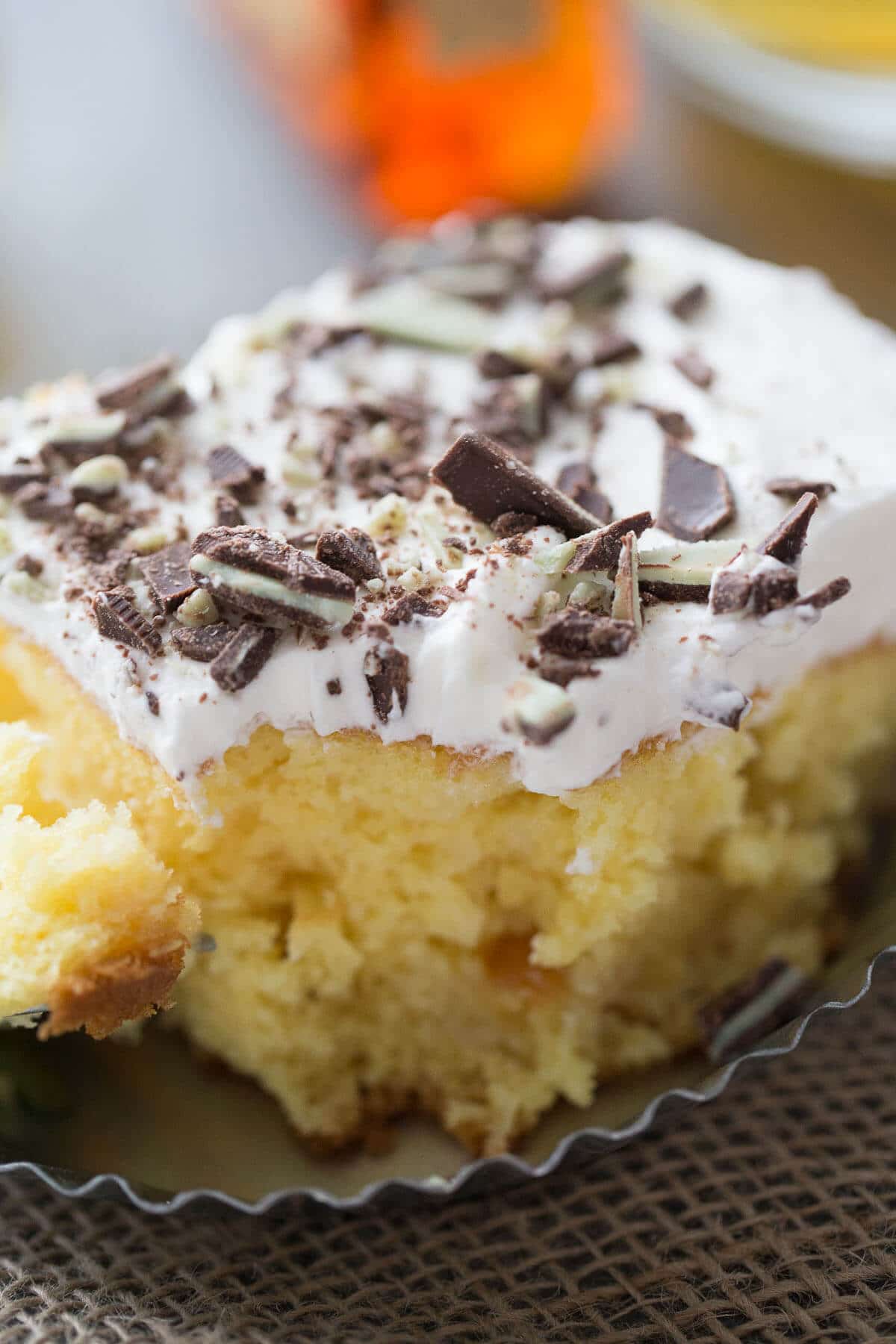 Each bite of this mint julep cake gives you the strong, woodsy flavor of bourbon and the cool, refreshing taste of mint.  This cake will make you feel like you are right there sitting at the Kentucky Derby.  But of course you aren't at the Derby, you are at home eating cake which is obviously way better!
Items used to make this cake:
16
adjust servings
Ingredients
1 15.25

oz box yellow cake mix ( plus ingredients to prepare the cake)

1 14

oz can sweetened condensed milk

3

tablespoons bourbon

1

teaspoon mint extract

2

cups heavy cream

1

cup powdered sugar

2

teaspoons mint extract

1 4.67

oz box mint chocolates, chopped ( I used Andes Mints)
Instructions
Prepare cake according to package directions; allowing cake to cool for 10-15 minutes after removing from the oven.
Using the handle of a wooden spoon or wooden skewers, poke holes in the cake.
Combine sweetened condensed milk and bourbon (adjust the amount of bourbon to your tastes) and slowly drizzle mixture over the top of the cake. Refrigerate cake for 20-30 minutes; or until the milk mixture has been absorbed.
Meanwhile, place heavy cream in a chilled mixing bowl. Using the whisk attachment, beat cream on high; reduce speed and add in powdered sugar one-quarter cup at a time. Increase speed and continue to whisk cream until it thickens. Whisk in mint extract.
Spread whipped topping over chilled cake. Sprinkle with chopped mint candies.