Mint Julep Poke Cake – this ultra delicious poke has a creamy and boozy filling and is topped off with an extra minty homemade whipped topping!
Pin it here
Do you know what I love about the Kentucky Derby? No, it's not the beautiful horses with their unusual names; though I do love them. And it's not the big, frilly hats, though I do love them as well. And it's not the pomp and circumstances surrounding the horse race, though I adore the tradition and it's not even the mint juleps, though bourbon is spectacular.
What I love most about the Kentucky Derby is making themed recipes that fit the occasion. One year I made these Hot Brown Baked Potatoes and then the next year I served up this bourbon infused fudge. Both recipes were festive ways to incorporate the flavors that surround the Derby.
Mint Julep Poke Cake
This year I outdid myself; THIS year I made a mint julep poke cake. Can I get an Amen? Seriously, this cake is nothing short of amazing. Traditional mint juleps are made with lots of crushed ice, mint, simple syrup and of course bourbon. Let me tell you now, how this translates to cake.
What Is A Poke Cake?
A poke is a classic dessert that seems to have been around forever! The poke cake I grew up with usually made an appearance around the 4th of July. It was often made with strawberry jello and topped with whipped cream. It was simple and festive and everyone loved it!
These days, a poke cake can be filled with anything. This cake is filled with sweetened condensed milk, but I have also used caramel sauce in my poke cakes. Depending on the recipe, hot fudge sauce, strawberry sauce, pie filling, pudding, tres leches sauce can all be used in your cakes!
Why Poke Holes In A Poke Cake?
The holes that you make in the cake will allow the liquid to fully absorb into the cake.
When To Poke A Poke Cake?
Once I pull my cake out from the oven, I like to let it sit for about 10 minutes. This will allow the cake to cool slightly. It will be tender when I poke it but the warmth will help the liquid absorb. After the liquid is poured into the cake, I like to refrigerate the cake so that the liquid sets.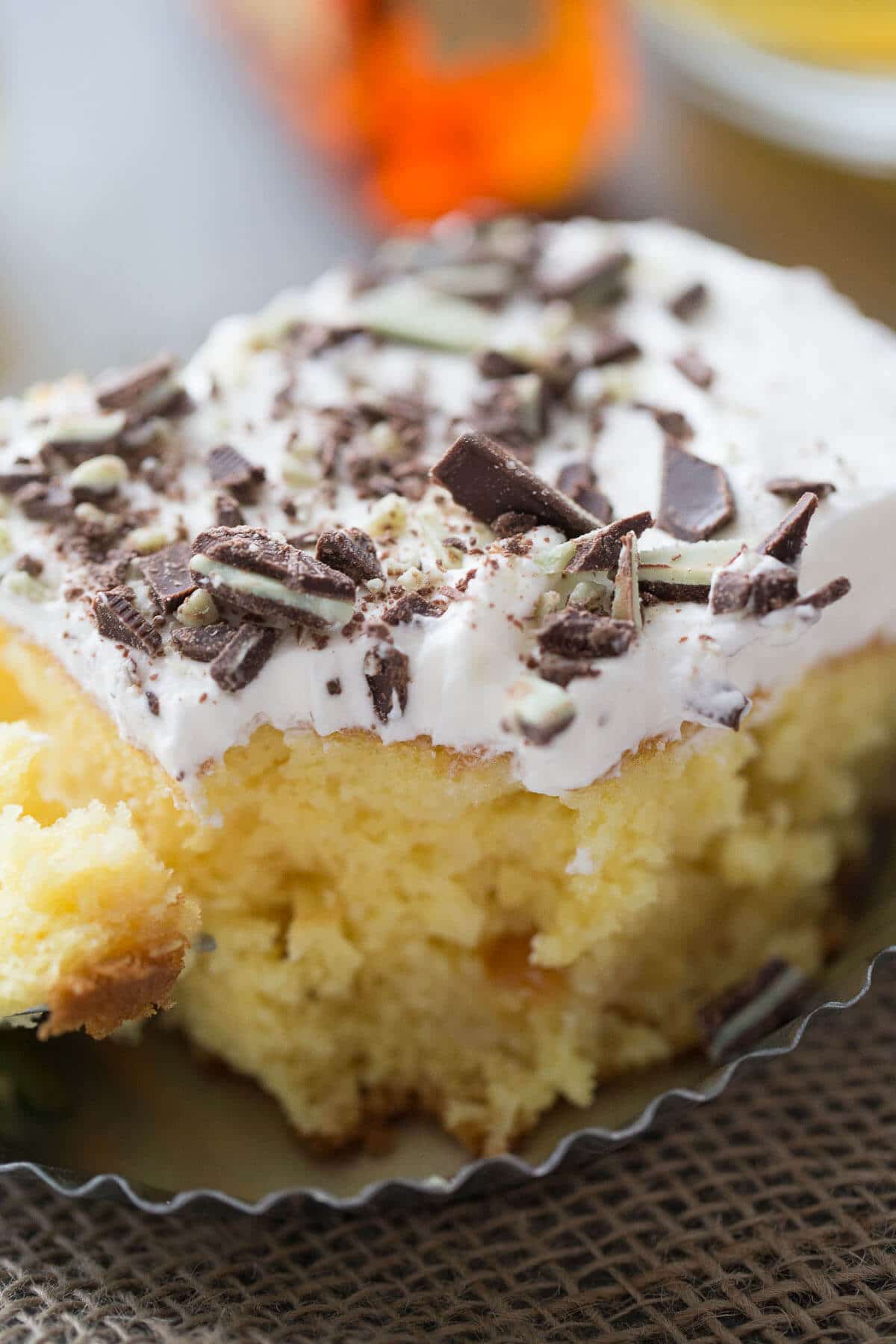 Can You Frost A Poke Cake?
Why yes, yes you can. A lot of poke cake recipes use whipped cream only to top the cake (like this Easy Toffee Banana Poke Cake, Snickerdoodle Poke Cake,or this Spumoni Poke Cake).
But I am a frosting girl, so I often make poke cakes with buttercreams like this Pumpkin Cake Roll Poke Cake (with cream cheese frosting), Mojito Poke Cake, and this Snickers Poke Cake.
Can You Make A Poke Cake In Advance?
Yes you can, however, I would not make it too far in advance as the cake itself will get really soft and a little mushy.
You can make your poke the night before and keep it in the refrigerator until you are ready to serve it.
Can You Freeze A Poke Cake?
You can freeze this cake, you can freeze the filled cake once it has cooled completely. Allow the cake to come to room temperature and top the cake with the whipped cream before serving.
What Do I Need To Make This Cake?
9 x 13 inch baking pan
Cake mix
Mixer
Wooden Spoon
Bourbon
Mint Extract
Rubber Spatula
Andes Mints
How To Make Mint Julep Poke Cake
I chose a yellow cake mix for this recipe because I thought the flavor would be enhanced by the flavor of bourbon. Bake the cake according to the package instructions.
Remove the cake from the oven and allow it to cool for at least 10 minutes before you poke holes into the cake.
With the handle of a wooden spoon, poke holes in the cake a few inches apart. In a separate bowl, whisk together sweetened condensed milk, bourbon and mint extract. It is quite easy to add more bourbon or extract if you find the flavor isn't strong enough.
Drizzle the milk mixture over the cake and refrigerate the cake for about 30 minutes.
While the cake rests, prepare the whipped cream. In a bowl, whisk together heavy cream, powdered sugar, and mint extract until thick. Spread whipped topping over the cooled cake.
Finish the cake off by sprinkling chopped Andes Mints over the cake. Then serve and enjoy!
Poke cakes are so easy to make and they are fun to eat. You can prepare them a million different ways and the results are always the same…delicious! This is a great Kentucky Derby dessert, but honestly, it is good any time of year and you don't have to be a bourbon lover to enjoy this dessert!
Yield: 16
Mint Julep Poke Cake
This ultra delicious poke has a creamy and boozy filling and is topped off with an extra minty homemade whipped topping!
Ingredients
1 15.25 oz box yellow cake mix ( plus ingredients to prepare the cake)
1 14 oz can sweetened condensed milk
3 tablespoons bourbon
1 teaspoon mint extract
2 cups heavy cream
1 cup powdered sugar
2 teaspoons mint extract
1 4.67 oz box mint chocolates, chopped ( I used Andes Mints)
Instructions
Prepare cake according to package directions; allowing cake to cool for 10-15 minutes after removing from the oven.
Using the handle of a wooden spoon or wooden skewers, poke holes in the cake.
Combine sweetened condensed milk, mint extract and bourbon (adjust the amount of bourbon to your tastes) and slowly drizzle mixture over the top of the cake. Refrigerate cake for 20-30 minutes; or until the milk mixture has been absorbed.
Meanwhile, place heavy cream in a chilled mixing bowl. Using the whisk attachment, beat cream on high; reduce speed and add in powdered sugar one-quarter cup at a time. Increase speed and continue to whisk cream until it thickens. Whisk in mint extract.
Spread whipped topping over chilled cake. Sprinkle with chopped mint candies.
Nutrition Information
Yield
16
Serving Size
1
Amount Per Serving
Calories

407
Total Fat

18g
Saturated Fat

11g
Trans Fat

0g
Unsaturated Fat

5g
Cholesterol

47mg
Sodium

270mg
Carbohydrates

56g
Fiber

0g
Sugar

45g
Protein

5g