This Easy Roast Turkey Recipe is a simple roast turkey recipe for any cook!
Serve it up throughout the year or for the holidays and it's sure to be a huge hit!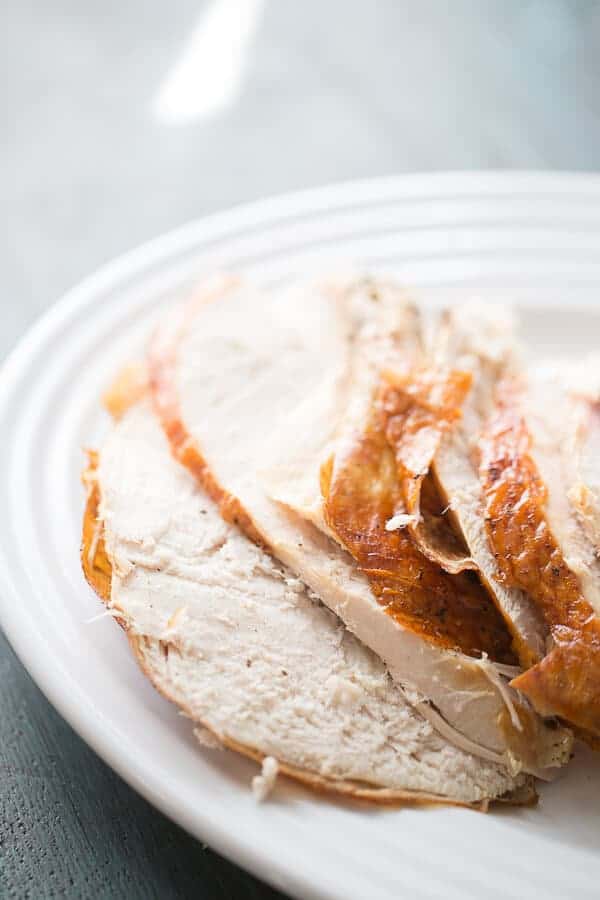 This easy roast turkey is as simple as it comes. Just thaw, lather, sprinkle seasonings, and bake. No brines required! This is perfect for anyone who doesn't want to put a lot of effort into a bird or that simply doesn't have time or space to do any complicated recipes. With this being the easiest way to cook a turkey, you can be rest assured that you'll get a delicious Thanksgiving turkey without having to do much.
A simple Thanksgiving turkey recipe
Everyone wants the best moist turkey and with this simple roast turkey recipe, you can have one on your table and ready to present to family and friends at your feast. With this easy Thanksgiving turkey recipe, you'll never need another one. This recipe is versatile, delicious, and so simple that you probably already have all or most of the ingredients needed on hand already! This roast turkey recipe uses a combination of rosemary, basil, oregano, thyme, and salt for an earthy and comforting taste in every bite. Once you try it, you'll be wishing that you roasted turkeys all year long.
Ingredients
Whole thawed turkey
Butter
Dried rosemary
Dried basil
Dried oregano
Dried thyme
Salt
Chicken broth
For the exact amounts needed, please see the recipe card below.
How to Make Easy Roast Turkey Recipe
Preheat your oven to 325 degrees F.
Remove any giblets from the inside of the turkey.
Rinse the turkey well and pat it dry.
Place the turkey onto a roasting pan that has been prepared with nonstick cooking spray. Make sure to place the turkey breast side up.
Rub the butter all over the turkey and under the skin as well.
In a bowl combine the herbs and salt and then rub it all over the turkey.
Pour your chicken broth into the bottom of the roasting pan.
Place the turkey into the oven and bake for about 3 hours while basting every 30 minutes. I believe turkey basting is a debatable process, not everyone does this. I, on the other hand always baste my poultry. I think this step is essential in getting the juiciest turkey meat. Baste your turkey with a baster or a large spoon.
For an 11lb turkey, I roasted my turkey for 3 hours. Plan on roughly 15-20 minutes per pound. The important thing to remember is as your turkey approaches the 3-hour mark, be sure to check the temperature. Place a meat thermometer into the thigh; the thermometer should reach 165 degrees before you take out the turkey.
Remove the turkey and tent it with foil.
Allow the turkey to rest for about 20 minutes before you start carving the turkey.
Recipe Tips
The most important part of this recipe is to make sure your turkey is completely thawed before you begin roasting. I used an 11 lb turkey for this recipe. If you have a different sized turkey, you will need to adjust the seasoning and cooking time accordingly.
One thing I always do, whether I'm roasting a turkey or a chicken, coats the skin with softened butter. Be sure to tuck the butter under the skin too. Doing this will crisp up the skin for one thing, but it will also make the turkey meat very tender and moist.
You can adjust the herbs used. I've had made great-tasting turkey using Herb's de Provence or Greek seasoning blends as well.
Your cook time will depend upon whether you stuff your bird or not. I never place stuffing in my turkey; sometimes I do place onion quarters or lemon or orange halves inside instead.
FAQs
How long do you roast a turkey?
Roasting a turkey will depend upon the weight of your bird and the temperature used to cook it. On average a turkey takes about 13 minutes per pound to cook at 350 degrees F. We will be cooking our 11-pound bird at 325 degrees F so it takes closer to 15 minutes per pound. Make sure to use a meat thermometer to check on the turkey often starting about 1 hour before it should be finished as turkeys can often reach proper temp long before the estimated time.
What to do if turkey finishes early?
I've had many turkeys over the years that decided they wanted to be finished cooking an hour or more before I needed them to be. Normally you want your turkey to rest for 20 minutes before serving but if your turkey has finished cooking an hour early or you need to transport it, simply tent the entire turkey well in foil, sealing the pan and the turkey inside so it's as airtight as you can. Next, place a large clean bath towel over the top of the foil. This will help to hold the foil down and keep it insulated. Now the turkey will remain warm and lock in the moisture so that it doesn't dry out before serving time.
Why is my turkey dark?
If you notice that the breasts of your turkey are dark and you'd like to prevent them from getting any darker, then take a piece of foil and shape it into a triangle. Place it over the top of the bird to cover the breasts as it finishes baking. the foil will help to prevent the skin from getting darker and it should help to prevent the white meat from drying out as well.
Here are some more great turkey recipes perfect for using up your leftover meat!
Yield: 12
Easy Roast Turkey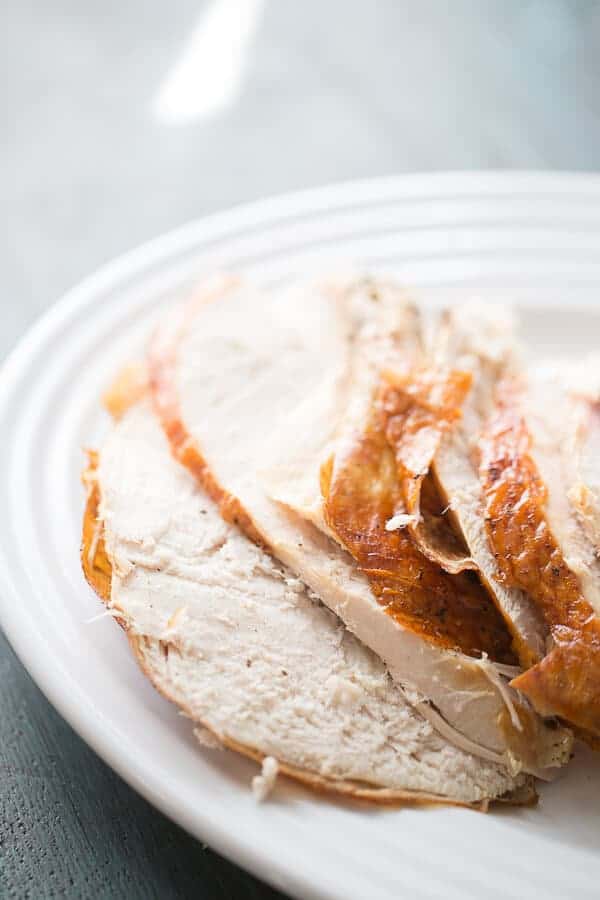 A roast turkey recipe that is simple and delicious!
Total Time
3 hours
10 minutes
Ingredients
1 11 lb whole turkey , thawed
2 tablespoons butter, slightly softened
1 teaspoon dried rosemary
1 teaspoon dried basil
1 teaspoon dried oregano
1 teaspoon dried thyme
1 teaspoon salt
1 32 oz can chicken broth ( I used Simple Truth)
Instructions
Preheat oven to 325 F.
Remove any giblets from the turkey.
Rinse turkey, pat dry, and place on a roasting pan that has been sprayed with nonstick spray. Be sure to place the turkey breast side up.
Rub butter over the turkey and under the skin.
Combine herbs and salt and rub over butter.
Pour chicken broth into the bottom of the pan.
Place turkey in the oven and bake for about 3 hours, basting every 30 minutes.
Nutrition Information
Yield
12
Serving Size
1
Amount Per Serving
Calories

809
Total Fat

33g
Saturated Fat

10g
Trans Fat

1g
Unsaturated Fat

20g
Cholesterol

460mg
Sodium

928mg
Carbohydrates

1g
Fiber

0g
Sugar

0g
Protein

119g