Vegetables, potatoes and leftover turkey make this turkey hash a hearty and satisfying meal! This is an easy dish that works well with leftovers!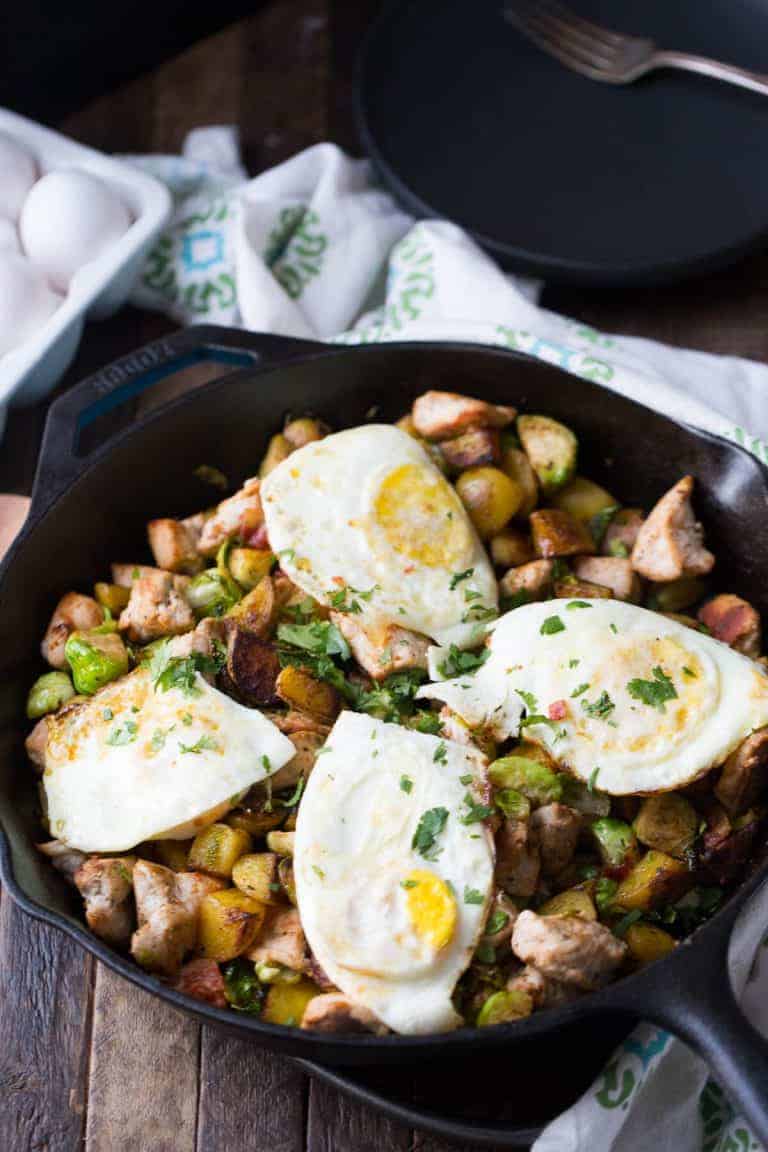 Whenever I have those days where the pantry and fridge look a little bare but I still need to get dinner served; I go to my favorite dish; hash. To me, hash means "throw whatever you have into the skillet". This is such an easy dinner that works well with almost anything you have in the fridge!
I've made a sweet potato hash with salmon and a potato hash with little southwestern flair and now I'm sharing this turkey hash. You are going to love the simplicity of this recipe.
This recipe could be made entirely from scratch or with leftover ingredients. I started this dish off with a little bacon (because everything should start with bacon) . I wanted to use the bacon grease to give flavor to my Brussels sprouts. I used fresh sprouts, I'll talk about how to use leftover vegetables later in this post.
The potatoes will take some time to cook. I found that covering them really helped with the cook process and not stirring them gave them the crispy exterior that I was looking for in my potatoes. Once the potatoes were ready I added back my vegetables and my leftover turkey meat.
In a seperate skillet I cooked up eggs. Since I love a runny yolk with my potatoes I didn't cook my eggs as long. You cook your eggs to your desired degree of doness and then place them over the hash just before serving. There you go; a simple and hearty turkey hash that will add a little breakfast to your dinner!
Turkey Hash With Leftovers:
Reheat leftover turkey to 165°F before serving, and enjoy leftovers within 3-4 days.
If you are using leftover vegetables (creamed vegetables will not work with this recipe), add them AFTER you cook the potatoes. Chances are those vegetables have already been seasoned; you simple need to warm them up before serving. Almost any vegetable will work; green beans, broccoli, cauliflower, cabbage, asparagus, etc.
Believe it or not you could also use leftover mashed potatoes! Warm your vegetables in the bacon grease, add your turkey and spread leftover mashed potatoes over the top. Place skillet (oven proof) under the broiler for just a minute or two. Serve your eggs on the side.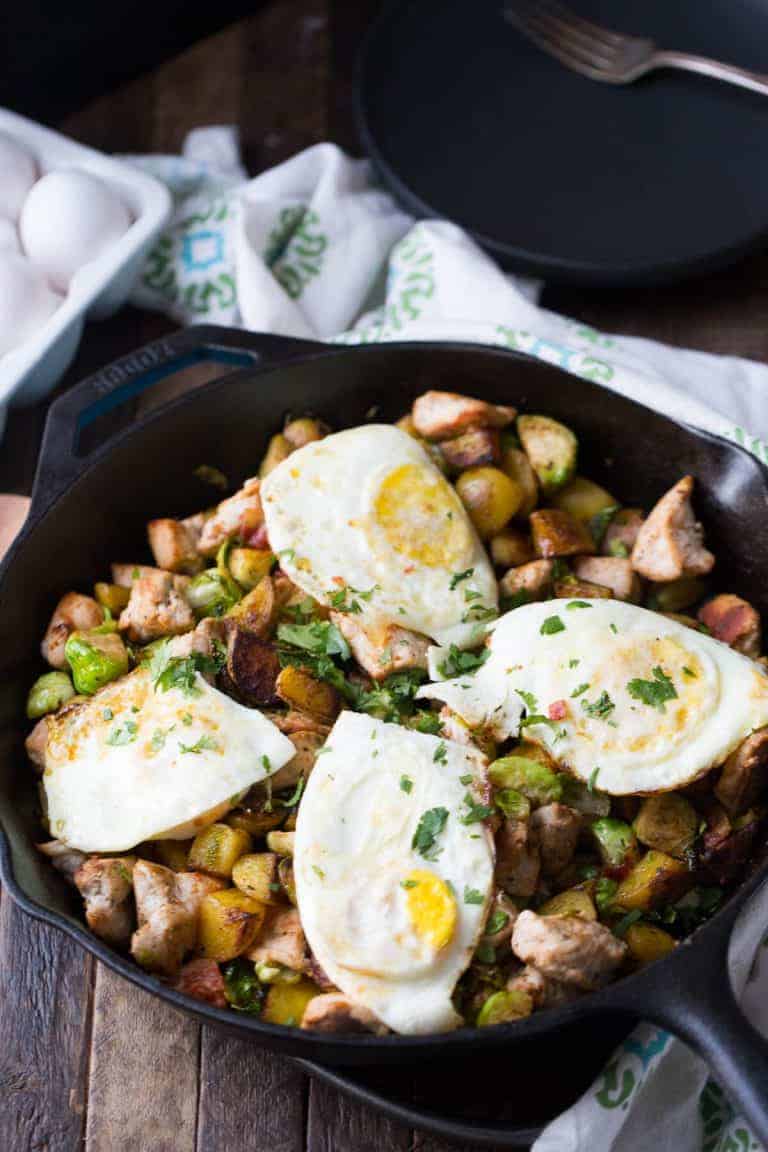 The turkey hash is hearty and filling! It is a great way to use up leftovers!
Total Time
1 hour
5 minutes
Ingredients
3 slices bacon, chopped
1 lb brussels sprouts
2 cloves minced garlic
1 teaspoon dried thyme
1 teaspoon salt, divided
1 teaspoon dried oregano
2 tablespoons of butter
3/4 lbs fingerling potatoes, diced
2 cups leftover or cooked turkey
Salt, pepper
4 eggs
Instructions
In a large, deep skillet cook bacon over medium heat. When bacon is crispy, remove and set aside.
Cut the bottoms off of the Brussels sprouts and cut each one in half. Add the sprouts to the same hot skillet, add thyme, oregano and ½ a teaspoon of salt and cook them just until tender, about 10 minutes. Remove sprouts and set aside.
Add butter to the same skillet. Place potatoes in the hot skillet, sprinkle them with the remaining ½ teaspoon of salt and cook them until browned, about 30 minutes. When potatoes are finished, add sprouts and turkey to the potatoes, reduce heat and stir. Keep warm.a
Heat a skillet over medium heat and spray it with non-stick spray. Add 4 eggs to the skillet and cook the eggs until a desired degree of doneness.
To serve; divide hash between 4 plates and serve with the egg on top
Nutrition Information
Yield
4
Serving Size
1
Amount Per Serving
Calories

411
Total Fat

19g
Saturated Fat

8g
Trans Fat

0g
Unsaturated Fat

10g
Cholesterol

283mg
Sodium

1033mg
Carbohydrates

27g
Fiber

5g
Sugar

3g
Protein

33g
Join me to talk all things turkey at an Ohio Talks Turkey Twitter party on Thursday, Nov. 17, from 9-10 p.m. EST! We'll be chatting about answers to common questions, from buying a turkey to thawing, prepping, cooking and serving. Win everything you need to make a full Thanksgiving feast, including a Turkey Fryer, Oven Roaster, Carving Set and much more!