Every year, after Halloween has passed, it becomes time to start thinking about Thanksgiving recipes for the big feast. It's time to gather your favorite pumpkin pie recipes and your turkey recipes. Maybe it's time to buy some new pair of elastic waist pants, if you know what I mean.
When it comes to sides, everyone has their favorites. My husband always anticipates a big bowl of mashed potatoes, my sisters love all the veggies, I'm a stuffing kind of girl, and my dad only wants the cranberry sauce.
My dad LOVES cranberry sauce. He requests it from whoever is hosting. He doesn't even care if the cranberry sauce is homemade or comes from a can.
If you have a family that loves their sides as much as mine does, then this collection is for you. There is are green bean casseroles, rolls, carrots, sweet potatoes, oh and there's pie!
After looking at this collection of Thanksgiving recipes, I think I'm going to buy TWO pairs of elastic waist pants!
What Is Thanksgiving?
Thanksgiving is an American holiday that originated as a harvest festival that took place over several days in the 1600s. This harvest festival was eventually formalized into a national holiday by Abraham Lincoln in 1963 after the victory of the Union Army at Gettysburg.
When Is Thanksgiving Celebrated?
Thanksgiving is celebrated on Thursday the 25th, on the fourth Thursday of every November. Because Thanksgiving is a national holiday, most workers receive the day off or at least work a partial shift. Many companies also permit their workers to take the following Friday off as well to make Thanksgiving a four-day weekend.
What Are Traditional Thanksgiving Recipes?
The traditional Thanksgiving meal varies from region to region, but there are several dishes that are commonplace at most Thanksgiving tables across America. Here are some of the most iconic Thanksgiving recipes prepared during this holiday meal:
Roast turkey or ham (or both)
Mashed potatoes or potatoes au gratin
Green bean casserole
Creamed corn or corn casserole
Cranberry sauce
Sweet potatoes
Macaroni and cheese
40 Thanksgiving Recipes That Will Bless Your Holiday Buffet
1. Homemade Green Bean Casserole
Green bean casserole like this take from Dinners, Dishes and Desserts is one of those classic Thanksgiving recipes that offers a lighter alternative to the heavy main courses at the feast. Homemade green bean casserole uses high-quality fresh ingredients for an uplifted version of this iconic side dish.
While many versions of this recipe use canned and condensed soup to make them creamy, this version of the casserole uses a roux made of butter, flour, and milk.
2. Frozen Cranberry Salad
Frozen cranberry salad is a Thanksgiving dessert made from cranberries, miniature marshmallows, crushed pineapple, and heavy cream. One of the major advantages of this cranberry salad is that it can be frozen ahead of time and stored until you need it for serving.
While this dish does need to be prepared ahead of time and refrigerated overnight, it can be frozen and then thawed right before the meal. Use this recipe at Let's Dish Recipes to make your own.
3. Pecan Pie Truffles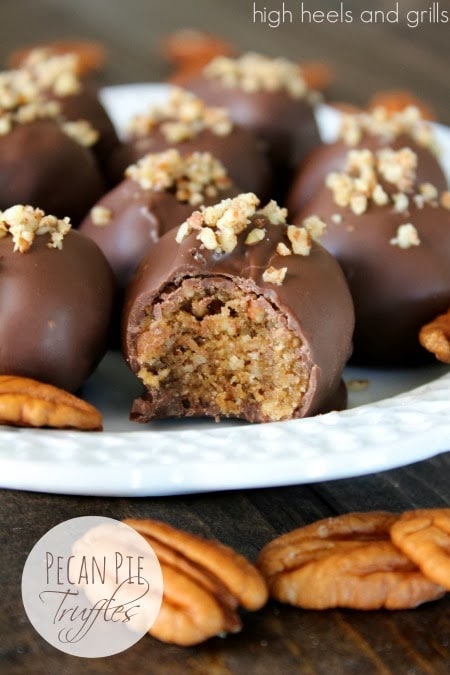 There are plenty of rich and savory dishes served at the Thanksgiving table, so it's nice to have a few things on offer that are sweet to help cut some of the salt and fat. These pecan pie truffles from High Heels and Grills contain all of the flavors of pecan pie filling wrapped up in a delicious chocolate coating. Sprinkle some grated pecan nuts on the top of each truffle while the chocolate is still wet to add a decorative touch.
4. Praline Topped Sweet Potato Casserole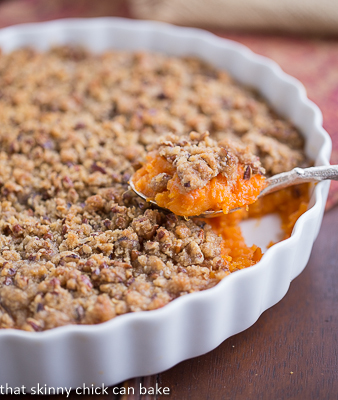 If you like sweet potato casserole at Thanksgiving but aren't a fan of the sweet marshmallow topping that is found on most of these casseroles, then this praline-topped version over at That Skinny Chick Can Bake is a less-sweet variation that has a nutty, crunchy topping instead.
This is one of those Thanksgiving recipes that can potentially convert even sweet potato haters over to liking them. You can also reduce the amount of sugar in the recipe to make it more healthy.
5. Triple Chocolate Pumpkin Cake
For Thanksgiving party-goers who would rather skip the sweet potatoes altogether, this triple chocolate pumpkin cake from A Dash of Sanity puts an autumn spin on a chocolate classic.
A layer of thick chocolate ganache and a sprinkle of chocolate chips add even more decadence to this bundt cake. Even if you're not a huge pumpkin fan, the flavor of the pumpkin is balanced out nicely by all the chocolate and never becomes overpowering.
6. Thanksgiving Recipes Brown Bag Turkey
When it comes to roasting turkeys, most people wouldn't think about doing it in a brown bag. The advantage of roasting a turkey in a brown paper bag as opposed to a plastic roasting bag is that the paper breathes more easily. This allows the turkey to take on a golden brown coloring that it might not get if you roast it in a bag otherwise.
Another advantage of using a bag-roasting method is that the bag helps to keep the turkey moist while it cooks. Learn more about how to brown bag your turkey this Thanksgiving from Ashlee Marie.
7. Loaded Mashed Potatoes
You'd have a hard time finding roast turkey served without mashed potatoes on Thanksgiving in most parts of America and with good reason. These fluffy, starchy clouds are the perfect sidekick for soaking up turkey gravy or serving alongside vegetable sides like carrots and green beans.
You can kick things up a notch by adding in additional flavors such as minced garlic, chives, chopped bacon, cheddar cheese, or a few dollops of sour cream. Make this version from Like Mother Like Daughter for some seriously luxurious spuds.
8. Potato Rolls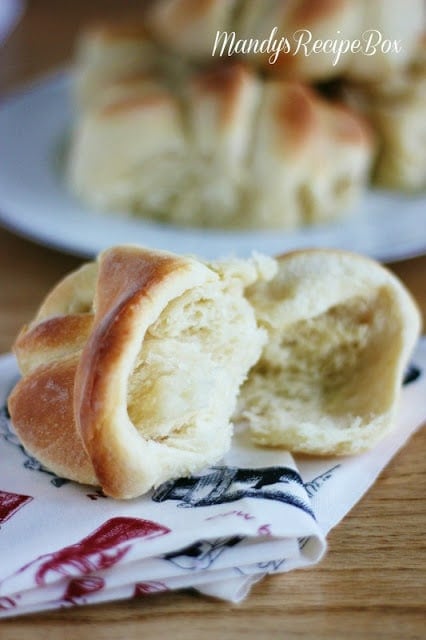 Nothing completes a Thanksgiving recipes feast list like a big pile of warm, fluffy rolls. Potato rolls are a Pennsylvanian Dutch Amish tradition where potatoes are added to a yeast bread mix to create tangy, airy rolls. Replacing part of the wheat flour with potato flour gives this bread a softer, sweeter flavor than many other yeast breads.
These rolls are great as a vehicle for making mini sandwiches out of your roast Thanksgiving turkey the next day, too. Learn how to make some for your Thanksgiving table at Mandy's Recipe Box.
9. Caramel Apple Slab Pie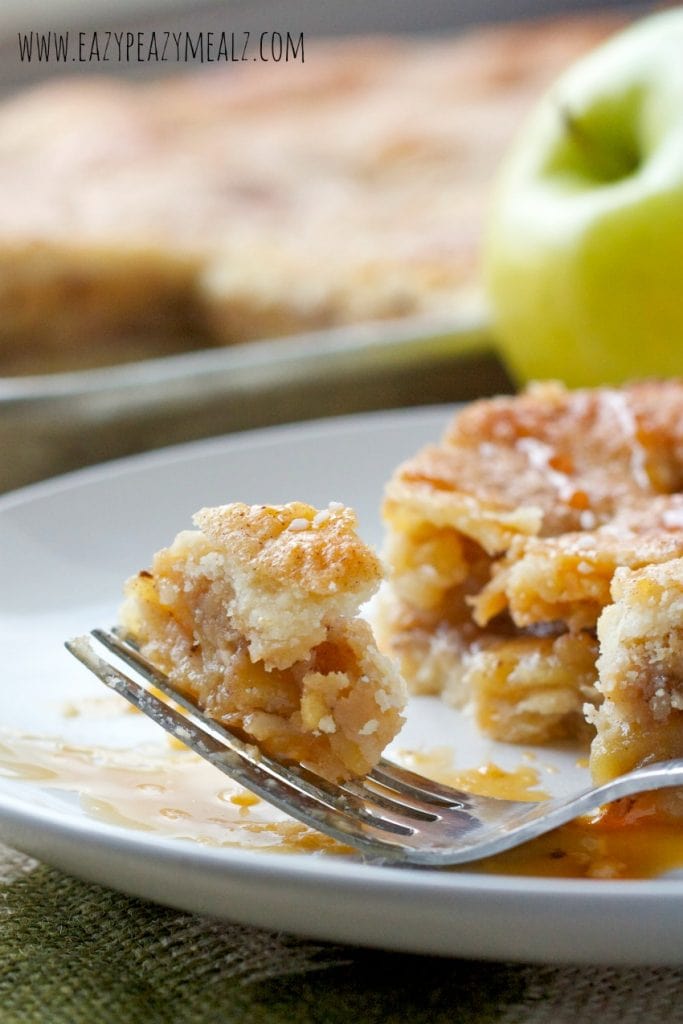 Caramel apples are a popular fall treat, and this caramel apple slab pie over at Eazy Peazy Mealz is a great way to incorporate caramel and apple flavors into your holiday menu. The sweet richness of the caramel apple filling is offset by the flaky, salty, pie crust. The size of this slab pie also makes it a great option for serving dessert to a large gathering.
10. Krissy's Sweet Potato Casserole
Here's another sweet potato casserole from Self Proclaimed Foodie, but this one uses a traditional miniature marshmallow topping to make these potatoes an even sweeter addition to your meal.
If you're worried this casserole might be too sweet, never fear – it also incorporates a layer of crunchy, savory pecans to help add some texture too. This sweet potato casserole is easy to make the night before, so it's a good thing to bring if you need a no-hassle prep for Thanksgiving guests.
11. Sauteed Mushrooms with Garlic and Lemon Pan Sauce
Mushrooms are a great side dish if you want to serve some vegetables at Thanksgiving a little bit different than your average corn and carrots. These mushrooms at Very Culinary are fried in a garlic and lemon pan sauce that soaks into them while they're cooking, making each one a delectable mouthful in its own right. Mushrooms can also add a lot of substance to a vegetarian Thanksgiving spread too.
12. Crockpot Cranberry Cider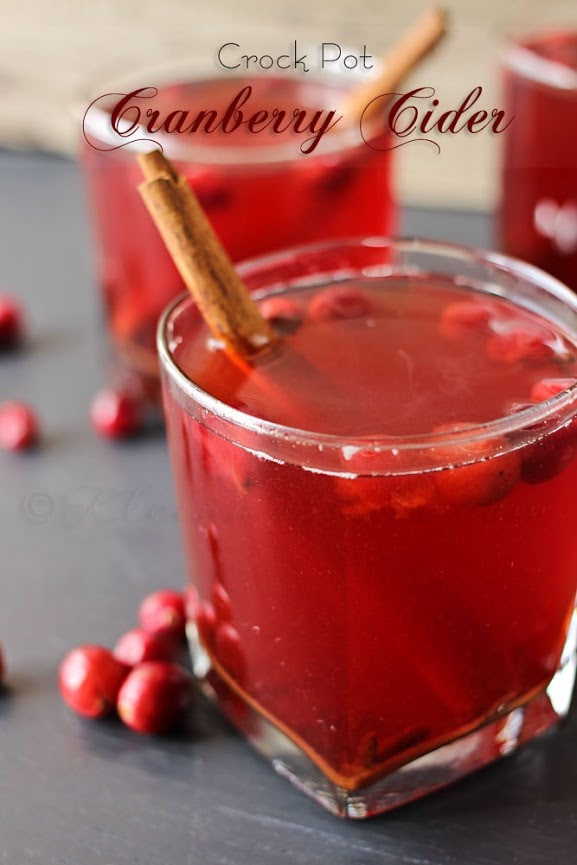 Cider is a traditional beverage to serve with holiday meals. However, this cranberry cider at Klein Worth Co. is a nice alternative for those who want a non-alcoholic punch for their Thanksgiving menu but don't want to go with an apple-based drink. The cranberry flavor in this cider is the perfect complement to turkey and all the trimmings.
13. Individual Apple Pies Thanksgiving Recipes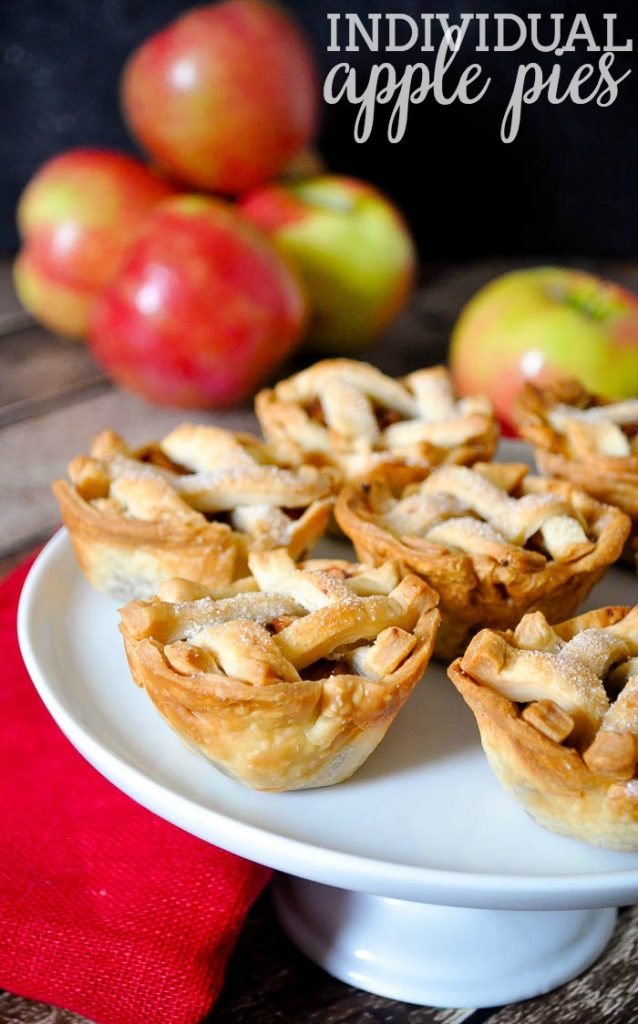 If you'd rather make individual servings of dessert instead of making another casserole dish of food, these miniature apple pies are picture perfect for the Thanksgiving table. Creating single-serving apple pies is easy to do with a cupcake pan and pre-packaged puff pastry.
For those who prefer other fillings than apples, these little individual pies can be recreated with pretty much any fruit. Learn how to make individual apple pies at The Love Nerds.
14. Southern Style Green Beans
Green bean casserole isn't the only Thanksgiving option for this vegetable. You can also serve up some Southern style green beans by braising them with bacon and onions.
This simple preparation will leave you plenty of time to socialize with guests, without sacrificing flavor, when it comes to serving Thanksgiving dinner. Even veggie-hating kids in the dinner party will be convinced with these beans at Love Bakes New Cakes.
15. Snickerdoodle Pumpkin Pie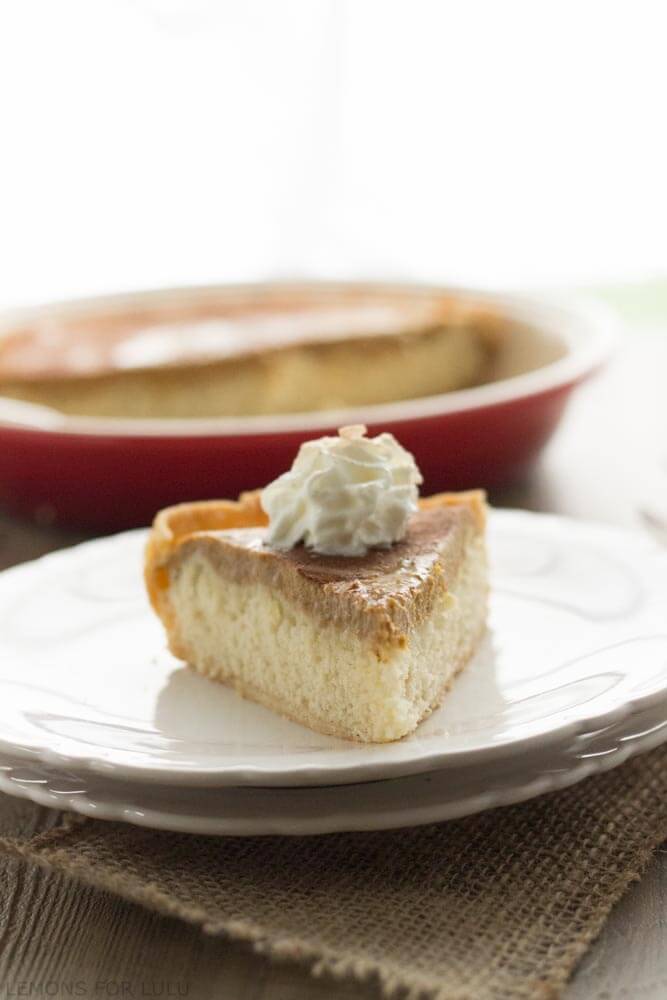 Pumpkin pies are a common sight on the table on Thanksgiving Day, so your pumpkin pie recipe needs a little something special to set it apart at the buffet. A snickerdoodle layer in this custardy pumpkin pie recipe at Lemons for Lulu adds some cinnamon and sugar to the proceedings to help spice things up.
Serve this pie with fresh whipped cream or a la mode with vanilla bean ice cream to put your Thanksgiving dessert on the map.
16. Chocolate Chip Pecan Pie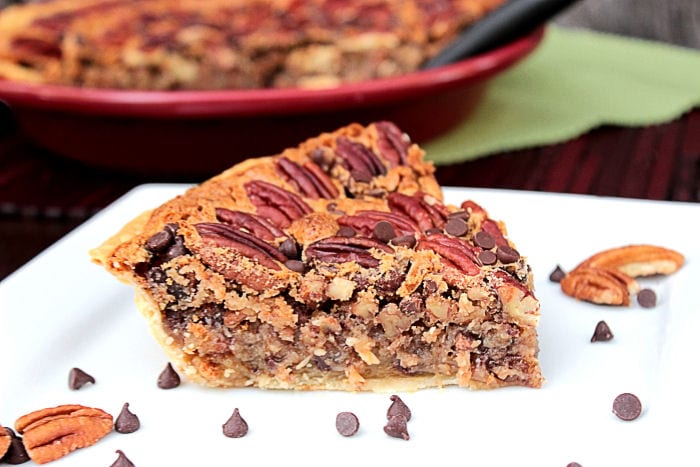 Pumpkin pie isn't the only traditional pie to be served at Thanksgiving. Pecan pies are also a popular choice that is sure to please a crowd. Lay the pecans on the surface of the pie in an evenly-spaced circular design like scales to give the pie a pleasing pattern.
Miniature chocolate chips add sweetness to the nuttiness of the pecans in this recipe from Big Bear's Wife. Pecan pie is an easy mixture of vanilla, butter, flour, and pecans mixed in a pie dough. This pie can be baked in an hour, making it the perfect last-minute addition to your Thanksgiving recipes dessert line-up.
17. Bourbon Maple Glazed Carrots
Carrots are a mainstay at the Thanksgiving table, but if they aren't cooked well they might end up as the neglected side dish. Keep the carrots intriguing by cooking them with unusual flavor combinations, such as bourbon and maple syrup.
The sweetness in whiskey and maple acts as a nice complement to the sweetness in the carrots. Learn how to make your own version of these whiskey-sweet carrots using this recipe at Cooking and Beer.
18. Balsamic Roasted Thanksgiving Recipes Baby Carrots
If you prefer sour flavors to sweet, another good option for flavoring roasted baby carrots for Thanksgiving is balsamic vinegar. This vinegar helps add an acidic brightness to vegetables and meat.
Using baby carrots gives this dish an almost candy-like sweetness, but you can make it more savory and give it an earthy note by going with mature carrots instead. Other than the balsamic vinegar, you don't need much else to season these carrots from Cravings of a Lunatic other than some salt and pepper.
19. Apple Bacon and Cheddar Cheese Stuffing
Along with mashed potatoes, another popular starch recipe served at Thanksgiving is stuffing. There are as many varieties of stuffing as there are recipes for roasting turkey, but this apple, bacon, and cheddar dressed stuffing at Cupcakes and Kale Chips is a great combination of sweet and savory elements.
Even though this stuffing has a lot going on in terms of flavor, no element in it overwhelms any of the others.
20. Herb Roasted Turkey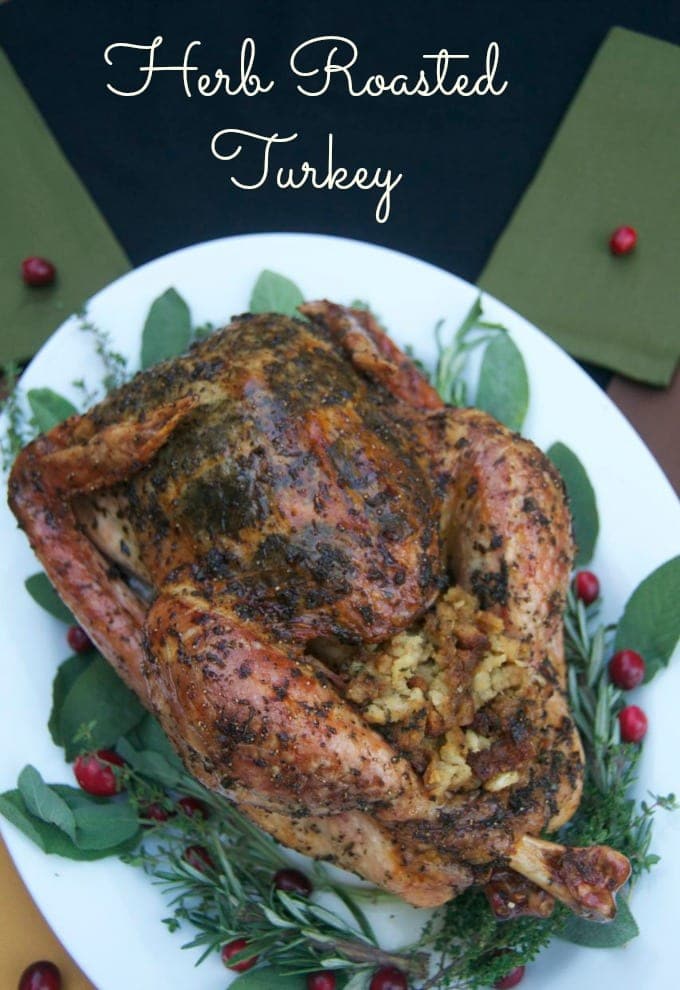 Herbs play an integral part in any roast Thanksgiving turkey recipe worth its salt, and this recipe at 365 Days of Baking and More is no exception. Fresh rosemary, sage, and thyme are the major flavor components in this traditional turkey recipe.
The key to getting a good herbaceous flavor on your turkey in this recipe is to spread the poultice of herbs underneath the turkey's skin. This puts the herbs directly in contact with the meat of the bird.
21. Pomegranate, Pear, Pistachio Salad (with Creamy Pomegranate Dressing)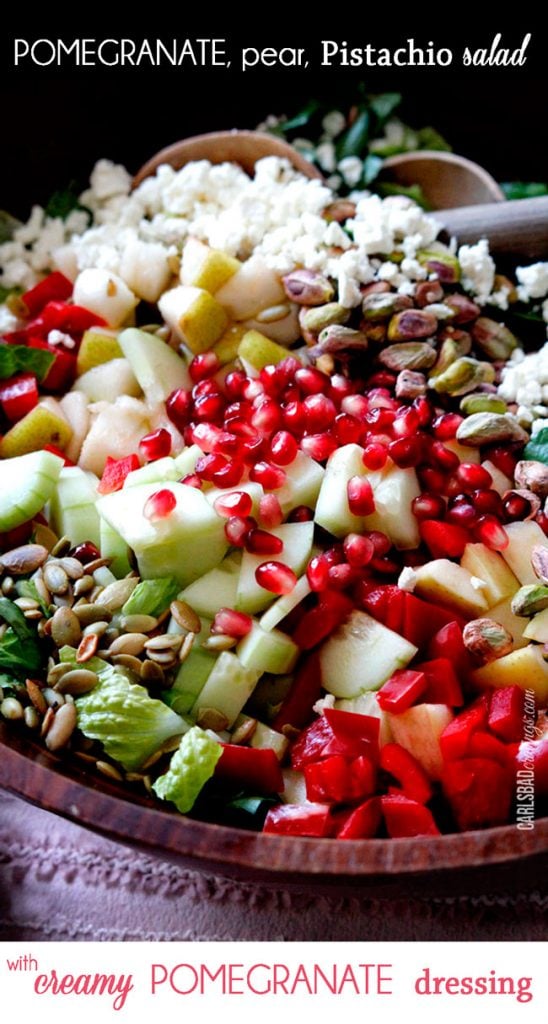 With all the heavy dishes present on the Thanksgiving dinner table, you'll be happy to have some lighter side dishes available. This salad from Carlsbad Cravings mixed with chopped pistachios, sliced pears, and pomegranate seeds adds striking color and texture to your holiday buffet.
Every bite of this salad will give you a mouthful of sweet, crunchy flavor. The salad also incorporates bell peppers, onions, and roasted pumpkin seeds for some savory notes too.
22. Slow Cooker Turkey Breast Thanksgiving Recipes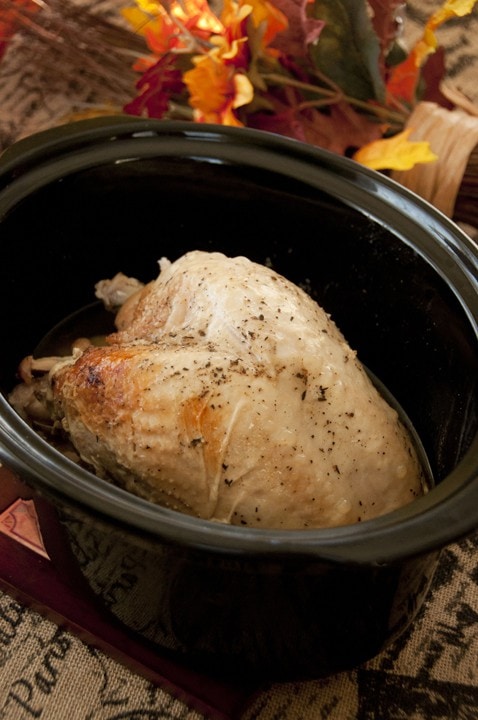 An oven isn't the only way to cook your Thanksgiving turkey. Cooking your turkey in the slow cooker can help keep the bird moist. This cooking method also frees up your oven for side dishes, rolls, and elements of your Thanksgiving feast.
Just put the bird on in the morning and by the time dinner is ready to be served, you'll have a perfectly cooked turkey with plenty of oven space left over to keep everything else warm. Learn how to cook a turkey in the slow cooker at Wishes and Dishes.
23. Crockpot Three Cheese Macaroni and Cheese
The crockpot isn't just good for cooking your Thanksgiving turkey. Try cooking this three cheese crockpot macaroni at Fake Ginger for a no-fuss side dish that every houseguest at your table will be raving over.
A key ingredient in this macaroni and cheese dish is the Gruyere cheese. While this stinky cheese might be intimidating if you've never cooked with it before, its delightful funk becomes much more mellow when paired with cheeses like cheddar and American.
24. Cornbread Sage and Onion Stuffing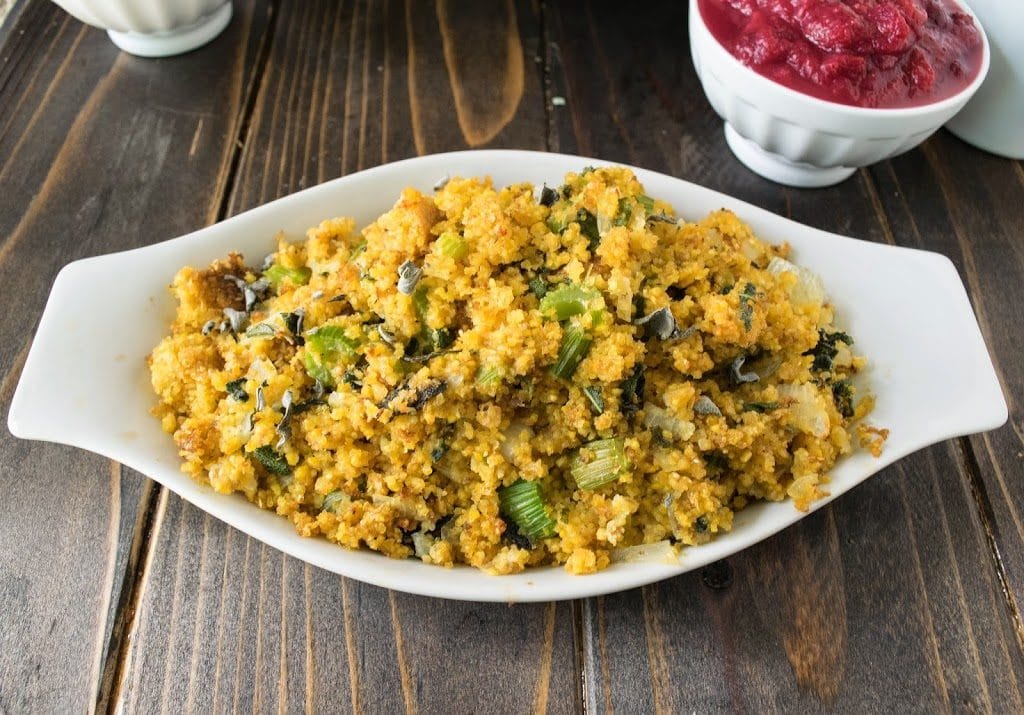 If you're looking for a simple side dish that is beloved by even the pickiest of eaters, cornbread stuffing is the side dish to make. This dense, starchy stuffing is practically made for absorbing turkey juice and gravy. Jump up the savory factor of this stuffing at Culinary Ginger by adding fresh sage, celery, and onions to the mix.
Be sure to use a high-quality chicken stock or make your own from a rotisserie chicken for depth in the flavors of your dish.
25. Cheesy Potatoes Au Gratin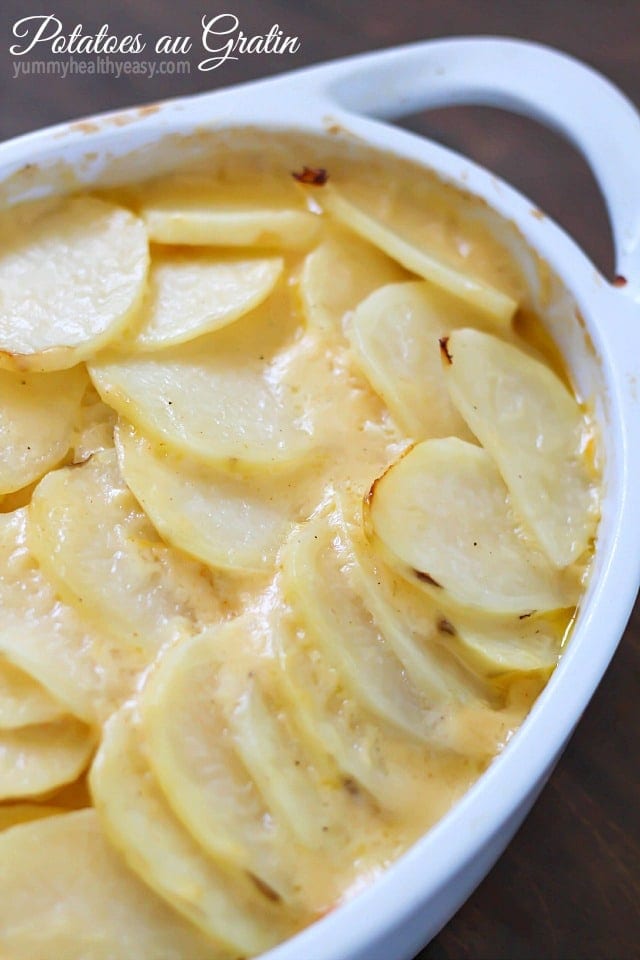 For a slightly different take on the traditional Thanksgiving mashed potatoes, try making this potato au gratin from Yummy Healthy Easy instead. This potato dish involves layering sliced potatoes in a casserole dish along with a white bechamel sauce and cheese.
Use sweet yellow onions to add some texture and additional flavor to your potatoes. Russet potatoes are the best variety for this recipe since they are relatively hard and hold up well to cooking, but potatoes au gratin can be baked with new potatoes too if that's all you have available.
26. Brined Turkey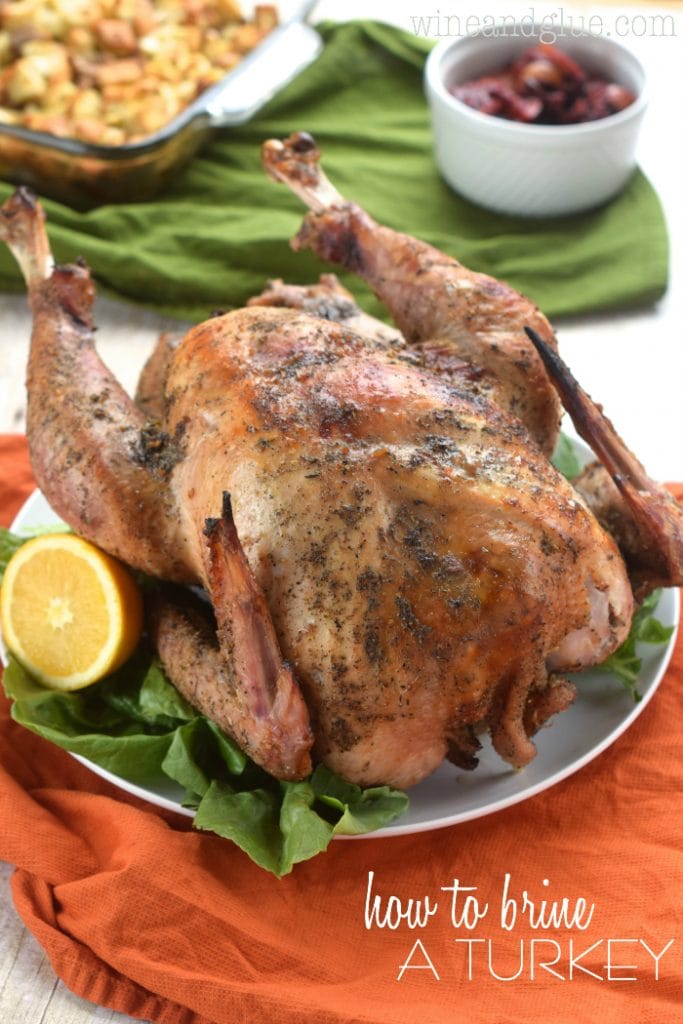 A popular method for roasting Thanksgiving turkeys is to brine them prior to roasting. Brining is the process of soaking the meat in a salt solution with herbs and spices overnight or for several days as the turkey thaws out if it was pre-frozen.
Brining the turkey helps prevent the turkey from losing moisture during cooking and helps you end up with a juicy bird on your Thanksgiving table. Learn how to brine the perfect turkey over at Wine and Glue.
27. Homemade Caramel Apple Pie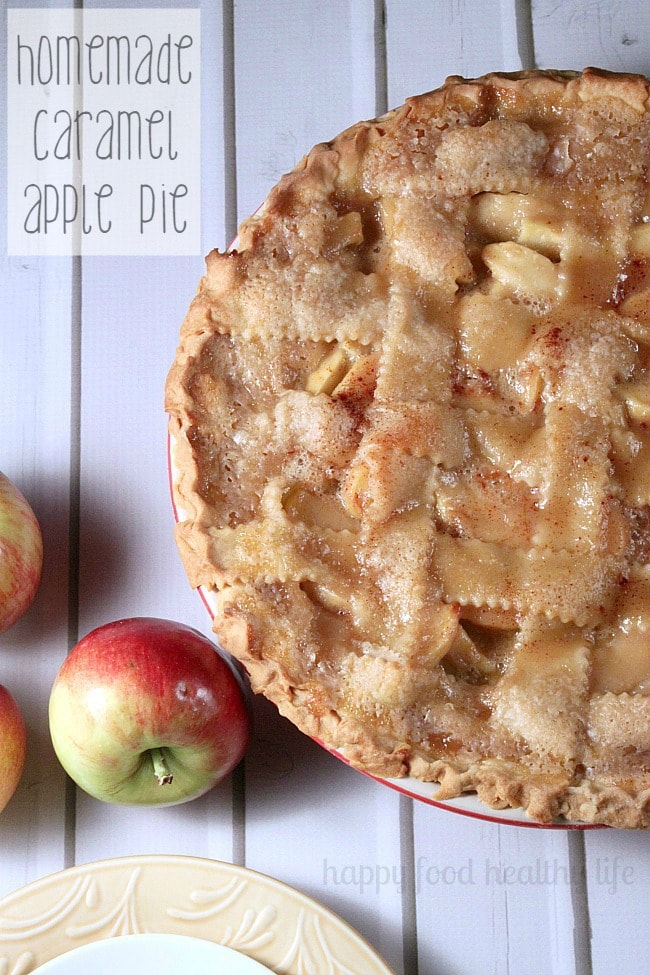 If you'd rather bake a traditional pie for Thanksgiving dinner rather than a slab pie or individual hand pies, this homemade caramel apple pie at Happy Food Healthy Life is one of those iconic Thanksgiving recipes. Containing some of the most classic flavors of the autumn season, this sweet pie is best served with some dairy to cut its sweetness, such as whipped cream or ice cream.
When it comes to Thanksgiving pies, everyone at the table can tell which pies were homemade and which got picked up at the bakery. Choose your dish wisely!
28. Perfect Smoked Turkey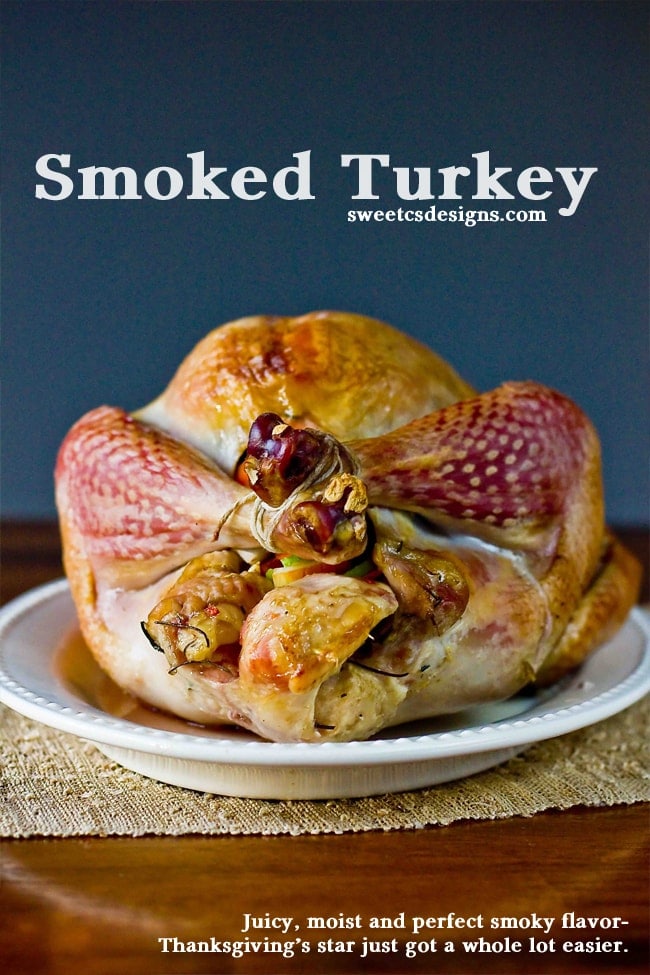 Looking for something a little different for your Thanksgiving turkey? Try smoking the turkey instead of roasting it to keep the bird moist and give it a unique smoky flavor.
This recipe from Sweet C's also incorporates brining to help give you the juiciest turkey possible. Using a smoker grill to cook the turkey is a foolproof way to get a perfect Thanksgiving turkey without having to take up the oven all day to do it.
29. Cranberry Walnut Bread
If you make your way through an entire Thanksgiving buffet, you might not have much room left over for dessert. Thankfully, this cranberry walnut bread from Domestic Superhero makes for a nice sweet nibble to savor over coffee when the main dishes are cleared away.
The sweet, tart cranberries are a great combination with the crunchy nuts, and you can eat a few slices of this light bread without feeling like you need a nap.
30. Thanksgiving Punch
When it comes to Thanksgiving dinner, food isn't the only element of the meal you'll need to keep track of. Serving a punch can be a good way to keep your beverages in theme with the holiday meal while incorporating the flavors of fall such as apples, cinnamon, pumpkin pie spice, and caramel syrup.
Serve this punch in disposable solo cups to cut down on the post-meal dishes. These cups are also easy to label for large groups so guests don't get their drinks mixed up. Try this Thanksgiving punch from I Heart Naptime and you'll be happy you did.
31. Roasted Mushrooms in Brown Butter
Here's another good mushroom side dish on this list of Thanksgiving recipes that you'll want to add to the menu. This dish gets the bulk of its flavor from browned butter, and the roasted mushrooms act like delicious sponges to soak it all up in the roasting pan.
Try roasting some of these mushrooms ahead of time and adding them to your turkey stuffing for an extra punch of flavor. Get the recipe over at Closet Cooking for a foolproof recipe every mushroom lover at your Thanksgiving table will adore.
32. Brown Sugar Kielbasa
Turkey and ham aren't the only proteins you can serve at the Thanksgiving buffet. This brown sugar kielbasa only has two ingredients (sausage and brown sugar) and can simmer away in the crockpot all day while you work on other dishes for your holiday meal.
This is a good way to make up a huge batch of Thanksgiving appetizers to keep people's mouths occupied while you get the rest of the offerings on the table. Check out how to make them yourself at Organic Glory.
33. Crockpot Creamed Corn
Speaking of easy Thanksgiving crockpot dishes, here's another side dish to consider from Julie's Eats and Treats – creamed corn! It can be hard for home cooks to find enough oven and stovetop space to get all the Thanksgiving dishes cooked at the same time.
Cooking dishes in a crockpot (or several) can help free up oven space and keep dishes warm until they can be served.
34. Cream Cheese Wrapped Olives
Chances are if you're cooking Thanksgiving dinner with guests around, you'll have hungry people poking around the kitchen long before the main meal is ready. Help fend them off with these cream cheese wrapped olives at Bunny's Warm Oven.
These appetizers will help tide everyone over until it's time to carve the turkey. Another advantage of cream cheese wrapped olives is that these appetizers can be prepared ahead of time and refrigerated.
35. Cucumber Bites
Here's another light appetizer to help keep your houseguests full until dinner is ready. These cucumber bites over at Valya's Taste of Home are topped with seasoned cream cheese and tomatoes for an eye-catching green, red, and white platter that will help add color to your Thanksgiving table.
These appetizers are also served cold rather than warm, which helps add some variety to your table offerings too.
36. Praline Upside Down Pumpkin Cake
Pumpkin desserts are no stranger to the Thanksgiving recipes list, but this praline upside down cake at The Speckled Palate is a little bit different than the pumpkin pies you'll usually see show in the line-up.
This cake has a light, fluffy texture with plenty of pumpkin flavor, but the real star of the show is the caramel drizzle over the top. This cake also gets plenty of richness from bourbon whiskey, brown sugar, and browned butter.
37. Creamed Spinach Gratin
When it comes to the Thanksgiving menu, you need to try to sneak in as many vegetables as you can get. Otherwise, you might find yourself shopping for pants with a bigger waistline on Black Friday.
Creamed spinach is a popular dish with people who aren't huge fans of vegetables. Dressing the greens up with cream, milk, onions, and nutmeg can make converts out of even the most dedicated spinach haters. Get the recipe over at Ezra Poundcake.
38. Bacon Wrapped Tater Tot Bombs
Mashed potatoes and potatoes au gratin are two traditional methods for preparing Thanksgiving potatoes as a side dish, but these aren't the only ways you can fix up potatoes to go with your turkey. These bacon wrapped tater tot bombs from Damn Delicious can be served as either a side dish or as an appetizer to help keep people full until supper is ready.
39. Loaded Potato Casserole
When recipes use the term "loaded" with potatoes, it usually indicates a potato dish where the potatoes have been amended with cheese, bacon, sour cream, butter, and other condiments that are usually placed on a loaded baked potato.
This recipe can be frozen and served at a later date, but good luck saving any for seconds! Make your own loaded potato casserole using this recipe at Gal on a Mission.
40. Oven Roasted Brussels Sprouts with Bacon
Brussels sprouts are a vegetable with a checkered reputation due to their strong fragrance and cabbage-like taste. However, oven roasting Brussels sprouts with bacon is one of the best ways to serve this healthy dish.
Roasting the Brussels sprouts makes them tender but not mushy. The key to good roasted Brussels sprouts is to cook them at a high temperature so that they caramelize and turn golden brown on the outermost layer. Try out the recipe for yourself at A Family Feast.
Thanksgiving FAQ
How Many People Were At the First Thanksgiving?
The first Thanksgiving at Plymouth was attended by fifty-three English colonists and ninety Wampanoag Indians. Almost everything the modern world knows about the first Thanksgiving was compiled by a single eyewitness report through the founder of Plymouth Colony, Edward Winslow. Winslow and his wife were two of the people hosting the first Thanksgiving feast.
Where Did the First Thanksgiving Take Place?
The first Thanksgiving took place at Plymouth Colony, and it actually wasn't a single day of celebration. In fact, the first Thanksgiving was a harvest festival that lasted over three days in 1621, between late September and mid-November.
When Preparing Your Thanksgiving Recipes, How Big Should Your Turkey Be?
The size of your ideal Thanksgiving turkey depends on the number of people attending your Thanksgiving dinner. It's also important to keep the following factors in mind as well:
How long the turkey will take to thaw
How large your oven is
How much space you have in your refrigerator
Keep in mind that whatever size of turkey you buy, you'll need to buy one small enough to fit both in your oven and your fridge since the turkey will need several days to thaw in the refrigerator if you purchase it frozen.
The USDA recommends that you purchase at least one pound of turkey for every guest at your table to ensure there's enough to go around.
What Is the Best Thanksgiving Recipes Alternative to Turkey for the Main Feast?
For those who don't like turkey or don't want to serve poultry at their Thanksgiving dinner, there are plenty of other options for main dishes that you can serve instead.
In fact, at the first Thanksgiving, you wouldn't have seen any roast turkey or ham at all. Instead, here are some alternative proteins you might consider for an authentic Thanksgiving feast:
Venison
Wild ducks and geese
Bass, cod, and other fish
While these main courses aren't found as commonly as turkey or ham on most holiday tables, going with one of the options above will give you a sampling of what Thanksgiving recipes the first American colonists might have tasted at their holiday.
Why Does Thanksgiving Turkey Make You Sleepy?
Thanksgiving turkey has a reputation for making guests sleepy soon after eating it, but what is the cause of this phenomenon? The answer is an amino acid that is abundant in turkey meat called L-tryptophan. This amino acid is a precursor to melatonin, a chemical used by the body to induce drowsiness.
How Do You Store a Thanksgiving Turkey?
A turkey can be stored for one to two days in the fridge, a few days longer if it's frozen when it goes in. It's important that the turkey be completely thawed before it's cooked, otherwise, your cooking times may be thrown off and the center of the turkey may still be raw while the outside is already done.
Thanksgiving is one of the biggest food lovers' holidays on the calendar. So it's smart to prepare and put together some of the best Thanksgiving recipes you can find ahead of time. That way. you'll end up with a Thanksgiving menu that is worth every compliment!