Pumpkin is autumn's darling! It is the most versatile canned good and is great for both sweet and savory dishes. Pumpkin recipes are popular in the fall, but perfect for any event all year long!
Ready to make some delicious dishes that will keep your guests guessing how you did it? Read on to learn more about pumpkin recipes and how to make them.
What Are Some of the Most Popular Pumpkin Recipes?
First and foremost, if you are new to the creating pumpkin recipes world, you may be wondering what all can be made out of pumpkin. The truth is, the sky is the limit! You can make almost anything pumpkin flavored.
Pumpkin is great for appetizers, main courses, and desserts. You can make pumpkin savory, or sweet, or even salty! Below are some of the items you can make out of pumpkin.
Pumpkin Soup
Pumpkin Bread
Mashed Pumpkin
Pumpkin Pie
Pumpkin Bars
Pumpkin Cookies
Pumpkin Cake
Pumpkin Chips
Pumpkin Cocktails
Pumpkin Puree
Pumpkin Waffles
Pumpkin Lattes
Pumpkin Lasagna
Pumpkin Butter
This isn't even it! There are so many things you can make with pumpkin, and don't be afraid to get creative and try something new. You never know when you might discover your new favorite pumpkin flavored item.
What is the Best Way to Eat Pumpkin?
The best way to eat pumpkin will generally depend on your personal tastes. For those that want as much nutritional value as possible from pumpkin, it's best to go with roasted pumpkin or pumpkin mash—as these two items don't contain tons of extra sugar or ingredients.
But when you have a sweet tooth that you are dying to satiate, you'll be better off indulging in some pumpkin pie or perhaps some pumpkin cookies. And for lovers of sipping warm drinks in the cool season, a pumpkin latte is a must.
What Are Three Ways the Vegetable Can Be Used in Pumpkin Recipes?
Using a pumpkin in cooking goes far beyond just buying a can of the stuff and tossing it into a recipe. Rather, it is a complicated process that starts with deciding which part and aspect of a pumpkin you will use to achieve the best taste.
1. Use Fresh Flesh For Cooking Pumpkin Recipes
Fresh pumpkin is always best. And pumpkins are so cheap! Skip the canned stuff and instead pick up a fresh pumpkin next time you are at the store. The flesh can be used to create all sorts of delicious pumpkin recipes from pumpkin soup, to mashed pumpkin, and of course, everyone's favorite pumpkin pie!
2. Save the Seeds for Other Pumpkin Recipes
Not looking to cook with fresh pumpkin this season but have kids looking forward to carving some Jack O Lanterns? Instead of tossing them, save the seeds. They can be used in several different recipes, most notably everyone's favorite, pumpkin seeds.
3. Recycle Old Pumpkin
Have a Jack O Lantern wilting on your front porch? Don't throw it out! Instead, chop it up and place it where animals such as deer and birds can snack on it. The flesh is a healthy snack for them. Just be sure you chop up the pumpkin so they can't get their head trapped inside.
How to Puree to Prepare for Pumpkin Recipes
Ready to use pumpkins to make all kinds of delicious creations? You'll notice that many of the following pumpkin recipes require the vegetable to be pureed, and if this is your first time cooking with pumpkin, you may be wondering how to create a pumpkin puree.
The good news is, it's actually quite simple. Just follow the below steps to create your very own puree before taking on one of the pumpkin recipes on this list!
Step 1: Cut your pumpkin in half and scoop out all the seeds. Set these aside or toss them in the trash if no one in your household likes to consume them.
Step 2: Once the pumpkin is free of seeds and pulp, peel off the skin from the pumpkin and chop up what remains.
Step 3: Place the chopped pieces in a food processor. Be careful not to overload the food processor. It is recommended only to put a few pieces in at a time. (For those without a food processor, a blender will work too).
Step 4: Blend or pulse the pumpkin until the mixture is smooth. Sometimes the pumpkin may be too dry to create a good puree. When this happens, simply add a few tablespoons of water to up the moisture content.
On the other hand, if your pumpkin moisture is really watery, you will want to strain it using a cheesecloth to remove excess moisture.
Step 5: Continue the process until the entire pumpkin is pureed. You can freeze any leftover for up to 3 months.
Now that you know all about the best ways to eat pumpkin, what you can make, and how to make a fresh pumpkin puree to use in recipes, it's time to start cooking! Make sure you've got your shopping list nearby because these upcoming pumpkin recipes are a must try!
The Best Pumpkin Recipes That You HAVE to Try ASAP!
1. Pumpkin Roll Poke Cake
Love a good pumpkin roll but don't want to put in the time it takes to make one? This Pumpkin Roll Poke Cake is just the solution you are looking for! This easy to bake cake takes everything you love about pumpkin rolls and turns it into a quick to assemble cake.
In fact, you can go from the raw ingredients to an amazing dessert in just 1.5 hours. How is that for a quick yet gourmet dessert?
2. Creamy No-Bake Pumpkin Pie
This creamy No-Bake Pumpkin Pie recipe is no ordinary Thanksgiving pie! It is light and fluffy with the creamiest pumpkin filling.
When you are ready to break with tradition, and the hassle of having to bake a pie when you need the oven for other things, then give this recipe a try! We guarantee your family will love it!
3. Fluffy Pumpkin Pancakes
Many people think that pumpkin can only be used for desserts, but this couldn't be further from the truth. Start your day off right with these Fluffy Pumpkin Pancakes that puff perfectly as they cook and they are soft and only slightly sweet. Top these pancakes however you like, but we recommend some chocolate chips and whip cream, then dig in!
4. Pumpkin Risotto
While we are on the subject of pumpkins being used for dishes other than dessert, this easy Pumpkin Risotto will convince you that pumpkin is just as good in savory dishes! This risotto tastes luxurious and creamy and only takes a mere 25 minutes to cook.
The recipe also contains instructions for adding sausage, but this isn't required when you are just looking for a simple but unique fall side dish!
5. Loaf of Snickerdoodle Pumpkin Bread
Love sweets? Then you will simply fall in love with this soft and tender Pumpkin Bread that has a ribbon of cinnamon running through the center and is coated in a crumbly cinnamon topping.
This pumpkin bread recipe is a family favorite and is perfect for breakfast, dessert, or as a snack. It never disappoints! Not to mention, you are absolutely going to love the aroma that fills your house while it is baking.
6. Pumpkin Black Bean Chili
Sometimes, all you need on a cold fall day is something to stick to your bones. That is when you should pull out this Pumpkin and Black Bean Chili recipe.
This easy chili is filled with black beans, Italian sausage, spices, and the ingredient of the hour, pumpkin! This filling black bean chili is just what you need when you need a little warming and your family will definitely ask you to make this dish more often.
7. Boozy Pumpkin Pie Milkshakes
Looking for that perfect dessert for an adult dinner party? Look no further than this Boozy Pumpkin Pie Milkshake that will be sure to wow all of your friends.
This milkshake has all the flavor of pumpkin pie with a hint of booze. This is one of those pumpkin recipes that makes the perfect excuse to pull out that pumpkin puree you took the time to freeze.
8. Pumpkin Spice Hot Chocolate
As great as the above recipe is, it definitely isn't suitable for family night. So when you've got the family coming for a visit, pull out this recipe for Pumpkin Spice Hot Chocolate instead.
This simple hot chocolate recipe is silky, smooth, and full of spice. It's the best way to keep the chill of fall at bay and keep small mouths happy!
9. Spicy Pumpkin Pasta
Ready to up your pumpkin game? Try this Spicy Pumpkin Pasta which is a simple pasta dish that is creamy, sweet, and spicy all at the same time!
Plus, it only takes 30 minutes to put together, making it the perfect dish to toss together after a busy day at the office. Just be sure to watch the amount of chipotle pepper you add if someone in your house is spice adverse.
10. Pumpkin Pie Spice Candied Almonds
For the true pumpkin obsessed, you'll be itching for something to snack on between your pumpkin filled meals. That's when you should check out this recipe for Pumpkin Pie Spice Candied Almonds. They are quick and easy to make, and you can make them in bulk for you can be snacking on what is sure to be your favorite pumpkin snack all week long.
11. Pumpkin Toffee Cookies
We mentioned earlier that pumpkin cookies are an excellent dessert to keep your sweet tooth satisfied during the holiday season, and this recipe for Pumpkin Toffee Cookies won't disappoint! And the best part is, the recipe makes four dozen so you will definitely have leftovers to pack and share with friends. Be aware, however, that if you really love these, you may not want to share!
12. Pumpkin Chocolate Cake
Are you a chocolate lover? It's okay, we won't tell pumpkin! Rather than having to choose between the two, follow this recipe to make a Pumpkin Chocolate Cake that will keep chocolate lovers and pumpkin lovers alike satisfied!
While the recipe is easy, it does take almost three hours to prepare, so make sure you set aside an entire afternoon to concoct this delectable dessert.
13. Turkey Melt With Pumpkin Mayo
You didn't know it, but what your lunch has been missing is this Turkey Melt with Pumpkin Mayo! Not only will it get you into the season, but it will keep your belly full so you can get plenty accomplished with your afternoon. Just be careful bringing this into the office, because your coworkers might get a bit jealous.
14. Pumpkin Chia Seed Pudding
Chia seeds are all the rage these days, especially because they have so many benefits for your health. Make this awesome Pumpkin Chia Seed Pudding recipe to enjoy your chia seeds in a tasty and unique way. Additionally, it only takes 20 minutes to make, thus this recipe can be served as dessert, or as a special after-school snack!
15. Skinny Pumpkin Spice Latte
No list of pumpkin recipes would be complete without the instructions for making a Pumpkin Spice Latte! With this recipe, in particular, you don't even have to worry about indulging, as it is made with almond milk, and maple syrup instead of sugar to keep the calories down.
Feeling tired? Add two shots of espresso rather than one to create a pumpkin drink that will keep you going all day long.
16. Salted Caramel Pumpkin Pie
Occasionally, it can be better to edit tradition a bit rather than shock your family with something completely new. So when your family just isn't feeling the no-bake pumpkin pie listed above, pull out this Salted Caramel Pumpkin Pie.
While it is similar to the original recipe, it's got enough added pizazz to keep your family on their toes without turning their world completely upside-down.
17. Pumpkin Panna Cotta
Panna Cotta is an easy to make, not to mention favorite, dessert that originally comes from Italian origins. Because Panna Cotta has a very mild flavor, adding pumpkin puree to make Pumpkin Panna Cotta is a simple way to spice up a traditional recipe.
This recipe isn't for everyone, however, as it does take 5 hours to make, and is basically just sugar, gelatin powder, and pumpkin—so not great for those looking to watch their sugar intake!
18. Pumpkin Spice Syrup
Ready to put pumpkin spice on everything that requires syrup? You can do this with ease when you make this Pumpkin Spice Syrup.
The recipe is simple with only a few ingredients, making this is the perfect opportunity to make a gift that people will definitely use! Plus, as a bonus, it only takes about ten minutes to make, so you can finish all your Christmas gift shopping in just a few minutes!
19. Roasted Pumpkin Hummus
This recipe for Roasted Pumpkin Hummus is the perfect dish to make when looking for a snack to serve before Thanksgiving Dinner. All you have to do is roast some pumpkin and garlic cloves, then mix these with the regular hummus ingredients in a food processor.
Add a little salt and voila, pumpkin hummus is served! Pair with crackers, bread, or pita for best results.
20. Coconut Cream Pumpkin Roll
Pumpkin rolls have long been a favorite dessert when the fall season rolls around each year. But they can be a bit complicated to make.
Follow this recipe for a Coconut Cream Pumpkin Roll that walks you through the entire process step by step. Don't panic if you make a mistake, this cake will taste great even if it looks like a mess!
21. Butterscotch Pumpkin Dump Cake
Choosing between serving cake or pie can be the biggest decision of your holiday season. Make it easier on yourself and choose to make this Butterscotch Pumpkin Dump Cake instead. A nice mix between pie and cake, this dessert is sure to fulfill everyone's sweet tooth and have them asking for the recipe at the end of the night!
22. Pumpkin Recipes Chocolate Chip Cookies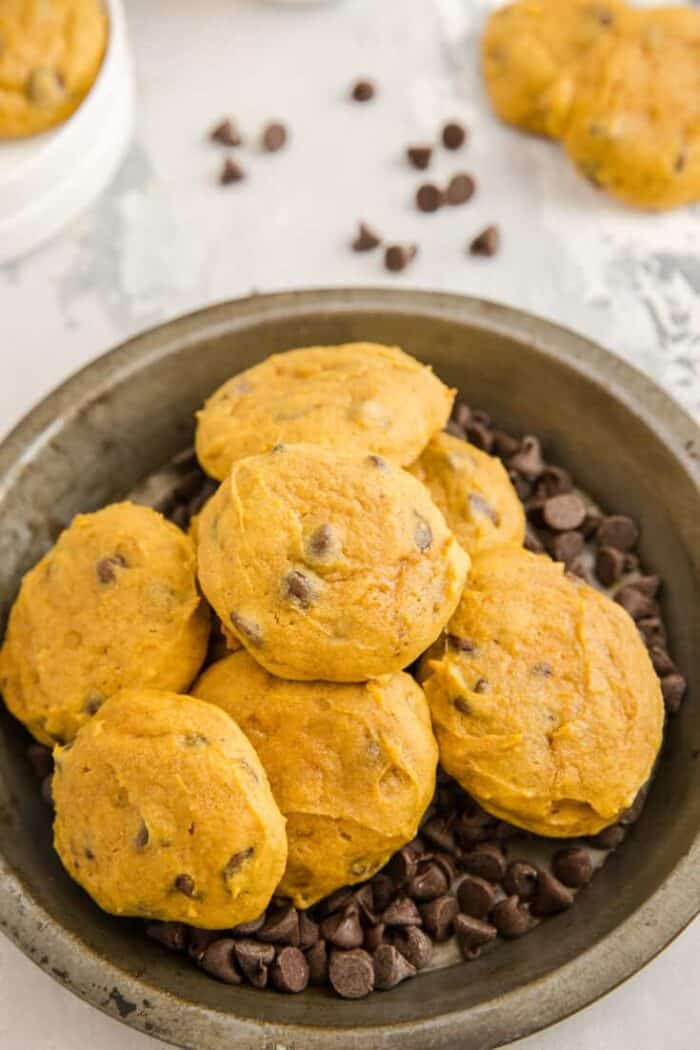 There's no doubt about it, pumpkin and chocolate just go together. After all, who doesn't like pumpkin, and/or chocolate?
Be sure to add this recipe for Pumpkin Chocolate Chip Cookies to your holiday bake list both as a treat for yourself and the neighbors. You should consider making extras however because these are so good you will probably find it hard to give them away!
23. Pumpkin Fritters
Fritters are the perfect creation. You can make them out of almost anything, and they are easy to pop a few in your mouth on the go!
For a fun fall breakfast, cook these Pumpkin Fritters which will come out very similar to donut holes. For those without frying experience, this is a great way to practice with a recipe that is hard to mess up.
24. Pumpkin Recipes Crumb Cake
Baking is a favorite activity of the fall season, and your list this year wouldn't be complete without this recipe for Pumpkin Crumb Cake. It's simple to make, but requires lots of baking ingredients—which you are likely purchasing for your holiday baking anyway!
Make sure you enjoy this dish on a plate with a fork though, because it certainly lives up to its name and leaves lots of crumbs!
25. Nutella Swirled Pumpkin Bars
Need something else to put on the plate of cookies you are giving to the neighbors? Bake these amazing Nutella Swirled Pumpkin Bars that are easy to eat, and simple to add to a plate of cookies. You'll need some simple ingredients to get started, but these only take 25 minutes to cook, making them the perfect last minute holiday dessert!
Pumpkin Recipes FAQ:
What Can You Do With Too Much Pumpkin?
Have too much pumpkin this holiday season? Don't toss it out! Instead, puree it to make a pumpkin syrup you can use all year long. It's perfect for beverages and baking!
Are Pumpkin Recipes Bad For You?
Many people curb their pumpkin habit because they are afraid it is bad for them. The truth is, while too much pumpkin can cause some mild stomach upset, pumpkin in moderation is part of a healthy and balanced diet.
Can You Eat Pumpkin Raw?
Although you may find it unpleasant, pumpkin most certainly can be eaten raw—you may discover that you don't like the consistency, however.
Are Canned Pumpkin Recipes Healthy?
While canned pumpkin isn't unhealthy, it certainly can't hold a candle to fresh pumpkin. This is because fruits and vegetables lose quite a few of their nutrients during the canning process.
Do Pumpkin Recipes Have a Lot of Sugar?
Pumpkins do unfortunately rate quite high on the glycemic index with a rating of 75. But luckily, it has a low glycemic load of 3, meaning it is generally safe for most diabetics. Be sure to consult with a doctor if you have any questions about whether or not you should consume pumpkin.
Can You Freeze the Vegetable for Pumpkin Recipes?
Yes! It is best to freeze raw pumpkin, and then the frozen product should be consumed within three months for the best taste.
Is Pumpkin Skin Poisonous?
No, the skin of a pumpkin is edible, however, it is quite tough so most people will find that it is not pleasurable for them to consume.
Ready, Set, Pumpkin Recipes Bake!
Did you make it to the end of this pumpkin recipes list? Or did you have to stop and cook one of these amazing dishes in the middle? Not to worry, we don't judge!
There is just something special about the flavor of pumpkin when it comes to the pumpkin season. Either way, better head to the store and stock up on pumpkins, because you've got some cooking to do! Bon Appetite!