Soft Pumpkin bars with a thick swirl of rich Nutella!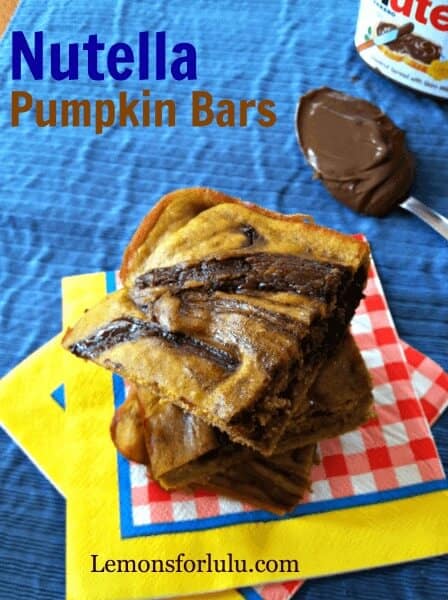 My 7 year old son asked for pumpkin pie recently.  He claims he loves pumpkin pie, although I'm not really sure he's ever had it.  Being the loving mom that I am agreed to make something with pumpkin, but not pie.  I do not like pumpkin pie.  I think it's too one dimensional or something.  Kind of bland, just not the kind of dessert that jumps up and grabs me.  But I do love pumpkin.  I sort of compromised and made pumpkin bars with Nutella swirled in!  After all, I'm going to be eating this too!  May as well make something I'd like to eat!!!
I may have  to cut back on my pumpkin bar consumption.  I bought a bikini.  Well at least a bikini top and a new flouncey skirt to match!  I was inspired by my time at the beach.  However, I should have purchased the bikini to wear there, at the beach, where no on knows me!  Now I have to accept that people I know will see me in this thing!
I've always had a thing against bikinis.  I tell myself it's because I hate when my stomach touches water, that it makes me colder.  But, duh???  My stomach touches water every day in the shower!  Also after vacation, my stomach is pale compared to the rest of me.  It sort of glows and calls attention to itself.  But the truth is I feel, oh whats the word, whalish???  I am not over weight, but after 3 kids my stomach isn't as taught as it used to be.  I was never svelte, don't misunderstand, but it all held together better.  My belly button wasn't as cavernous as it is today, I could lose my keys in there!  And when I bend down, it all falls forward and looks soft and doughy.  I know this is all in my head.  People around me really could give a rats behind what I look like.  I see women of all shapes and sizes strutting their stuff without any reservations!  Why can't I join in the fun??  Why am I so inhibited?  I should embrace my belly's new shape, after all it had a job to do and it did it well.  It housed 3 kids for a total of 27 months!  Not too shabby.   Yes!  From now I'm going to that pool in that new bikini, white belly and all!   I can't promise I'll take my cover up off, but at least I will be there in my bikini!  Then I will go home and eat more pumpkin bars!
The pumpkin bars made me so happy.  As I said, I really do love all things pumpkin.  These were moist and cake like.  The Nutella swirled it tasted like fudge frosting baked right in.   I hope you enjoy!
I found these yummy pumpkin treats on Pinterest:
Iced Pumpkin Cookies     All Recipes
Pumpkin Spice Donuts     Blue Eyed Bakers
Pumpkin Bars                     A Chick Who Can Cook
If you enjoy this recipe, please consider subscribing via email, RSS, Facebook or Twitter.  I'd love to keep in touch.
Nutella Swirled Pumpkin Bars
Ingredients
1/2

cup pumpkin puree

1/3

cup brown sugar

2

eggs

2

T oil

1

cup flour

1

tsp baking powder

1

tsp cocoa

1/2

tsp cinnamon

1/4

tsp salt

1/4

tsp nutmeg

6

T nutella.
Instructions
In a bowl, mix together all brownie ingredients. Drop spoonfuls of Nutella and swirl with a knife. Pour into a greased 8 x8 baking pan. Bake in 350, until a toothpick inserted comes out clean, about 25 minutes. Cool.
Adapted from Verybestbaking.com