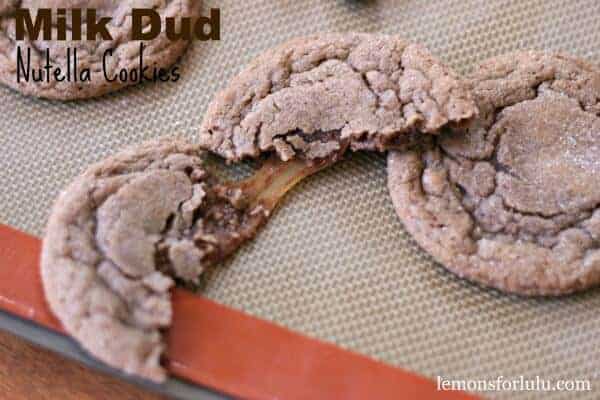 I have three kids. That means I'll have three large bags full of candy on Halloween. No one needs that much candy. My booty does NOT need t
hat much candy!!!!
So, here's the scene when trick or treat ends. The kids run home, throw off their shoes and dump out their loot. That's were civility ends! We all literally dive upon the sweet treasure, shouting the names of candies we want and elbowing each other out-of-the-way so we can each grab our favorite candies. The little one is the smartest. We'll find her in a corner a few minutes later with wrappers and half eaten pieces of candy all around her. She will have a line of chocolate spit on her chin because she has so much in her mouth, she can't even chew! Her eyes will be rolling in her head because of the rush of sugar that has overcome her. See, while we were sorting and making deals, she made off with a stash, completely undetected by the rest of us!
We sort by brand and by flavor. Then count and make trades. It's serious business around here. No one wants to be short a Butterfinger bar! And really, no one wants to be stuck with all the Mary Janes? Who likes those things anyway?
We each eat at least a dozen pieces of candy. This is on top of all the candy consumed earlier while we pranced from house to house in our costumes. Yes, we are on overload at this point. And this is where I become Debbie Downer and announce it's time to decide which half of the candy we'll be donating. You can hear crickets chirping as the party comes to a screeching halt. My family is in total disbelief. They cannot come to terms with the fact that I
will actually make them part with the bounty they worked so hard to get!
Part with it they will! What kind of mother would I be if I didn't think of their health and their sweet little teeth? Ah-hem, you can hear the sarcasm right? Truth is, it's all about me. I can not be trusted with bags full of candy, I just can't! I'm so weak.
Usually, the kids tire of the candy after about a week anyway. So I get creative with the leftovers. I love cookies with Rolo candies stuffed inside. You know what makes a pretty darn good substitute? Milk Duds! Who knew! The caramel is soft and chewy. The chocolate coating melts into the cookie for a more intense chocolate flavor. Nutella provides all the chocolate flavoring for this cookie while adding a touch of hazelnut. This is really a dynamic combination. A perfect use of Milk Duds if you ask me!
So I give you permission to raid the Halloween candy your kids bring home! Grab all the Milk Dud cartons you can and get to baking these Milk Dud Nutella Cookies! Your kids will never miss the candy!
I made these too:
You may like these too:
Milk Dud Cookies Confessions of a Cookbook Queen
Nutella Cookies A Busy Nest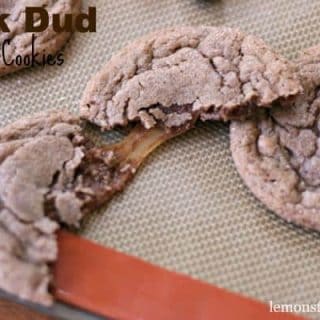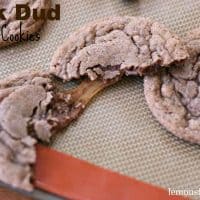 Milk Dud Nutella Cookies
Total Time:
1 hour
8 minutes
Nutella cookies stuffed with Milk Dud candies!
Ingredients
1 1/2 cups butter, softened
1 1/4 cup Nutella
1 cup sugar
1 1/2 cup brown sugar
4 eggs
4 1/4 cup flour
2 t baking soda
2 t baking powder
1/2 t salt
1 10oz package Milk Duds
1/2 cup granulated sugar
Instructions
In a large bowl, cream together butter, Nutella, and sugars. Beat until creamy. Add in eggs one at a time, beating well after each addition. In a separate bowl, combine flour, baking soda, baking powder and salt. Gradually add dry ingredients to butter until well combined. Cover and refrigerate dough for at least 1 hour.
Preheat oven to 350. For each cookie, gather about a tablespoon of dough. Wrap dough around 1 Milk Dud, roll into a ball and roll in granulated sugar before placing on an ungreased baking sheet. Bake for 8 minutes. Let stand on baking sheet for about 5 minutes before removing to a cooling rack.
Nutrition Information
Yield

32
Serving Size

1 bar
Amount Per Serving
Calories

299
Total Fat

13g
Saturated Fat

9g
Trans Fat

0g
Unsaturated Fat

4g
Cholesterol

47mg
Sodium

248mg
Carbohydrates

43g
Fiber

1g
Sugar

28g
Protein

4g