No bake Nutella mint granola bars come together quickly and easily!
The perfect snack for back to school!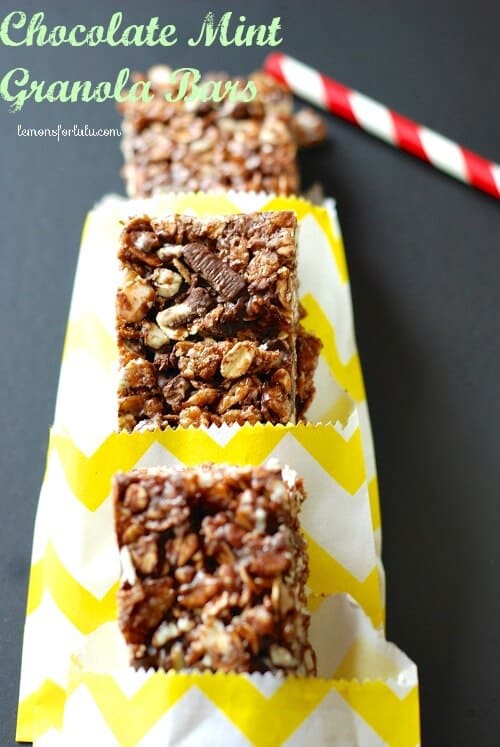 I made my 8 year old son cry the other day. He was innocently watching tv when I walked in and announced that I had just printed off their school supply list! I guess my announcement was delivered with a little too much exuberance because he lost it. That wasn't my intention, honestly. But it IS August, it's time to start thinking about back to school whether we like it or not.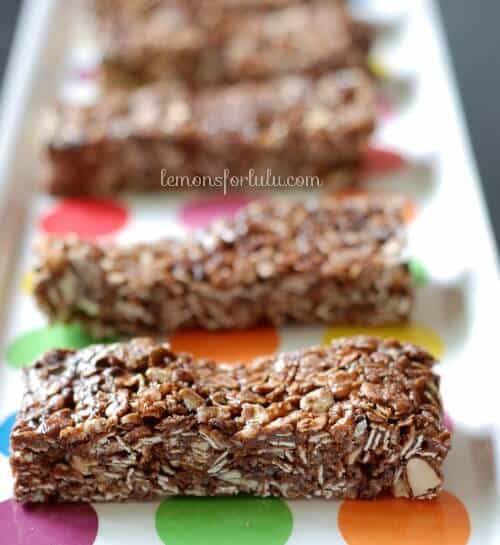 For my son Owen, the mere thought of getting up at the same time each day, running to catch the bus, the full day of learning coupled with the short lunch period, all the homework and the early bedtime moved him to tears. Whereas my unexpected excitement at the mention of school stems not from having the house to myself, but because I thrive on the routine that the school year brings. I like to know what to expect, I like each day to have some repetition, I like to have regiment. I am not the go-with-the-flow kind of person I pretend to be. I like order.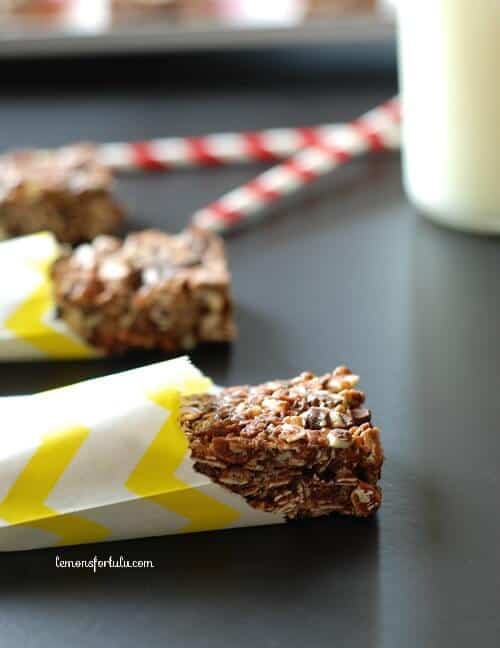 I felt terribly guilty for the tear stained cheeks that my son was sporting. To compensate I made him granola bars. Nutella, his favorite. With mint, my favorite! These were stellar. I mixed Rice Krispies in with my nuts and oats to make the snap, crackle, pop in your mouth. The Nutella gave these granola bars a nice chocolate flavor and with each bite your mouth got a minty surprise from the mint chips.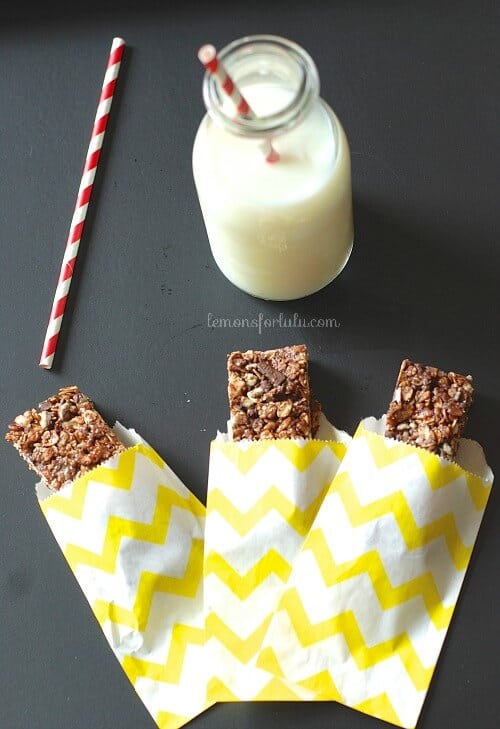 So my son and I ate a few granola bars together. We laughed, smiled and made peace. All was right in the world until I told him since these were no bake granola bars I could make these to pack in his school lunches! His eyes began to water and this time I just walked away.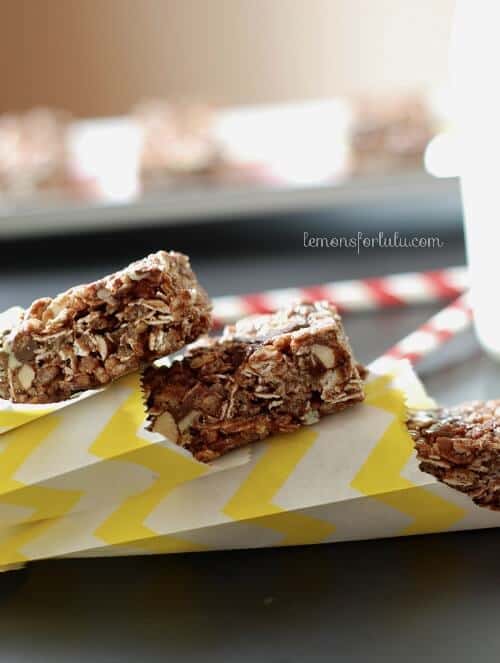 The start of school is going to come no matter what. It's a sure thing, like death and taxes. All I can do is soften the blow by making lots and lots more treats!
TAKE A BREAK WITH NO BAKE TREATS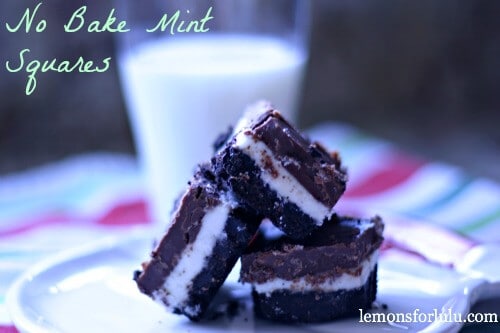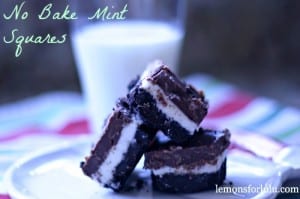 NEVER MISS A RECIPE! SUBSCRIBE TO MY EMAIL TODAY!
FOLLOW ME:
FACEBOOK | RSS | TWITTER | GOOGLE + | BLOGLOVIN | INSTAGRAM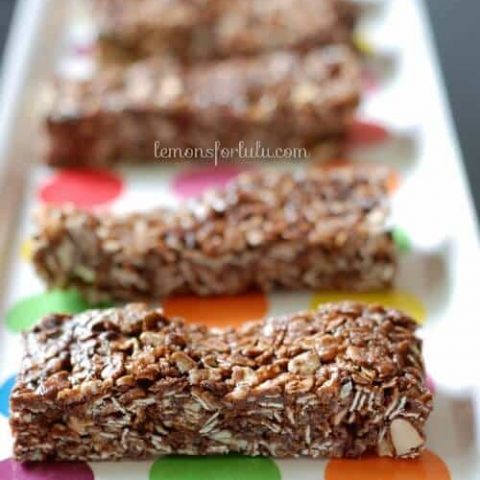 No Bake Nutella Mint Granola Bars
No bake Nutella mint granola bars come together quickly and easily! The perfect snack for back to school!
Ingredients
2 cups Rice Krispies Cereal
2 cups quick oats
1/4 cup wheat germ
1/4 cup flax seed
1/2 cup chopped almonds
1/2 cup honey
1/2 cup brown sugar
1/4 teaspoon salt
2/3 cup Nutella
1/4 teaspoon mint extract
1/2 teaspoon vanilla extract
1 cup Andes chips
Instructions
In a large bowl combine cereal, oats, wheat germ, flax seed and almonds. Set aside.
Line a 9-x13 pan with foil and spray with non stick spray and set aside.
In a saucepan combine honey and sugar, stirring until dissolved. Add in Nutella and let mixture come to just a boil for 1 minute. Remove from heat and stir in extracts. Poor hot mixture over cereal mixture and stir until it is all combined. Let stand for 10-15 minutes before adding mint chips. Pour mixture onto prepared pan and let stand until cool. Cut into bars.
Nutrition Information
Yield

16
Serving Size

1 granola bar
Amount Per Serving
Calories

278
Total Fat

12g
Saturated Fat

6g
Trans Fat

0g
Unsaturated Fat

5g
Cholesterol

3mg
Sodium

120mg
Carbohydrates

40g
Fiber

3g
Sugar

28g
Protein

5g