Want and easy fudge recipe that is sure to satisfy your chocolate cravings?
This is it! Nutella spread makes the creamiest fudge you've ever tasted! Caramel and pretzels make this fudge irresistible!
I have an extremely sad story to tell you. It's about a girl and her beloved Mac computer. I can tell you are hooked already aren't you? So, you may have guessed, that girl is moi. This is my sad story.
My story begins on Thursday. It was just an ordinary day. I was in the kitchen preparing to bake. It occurred to me that it had been a while since I made any sort of breakfast treats and I was really in the mood for muffins. So I baked some. I made the most splendid lemon muffins. They were tart and sweet and so perfect (to be shared soon). Once they were cooled and sampled ( I may have sampled more than one, but after the third I stopped counting), I proceeded to set the scene to photograph my sweet little lemon gems. I'm sure I took the pictures of my life, but I won't know for sure until later this week. Alas, this is where my story takes a tragic turn. I sat down to upload my photos, took my memory card and promptly stuck it into my disc drive. Did my stupidity stop there? No. After trying to shake the card out of my computer I had a genius light bulb moment. I thought if I had a cd, I'm sure I could gently coerce the card out. Turned out, that was not a good idea. The computer grabbed my cd and now I had two things stuck in my disc drive. Sometimes, my brilliance amazes me.
My day ended with me in tears on the way to the Apple store. I'm still waiting for my computer. I do believe that after several days of withdrawal and the knowledge that I am about to be $160 poorer, I have learned some valuable lessons. What lessons you ask? Well, I learned I should probably pay attention when inserting my memory card into my computer so that this doesn't happen again! But I also learned, that my human error induced blogging break was much-needed. I have been so focused on output and numbers, it was consuming me. My time management was non-existent. I was in desperate need for a hiatus, but would never have allowed myself to take one. The days leading up to my unfortunate mishap were literally spent with my face glued to my computer. Not only was I stressed and unhappy, but I was unproductivly spinning my wheels.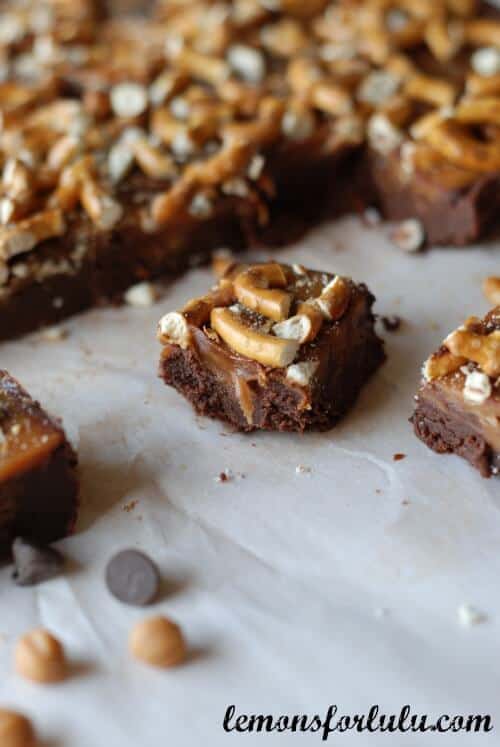 I played outside with my kids, I took long walks, I unplugged and simply decompressed. I learned a valuable lesson. Make time for what makes you happy. Because when you are happy, good things follow. Good thing like FUDGE!!!!! See, I had time on my hands so I spent some of it in my kitchen! I love Nutella spread. I eat it with a spoon on a regular basis. It makes the smoothest, creamiest fudge. I melted some caramel bits to swirl in, then crushed up pretzels to make this a salty/sweet combo. I love the different flavors and textures. I probably ate more than necessary. I clearly turned to food for comfort. But with this kind of fudge, do you blame me?
Nutella Caramel Pretzel Fudge
Total Time:
2 hours
15 minutes
Nutella spread makes the creamiest fudge you've ever tasted! Caramel and pretzels make this fudge irresistible!
Ingredients
1 14 oz can sweetened condensed milk
3 tablespoons butter
1 teaspoon vanilla
10 oz semi sweet chocolate chips
1 cup Nutella
1 cup caramel bits or chopped caramel
1 tablespoon heavy cream
1 cup roughly chopped pretzels
Instructions
Spray a 8 x 8 inch pan with baking spray. Line with parchment paper, spray again and set aside.
In a glass bowl over simmering water or a double boiler, combine sweetened condensed milk and butter. When butter has melted, stir in vanilla. Add in chocolate chips and Nutella. Stir until chocolate chips have melted and mixture is smooth. Carefully pour fudge onto prepared pan.
In a microwave safe bowl, combine caramel and cream. Microwave for 45 seconds. Stir and continue to microwave in 30 second intervals until caramel has melted completely. Pour caramel over fudge and using a sharp knife, carefully swirl in the caramel. Sprinkle pretzels over fudge and gently press down pieces. Keep fudge in refrigerator until set, about 2 hours. Cut into squares.
Store fudge in refrigerator.
Nutrition Information
Yield

24
Serving Size

1 square
Amount Per Serving
Calories

236
Total Fat

10g
Saturated Fat

7g
Trans Fat

0g
Unsaturated Fat

2g
Cholesterol

12mg
Sodium

123mg
Carbohydrates

36g
Fiber

1g
Sugar

33g
Protein

3g