Sweet potato chocolate fudge is rich, indulgent, and truly decadent fudge recipe made with only 7 ingredients. Packed with the best dark chocolate flavors in every bite is creamy vegan fudge recipe is perfect for every occasion.

Fudge is always in season but it's much more popular around Christmas time, making this the perfect excuse to break out the mixing bowl and whisk this year to make something that everybody can enjoy.
Packed with flavor this chocolate fudge recipe is one you won't soon forget.
What is sweet potato chocolate fudge?
It's a chocolate fudge recipe made with actual sweet potato puree. I know that chocolate Fudge with sweet potato isn't the first thing your mind goes to when you think about fudge, but maybe it should be.
The dark chocolate gives these fudge squares their flavor but the sweet potato helps to give it the wonderful texture as well as the consistency needed to not melt as other fudge recipes do. Adding that little sprinkle of sea salt over the top when they've finished, helps to highlight the wonderful flavors in every bite.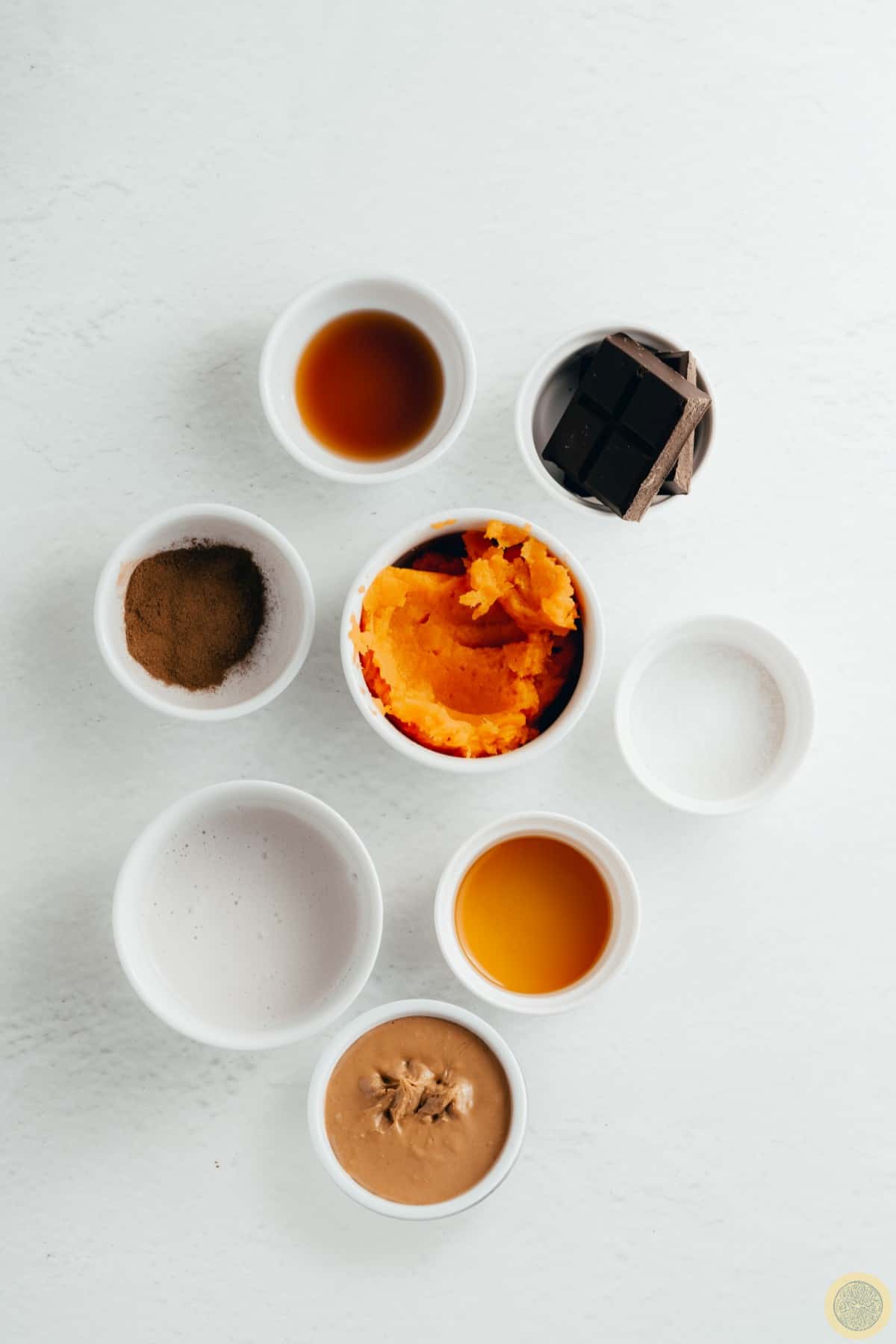 Ingredients you'll need for Sweet potato chocolate fudge:
Sweet potato puree, at room temperature
Dark chocolate (I've used a 50%)
Salt
Maple syrup
Canned coconut cream
Vanilla extract
Ground cinnamon
Peanut butter *optional
Sea salt or shredded coconut *for garnishing
For the exact measurements needed, please see the recipe card below.
How to Make Sweet Potato Chocolate Fudge
Melt your chocolate in a microwave-safe bowl in the microwave for 60-90 seconds, and stir until it's smooth and pourable.
In another bowl have sweet potato puree, maple syrup, and vanilla extract. Add your melted chocolate to this and mix well to combine.

If you see lumps in the batter, use a hand mixer to remove them and achieve a smooth texture.
Add in the ground cinnamon, salt, and coconut cream. Stir well. Optionally you can add in some peanut butter if desired.

Pour the batter into an 8inch square baking dish covered in parchment paper. Spread the fudge evenly within the pan.

Place into the fridge to chill and set for an hour or more.

Divide the fudge into 16 square-sized pieces.
Garnish with sea salt, shredded coconut, or chopped nuts.
Enjoy!
Recipe Tips
Storage. Keep this fudge stored in an airtight container in the fridge for up to 7 days. This should give you plenty of time to enjoy it.
Size matters. The size of the pan that you pour your fudge into will matter. A thinner pan like a bread loaf will result in much thicker fudge slices and thereby take longer to cool and set whereas a larger pan like a 9×13 baking dish will take less time to cool and set while giving you much smaller fudge pieces. We use an 8×8 baking dish so that it doesn't take too long to set but can still give you enough fudge to satisfy within every square.
The cocoa butter in the fudge is what helps this fudge to set up correctly so if you find that the fudge you just made isn't setting up, even after being in the fridge overnight, check the label of the chocolate bar to see if you had enough cocoa butter. You want to have 50% cocoa butter or more showing on the label.
FAQs
Can I use pumpkin puree instead of sweet potato?
I do not recommend swapping the potato for pumpkin because pumpkin puree is far wetter than sweet potato puree is and as a result, the fudge may not be set up correctly.
Can I use even stronger dark chocolate?
Yes, you can use darker dark chocolate but please note that if using a 75% cacao chocolate bar or beyond, adjust the sweetener to taste as it may need extra for sugary palates.
Is sweet potato chocolate fudge healthy?
This is a much healthier version of your favorite chocolate fudge recipes because we use fewer sugars and more natural flavors in every bite. This is a great fudge recipe to enjoy in moderation while on a diet or trying to reduce your sugar intake.
More incredible fudge recipes await:
Yield: 16
Sweet Potato Chocolate Fudge
Here's yet another quick and easy decadent dessert. Sweet potato plays the leading role here, providing sweetness, creaminess, and a soft texture. It tastes just fantastic!
Ingredients
1 cup sweet potato puree, at room temperature
14 oz dark chocolate (I've used a 50%)
¼ tsp salt
¼ cup maple syrup
¼ cup canned coconut cream
½ tsp vanilla extract
½ tsp ground cinnamon
Optional: ¼ cup peanut butter
Garnish with sea salt flakes or desiccated/shredded coconut
Instructions
1. Melt dark chocolate in the microwave for 60-90 seconds, or until smooth and pourable. Then add it into a bowl with the sweet potato puree, maple syrup, and vanilla extract. Mix until well combined. If you see some lumps in your butter, use a hand mixer to remove them, achieving a very smooth texture.
2. Add ground cinnamon, salt, and coconut cream. Stir until well combined. Optional: add peanut butter and mix. I'd like the peanut butter to be optional as it impacts the final taste of the fudge but not in its texture. If you enjoy nutty flavors, then you'll love that incorporation. But if that's not your case, I've had this recipe without it, and it is incredible too.
3. Pour the batter into an 8" square pan, covered with parchment paper, and extend evenly.
4. Refrigerate the fudge for an hour or until completely set.
5. Divide the fudge into 16 squares, and garnish with sea salt flakes, shredded coconut, or chopped nuts. Enjoy!