Fudge is not quite as hard as chocolate, nor as soft as fondant. It is delicately balanced between hard and soft to give your tastebuds a flavor sensation. Fudge recipes are usually made with butter, sugar, and milk.
There are many different types of fudge, flavors, and uses in recipes. In this article, we will guide you through all of the burning questions about fudge and different recipes for you to try.
What Is the Difference Between Chocolate and Fudge?
The key difference between chocolate and fudge is that fudge's main ingredient is sugar, whereas the main ingredient in chocolate recipes is cocoa, more specifically, cocoa solids and cocoa butter.
Chocolate can also be an additional ingredient in fudge recipes or enjoyed on its own. Fudge generally is also much softer than traditional chocolate which is far harder, except for chocolate ganache.
Why Is It Called Fudge?
The origin of fudge is said to be in 1886 when a batch of caramels was 'fudged' in Baltimore. The name fudge was given to the 'failed' batch of caramels that turned out to be a success story.
Why are Fudge Recipes so Good?
The secret about fudge lies at a molecular level. The sugar crystals need to be very very small to give fudge the classic melt-in-your-mouth texture.
Larger crystals cause the fudge to be grainy, which most people find undesirable. What's better than butter, sugar, and milk cooked to perfection anyways?
What Are the Basic Ingredients For Fudge Recipes?
These are the bare minimum ingredients to make fudge recipes:
Sugar – the most important ingredient, it is the base of the candy.
Butter – required to stop the sugar crystals from getting too large.
Evaporated milk – this is to add the creamy consistency, without all the water in regular milk.
Condensed milk – can be used in place of evaporated milk in some cases.
Additional Fudge Recipes Ingredients
These are not considered basic ingredients but are recommended to make your fudge delicious
Chocolate – adds a classic chocolatey taste to your fudge
Vanilla essence – adds depth to your fudge
What Is the Secret to Making Fudge Recipes?
Fudge isn't the easiest confectionery to master, but when you know what the secret is, it becomes easier.
Six Tips to Successful Fudge Recipes
1. Use a Heavy Pan
Using a heavy pan when making a fudge recipe, you ensure heat is distributed well. It also helps to prevent the hot fudge from sticking to the sides of the pan. It also allows for slower, more gradual heating to prevent the sugar from burning.
2. Brush the Sides of the Pan
Gently brush the sides of the pan with a wet brush at the beginning of the process to avoid any sugar crystals forming on the sides. This is very important to ensure creamy fudge. Some cooks even recommend melted butter instead of water to wet your brush.
3. Don't Stir When Cooking
Stirring the mixture whilst cooking allows for larger sugar crystals to form, causing a grainy unpleasant texture when eating the fudge. If you are worried about the sugar burning, turn the heat lower. Slow and steady is key when making fudge.
4. Invest in a Thermometer for Your Fudge Recipes
Don't rely on time in your recipes. Every stove is different and takes a different amount of time to heat up. Instead, use a candy thermometer to read the temperatures accurately.
Your fudge is done when your mixture has reached between 234 to 237 °F and forms a small ball when a drop of fudge is dropped in cold water.
5. Mix Your Fudge When Cooled
Mixing your fudge is required to thicken it, but only mix your fudge mixture when cooled, but not ice cold. Mix your fudge when your thermometer reads 110 to 113 °F. This will prevent any sugar crystals from reforming.
6. A Matt Surface Means No More Mixing
Stop mixing your cooled mixture when the surface has become dull or matt. Now is the time to pour it into a lined or buttered tray and allow it to cool to room temperature. Do not put it into the refrigerator.
What Are Some of the Most Popular Flavors in Fudge Recipes?
A classic fudge recipe is delicious when made just right, but you do get different types of fudge if you want to explore different fudge recipes.
From a marshmallow fudge recipe to a classic hot fudge recipe for drizzling over ice cream, these are some of the most popular flavors of fudge.
Marshmallow fluff fudge
Chocolate fudge
Peanut Butter Fudge
Maple Syrup Fudge
Mint or Peppermint Fudge
Caramel Fudge
Rocky Road Fudge
Butterscotch Fudge
Coffee Fudge
Salted Caramel Fudge
30 Best Flavorful Fudge Recipes Everyone Will Love
1. Fudge Brownie Recipe
Inspired Taste brings us a recipe that is technically a brownie, since it calls for flour to be used, something traditional fudge does not, but the center is very fudge-like and has almost the same ratio of sugar and fat.
It has been refined many times by various bakers, so you are guaranteed a really good fudgy brownie.
2. Marshmallow Fudge Recipe
Most marshmallow fudge recipes come to require the use of marshmallow creme as opposed to actual marshmallows, but this recipe calls for real marshmallows in the fudge.
Mini marshmallows are simply easier to mix in, but you could chop up larger marshmallows if you'd like.
3. Peanut Butter Fudge Recipe
If you are a peanut butter lover, then this is a wonderful recipe for you to try. Use creamy or crunchy peanut butter in this recipe for an added peanut taste. You could even sprinkle some unsalted peanut butter pieces over the top when poured into the tray for added texture.
4. Hot Fudge Sauce Recipe
Hot fudge sauce should be a pantry staple for any sweet tooth. Contrary to classic squares of fudge, fudge sauce recipes call for constant stirring to ensure a thick consistency.
5. Fantasy Fudge Recipe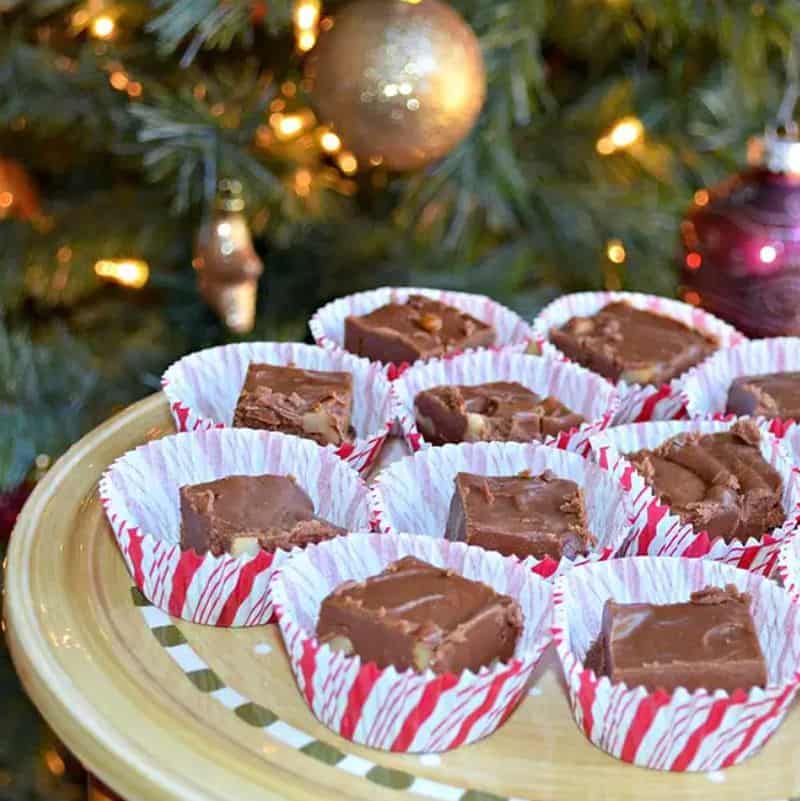 The original recipe for fantasy fudge used to be found at the back of a popular marshmallow cream brand container. It called for jet puffed marshmallows, walnuts, and chocolate chips.
The results are a treat out-of-this-world Be sure to soak your pans right after pouring the mixture into your tray, it is quite a sticky mixture.
6. Fudge Recipe With Condensed Milk
Many recipes call for cream, evaporated milk, or even plain milk. The recipe by Carnation UK uses condensed milk which has high sugar, low water content, ideal for fudge.
7. Fudge Recipe Without Condensed Milk
Wendy from Around my Family Table claims to have the easiest chocolate fudge recipe yet and lists three different methods to get to the creamy delight without the use of any condensed milk
8. Toasted Coconut White Chocolate Fudge
For a creamy and rich treat, check out this recipe for white chocolate fudge that is filled with toasted coconut. To toast the coconut, you'll simply spread a single layer of shredded coconut into a 300-degree oven for 15 minutes and then turning the coconut every five minutes.
You'll be able to find the cream of coconut in the drink mixer section of most grocery stores.
9. Carnation Fudge Recipe
Here is the original Carnation brand's famous fudge recipe. It is a great holiday treat or gift, plus the creators rated this recipe as easy. The recipe mentions you could add more flavors such as peanut butter or nuts if you wish.
10. Vegan Fudge Recipe
Vegan Fudge is easier than you might think. Vegan condensed milk's recipe is included if you want to make your own, else you could get store-bought vegan condensed milk instead.
Vegan butter is essentially margarine, just check your ingredients for any animal additives usually disguised as stabilizers and you're good to go. You won't even think this delicious fudge is vegan.
11. Keto Fudge Recipe
Keto means no sugar, which is the key ingredient in fudge. While this recipe is technically not a fudge, it is very close to the real deal and guilt-free.
It doesn't require a lot of skill since there is no tricky sugar heating involved, so go ahead and try it if you had trouble with real fudge before.
12. Nutella Caramel Pretzel Fudge Recipe
Fudge originates from a batch of fudged caramels, so it is very close to being caramel already. But the Nutella spread added to this recipe makes it the creamiest fudge you've ever tasted. The pretzels give it that extra crunchy texture your tastebuds will love.
13. Christmas Fudge Recipe
For a chocolate fudge that is delicious, easy to make, and perfect for holiday parties and gift-giving, check out this recipe from Easy Budget Recipes.
You'll learn how to make this fudge for under 30 cents apiece! The sprinkles added on top are, of course, optional but definitely add that extra touch of Christmas spirit. Mix in some nuts for some additional crunchy texture.
14. Fudge Pie Recipe
Fudge pies are popular in the South and so easy to make, this recipe can be made in less than 40 minutes and enjoyed immediately. You don't have to follow fudge rules with this pie so no skill is required.
15. Easy White Chocolate Almond Fudge Recipe
Different from the caramel fudge recipe that requires skill and sugar, this recipe for white chocolate almond fudge is made with just four ingredients and is fool-proof.
If you don't have any almonds on hand, you can always swap them out for hazelnuts, macadamia nuts, or whichever you prefer.
16. Oreo Fudge Recipe
Oreo cookies are a classic cookies-and-cream delight. It only makes sense to add them to fudge. The recipe is super simple and you can have them ready to eat in 15 minutes.
17. Sugar-Free Fudge Recipe
Sugar-Free Diva shows you how to make sugar-free fudge. The ingredients may be a little hard to come by, but at least you can use your microwave for this batch of fudge.
18. Million Dollar Fudge Recipe
All Recipes shows us how to make this rich and creamy fudge. It uses german chocolate, that's what makes it 'rich' and worth a million dollars. This one still requires some skill to make but is worth the effort.
19. Fudge Cake Recipe
Need a cake to impress a group of people? Using this recipe you will make the best fudgy chocolate cake you have ever had. It can be made in under an hour, so you won't be in the kitchen for too long before enjoying a delicious fudge cake.
20. Fudge Frosting
Fudge frosting recipes are made very similar to actual fudge, but without having to monitor your sugar melting, so it is much easier and quicker to make. The recipe yields enough frosting for a standard two-layer cake.
21. Quick Fudge Recipe
Need fudge in less than 5 minutes? The recipe only uses 3 main ingredients, with the 4th ingredient, nuts, being optional. It can be easily doubled to make more, and instead of milk chocolate, you can try white chocolate instead.
22. Mackinac Island Fudge Recipe
Mackinac is home to many fudge stores with amazing fudge, and this recipe yields fudge that lives up to the standards the Mackinacs have set. It is made in 40 minutes and uses both confectioner's sugar as well as brown sugar, a double delight indeed.
23. Rocky Road Fudge Recipe
Rocky Road fudge made using this recipe is very easy to make since it utilizes a microwave instead of a stove. It has all the rocky road classic ingredients: walnuts, marshmallows, and of course, chocolate.
24. Pumpkin Fudge Recipe
Many pumpkin fudge recipes only call for pumpkin pie spice, but this recipe includes actual pumpkin. Use canned pumpkin for the easiest way to bite down on delicious fudge in no time.
25. Maple Fudge Recipe
Maple fudge is a staple in Canada, famous for maple syrup. Although the recipe calls for only 3 ingredients, it still results in a creamy full-maple-flavored fudge.
26. Mint Fudge Brownie Recipe
For a flavor-packed, two-bite treat, try this mint fudge brownie recipe that will be sure to satisfy your sweet tooth. With only 15 minutes to prepare and 20 minutes total cook time, you'll have a decadent dessert in no time.
27. Chocolate and Peanut Butter Fudge Recipe
It may be a bit difficult to add both chocolate and peanut butter into your fudge and have the consistency come out just right. Use this recipe if you want the best of both worlds with peanut butter and chocolate in your fudge.
28. See's Fudge Recipe
The Girl Who Eats Everything shares her copycat recipe for the famous See's Fudge. It has all the classic ingredients you would find in See's fudge, and she has included a little troubleshooting guide for when you find a hurdle with your take on her recipe.
29. Hershey's Cocoa Fudge Recipe
Most people love the taste of classic Hershey's chocolate, and Hershey's themselves have released the ultimate fudge recipe using their cocoa or special dark cocoa.
30. Microwave Fudge Recipe
For fudge purists, this recipe from Chelsea still requires all the classic ingredients for fudge, including the skills and thermometers when making stove-top fudge. It is much quicker though, but do keep a watchful eye out when heating the mixture.
How to Make Different Fudge Recipes
Easy Fudge Recipe
Fudge generally is difficult to master, but this classic recipe makes it easy with only 5 ingredients. Be patient and your fudge will turn out as creamy as store-bought fudge.
Easy Fudge Recipes Ingredients
1 can (397 grams) condensed milk
400 grams of sugar
60 grams of butter
75 ml water
5ml vanilla essence
Instructions for Easy Fudge Recipes
First, you will add both the sugar and water into a heavy saucepan and stir over low heat until all the sugar has dissolved. Then add the butter and wait until it has become dissolved.
After that, you'll need to add the condensed milk and turn up the heat until it boils. Next, turn down the heat to a simmer and wait until it reached the appropriate temperature (234 to 237 °F).
While your fudge is heating up, you have to keep an eye on your mixture the whole time – it may take up to 20 minutes. Using the cold water method, test your fudge – if a drop of fudge in cold water forms into a little ball, it is ready.
Pour the hot fudge into a separate bowl, add the vanilla and wait until it reaches 110 to 113 °F before mixing the fudge until matt or dull. Pour it into your final tray and cool it to room temperature before cutting and serving your fudge.
Chocolate Fudge Recipe
When you want some chocolate fudge but have no chocolate around, try this recipe which calls for cocoa powder, as opposed to chocolate chips. Dutch cocoa gives the recipe a deep chocolate flavor, but a natural cocoa powder that everyone knows will be just fine.
Ingredients for Chocolate Fudge Recipes
2 cups white sugar
½ cup cocoa powder
1 cup milk
4 tablespoons butter
1 teaspoon vanilla extract
Chocolate Fudge Recipes Instructions
The first thing you will need to do is grease a store-bought 8 x 8-inch pan and set it aside for later. Then you will combine cocoa powder, sugar, and milk in a heavy pan and bring to a boil while stirring.
Once the mixture is boiling, do not stir again and reduce to a simmer. Place a candy thermometer in the mixture and heat until it reaches about 238°F.
Keep at temperature for a few minutes before taking it off the heat. Wait until it has reached about 114°F and add the butter and vanilla and mix until matt. Pour into your greased tray, quickly cut into squares and let fully cool to room temperature.
How to Make Soft Fudge Recipes
Liquid glucose or light corn syrup is an essential step in this recipe. It is necessary to produce a soft and creamy texture, preferred by some over traditional harder fudge.
It is a bit more difficult recipe to make as the line between unset fudge and soft fudge is quite delicate. You can omit the milk and add more double cream if you prefer, as long as the volume stays the same.
Soft Fudge Recipes Ingredients
450g demarara sugar or white sugar
100ml milk
300 ml double cream
50g butter
1 tbsp butter
5 ml vanilla extract
Instructions for Making Soft Fudge Recipes
First, you will grease or line an 8 x 8-inch pan and set it aside. Then you'll place all of the ingredients, except for the vanilla essence, in a large heavy pan. Over medium heat, bring the mixture to a boil to reach 238°F.
Take off the heat and add the vanilla when the temperature reads 230°F gently stirring it in. Transfer the ingredients to a metal bowl and mix until the batch thickens and the temperature is around 60°F.
Pour into your prepared tray and cut into squares. Set aside to cool to room temperature.
Fudge Recipes FAQ
Can You Double a Fudge Recipe?
Yes. Most recipes can be simply doubled when making them. Be careful of any additives such as salt and cream of tartar if your recipe calls for it – they will take trial and error to double properly.
Do Fudge Recipes Have Flour in Them?
No. Fudge recipes do not call for flour unless it is a modified brownie recipe and so on. Fudge is a sugar-based confectionery that does not require any starches of any kind.
Why Do My Fudge Recipes Taste Grainy?
When you make fudge, it is important to not stir the mixture. Stirring the mixture will cause it to seize, crystallizing the sugar. When this happens, the fudge will have a grainy texture.
What Fudge Flavor Recipes Are the Most Popular?
There are two clear winners here, depending on where you are and who you ask, it is either plain vanilla fudge or decadent chocolate fudge.
Can You Freeze Fudge?
Yes, you can freeze fudge. You will have to cut your fudge in its final size and shape before freezing.
It is advisable to vacuum seal your fudge before freezing to avoid any ice crystals sealed in with your fudge which might affect it when defrosting. Defrost your fudge at room temperature, not in a microwave or oven.
How Long Do Fudge Recipes Last?
Fudge at room temperature can last 2 to 3 weeks depending on the humidity in your area. Avoid refrigerating your fudge as this will result in crumbly dry fudge. Fudge can be frozen for 2 to 3 months.
Ready to Try Some Fudge Recipes?
If you were ever hesitant to attempt to make any fudge recipes, you now have the tips, tricks, and of course the recipes to make it a success. From classic stovetop fudge to 5-minute microwave fudge, you are sure to get a recipe to suit your diet, budget, and schedule.