Rice is a delicious side dish, but after you've served it once or twice in a week, it can get a little boring. That's when it's time to pull out rice's more interesting cousin, rice pilaf. Rice pilaf recipes are both tasty and versatile—you can make this dish go with almost any course.
No matter what your taste preferences are, or the time of year, you've got to try some rice pilaf the next time you cook a meal. Not sure where to start? Not to worry, we've got you covered as below are 50 of the best rice pilaf recipes and how to make them.
What is Rice Pilaf?
Rice pilaf is basically a fancier method of cooking rice as opposed to steaming. The word pilaf actually refers to the method used to cook rice pilaf, and that is where the rice is first sauteed, then cooked in a broth for the purpose of absorbing its flavor. This makes an aromatic and flavorful rice pilaf dish.
Rice pilaf doesn't always have to be just rice, sometimes vegetables, orzo pasta, and even lentils can be mixed in depending on the dish you are making it to accompany.
What is Rice Pilaf Made of?
Rice pilaf is unique because it can be made with several different ingredients depending on the results you would like to see. Want something spicy?
You can add some crushed red pepper. Want something more simple? You can just mix rice with broth.
Below are some of the most common ingredients found in rice pilaf recipes:
Onions
Garlic
Rice
Vegetable Broth
Chicken Broth
Beef Broth
Rice
Orzo
Lentils
Salt
Pepper
Oil
Celery
How Do You Make Rice Pilaf?
There are a million different ways to make rice pilaf. Before you try anything crazy, however, it's a good idea to learn how to make a basic rice pilaf for practice.
Step 1: Gather the Ingredients
For this dish you will need the following ingredients:
2 cups long grain white rice
2 teaspoons olive oil
½ cup chopped onion
½ cup chopped celery
4 cups of vegetable broth
2 teaspoons of salt
¼ teaspoon pepper
1/8 teaspoon cayenne pepper
½ cup fresh parsley, chopped
Step 2: Heat Your Stock
You'll want to double check the instructions on your rice before you begin. This is because the exact amount of liquid you will need will depend on the type of rice you have chosen. Generally, for long grain white rice, you'll need 4 cups of stock.
If you have picked a different type of rice, look at the amount of water required and double it. For example, if it says 1 cup of water, you'll need two cups of stock. Add the seasonings to the warmed broth (except the parsley, set that aside).
Step 3: Sauté the Rice
Let your stock work on warming up while you heat the oil in a skillet on medium heat. Once the oil is hot, add the rice and stir until it is browned. When this is accomplished you can add the onions and celery, cooking them until the onions soften a bit.
Step 4: Mix Them Together
When the broth is warm and seasoned, and the rice is browned nicely, you will want to pour both into a pan with a lid. Bring the mixture to a simmer, then reduce the heat to low. You'll want to put a lid on, then set the timer for about 15-20 minutes.
When the timer goes off, remove the pot from the heat (leaving the lid on) and let sit for 10 minutes. After that, just fluff with a fork, stir in the parsley, and serve.
What Country is Rice Pilaf From?
It isn't exactly clear what country rice pilaf is from, but it is of South Asian and Middle Eastern origins. Many speculate that it comes from what is modern day Iran, but there are also cultures in Latin America that were making rice pilaf before the modern era.
Why Do They Call it Rice Pilaf?
Sometime during the course of history, pilaf became a staple in the Indian diet and this is where it got its name. Pilaf is most closely related to the Indo Aryan word Pula, which means a dish made of rice and meat.
What is the Difference Between Rice Pilaf and Risotto?
Pilaf and Risotto are two very similar methods of cooking rice. But they are not created equal. This is because pilaf is supposed to be served relatively dry, this happens when the rice absorbs all the liquid as it cooks.
Meanwhile, risotto is meant to have more of a creamy consistency. This is accomplished by ensuring the rice does not absorb all the liquid as it cooks, but that some is left in the pan to achieve the desired consistency.
Now that you know a little bit about rice pilaf, where it comes from, and how to cook it, let's look at some of the best rice pilaf recipes.
50 Tasty Recipes for a Rice Pilaf You Will Love
1. Butter Rice Pilaf
Butter rice pilaf is really close to the basic rice pilaf. You'll just be adding some butter in with the chicken broth to create a fuller flavor.
You will also be adding in some orzo pasta with the white rice to switch up the consistency a bit. Sound good? Find the full recipe on All Recipes and serve this with your next steak dinner.
2. Basmati Rice Pilaf with Fruit and Almonds
Rice pilaf doesn't always have to be a heavy winter side dish, and there are things you can add to make it a delicious summer salad or main dish. Check out this recipe from Once Upon a Chef, and you can learn how to make a nice basmati rice pilaf complete with fruits and nuts.
Filled with spices, this aromatic side dish will have your mouth watering as you cook, or add some chopped, cooked chicken breast to make this a filling main dish.
3. Mushroom Rice Pilaf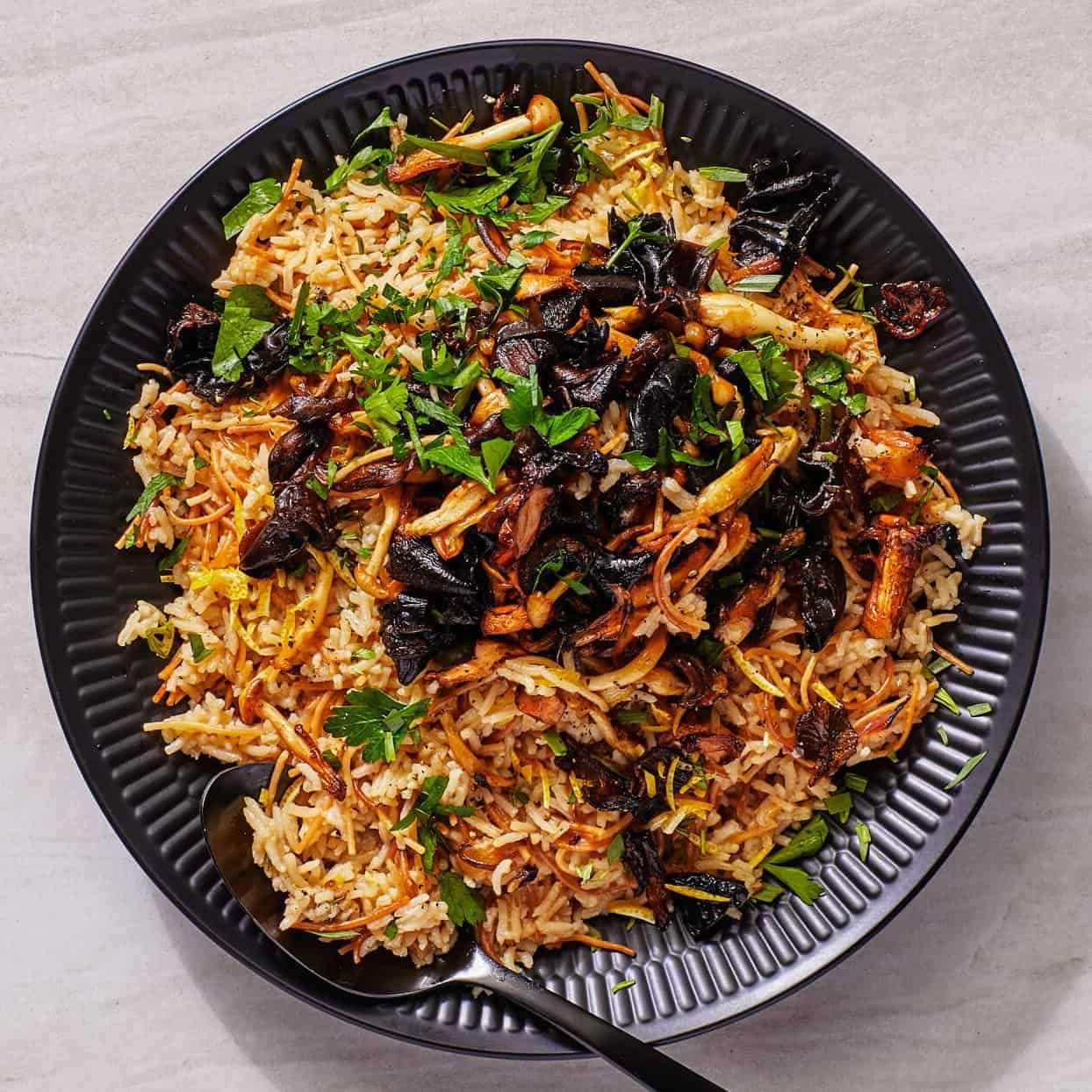 The fall months are when mushrooms are at their best, so in the chilly months pull out this recipe for a mushroom filled rice pilaf from Bon Appetit. You can choose the type of mushrooms you use for this recipe so this is a great time to try out a mushroom you wouldn't normally try like oyster or cremini mushrooms.
Can't decide? Make this rice pilaf using a mix of all kinds of mushrooms, it'll still taste amazing.
4. Rice Pilaf with Scrambled Eggs
Rice pilaf isn't just for lunch and dinner, it can be a breakfast food as well. Follow these instructions on All Recipes to make a delicious and filling breakfast that will keep your family full all day.
You'll be mixing a bunch of spices with the rice and cooking in chicken broth, but then you'll be adding scrambled eggs towards the end to complete the breakfast transformation.
5. Wild Rice Pilaf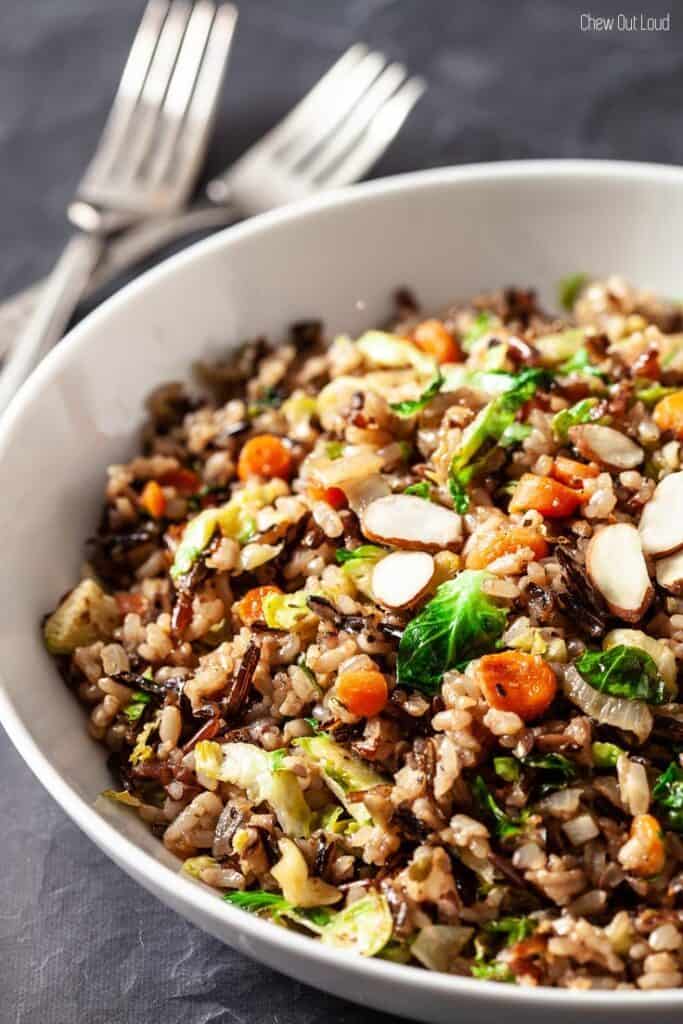 Wild rice is generally considered to be a health alternative to white rice. Thus, those on a health kick will enjoy this recipe by Chew Out Loud for a wild rice pilaf.
The recipe is made using vegetable broth, Brussel sprouts, carrots, onion, and spices, and takes about an hour and five minutes to prepare.
6. Quick Rice Pilaf
In a hurry? Rice pilaf doesn't have to be an all-afternoon project, and there are many ways that it can be made in under twenty minutes. Try this recipe by Minute that combines ingredients you likely already have on hand with some instant rice to create a tasty, last-minute rice pilaf.
7. Turkish Rice Pilaf
Because rice pilaf has been around for centuries, there are many cultures all over the world that have their own unique version of this dish. Sprinkles and Sprouts features the Turkish version which is characterized by its basic ingredients that make it ideal to pair with spicy meats or a variety of vegetables.
Don't be afraid to have fun with this rice pilaf and experiment a little bit by adding your favorite veggies or maybe even some roasted cashews.
8. Lemon Rice Pilaf
Lemon is awesome because it brings a fresh taste to any dish you add it to, and that includes rice pilaf. Next time you want a fresh side dish to pair with chicken on white fish, pull out this recipe from Culinary Hill for Lemon Rice Pilaf.
It's quick, easy, and only requires ingredients you probably already have on hand (as long as you have a lemon). Just don't forget to zest your lemon before you juice it.
9. Instant Pot Rice Pilaf
An instant pot is a great tool when it comes to getting a dish on the table for dinner in reduced time, and you can use it to make rice pilaf. Thanks to the instant pot, what normally takes about 30 minutes is done in 10.
Therefore there is no reason to use it to serve a different rice pilaf for every meal. Find the full instructions for this recipe on Life Made Simple.
10. Lebanese Rice Pilaf
There are many ways you can switch up rice pilaf to make it unique. One of those ways is by adding vermicelli noodles to the rice as they do in this recipe on The Lemon Bowl.
The vermicelli noodles mixed with rice is traditional in Lebanese cooking and really spices up a boring rice pilaf. Pair this rice pilaf with chicken Tawook or beef Kafta to enjoy the full flavor profile.
11. Pumpkin and Chickpea Rice Pilaf
Pumpkin lovers will simply adore this rice pilaf recipe from Sun Rice. It is just as simple as making a regular rice pilaf, but includes the ingredient pumpkin. You will need chopped, roasted pumpkin, which often isn't sold in stores, so be prepared to purchase and roast your own pumpkin if you'd like to enjoy this rice pilaf recipe.
13. Apricot Almond Pilaf
Apricot almond pilaf is a dish inspired by Persian cooking, and will likely require a trip to a specialty grocery store to find all the ingredients. But for those who are able to find the necessary rose water and saffron seeds, this recipe can be found on All Recipes and made in about an hour.
Feeling extra adventurous? Add a pinch of cinnamon and cardamom to the already listed spices for an extra fragrant dish.
12. Veggie Rice Pilaf
When you want to make rice pilaf into the main course, you'll often need to add something to it to give it more sustenance. Instead of fretting over what to add, make this veggie rice pilaf from Jamie Oliver which is packed with so many healthy vegetables you won't need to put anything else on the table.
Make the yogurt topping and drizzle it on the top, or leave it on the side, either way, this is a dish you won't want to miss.
14. Herbed Rice Pilaf
One of the main reasons you make rice pilaf is to enjoy the flavors of all the herbs as they are soaked up into the rice. When you've got some cilantro on hand, try this recipe from Life is But a Dish for an herbed rice pilaf that goes well with all fish dishes.
It also contains asparagus, peas, lemon, and lime, making this a fresh rice pilaf ideal to serve at a summer barbeque.
15. Three Pepper Pilaf
Three pepper rice pilaf is an interesting twist on the classic dish. Even though the word pepper is included in the title, this is surprisingly not a spicy dish, rather it gets its name from the three types of bell pepper it contains. Find this recipe on Successrice, and ensure you make a little extra because you will definitely be wanting more of this recipe.
16. Cheesy Rice Pilaf
Everything is better when you add cheese, and that includes rice pilaf recipes. Check out this cheesy rice pilaf recipe from Salad in a Jar and enjoy the delicious taste of gruyere cheese all through your rice pilaf. You can also use fontina or mozzarella cheese; the choice is yours.
17. Slow Cooker Mushroom Rice Pilaf
Just as there are some people who may want their rice pilaf on the table as fast as possible, there are some that enjoy the flavors that come through when rice pilaf is slow cooked. If this sounds like you, take a look at this recipe from Taste of Home.
All you have to do is put the recipe in your slow cooker in the morning and come home to a ready to eat meal in the afternoon. Filled with mushrooms, onions, and beef stock, this is one hearty dish your family will fall in love with.
18. Fish and Rice Pilaf
In addition to going well with chicken and beef, rice pilaf can also have fish added to it to elevate it from a side dish to the main dish. When you are in the mood for some omega-3's, pull out this recipe from Taste of Beirut and make some fish and rice pilaf.
The recipe specifically mentions grouper, but the ingredients will go well with any white fish you enjoy eating.
19. Baked Indian Fish Pilaf
Another fish rice pilaf dish for the fish lovers, except this time you'll be baking the fish and mixing it with basmati rice. You will also be adding masala curry paste, which will give this rice pilaf dish a delicious south Asian flair similar to a curry. The full recipe for this dinner idea can be found on Taste.
20. Veggie Rice Pilaf in the Rice Cooker
You've made rice pilaf recipes in the slow cooker, the pressure cooker, and on the stove, but did you know you can make it directly in the rice cooker as well? It's quite simple.
You can find the full instructions on All Recipes, but you will basically be cooking the bouillon in the rice cooker rather than on the stove—meaning you save dishes and time but still end up with a tasty result.
21. Beef Rice Pilaf
Next time you head to the butcher's, be sure to grab some beef chuck so you can make this recipe for beef rice pilaf from Natasha's Kitchen for dinner. Simply sauté the beef in oil before adding the rest of the vegetables (and the rice) then add to the broth like normal. It is best to use beef broth with this recipe, but chicken broth can also be used if needed.
22. Lentil and Beef Rice Pilaf
Although it isn't common, lentils are an ingredient that you can sometimes see in a rice pilaf. Take a look at this rice pilaf recipe from Fit Men Cook which includes lentils in addition to some brown short grain rice, which is another unusual ingredient for a pilaf. The final result is amazing though, and low calorie for those looking to drop a few pounds.
23. Rice and Quinoa Pilaf
Lentils and orzo pasta aren't the only additional ingredients that can be found in a rice pilaf, and in the modern day, many people have begun to use the super food quinoa in their rice dishes. You can see an example in the recipe by All Recipes.
Even though this particular recipe remains quite basic, you could easily spice it up, or combine it with another recipe on this list to make a superb dish.
24. Instant Pot Beef Rice Pilaf
Vegetarian-friendly rice pilaf isn't the only one that can be made in an instant pot, as your instant pot can also speed up the cooking of meat as well. Consider making this instant pot beef rice pilaf recipe from Let the Baking Begin which makes cooking rice pilaf a breeze.
Because this dish has meat, it does take a bit longer than the vegetarian rice pilaf and you'll want to allow an hour to make this dish.
25. Greek-Style Chicken Rice Pilaf
We weren't kidding when we said that many countries have their own rice pilaf dish. Check out this next one, a Greek-style rice pilaf made with chicken thighs by Serious Eats.
It contains most of the basic ingredients of rice pilaf, plus some oregano and feta cheese to give it that Greek flair. Be prepared, because your kitchen will smell amazing as you cook this dish.
26. Slow Cooker Chicken and Rice Pilaf
Pulling out your slow cooker to make chicken rice pilaf is ideal, because it can cook the chicken to perfection without drying it out. This recipe by Half Baked Harvest is simple but incredibly tasty, thanks to the sage, shallots, and thyme you'll be leaving in with the chicken while it cooks all day.
The recipe calls for a wild rice blend, which will leave you with an amazing-looking plate when you serve this rice pilaf dish.
27. Beef Rice Pilaf with Chickpeas
Once you get the hang of cooking rice pilaf, it's easy to experiment with adding new ingredients. That's what they did at Food and Wine, and the outcome was an amazing beef rice pilaf that also contained chickpeas. You can also make this dish with lamb, or even venison for unique variation.
28. Mustard-Maple Chicken Wild Rice Pilaf
Before you leave for work, consider putting this recipe for rice pilaf from Eating Well in your crock pot before you go. It needs all day to cook, and you'll be able to come home to a delicious dish at the end of the day.
The mustard, maple syrup, and spices that you put in the pot will soak into both the rice and the chicken to make a salty and sweet meal you won't be able to resist making again.
29. Hamburger Pilaf
Ground meat is a busy cook's best friend, as you can add it to any dish and it will cook within minutes. Thus, you can add it to your rice pilaf as well on a night where you don't have time to cook beef chuck or sirloin. You can find the recipe to follow on Food, which only takes 25 minutes to make from start to finish.
30. Brown Rice Pilaf with Leeks and Mushrooms
Mushrooms and rice pilaf tend to go hand in hand, probably because they both tend to get better as they continue to cook. Food and Wine has a recipe for a delicious rice pilaf that has brown rice, leeks, and shiitake mushrooms.
If you stick to vegetarian broth, this dish can be made fully vegetarian, and kosher (as long as kosher salt is used) making it a good dish to serve when you have guests.
31. Brown Rice Pilaf with Orzo
Brown rice isn't quite as ideal for making rice pilaf as white rice, but when mixed with an orzo pasta the result is amazing. Pull up this recipe on Cookin Canuck next time you want to try out something new when it comes to rice pilaf.
You'll need some shallot, carrot, celery, and orzo pasta in addition to the brown rice and spices. Otherwise, this recipe is very straight forward and can be served with any dish.
32. Shrimp Rice Pilaf
You may be wondering if shrimp is an ingredient that is ever used in a rice pilaf, and it most certainly is. Check out this recipe for shrimp rice pilaf on Food and Wine which also calls for pistachios and almonds to make a unique flavor mix that is lighter than most other rice pilaf recipes.
Because this recipe doesn't contain any heavy ingredients it is a good one to cook as a meal prep on Sunday nights and keep all week long for lunch.
33. Mexican Rice Pilaf
Often just called 'Mexican rice' chances are you've had Mexican rice pilaf before. It is frequently served as a side at Mexican restaurants with tacos or enchiladas. Spice up your next family get together when you feature this amazing pilaf as a side.
You can find the recipe on All Recipes, and you'll need rice, spices, onion, bell pepper, and a jalapeno. For those who want an extra kick, you can add two.
34. Spiced Lamb Rice Pilaf
Need something extra fancy for a dinner? Pull out this recipe for spiced lamb rice pilaf also called Hashweh. as featured on Food and Wine.
You can use ground lamb, or lamb shanks if your local store carries them. The combination of pine nuts, lamb, and almonds in this recipe will leave your mouth watering and your kitchen smelling delicious for days.
35. Saffron Rice Pilaf
Saffron is a bright red, fragrant herb known for its use in middle eastern cooking, and it is perfect to add to a rice pilaf. Follow this recipe on Epicuirous to make the most delicious saffron rice pilaf you've ever tried.
Like Basmati rice, saffron does need to be softened before use, meaning you'll need a little extra time to make this dish for your family dinner.
36. Spicy Rice Pilaf
What's life without a little spice? You can find all this and more in this recipe on All Recipes for spicy rice pilaf.
The recipe is made using instant rice, and you will be adding crushed red pepper in order to achieve the desired spice level. Then you will cook the rest of the recipe as you would a basic rice pilaf—it's that easy.
37. Carrot and Parsley Rice Pilaf
A rice pilaf is the perfect excuse to use some of those vegetables you harvest from your garden that are still sitting on the counter. The New York Times Cooking has a recipe that will help you to use your carrots and parsley to make a fresh and tasty addition to your dinner.
The recipe does call for basmati rice, however, which does need to be soaked before it can be used to make rice pilaf, so be sure you have plenty of time in which to make this dish.
38. Wild Rice and Squash Pilaf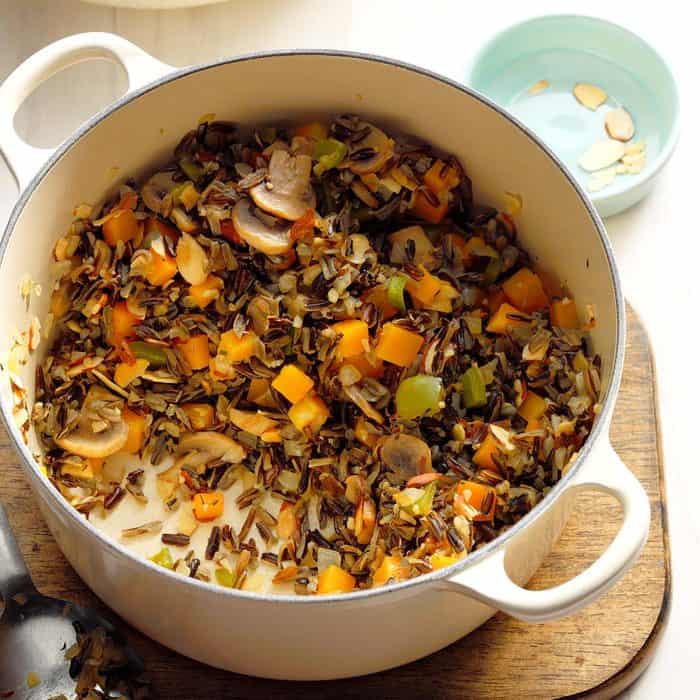 Rice pilaf recipes are a great way to reuse some leftover vegetables you may have on hand from a previous meal. The wild rice and squash pilaf recipe by Taste of Home is a great example of this, as you can use your leftover squash from a previous meal to make it.
You'll also need some mushrooms, onions, and a few spices, but if you've got those on hand, this recipe can be made as a last minute dinner that will wow your guests.
39. Armenian Rice Pilaf
One country that hasn't been mentioned yet for their rice pilaf recipe is Armenia, but this recipe on All Recipes is a staple in many Armenian homes and it is easy to see why.
It only takes a few minutes to make, and it mixes rice with egg noodles to create a fresh take on rice pilaf. Other than that, you just need bouillon and butter and you have an Armenian Rice Pilaf.
40. Chicken Rice with Orange and Spices
Don't want to do a ton of dishes after dinner? Make this one pot chicken rice pilaf recipe with orange and spices from Drizzle and Dip.
It's filled with spices, orange zest, and of course chicken to keep your family full for hours. It's so filling you probably won't need to serve it with anything else, but if you do want another dish for the table, it goes well with baked asparagus or sauteed green beans.
41. Coconut Water-Lime Rice
Coconut water is a great way to revamp up any dish that calls for water, but it can also be a replacement for the bouillon when cooking rice pilaf. Not only does this lower the sodium content of the recipe, but it also gives it a unique sweet kick.
Balance this out with some lime juice for a sweet and sour treat. Check out the full recipe on All Recipes before you begin to get this dish just right.
42. Mediterranean Pilaf Salad
Rice pilaf really can be made to fit any occasion. Headed to a summer event and want something chilled to eat alongside a main course? Make this pilaf salad from Food in which you will be making a plain rice pilaf, then mixing it with items such as feta cheese and olives. Pop it in the fridge to chill for later or serve as is at room temperature, it's up to you.
43. Cranberry Almond Rice Pilaf
Cranberry almond rice pilaf is a salty sweet dish that goes well with any chicken or beef dish. The recipe can be found on All Recipes, and if you are still learning to cool rice pilaf, don't fret as this particular recipe is almost impossible to mess up.
It does take a little bit of prep work, but once you've got everything cut, this dish can be on the table in just 30 minutes.
44. Thai Rice Pilaf
Thai rice pilaf is recognized around the world for its sweet flavor thanks to the fruits they add that you normally don't find in rice pilaf. Follow the recipe on Yummly, but plan to go to the store before you make this particular dish because you will need items such as pineapple, fresh ginger, coconut, and even fish sauce.
45. Feta Rice Pilaf
Cheese rice pilaf recipes great, but it can be even better when the heavy cheeses are switched out for delicious feta. Try out this recipe from All Recipes which is Bulgarian in origin, and you won't be sorry. The recipe is made with rice, orzo, butter, spices, and then some spinach and feta which are mixed in to create this all new take on the classic dish.
46. Broccoli Rice Pilaf
Broccoli is quite the super food. Packed full of all sorts of vitamins and minerals your system needs to function, it's always worthwhile to put this veggie in any recipe you can, which includes your next rice pilaf.
Check out this recipe on Good Housekeeping to make a quick broccoli rice pilaf that is both healthy and will have your family asking for more. It's a win-win situation.
47. Cajun Rice Pilaf
Cajun rice pilaf enumerates the culture that it comes from by pairing lots of veggies with a traditional rice pilaf, and lots of the south's favorite cooking ingredient—butter. The full recipe can be found on Deep South Dish and don't be afraid to have a little fun as you cook. After all, that's what cooking in the south is all about.
48. Asparagus Cashew Rice Pilaf
There is simply no limit to the type of nuts that can be included in a rice pilaf. In this next variation by All Recipes, asparagus is mixed into a combination of jasmine rice, spaghetti noodles, and crunchy cashews to create a dish with diverse flavor and consistency profiles.
Although typically used as a side dish, if enough cashews and asparagus are added, this dish could easily become the main event.
49. Parmesan Rice Pilaf
Want something cheesy but also refined? You'll adore this recipe by Taste of Home for parmesan rice pilaf.
You only need the ingredients for a basic rice pilaf, plus some beef broth and parmesan cheese and you are in business. You can also use instant rice for this recipe, meaning you can have it on the table in under 20 minutes.
50. Brazilian Christmas Rice
Did you know that the dish known as Brazilian Christmas Rice is actually a rice pilaf? It's true.
Pilaf is only the cooking method and that's exactly how you make this traditional dish that includes everything from raisins, to rice, and even champagne. This particular recipe from All Recipes is a bit strange, so for those unfamiliar with the Brazilian culture, you may want to try this for yourself before making it for a crowd.
FAQs:
What is the Cooking Method Most Similar to the Pilaf Method?
If you want to cook your rice in a method similar to a pilaf, but want to try something new, you should look into making a risotto, as this method of cooking is closely related to pilaf.
Why is My Rice Pilaf Mushy?
Your rice pilaf recipes are mushy because the rice absorbed too much liquid. There is no way to undo this, unfortunately, so the only solution is to eat the pilaf mushy, or add more liquid and make it into a dessert like rice pudding.
What Type of Rice Takes the Longest to Cook?
Brown or red rice are the two types of rice that take the longest to cook. If you are making either of these, plan to leave the rice cooking for at least 30-45 minutes.
Is Jambalaya a Pilaf?
Pilaf is a rice dish that is cooked in broth and seasoned, so if you make your jambalaya this way, it is indeed a pilaf.
Is Pilaf the Same as Paella?
Although rice pilaf and paella are very similar, paella is usually made with medium grain rice while pilaf is made with long grain rice.
What Kind of Rice Isn't Sticky?
Both long grain white rice and medium grain white rice are varieties of rice that won't stick together after cooking.
Conclusion
If you haven't figured it out by now, rice pilaf should be your go-to dish for breakfast, lunch, and dinner every season of the year. No matter what you want to pair it with, or what you have in your pantry, chances are you have what you need to make many of these rice pilaf recipes. So next time you aren't sure what to make for dinner, grab one of these amazing rice pilaf recipes and let your family wonder how you did it.