This three layered buckeye bark chocolate fudge features the classic peanut butter and chocolate combination reminiscent of a buckeye ball!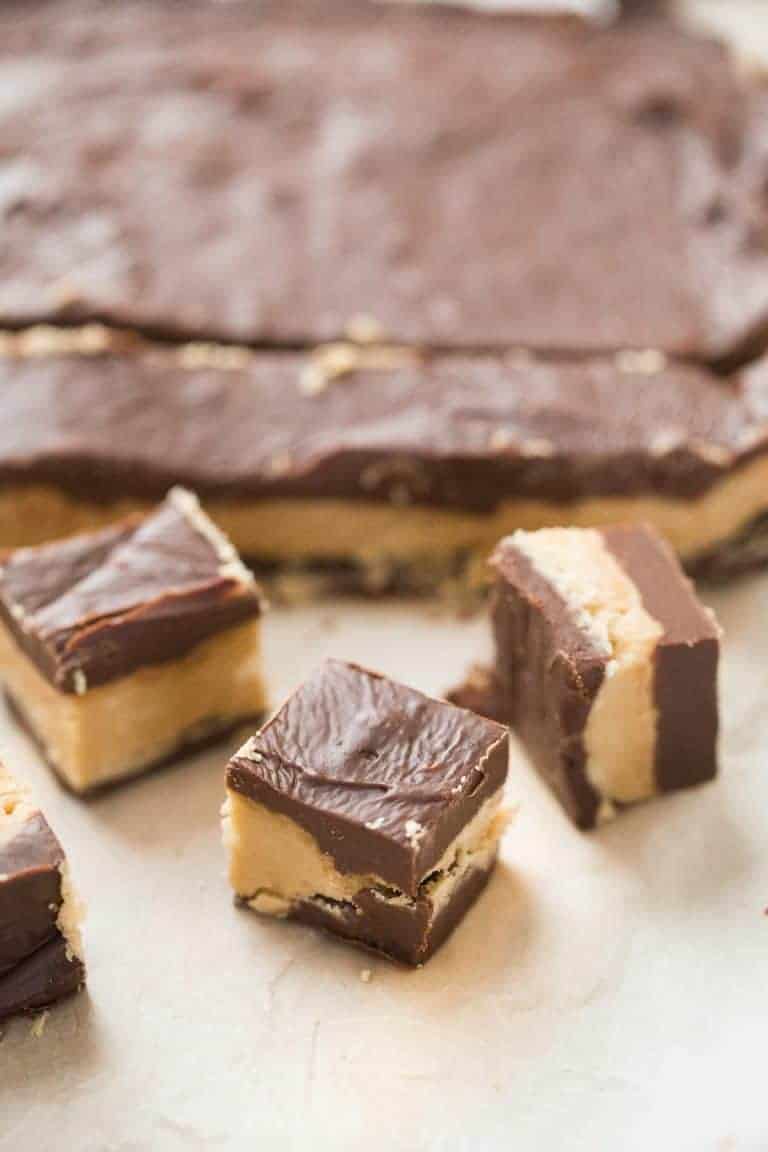 I just saw a Wal-Mart commercial that completely sums up how I am feeling right this minute. The commercial shows different people doing everyday or holiday things when they are struck with the realization that they forgot they needed to get one more gift. That is exactly how I feel today; I need one more gift (at least!). But since it is December 21st, I have very few choices about what to give, especially since it might be too late for even Amazon Prime. This means that I am left with giving either a gift card, cash or baked goods.
I still have time for giving baked goods, especially if those baked goods are no-bake treats like this buckeye bark chocolate fudge! I love all buckeye desserts, some of my favorites are these mini cakes and these marshmallow pops. This fudge comes together rather quickly; as it is all prepared in your microwave. The only trick to this fudge is that you have to work fast (but since we are short on time, it's not a problem right?).
This fudge has so many amazing qualities. As I just mentioned, it's made in the microwave, so that fact that it's quick and easy to make is a HUGE bonus for those of us who are short on time. This fudge takes much less time to prepare than actual buckeye balls. But then there is the taste! Buckeye balls, peanut butter cups…people love them for a reason! The reason being chocolate and peanut butter is the best combination ever! The chocolate layer is so rich and smooth while the peanut butter layer is ultra creamy. Be sure to cut this fudge into small squares! A little bit goes a long way
Gift a batch of this chocolate fudge and you will have a friend for life!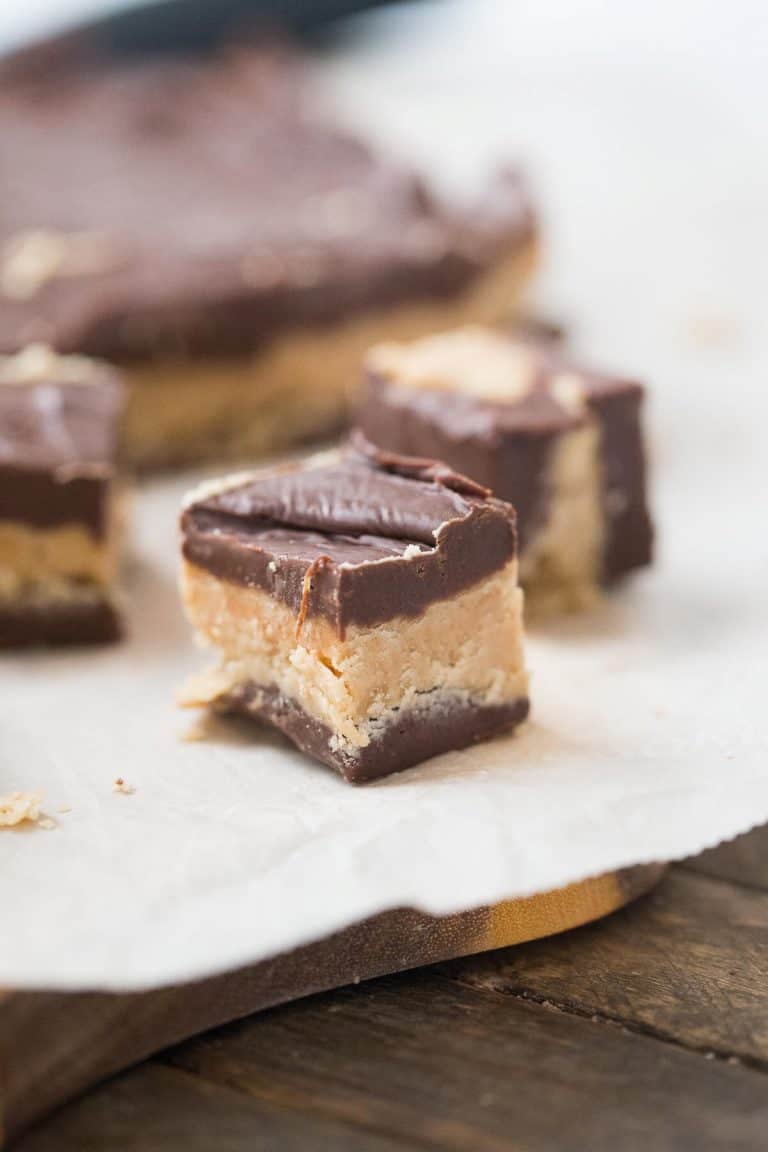 Procrastinators unite! I have more no-bake treats just for you!
Yield: 30
Buckeye Bark Chocolate Fudge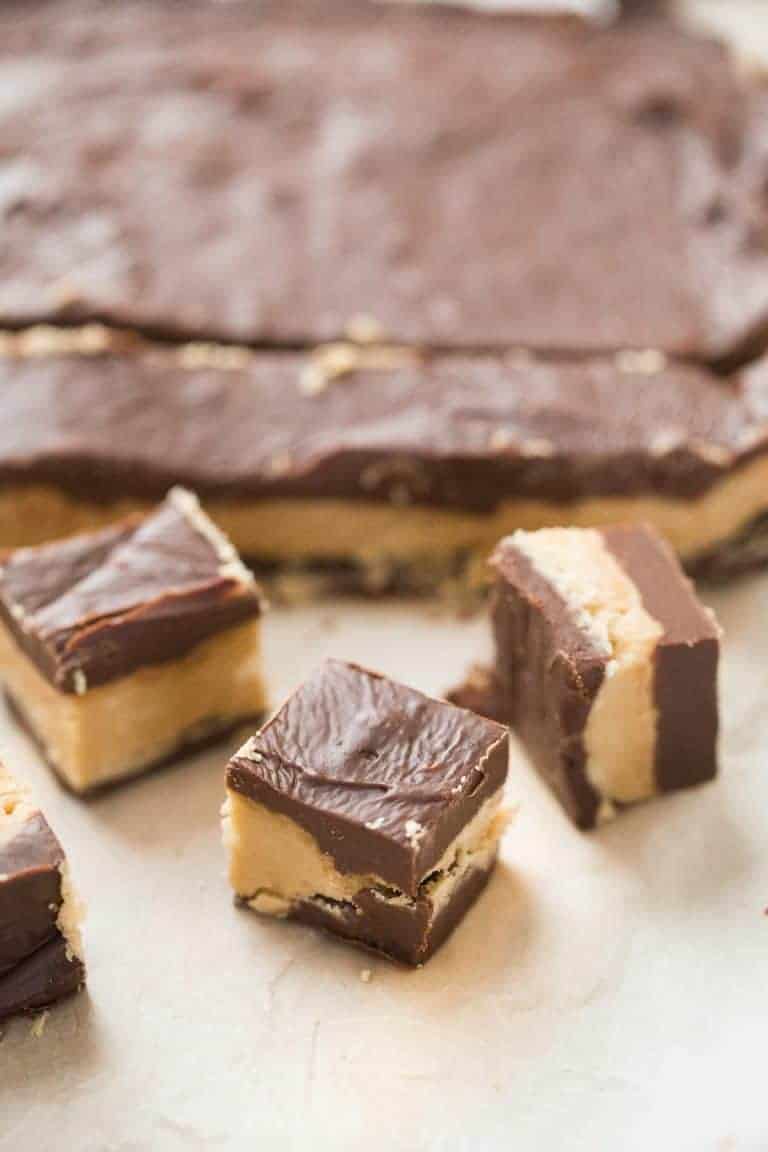 Chocolate fudge and peanut butter fudge come together in the buckeye inspired treat!
Prep Time
1 hour
15 minutes
Total Time
1 hour
15 minutes
Ingredients
2 cups semi sweet chocolate chips
1 14oz can sweetened condensed milk
2 tablespoons butter
1 teaspoon vanilla
1 stick butter
1/2 cup smooth peanut butter (I always use Jif, I really think it is the creamiest with no after taste)
2 cups powdered sugar
1/2 teaspoon vanilla
Instructions
Line an 8 x8 inch square pan with parchment paper; allowing the edges to hang over the side.
In a microwave safe bowl, heat the chocolate chips in 30 second intervals until melted, stir in milk. Add butter to the fudge in little bits at time. Stir until the butter has been incorporated. Add vanilla; stir. Pour out half of the chocolate layer into the prepared pan, spreading to to fill in the corners. Prepare the peanut butter fudge.
In a seperate microwave safe bowl, microwave butter and peanut butter together; stir. Whisk in the powdered sugar until mixture is thick. Stir in vanilla. Pour the peanut butter fudge over the chocolate fudge layer.
Microwave the chocolate fudge for 10-15 seconds; stir untl creamy again. Spread the remaining fudge over the peanut butter layer. Refrigerate until set.
Nutrition Information
Yield
30
Serving Size
1
Amount Per Serving
Calories

208
Total Fat

12g
Saturated Fat

6g
Trans Fat

0g
Unsaturated Fat

5g
Cholesterol

16mg
Sodium

80mg
Carbohydrates

26g
Fiber

1g
Sugar

24g
Protein

3g