This dark chocolate bark recipe has sweet swirls of caramel and lots of lightly salted almonds! This Caramel Almond Dark Chocolate Bark Recipe is the perfect salty/sweet treat!
If you're looking for the perfect homemade gift to give your loved ones this holiday season then look no further. This is the BEST dark chocolate bark recipe and it's perfect for any occasion. It comes together so simply and easily using just about anything that you have on hand and it's always fabulous! Not only that but because it comes together quickly it's perfect for us last-minute procrastinators! Anyone would be happy to receive this dark chocolate caramel bark as a gift, whether it's last-minute or not!
Caramel Chocolate Bark
This salted caramel bark recipe starts with dark chocolate that is melted until smooth then spread into a thin layer on a baking sheet. Then we melt caramels and swirl them into the dark chocolate for a nice looking effect. After that, we delicately press some almonds into the bark and after about an hour in the fridge, the bark is ready to break into pieces, packed into tins, and be passed out as gifts!
Ingredients
Dark chocolate chips
Caramels
Milk
Lightly Salted Blue Diamond Almonds
For the exact amounts needed, please see the recipe card below.
How to Make Caramel Almond Dark Chocolate Bark Recipe
Line a baking sheet with parchment paper and then set it aside.
Melt your chocolate in a bowl in the microwave in 30-second intervals, stirring well between each until smooth.
Pour the melted chocolate into the prepared baking sheets and then set them aside.
In another bowl, combine the caramels and milk. Microwave in 30-second intervals until melted and smooth.
Drizzle the caramel over the chocolate and swirl the two together using a knife of offset spatula.
Carefully press the almonds into the chocolate.
Place the bark into the fridge to set and harden. This will take about an hour.
Break the bark into pieces and keep stored in an airtight container.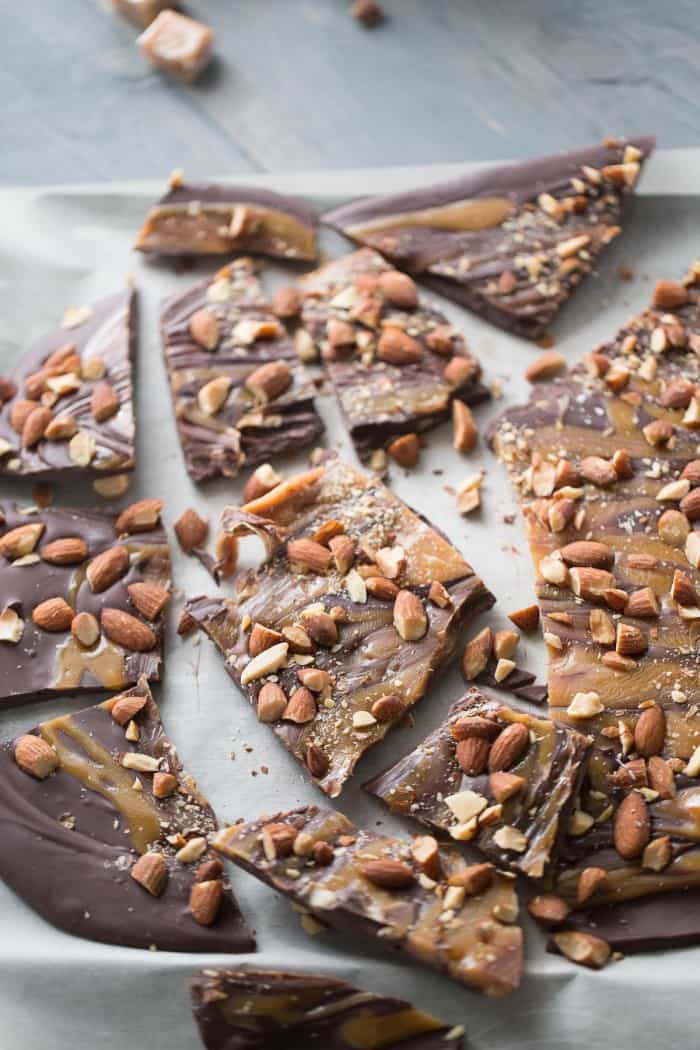 Recipe Tips
Use good quality chocolate, this will help the flavor and the melting process.
You can use a double boiler or the microwave to melt your chocolate; just be sure to stop and stir often if you are using the microwave, chocolate burns easily.
Press an toppings (like the almonds) gently into the chocolate before the chocolate is set, you don't want any pieces falling off! Pretzels, candy chocolate pieces, cashews, or cookies would also work well with this bark.
FAQs
How long is chocolate bark good for?
This bark recipe can be kept stored in a cooled location (like the fridge) in an airtight container for up to 2 weeks. Note that the nuts will become chewy and stale over time so eating it when fresh is best for the greatest experience.
How do I break chocolate bark?
To break this bark once it has hardened all you need to do is either pick it up with your clean hands and "fold" the chocolate to cause it to snap or you can use a knife. With a large knife on the baking sheet, simply slice through the chocolate, because it will be brittle it will not cut in straight lines and will create a nice uneven broken shape amongst the pieces.
Can I freeze caramel chocolate bark?
Yes, this recipe freezes very well! Simply place the cut pieces of candy into an airtight container for up to 3 months. When you're ready to eat it will just take a couple of minutes to thaw the pieces enough to bite into them.
If you liked this recipe then you are really going to love these other great bark recipes!
Yield: 16
Caramel Almond Dark Chocolate Bark
Rich dark chocolate with a sweet swirl of caramel and salted almonds!
Prep Time
1 hour
10 minutes
Total Time
1 hour
10 minutes
Ingredients
2 12 oz bags dark chocolate chips
6 oz caramels, unwrapped
1 tablespoon milk
1/2 cup coarsely chopped Lightly Salted Blue Diamond Almonds
Instructions
Line a baking sheet with parchment paper, set aside.
Melt chocolate in a bowl; stir until smooth. Pour melted chocolate onto prepared baking sheet and set aside.
In a separate bowl, combine caramels and milk. Microwave in 30-second intervals until melted and smooth. Drizzle caramel over chocolate and swirl using a knife or an off-set spatula. Carefully press almond pieces onto chocolate.
Place bark in the refrigerator until set.
Break into pieces and store in an airtight container.
Nutrition Information
Yield
16
Serving Size
1
Amount Per Serving
Calories

274
Total Fat

14g
Saturated Fat

8g
Trans Fat

0g
Unsaturated Fat

5g
Cholesterol

4mg
Sodium

37mg
Carbohydrates

34g
Fiber

3g
Sugar

27g
Protein

3g